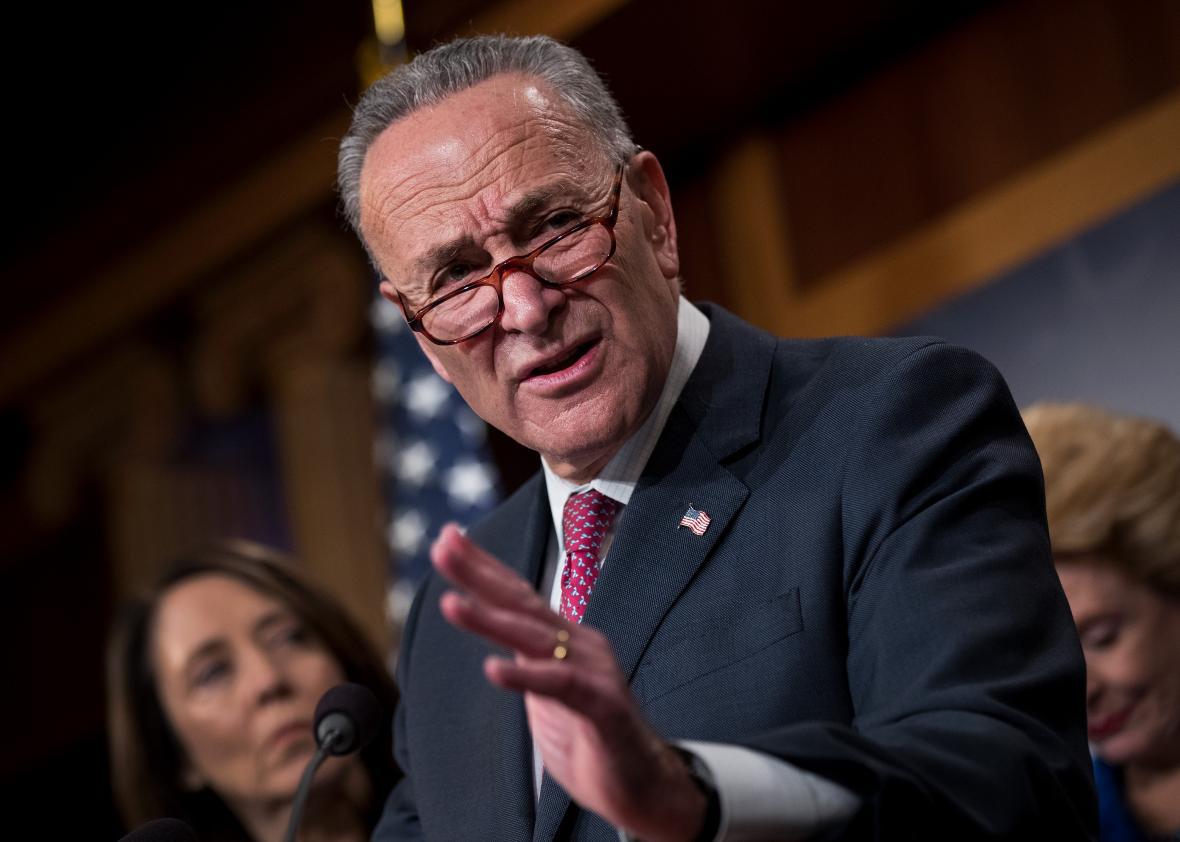 Senate Minority Leader Chuck Schumer is a strong proponent of the suburban theory of Democratic restoration, a theory that has not always borne out. "For every blue-collar Democrat we lose in western Pennsylvania," Schumer infamously said during the 2016 election, "we will pick up two moderate Republicans in the suburbs in Philadelphia, and you can repeat that in Ohio and Illinois and Wisconsin." He was directionally correct about the movement of those voting blocs in 2016, but fatally wrong about the ratios. The whole Democratic Party was.
Tuesday night's Democratic romp in Virginia, New York, and New Jersey, though, might have served as some validation for him. The Northern Virginia suburbs buried Republican gubernatorial candidate Ed Gillespie, even though the well-mannered lobbyist was a better fit for the region than Trump last year.
Schumer, always in search of a new angle through which to squeeze his opponents, tried Wednesday to use that suburban rage as a pressure point through which to bury Republicans' tax plan. "Who is hurt the most in this [tax reform] bill? Suburban communities," Schumer told reporters on Wednesday afternoon.
"Which communities were most against the Republican candidate, Gillespie? Where was there the greatest change in vote, in terms of turnout and percentage? Suburban communities," he said. "Middle-class suburbs, upper-middle-class suburbs, are the places that would be crushed by [tax reform] bill."
Schumer cited two county executive races in the New York suburbs of Westchester and Nassau that flipped to the Democrats on Tuesday night as proof of the impending suburban doom for Republicans. In 2009, the "mirror image" of Tuesday's race, Democrats lost both of those races.
Few figures in Washington seem to enjoy political gamesmanship as much as Schumer, who giddily read through exit data from various Virginia counties. Schumer was chairman of the Democratic Senatorial Campaign Committee during the 2006 cycle when Democrats retook the Senate. And though he never served as Democratic Congressional Campaign Committee chair during his lengthy tenure in the House, he seemed ready and willing to take the job should anyone ask.
"Let me give you some numbers here," he said. "Barbara Comstock's district in Virginia, the 10th, 49 percent of the taxpayers take the [state and local tax] deduction," he said. "Barbara Comstock, in my view, would write her own, uh, defeat, if she votes for this bill with state and local deductibility in it."
He had paused before "defeat," perhaps recognizing that he had walked into making a death metaphor about a sitting member of Congress. That caution didn't last long as he rattled through other members. "Rep. [Ed] Royce of California, 33 percent of the taxpayers take an average SALT deduction of $15,000," he said. "He'd be committing political suicide to vote for a bill that eliminates or greatly curtails SALT."
On top of Trump's unpopularity, he concluded, "are Republicans now going to pass a tax bill that would raise taxes in the same suburban areas that are swinging away from them?" he said. "As Clint Eastwood says, make our day. Pass this bill that is so bad for the suburbs, and you are helping Democrats."
He cleaned that up a little bit. "We would rather they not pass it. We would rather they do right for their constituents." Sure, sure. "But we're certainly going to make sure if they don't that everybody knows about it."
---