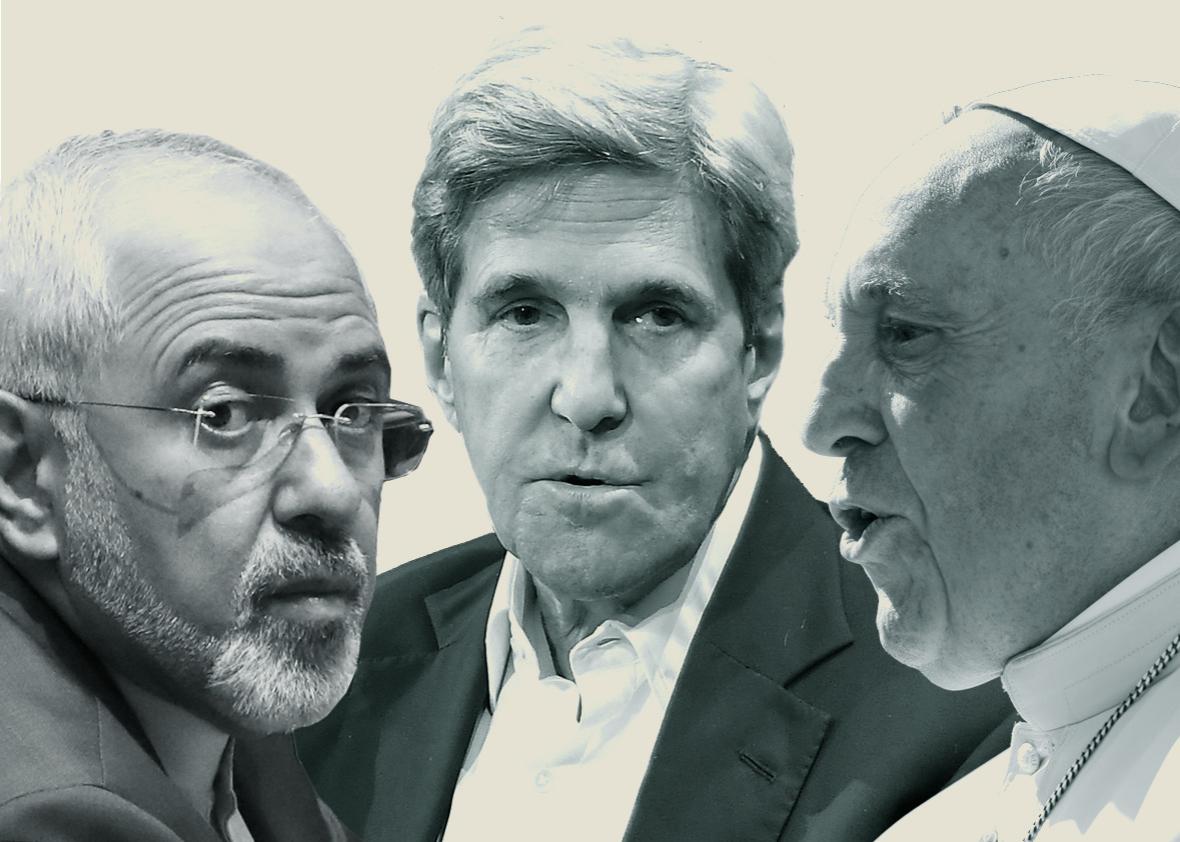 If there seems to be less buzz than normal ahead of Friday's announcement of the 2017 Nobel Peace Prize, it may be because there's a bit of a pall over the award this year. The death, in July, of Chinese dissident and 2010 winner Liu Xiaobo—the first Nobel laureate to die in state custody since Carl von Ossietzky in Nazi Germany in 1938—highlighted the degree to which democracy appears to be losing to rising authoritarianism around the world.*
The Norwegian Nobel Committee's own judgment is also once again being called into question due to events in Myanmar, where 1991 winner Aung San Suu Kyi's government has been accused of ethnic cleansing over its persecution of the Muslim Rohingya minority. A number of commentators called for her prize, awarded for her opposition to Myanmar's military government, to be revoked, which is unlikely to happen.
Suu Kyi is hardly the only bad call in the 116-year history of this award given by Norwegian politicians in honor of a Swedish arms dealer. Nevertheless, the medal continues to get an outsize amount of attention, so it's worth taking a look at the few front-runners. Predicting the Peace Prize is a mug's game: a record 318 people and organizations were nominated this year, and the list isn't released to the public for 50 years—though some are announced by their nominators. Unlike the other Nobels, the winner is often chosen less because of that person's particular achievements than because of some issue or cause that the committee wants to highlight. Given the tumultuous events of the past year, here are some directions they might be leaning:
Architects of the Iran Deal
Iranian Foreign Minister Javad Zarif and EU foreign-policy chief Federica Mogherini top this unofficial but widely cited annual shortlist for their role in crafting the 2015 Joint Comprehensive Plan of Action, better known as the Iran nuclear deal. Why not former Secretary of State John Kerry? He's a possibility too, but Peace Research Institute Oslo's director tells Bloomberg that he might be left out in order highlight to President Trump that the deal has broad international support. (After Jimmy Carter, Al Gore, and Barack Obama, the committee may also just be tired of giving it to prominent American Democrats.)
A prize for the Iran deal would be an especially strong signal to Trump, with a crucial deadline on whether to certify Iran's compliance with the agreement approaching next week. As someone who believes the deal is the best hope of preventing an Iranian nuclear weapon, I really hope the committee doesn't do this. Recent reporting suggests that Trump's advisers are working to find a way to allow Trump to say he's fulfilled his campaign promise to end the "worst deal ever" while technically keeping the U.S. in compliance with its terms, but there are a million things that could go wrong with this plan. One of those things would be for the committee to taunt a president who has a Kanye-level fixation on awards and accolades. (Remember his griping when Angela Merkel won Time's person of the year instead of him?) This award, at such a sensitive time, would not help Trump (or Republicans in Congress who may have to make the final call on whether to reimpose sanctions) see reason.
The International Campaign to Abolish Nuclear Weapons
You may not have heard about it, but the United Nations banned nuclear weapons last month. Sort of. The Treaty on the Prohibition of Nuclear Weapons was adopted by the U.N. in July and signed by 50 U.N. member states on Sept. 20. It will come into effect if 50 countries ratify it but will still be basically symbolic since none of the current nuclear powers, including the United States, plan to sign or abide by it.
Still, if the committee wants to highlight the risk of nuclear weapons amid growing tensions in North Korea and Iran, giving an award to the main civil society group behind the treaty could be a way to do it that's a bit less politically fraught than the Zarif/Mogherini/maybe-Kerry option.
Pope Francis
The betting markets at bookmaker Paddy Power like the pope's odds. (Take this with a grain of salt: Bettors are swayed by name recognition.) A prize to Francis would be one way to highlight issues, including climate change and the rights of migrants, that the pope has spoken forcefully about.
The U.N. High Commission on Refugees
The UNHCR and High Commissioner Filippo Grandi could be another option for highlighting the refugee issue at a time of rising nationalism and anti-immigrant sentiment in the U.S. and Europe. Grandi has also been closely involved in the Rohingya crisis, so this choice could help the committee do some atoning for the Suu Kyi award. That's all well and good, and the UNHCR is undoubtedly doing vital and needed work around the world. But given the state of the global response to the crisis, it would be depressing to see the U.N. getting a pat on the back.
The White Helmets
Syria Civil Defense, better known as the White Helmets, were viewed as a front-runner for last year's prize and are getting a lot of speculation this year as well. The volunteers who provide first aid and rescue civilians in Syrian cities like Aleppo were the subject of an Oscar-winning documentary last year. While officially neutral, the White Helmets typically operate in rebel-held areas under bombardment by the Syrian government. At a time when Bashar al-Assad's continued rule in Syria is increasingly being accepted as an unavoidable reality by the international community, it would be an interesting time for an award highlighting his atrocities.
Cumhuriyet
Peace Research Institute Oslo thinks the venerable Turkish newspaper and its exiled editor Can Dündar could be awarded as a "living embodiment of President Recep Tayyip Erdogan's crackdown on the freedom of the press." Seventeen of the paper's employees are currently on trial. As a journalist, I'd love to see an award highlighting freedom of the press, but for whatever reason, the committee has avoided this in the past, despite some worthy candidates, such as Russian newspaper Novaya Gazeta and imprisoned Saudi blogger Raif Badawi. Badawi is also a possibility this year.
The American Civil Liberties Union
If the committee really wants to go anti-Trump, the 97-year-old American civil liberties group, which received plenty of speculation last year, is an option for its work challenging the administration's proposed travel bans and deportations. The group has also taken some heat from the left lately for its defense of white supremacist groups, so the award could be seen as an all-purpose defense of free speech.
Donald Trump
He is believed to be nominated by a U.S. senator. I'd probably be less shocked if they gave it to ISIS, but after last November, I'm never betting against the guy again.
*Correction, Oct. 5, 2017: This post originally misspelled Liu Xiaobo's given name.
---