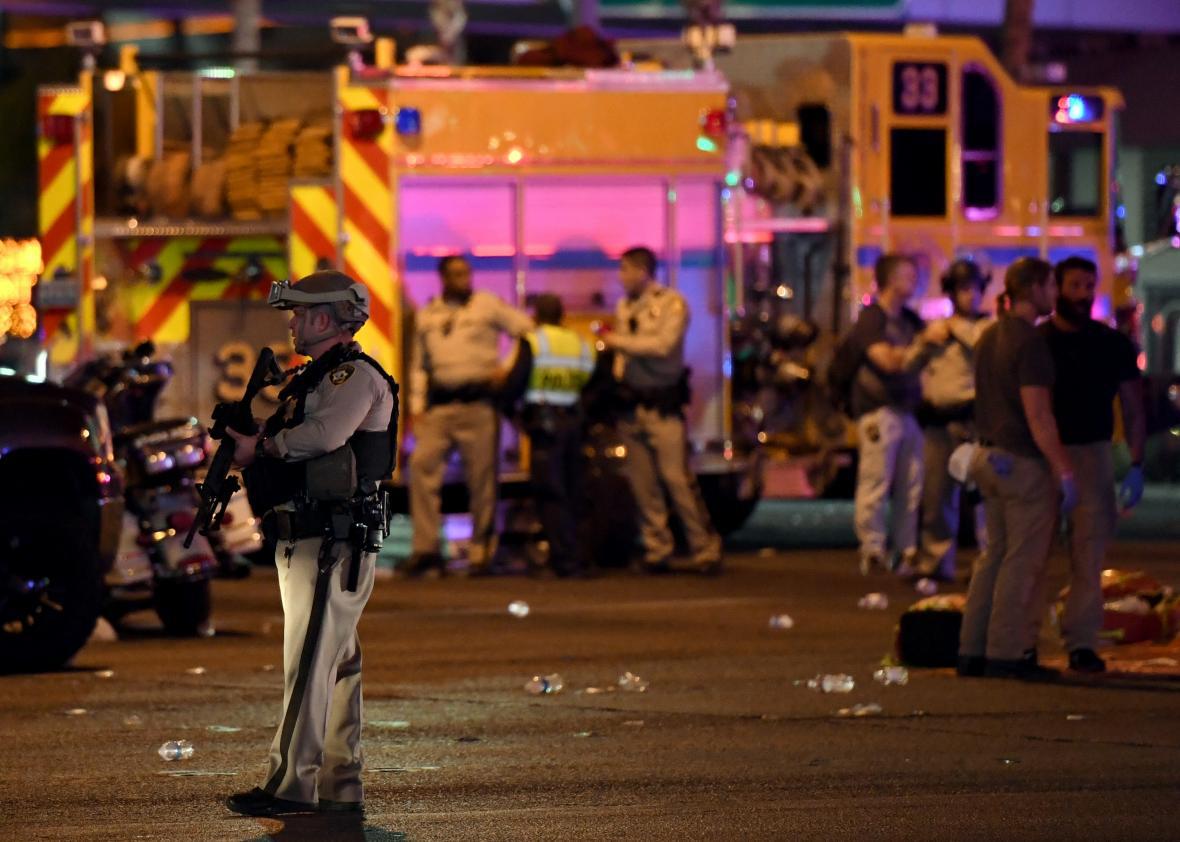 The suspected gunman who killed more than 58 people and injured more than 500 others Sunday night in what has become the deadliest shooting in U.S. history has been identified by authorities as 64-year-old Nevada resident Stephen Craig Paddock. Here is what we know about the gunman so far.
According to Clark County Sheriff Joseph Lombardo, officers found Paddock in his room on the 32nd floor of the Mandalay Bay Hotel and Casino across from the concert. Police are telling reporters that he was found dead with as many as 10 firearms (a law enforcement source later said more than 19 guns) and that they believe he killed himself before police entered his room. There are not believed to be any other shooters.
Paddock is a white man from Mesquite, Nevada, roughly 80 miles northeast of Las Vegas, according to the Las Vegas Metropolitan Police Department. Reports have said he was known to law enforcement but had no record of police contact or criminal convictions in Mesquite. Police searched his retirement-community home in Mesquite Monday morning and found additional ammunition, authorities said in a press conference Monday. Property records indicated he also owned a home in Mesquite, Texas, according to the Washington Post.
The shooter's brother told CBS News that Paddock had no religious or political affiliation and that he was "not an avid gun guy at all." He also said Paddock had no military background.
"We have no idea," the brother told Reuters. "We're horrified. We're bewildered and our condolences go out to the victims."
The Washington Post report that Paddock lived a "quiet life" as a retired man who, according to his relatives, often visited Las Vegas to gamble and go to country music concerts. (One relative told the Post that "there was nothing secret or strange about him.") A Las Vegas Review-Journal columnist reports that Paddock was "a well-known VIP gambler at Mandalay Bay."
The defense company Lockheed Martin told the Post that he had worked for the company from 1985 to 1988.
The shooter is believed to have been staying in the hotel since Thursday, police said in a press conference.
Police said they also located Paddock's longtime girlfriend, 62-year-old Marilou Danley, whom they originally had called a person of interest but whom they now believe was not involved in the attack. Danley, an Australian citizen, was found outside the country, NBC News reports, and police believe Paddock was using her ID.
Paddock's motive is unclear. Police have said they are not treating the shooting as an act of terrorism, and the FBI said the shooter had no ties to international terror groups.
This is a developing story. It is being updated.