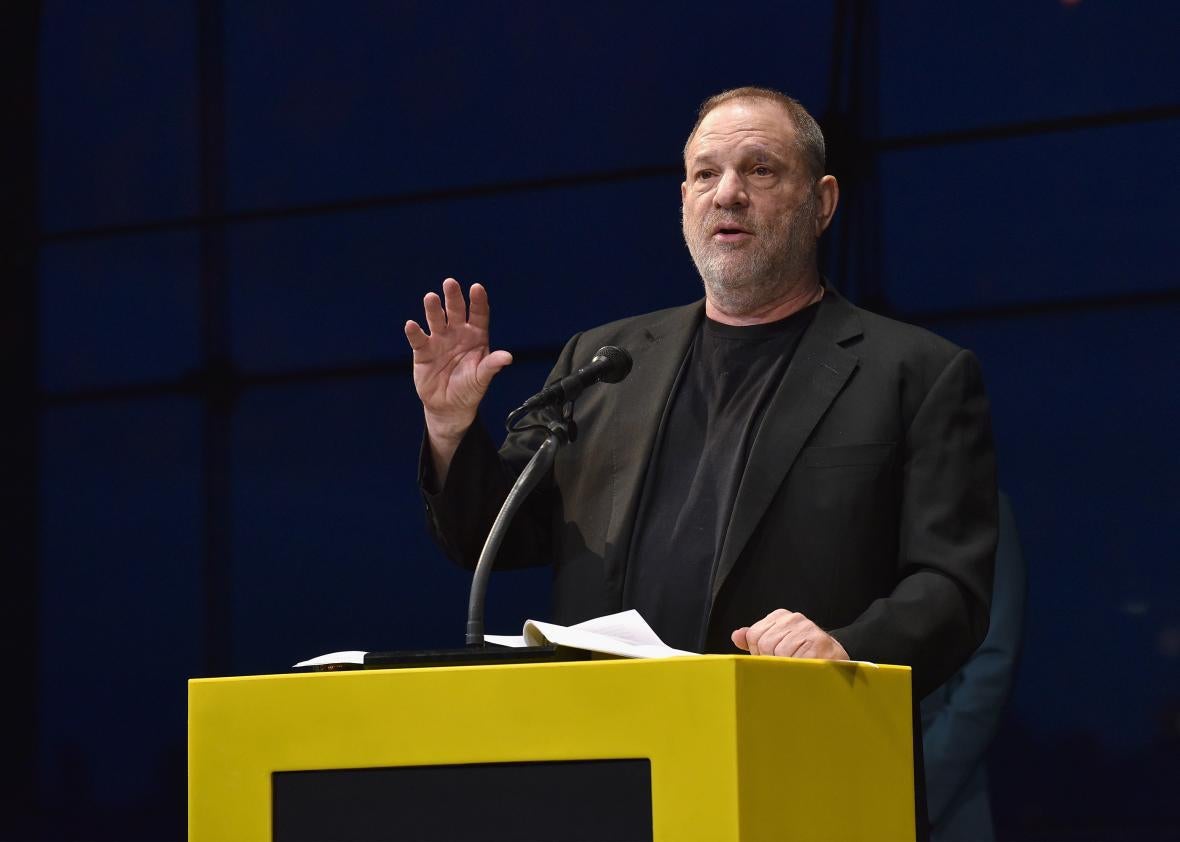 A daily roundup of the biggest stories in right-wing media.
Conservatives continued their attacks on liberal Hollywood and Democrats in the wake of new revelations regarding producer Harvey Weinstein. The Daily Wire's Emily Zanotti criticized Hillary Clinton for making a belated statement about Weinstein, who is a former donor to her. "Although the accusations against Weinstein remain exactly that — accusations — the list of victims now includes a bevy of Hollywood actresses, and at least three women who say Weinstein didn't just expose himself," Zanotti wrote. "He raped them. Even if Clinton was waiting for more concerete allegations, she likely had enough evidence of Weinstein's misbehavior by Monday morning to speak out."
Townhall's Guy Benson called out Jimmy Kimmel for not speaking about Weinstein on air until Monday night. In his monologue, Kimmel said that Weinstein was "not the president" or well-known outside of New York or Los Angeles. "Kimmel dismissively describing Weinstein as 'not the president' diminishes Weinstein's power and the seriousness of his appalling, decades-long pattern of aggressive, predatory treatment of women," Benson argued. "I might note that Kimmel had no compunction about hammering and mocking Bill O'Reilly, who's also not the president."
RedState's Jim Jamitis criticized both Chelsea Clinton and Donald Trump Jr. for their Twitter commentary on the Weinstein scandal. "Chelsea's dad is by most accounts the Harvey Weinstein of politics so her sharing of Juddle Gum's thread indicting Donald Trump for sexual misconduct shows that she is as much a political conniver as her mom," Jamitis wrote. "Trump Jr. taunting Hillary about her relationship with Harvey Weinstein is equally stupid given that his dad boasted about engaging in exactly the same kind of behavior as Weinstein—leveraging power and stardom to have his way with women." National Review's Jonah Goldberg called for the imprisonment of Weinstein and his enablers if the allegations against him prove true:
If these allegations are true and provable, then Weinstein surely should go to prison. Moreover, if any staffer knowingly cooperated in assisting Weinstein in raping women, they should go to prison as accessories.
I'll leave it to our legal experts to explain why this may be difficult as a procedural issue and all that. But as a moral issue — and, again, if true — the things Weinstein and his accomplices are being accused of aren't merely shabby, immoral, or cowardly. They are flat out criminal.
On his radio show, Rush Limbaugh aired a brief sketch in which Bill Clinton apologizes for Weinstein and gives him advice as he commits assault. "You do not see the name Bill Clinton in the story of Harvey Weinstein at all in the New Yorker," Limbaugh said. "Has anybody heard anybody defending Harvey, say, 'Come on. It didn't affect the way Harvey did his job. Come on, everybody does it.' Remember the old Bill Clinton defense we got?"
In other news:
The conservative investigative group Project Veritas released a new installment of its undercover project on the media, American Pravda. "Project Veritas has released a video of the New York Times video gatekeeper Nicholas Dudich, who was caught on hidden-camera boasting of his lack of journalistic ethics," a press release from the group reads. "Nicholas Dudich also told the undercover journalist bizarre stories about his personal connection to the FBI and his previous excitement as part of Anti-Fa."
The video was shared widely on social media.
---