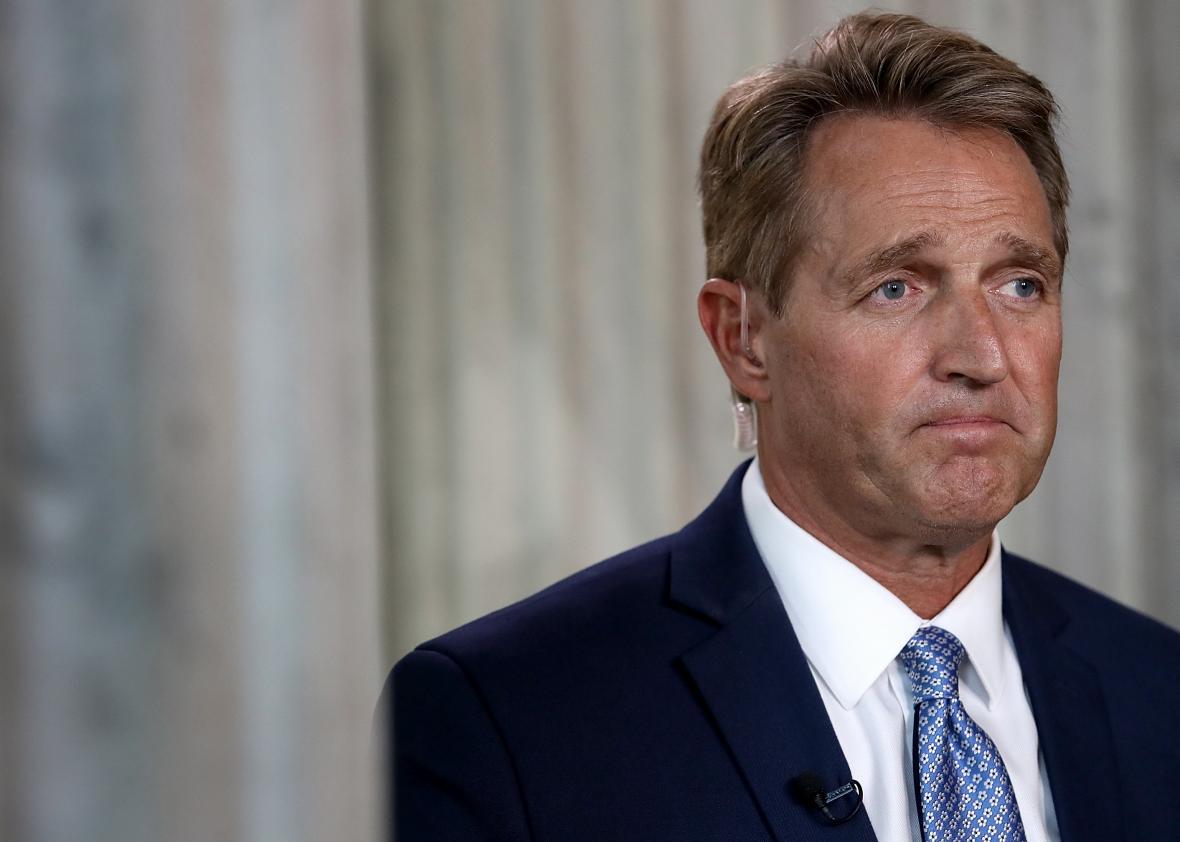 A daily roundup of the biggest stories in right-wing media.
On Tuesday, conservatives assessed the impact of Arizona Sen. Jeff Flake's announcement that he will not seek re-election, which was accompanied by a speech decrying President Trump and the state of the Republican Party. National Review's Theodore Kupfer contrasted Flake's speech with previous speeches critical of Trump from Republicans:
Several prominent Republicans have delivered speeches criticizing Trump, some obliquely and others directly. Last week, John McCain denounced "spurious nationalism" while George W. Bush warned that "bigotry seems emboldened" and sounded a concerned note about Trump's agenda without mentioning him by name. Bob Corker, for his part, told the New York Times that Trump was leading the country on "the path to World War III," and finds himself engaged in a Twitter feud with the president.
But Flake's speech was a long, sustained jeremiad against Trump that cited James Madison and Theodore Roosevelt to argue that Trump represents an existential threat to American institutions. "Reckless, outrageous, and undignified behavior has become excused and countenanced as 'telling it like it is,' " he said, "and when such behavior emanates from the top of our government, it is dangerous to our democracy" and "projects a corruption of the spirit."
The Federalist's Ben Domenech wrote that Flake's decision "authenticates" the GOP as the party of Trump. "This decision is Flake recognizing reality has shifted, but it is also about recognizing that he – just like Corker and others who will likely bail – is incapable of making anything happen," Domenech argued. "This is less a changing of the guard, because Flake is not the guard, he's more of a bystander to the guard, and he knows it." Domenech also pushed back against speculation that Steve Bannon's endorsement of Flake's would-be primary challenger Kelli Ward prompted Flake's move. "Claims will be made that Steve Bannon was the deciding factor here," he wrote. "He wasn't – Flake's fundamentals were bad well before Bannon was even a factor, in much the same way that Luther Strange's fundamentals were bad before Bannon swung in to push Roy Moore."
Breitbart ran a post noting that "a source (or sources) close" to Bannon told reporters that Flake's decision was "another scalp" for him. Bannon is executive chairman of Breitbart.
The Gateway Pundit's Cristina Laila celebrated. "Good riddance," she wrote. "We don't need Democrat allies like Flake in the Senate. Flake was down by 26 points to GOP challenger Dr. Kelli Ward in recent polling. He knew he didn't have a chance. Good riddance to another Trump hating RINO. 2018 is looking good for the MAGA movement!"
The Resurgent's Erick Erickson wrote that Flake's decision has less to do with Trumpism than his skills as a politician and his softening on conservative issues:
I have covered this before, but Washington Conventional Wisdom would prefer you think this is about Jeff Flake vs. Donald Trump. The reality is that Flake could have stood up authentically to Donald Trump and been supported by his voters if Flake wasn't such a bullsh…crap politician who essentially lied his way into the Senate.
The Club For Growth's scorecard is the one Jeff Flake used to recruit donors and national support. Going all the way back to 2005, Flake had a consistently conservative record on fiscal issues. He was one of the very few congressmen supported by the Club with a lifetime 100% score. He literally was the candidate people pointed to as the model Club For Growth candidate.
But once in the Senate he gave all the fiscal conservatives the middle finger.
In 2013, the Club For Growth's model candidate had an 84% score on their score card, below Mitch McConnell.
On Twitter, the Daily Wire's Ben Shapiro agreed:
---