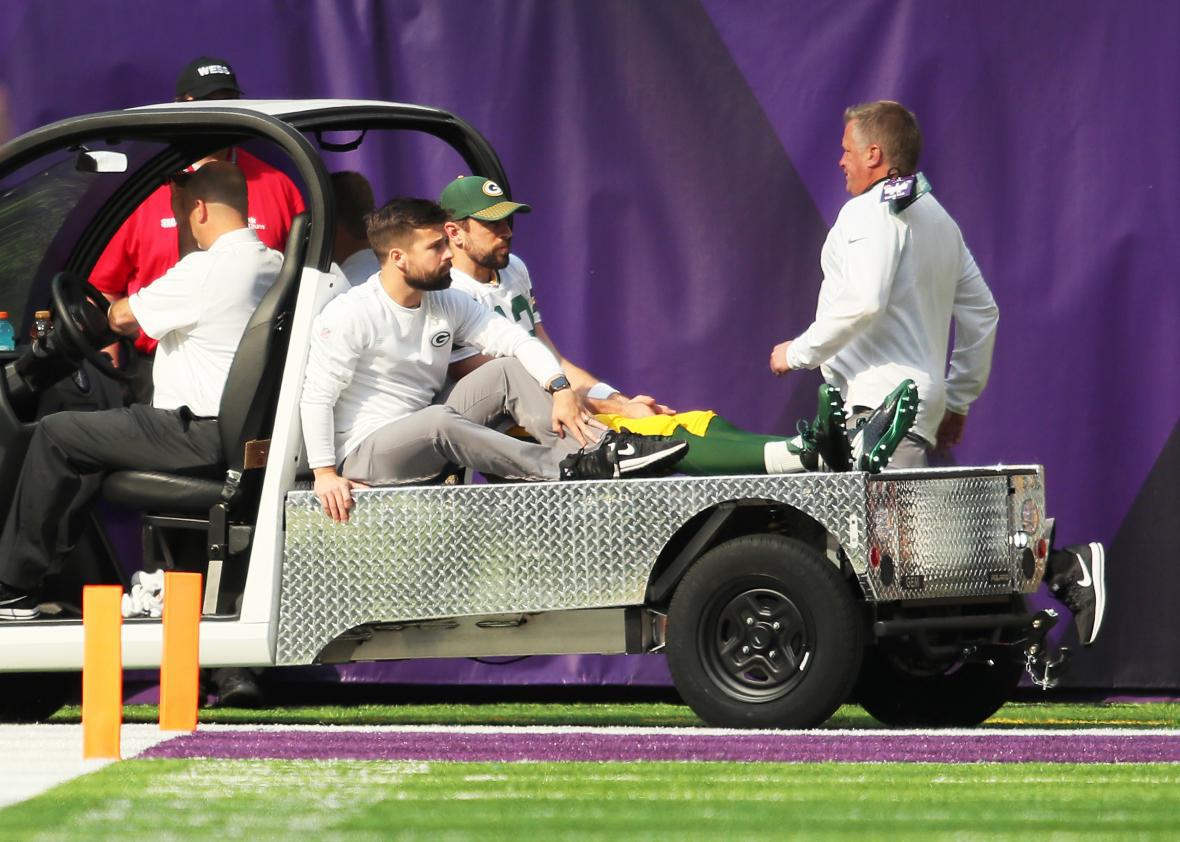 The 2017-'18 NFL season is objectively worse right now than it was on Sunday morning. Green Bay quarterback Aaron Rodgers broke his collarbone, and, for the foreseeable future, the league's best player will be spending his Sundays watching games rather than playing in them.
The injury occurred in the the first quarter of Green Bay's game against Minnesota. Vikings linebacker Anthony Barr tackled Rodgers to the turf, and the quarterback crumpled awkwardly on his arm and shoulder. (It's a bit of frustrating irony that Rodgers' offensive line on Sunday was in the best shape it's been in all year.)
After Rodgers was carted to the locker room for tests, Brett Hundley replaced him under center. Hundley is a promising young player, but, unfortunately for the Packers, he is one of the roughly 7 billion people on earth who is not Aaron Rodgers, meaning he will represent a downgrade at the quarterback position. With Rodgers, the Packers are a consistent threat to challenge for the Super Bowl. Without him … well, we're about to find out.
Rodgers had been enjoying a terrific season, leading the Packers to a 4-1 record atop the NFC North. Just last weekend he performed his customary late-game vivisection of the Dallas Cowboys, which was exhilarating at the time but rather irritating in retrospect as it perfectly encapulates what fans will be missing due to his broken collarbone.
In 2013, Rodgers suffered a similar injury when he fractured his left clavicle in week nine. However, he was able to recover in time for the last game of that season, an affair in which he threw a last-gasp, game-winning touchdown to win the NFC North for the Packers and usher them into the playoffs. It was a miraculous performance that Green Bay fans will be careful not to label "once-in-a-lifetime" just yet.
Football carries more potential energy per play than any other sport. You never know when a routine tackle will result in something devastating, but the possibility is always there. While these high stakes may make the sport exciting, they can also conspire to result in the exact opposite outcome. Aaron Rodgers' broken collarbone is an example of this, and the league will suffer as a result.
---