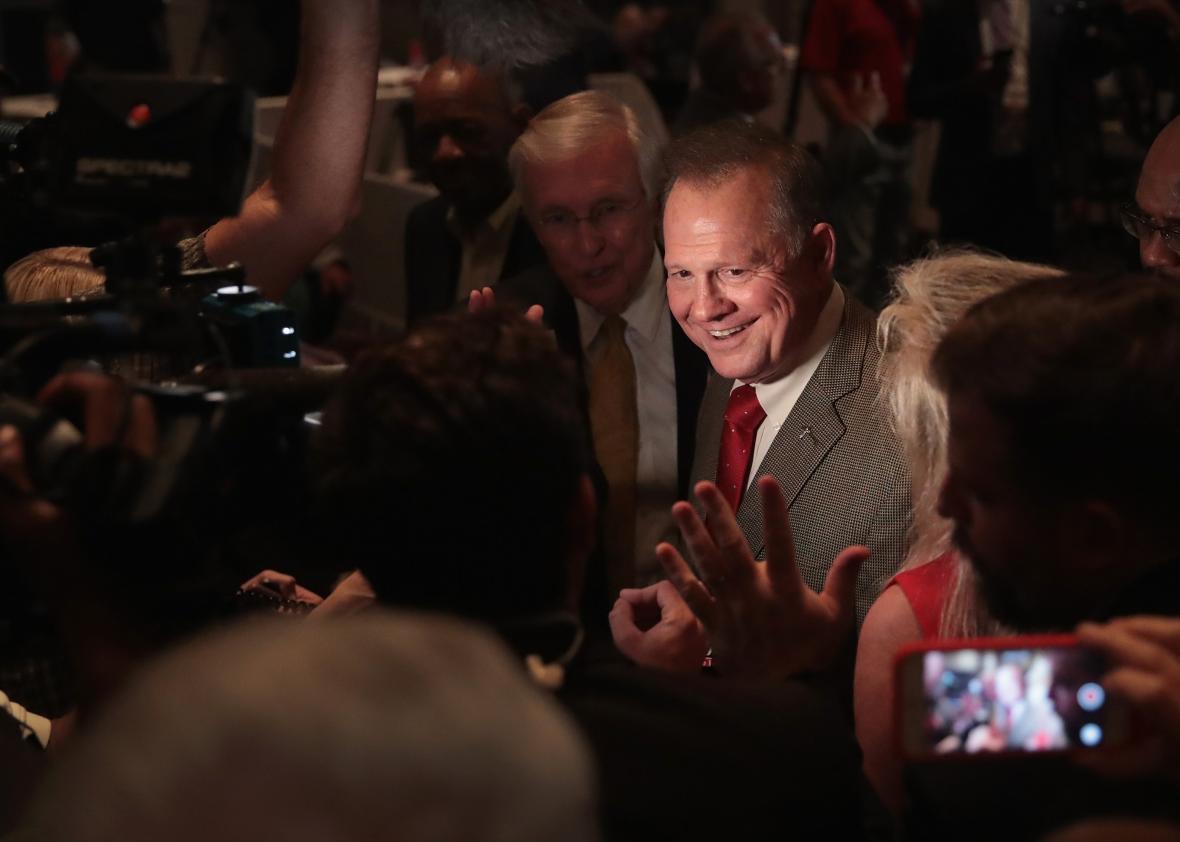 The Washington Post reports that Senate candidate Roy Moore privately received a salary—obscured by "errors and gaps" in federal tax filings—at the charity he founded to promote "Christian values," despite having publicly said he did not take a "regular salary" from the organization.
Moore's salary could mean the charity, which was largely run by Moore and his family, violated IRS rules that prohibit using a charity for personal financial gain.
The populist conservative and former Alabama judge who is projected to win Jeff Sessions' Senate seat had said he did not want to be a financial burden to the charity, the Foundation for Moral Law. But in fact, he had arranged a salary of $180,000 a year for part-time work, according to documents from the charity the Post obtained.
Moore recently secured the Republican nomination in the Alabama Senate race, defeating Luther Strange, the candidate backed by President Trump, with his own backing from Steve Bannon and other hard-line conservatives. Moore has decades of Christian right-wing credentials, having twice lost his position as chief justice of the Alabama Supreme Court by taking public stands on what he believes is the rightful place of Christianity in U.S. law.
He was a leading voice in the birther movement. He has neo-confederate ties. In 2005, he said "homosexual conduct" should be illegal. In 2006, he said Muslims should not be allowed in Congress. In more recent news, Roy Moore also called Native American and Asian American people "reds and yellows" and claimed there was "Sharia law" in Illinois and Indiana, or somewhere "up there," before acknowledging he didn't know if it was true.
In total, Moore was paid more than $1 million by the charity from 2007 to 2012, when he was the organization's president. In his last two years as president, Moore personally wound up with roughly a third of the group's total contributions, according to the Post. At one point, when donations to the charity were falling, the charity's board held an entire meeting to figure out how to compensate Moore for amounts they weren't able to pay him in the previous four years. They settled on a promissory note. Per the Post:
The board backed up its promise with a second mortgage on the charity's historic building. In effect, the board was giving him the opportunity to foreclose on its headquarters to collect what he was owed.
According to the Post, the Foundation for Moral Law was first founded with the intention to be a legal defense fund for Moore when he was fighting to keep a 5,280-pound granite monument depicting the Ten Commandments in the Alabama State Judicial Building. Moore, now known to some as the "Ten Commandments Judge," was removed from the Alabama Supreme Court bench in 2003, when he refused to comply with the federal court order to remove it.
Despite the organization rebranding itself as a broader conservative Christian causes-focused organization guided by Moore in order to receive charity status from the IRS, it continued to aid Moore in the years after he was ousted. It promoted his book and paid for him to travel and give speeches, in what some argue amounts to a public relations push to benefit his career:
At a time when Moore was running for other public offices in Alabama, the charity kept him in the public eye and helped establish a nationwide network of donors while he took on controversial positions against same-sex marriage, Islam and the separation of church and state.
The charity has also employed two of Moore's children, and Moore's wife, Kayla, serves as its current president and has been paid $195,000 over three years. The former executive director of the charity serves currently as Moore's campaign manager.
The charity's former chairman, Alabama Circuit Court Judge John Bentley, told the Post that the Foundation for Moral Law did not serve to benefit Moore and that any wrongdoing or errors in the filings were likely unintentional. Bentley said he could not explain the gaps and inaccuracies because he spent very little time overseeing the charity's finances.
In 2005 and then again in 2010, Moore ran in Alabama's gubernatorial election and lost both times. Alabama voters then re-elected Moore as chief justice in 2012. He lasted until 2016, when he was suspended from the court for judicial misconduct by repeatedly trying to block same-sex marriage in the state after a federal ruling made it the law of the land.
This year, he turned instead to Attorney General Jeff Sessions' vacant Senate seat. He will face Democrat Doug Jones in December.