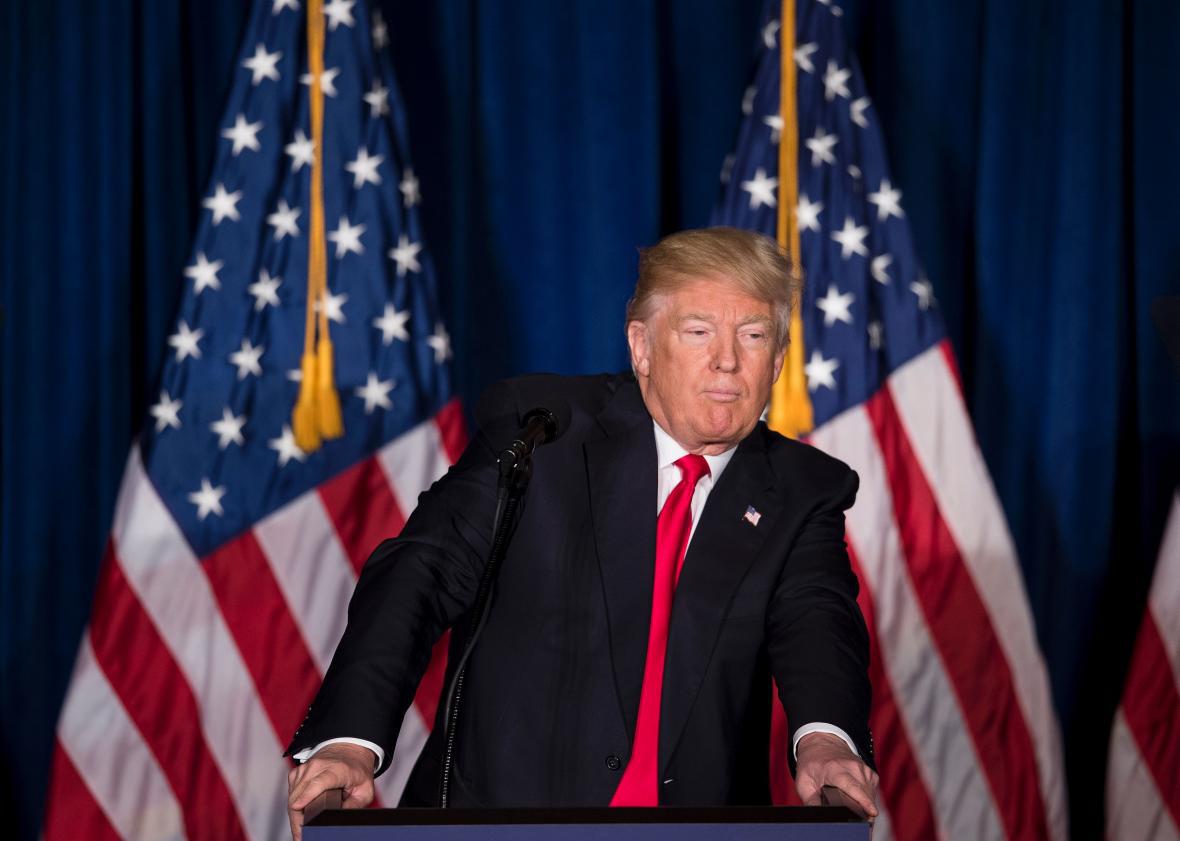 Since charges were announced Monday against former Trump campaign foreign policy adviser George Papadopoulos, who pleaded guilty to misleading the FBI about his meetings with Russian government intermediaries, the president has been doing his best to make it sound like Papadopoulos was basically a nobody, a hanger-on distributing lawn signs in Dubuque, Iowa:
This wasn't exactly how Trump described him in a March 2016 interview with the editorial board of the Washington Post, right around the time Papadopoulos had his first meeting with the mysterious Russian "professor." Papadopoulos was one of the five names Trump listed when asked if he would soon be revealing his foreign policy team, describing him as "an energy and oil consultant, excellent guy."
Though Papadopoulos, according to his indictment, seems to have been in frequent communications with senior Trump campaign officials, Trump may be right that he was basically "low-level." There's little evidence that he was an influential adviser to Trump at any point. The thing is, it's not clear that Trump ever had any high-level advisers.
Hillary Clinton had hundreds of (yes, unpaid) foreign policy advisers whom she never met. But these were supervised by a brain trust of her former State Department aides and senior veterans of the Obama and Bill Clinton administrations. There was a clear hierarchy.
By contrast, a running question in the media through the presidential election was whether Trump even had a foreign policy team. As a candidate, Trump, despite not knowing the difference between Kurds and Quds, claimed he knew more about ISIS than the generals and said in August 2015 that he got his national security advice from "the shows." Trump's real estate lawyer Jason Greenblatt became Trump's adviser on Israel (and eventually his  administration's Mideast envoy) when Trump was having trouble answering questions from a group of Jewish reporters about the West Bank and called him in along with another Jewish executive for help. The impression was that he just grabbed the nearest guy in a yarmulke.
In September 2015, Trump told Hugh Hewitt that he would unveil his national security team "very soon"—then didn't do so for another six months.
When Trump did finally reveal his list in the Post interview, Papadopoulos stood out, given that he had been out of college for only seven years and still listed Model United Nations on his résumé, but none of the advisers, including future Russia-gate figure Carter Page, was particularly well-known in GOP foreign policy circles. The best-known figure on the list was Walid Phares, an Islamophobic Fox News fixture accused of ties to Christian militias in Lebanon.
In fairness to Trump, he didn't exactly have his pick of the litter. A good portion of the GOP foreign policy establishment condemned Trump during his campaign over his stances on NATO, Russia, trade, and other issues. His attacks on the George W. Bush administration's foreign policy certainly limited the number of GOP veterans he could work with.
Eventually, some of the establishment came around to Trump, but the bad blood hasn't dissipated entirely—Trump has stocked his top positions with generals and businessmen rather than figures with foreign policy experience, and dozens of ambassadorships and senior State Department positions are still unfilled.
Trump would likely ask why he should be taking advice from the same GOP foreign policy establishment that got us into the Iraq war and couldn't prevent North Korea from acquiring a nuclear weapon, among other failures, and he wouldn't be entirely wrong. But the fact that he didn't really have a team of experience foreign policy advisers throughout much of his campaign meant that dubious, inexperienced figures like Papadopoulos  had an outsize amount of influence and relatively little supervision. Whether this was by design or because of incompetence is a question for the courts to decide.
---