Opening day in baseball is celebrated with pomp, circumstance, and bunting, while the first NFL game of the year is the culmination of months of sports-industrial hype. Most years, though, the NBA season eases into gear gradually. While pro basketball begins in late October, it often doesn't register on the national sports radar until the league showcases its best teams in Christmas Day matchups, after baseball is finished and the NFL regular season is almost over.
This is not most years. In this, the first year of the Donald Trump presidency, our nation's chief executive has used his reverse Midas touch to turn professional football—already fraught as a spectation option by concussion concerns, high-profile domestic violence incidents, and bloated broadcasts that involve as many commercials and review stoppages as they do actual plays—into an absolute rat poison dumpster of culture-war bad feeling.
You know what I'm talking about. This stuff: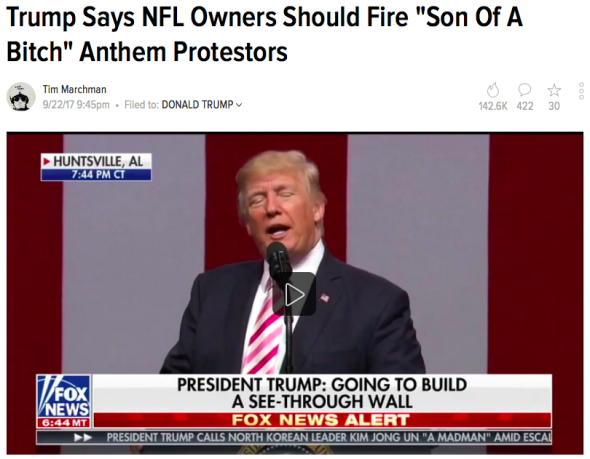 And this stuff:
(To be clear, I am not in any way suggesting that unobtrusive, silent pregame protests themselves make the NFL unwatchable. I will also footnote the comments above with the caveats that NFL players' Colin Kaepernick–inspired anthem demonstrations are protests against police brutality, not the flag or the concept of patriotism, and that Kaepernick began kneeling instead of sitting specifically to demonstrate respect for service members after meeting with a former Green Beret who had criticized him.)
Making things worse is that the NFL, already suffering from a dearth of household-name stars, has been hit with season-ending injuries to Green Bay Packers quarterback Aaron Rodgers, Houston Texans defensive end J.J. Watt, and New York Giants wide receiver Odell Beckham Jr. What we are left with, with some nice exceptions, are relatively anonymous players toiling through overlong games in the heavy shadow of toxic legal and political disputes. It's a grim fan experience.
The NBA will end our national malaise. LeBron James' Cleveland Cavaliers open the season Tuesday night with a game against the revamped Boston Celtics, who are led by former Cavalier Kyrie Irving. That game will be followed by a matchup of the champion Golden State Warriors and an already formidable Houston Rockets squad that has added Chris Paul, the best point guard of his generation. The league has been blessed with a generation of players and coaches who cultivate fast-paced, aeshetically pleasing basketball action on the court and engage in funny and relatable antics off of it—trends that have been encouraged via offense-minded rules tweaks and player-friendly attitude that is positively chill and mellow when compared to the NFL's heavy-handed paternalism. The opportunity to watch the teams in action tonight—as well as the newly superstar-heavy Oklahoma City Thunder, and the Milwaukee Bucks and Minnesota Timberwolves, fronted respectively by long-limbed, omni-skilled super-prospects Giannis Antetokounmpo and Karl-Anthony Towns—will feel like clean, cold autumn air breaking the spell of a damp, hot summer that has stayed too long.
And folks, NBA games will include fewer timeouts this year.
People are excited.
There are a few dark clouds on the horizon. For one, NBA commissioner Adam Silver has issued a not-chill warning about protests, asserting that he "expects" players to stand during the national anthem. There is also the ominous possibility that Trump will find out via Fox News that some of the NBA's most prominent figures—particularly five-time champion Spurs coach Gregg Popovich and James, a three-time champ himself—have been calling him on his petty, dishonest B.S. Popovich, a veteran, responded angrily on Monday when Trump claimed incorrectly that previous presidents haven't spoken to the bereaved families of service members killed in action; James called Trump a "bum" when the latter lashed out at Stephen Curry of the Warriors for hesitating to make the traditional post-championship White House visit this summer.
Since his outburst at Curry, though, the POTUS has been silent on matters of basketball, perhaps because it would be difficult for him to belittle such inarguably accomplished and self-assured individuals as Popovich and James. Here's hoping it stays that way and that they and our other hoops heroes perform unmolested during a glorious season of national redemption.