Dr. David Gunn was 47 years old when he was gunned down in 1993 during an abortion protest outside his clinic in Pensacola, Florida. Today we think of this as the first targeted killing of an abortion doctor in America—the murder that led to passage of the FACE Act, which made it a federal crime to block access to clinics. It also established the battle lines in an ever more violent and nihilistic war against abortion providers, one that has led to the murders of nearly a dozen more people in the decades since.
Michael Frederick Griffin reportedly shouted "Don't kill any more babies" just before putting three bullets in Gunn's back. While the doctor bled to death, Griffin calmly surrendered to the police, saying, "I just shot someone." Those attending the protest with Griffin showed no alarm at the shooting, a witness told the Washington Post's William Booth: "It looked like they were just happy."
At Griffin's murder trial, his defense counsel would blame his actions on a pro-life leader named John Burt. A former KKK member, Burt was eventually convicted of molesting and sexually abusing teens at a shelter he founded for unwed mothers. He died in prison. After Gunn's killing, Burt had announced, "We don't condone this, but we have to remember that Dr. Gunn has killed thousands and thousands of babies." At trial, Griffin claimed he'd been manipulated by Burt and others.
The jury had little sympathy for Griffin, who was found guilty of first-degree murder and sentenced to life in a Florida state prison, with a mandatory minimum of 25 years. In a television interview broadcast in Australia in 2010, he didn't say anything about having been brainwashed. Rather, Griffin owned his actions, saying that "we're all commanded to protect the innocent children. I just accepted that responsibility, I guess."
Griffin's remorselessness has made him a cult hero, birthing a form of radical activism others would emulate. For the last quarter-century, he's inspired his followers from behind bars. But this week, the man who murdered David Gunn will go before the Florida Commission on Offender Review. He could leave that hearing with an expected release date and the hope that he'll soon be a free man.
Gunn had been targeted by radical anti-abortion forces in the months before his murder. Operation Rescue put the doctor's face and phone number on a "Wanted" poster and displayed it everywhere, including at his daughter's school in Alabama.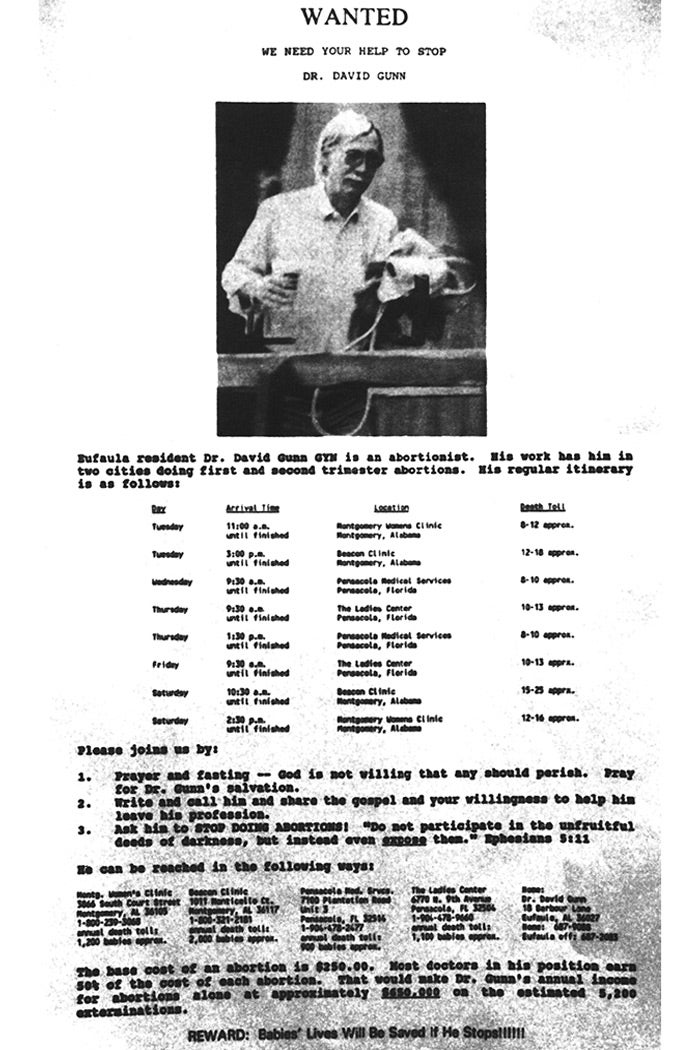 Immediately after Gunn's killing, militant anti-abortion activist Paul Hill began circulating what became known as the "defensive action statement," condoning and justifying the killing. The statement, signed by 34 pro-life leaders, read as follows:
We, the undersigned, declare the justice of taking all godly action necessary to defend innocent human life including the use of force. We proclaim that whatever force is legitimate to defend the life of a born child is legitimate to defend the life of an unborn child. We assert that if Michael Griffin did in fact kill David Gunn, his use of lethal force was justifiable provided it was carried out for the purpose of defending the lives of unborn children. Therefore, he ought to be acquitted of the charges against him.
You can draw a straight line between Griffin and the murderers and attempted murderers who came in his wake. First there was Rachelle "Shelley" Shannon, who corresponded with Griffin after he went to prison. ("I know you did the right thing," she wrote in one of her letters. "It was not murder. You shot a murderer. It was more like anti-murder.") Shannon, who like Hill was connected to the Christian terrorist group the Army of God, called Griffin "the awesomest greatest hero of our time." Shannon is now serving a prison sentence for a failed attempt to murder Dr. George Tiller, as well as for her part in bombings and arson attacks on other clinics. Sixteen years after Shannon shot Tiller in both arms, the doctor was murdered by Scott Roeder, another member of the Army of God.
Then there's Hill himself, who went on Donahue five days after Gunn's murder and announced that the doctor had deserved to die. In his autobiography, Hill wrote that the act of taking Gunn's life was comparable to "killing a Nazi concentration camp 'doctor.' " Hill, who sat through Griffin's trial, murdered Dr. John Britton and James Barrett in Pensacola on July 29, 1994. Hill was killed by lethal injection in 2003 and went to his own death unrepentant about the murders he'd committed. His last words were, "If you believe abortion is a lethal force, you should oppose the force and do what you have to do to stop it. May God help you to protect the unborn as you would want to be protected."
In December 1994, a 22-year-old anti-abortion activist named John Salvi III walked into a clinic in Brookline, Massachusetts, and started shooting, killing two and eventually injuring five others. Salvi was also reportedly inspired by Griffin. More recently, Robert Lewis Dear, who killed three people in a Colorado Planned Parenthood clinic in 2015, reportedly told police that Griffin's follower Hill was "somebody that he thought very highly of." After murdering a police officer and two civilians, Dear allegedly said, "No more baby parts."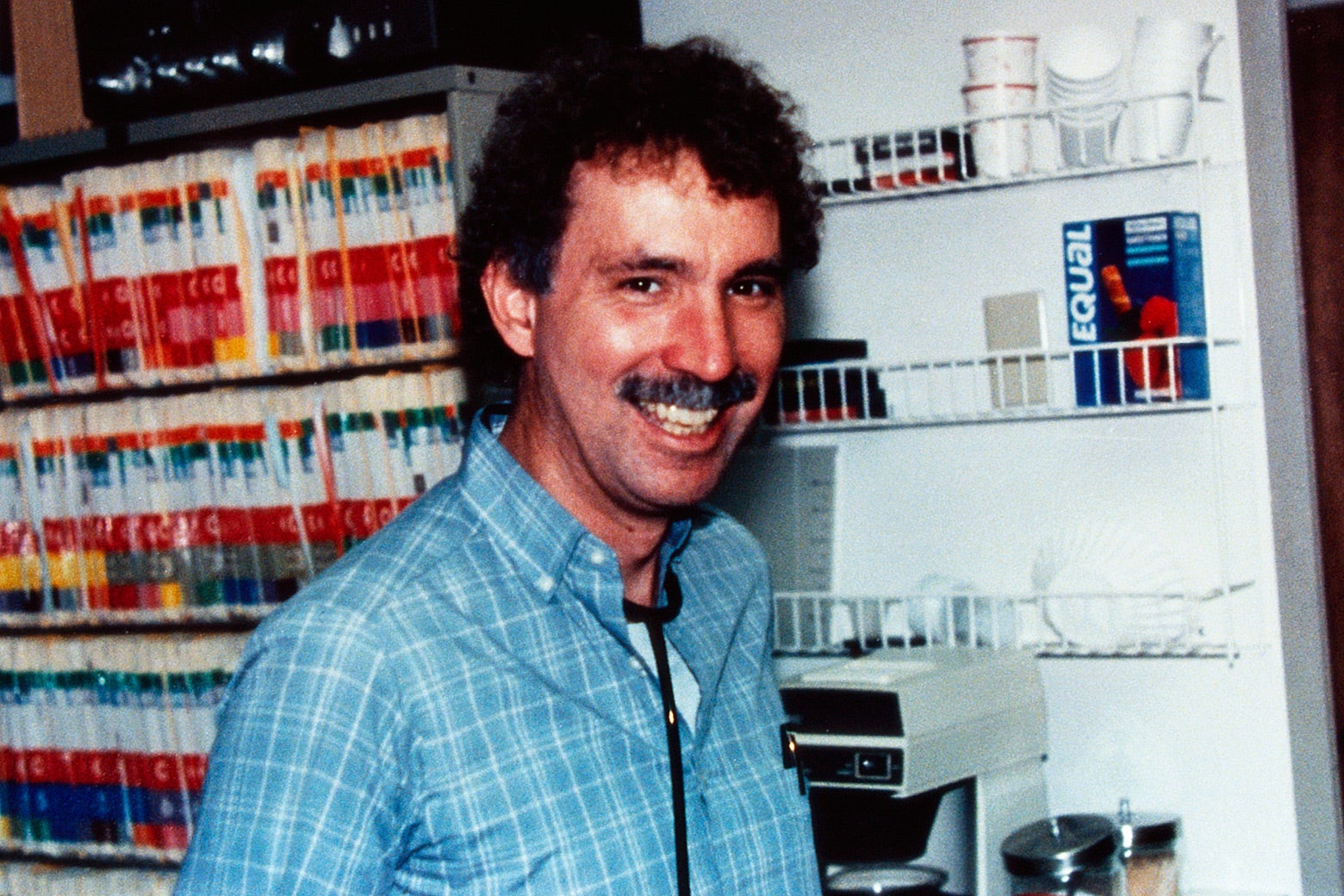 David Gunn Jr. was 22 years old when his father was murdered. In a 13-page letter to the Florida Commission on Offender Review, Gunn Jr. paints a vivid picture of a man committed to his family and his patients. The doctor, born in Kentucky in 1945, was a victim of childhood polio and walked with a limp for his whole life owing to a disfigured leg. He specialized in obstetrics and gynecology at Vanderbilt, later pioneering a technique to deliver breach babies. In the 1980s, Gunn Jr. writes, his father "agreed to provide abortion services to a clinic in Columbus, Georgia when the owner called and asked for his help. They had no shortage of patients but lacked a committed doctor." Gunn, who had three children, the oldest of whom died in a car accident, soon began making a weekly run from Eufala, Alabama, to Columbus to Montgomery, Alabama, to Mobile, Alabama, to Pensacola. He explained to his son that "women would suffer without care if he refused as there was a shortage of doctors willing to [provide abortion services] in the area."
In the last year of his life, Gunn was stalked, threatened, harassed, and intimidated. "Dad lived under constant threat of violence for years," Gunn Jr. writes.
On January 22, 1993, roughly two months before his assassination, Dad pulled into work confronted by another angry mob. Today, he must have thought, I am going to protest back. Dad greeted protesters outside a clinic in Montgomery with an impromptu solo performance of Happy Birthday to You celebrating the 20th anniversary of the Roe v. Wade [ruling]. Next, he produced a large boom box, adjusted the volume to 11, and played Tom Petty's "I Won't Back Down" in their direction while he sang along. His protest generated some local press, his ongoing dedication to women's health began to draw national attention, and the ire and desperation of his foes intensified.
In his letter, Gunn Jr. describes the last time he saw his father. They grilled steaks, watched college basketball, and talked about the protesters threatening to harm him. Three days later, Griffin "emerged from a hedgerow where he was hiding with all the discipline and cold calculation of a trained assassin, and pumped three pistol rounds into my dad's back."
Gunn Jr. is now 47 years old and works as a case manager at a law firm in Birmingham, Alabama. He became an activist after his father's murder, pushing Congress to pass the FACE Act. Gunn Jr. also sat next to Hill on Phil Donahue's show, listening as the anti-abortion zealot explained why the murderer Michael Griffin was in fact a hero.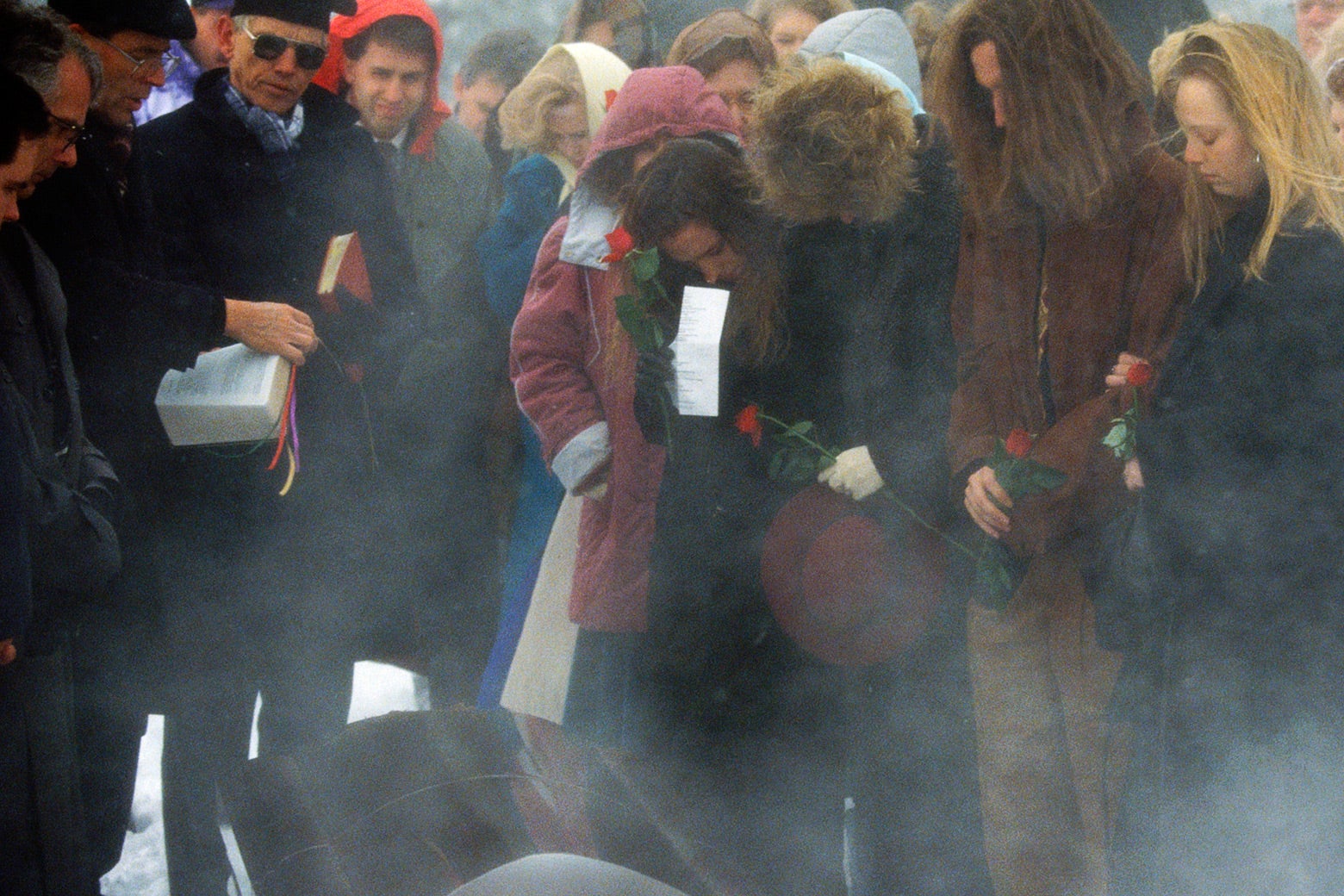 Although Florida effectively abolished parole in 1983, those who committed first-degree murder prior to 1995 are part of a small group of inmates who remain eligible. In a phone interview, Gunn Jr. told me a victims' services representative from the Florida Commission on Offender Review informed him roughly a year ago that Griffin's hearing would be scheduled for the fall of 2017 and that the commission would likely set his presumptive parole release date at that time. He said he learned only in the past month that the hearing would be on Wednesday.
Griffin fits the profile of what Rebecca Traister has described as a classic killer: a man with a history of violence against women. In 1991, two years before Griffin murdered Gunn, Griffin's wife said in a divorce action that he'd physically abused her. (She later withdrew that divorce action.) He also reportedly suffered from violent fits of rage.
Despite the clear and overwhelming evidence of Griffin's pathology, Gunn Jr. has reason to be concerned about the outcome of this week's hearing. On Sept. 29, the Commission on Offender Review produced a memorandum titled "Initial Parole Interview: Rationale / Basis for Recommendation." That document cites Griffin's "outstanding and above satisfactory work ratings," notes that he is a GED dorm tutor and a math classroom tutor, and says he "has received no processed disciplinary reports since his initial incarceration." It also includes a lengthy list of largely faith-related programs the 56-year-old Griffin has completed, among them "Becoming a Contagious Christian" and "Forward in Faith."
Given his "lack of [disciplinary reports] and program participation," the memo states, the investigator assigned to look over Griffin's parole case recommended that he "be referred to the [Florida International University] lifer's program" upon his presumptive parole release date. That date may be set at this week's hearing.
The Florida International University lifer's program, per a 2016 op-ed in the Miami Herald, consists of a series of workshops and classes that prepare men for the transition "from institutionalized prison life back into the free world, and not one has returned to prison for committing another violent crime." An essay on the website Forgotten Majority notes that an inmate may enter the program only "through direct recommendation from the Florida Parole Commission." It further says that the "coveted Program is the exit door from state prison for enrollees who successfully complete."
In an interview with James Risen and Judy L. Thomas of Newsweek in 1998, Michael Frederick Griffin showed no remorse whatsoever for the murder of Dr. David Gunn. "I thought it was Providence," Griffin said, describing an encounter with Gunn in the days before the murder. "I knew he was getting ready to go kill children that day. I asked the Lord what he wanted me to do. And he told me to tell him that he had one more chance. … I felt like I had another word from the Lord for him: that he was accused and convicted of murder and that his sentence was Genesis 9:6, 'Whosoever sheds man's blood, by man his blood shall be shed.' "
Griffin hadn't changed his attitude in 2010, when he sat down for a jailhouse interview with 60 Minutes Australia. "The only people who should be in fear and terror are the abortion doctors," he said, explaining that "they've got to have a reckoning one day with God." Griffin added that a doctor performing abortions today "should stop what he's doing and get saved and repent of it." When the interviewer, Tara Brown, replied, "Well, he says he's not going to stop," Griffin answered, "He'll stop one day, take my word for it." He said that was "a promise."
Brown ended her report by noting that the "good news is, [Griffin] is unlikely to ever get out of jail." Griffin closed his part of the interview by urging his acolytes to commit murder.
Griffin: You know, their blood being shed in their clinics and stuff is just retribution from God for their acts. And that blood has to be paid for and that is the way it's been paid for.
Brown: It sounds like you would celebrate anyone if they decided to kill [abortion provider] Dr. [LeRoy] Carhart?
Griffin: I'm not asking for that, if that's what you're asking.
Brown: And how much regret would you have if somebody did?
Griffin: Zero.
Today, seven years after that interview aired on Australian television, Griffin says he takes "full responsibility for my actions." He makes that claim in a four-page handwritten letter to the Commission on Offender Review in which he argues that he should be granted parole. In that letter, Griffin spells out his deep commitment to his faith, to education, and to his mission to help others. He also briefly cites his "past apology to the [name redacted] family," presumably that of David Gunn. (The Commission on Offender Review redacted the name in advance of providing me the letter.)
Gunn Jr. was shocked when he read that statement on Monday. He had seen Griffin's interview with 60 Minutes Australia, and he knew that his father's killer had no remorse. Gunn Jr. says Griffin has never apologized to him nor to his sister or his mother.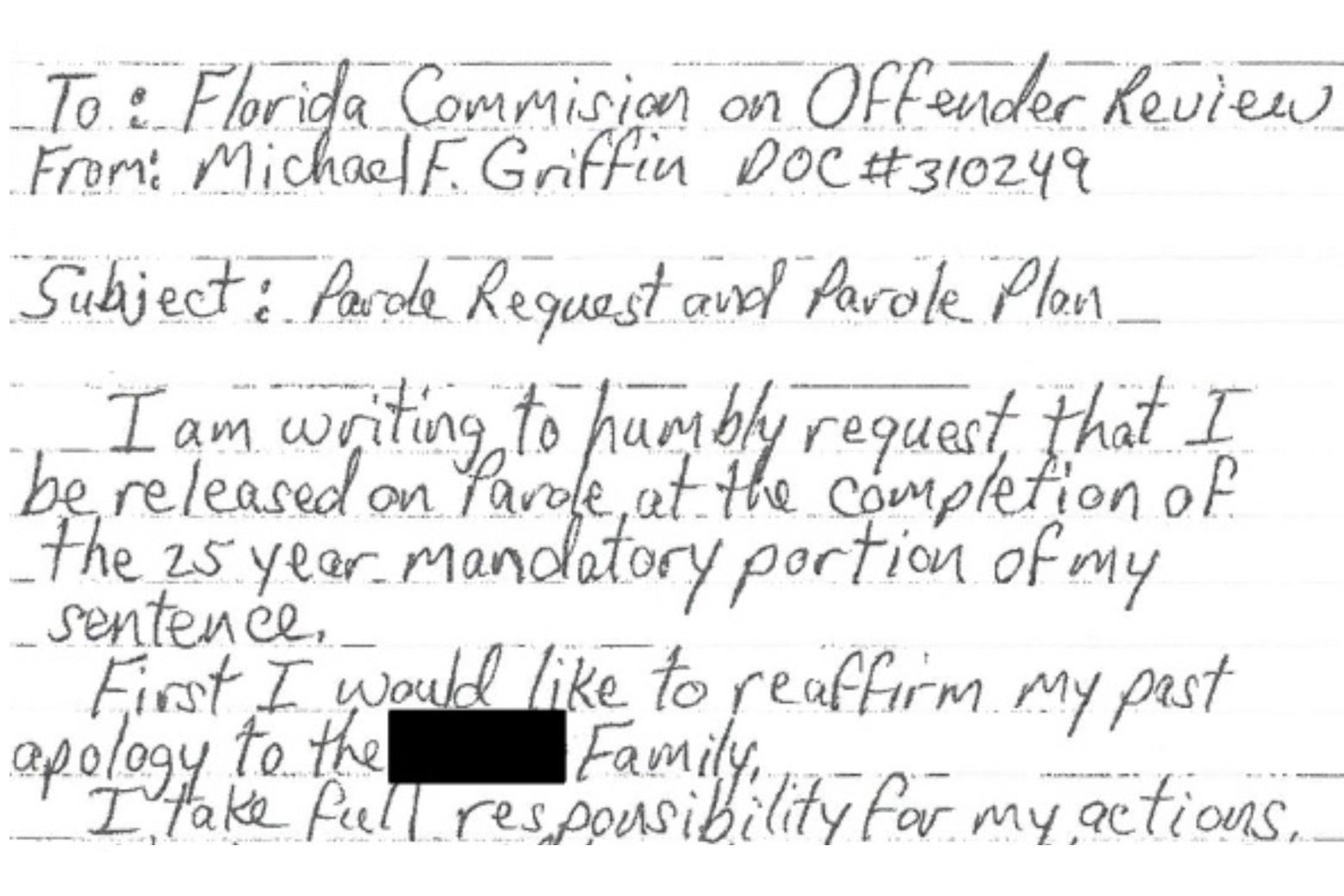 In his letter and in our phone conversation, Gunn Jr. noted Chapter 947 of the Florida state code, which states, "No person shall be placed on parole merely as a reward for good conduct or efficient performance of duties assigned in prison." Even so, the parole interview report recommending Griffin's admission to the lifer's program—"the exit door from state prison"—does not mention anything beyond good behavior and the completion of classes.
In interviews with the communications director of the Florida Commission on Offender Review, I was told that the decision to set a presumptive parole release date is made by the three commissioners themselves and does not in any way rely on the commission investigator's recommendation. When the commission meets this week, Gunn Jr. will be given 10 minutes to explain why Griffin should not be released from Blackwater River Correctional Facility. He will split that time with Shad Redmon, who will speak in opposition to Griffin's release on behalf of the state attorney's office. Redmon shared the following statement with me via email: "We, as the State Attorney's Office, will be opposing parole for this defendant. The facts and circumstances surrounding this crime, in total, indicate that society will be best served and protected with his continued incarceration."
In his letter to the Commission on Offender Review, Gunn Jr. points to the killers who claimed to be inspired by Griffin. "If you parole the first person to murder a doctor for providing his patients with a legal service the assassin finds morally reprehensible, are you setting a dangerous precedent?" he asks.
Is the lesson, then, to make sure you assassinate early, say by no later than 24, knowing chances are you are more likely than not released at or around the tender age of 48? It is illogical to reach any other conclusion but that parole and clemency for this particular inmate will have disastrous effects on the lives of countless people who engage in professions or live lifestyles terrorists like inmate Griffin disagree with or find offensive. Any argument to the contrary does not sufficiently apply the facts to current conditions.
According to the National Abortion Federation, 10 men and women have been killed in attacks on abortion providers since the murder of Gunn. There have also been numerous nonlethal chemical attacks and bombings at clinics. A report issued earlier this year noted that attacks on clinics are occurring at higher rates right now than at any time in the past 20 years, with "34.2 percent of U.S. abortion providers report[ing] 'severe violence or threats of violence' in the first half of 2016." These attacks are carried out by people who believe they are above the laws that define murder and homicide and that they are justified in impeding every abortion by any means necessary.
Kathryn Kolbert, a reproductive rights lawyer who argued Planned Parenthood v. Casey at the Supreme Court in 1992, told me Michael Griffin's murder of David Gunn "gave permission to everyone else. It was like Charlottesville." She told me that "it's hard for people today to remember the actual terror he wrought. At that time the doctors, the nurses, the clinic workers, even the people seeking care were terrified. That killing began what I think of as years of siege."
As Michael E. Miller and Yanan Wang have painstakingly detailed, one hallmark of all these clinic murders is that the killers show no remorse. They subscribe to a Manichean worldview holding that their actions are just and that the people they've killed are not human beings worthy of living. "Releasing Michael Griffin would … send a horrific message to those who believe that abortion should be stopped at all costs," David Cohen, co-author of Living in the Crosshairs: The Untold Stories of Anti-Abortion Terrorism, told me via email. "Those extremists would see that Michael Griffin's sentence is over and might make the calculation that they could risk a couple of decades in jail to kill an abortion provider."
In his letter to the Commission on Offender Review, Gunn Jr. describes how the world has changed since his father's murder. "When my dad was killed 24 years ago, it was fairly shocking news, especially to those outside the abortion rights and provider communities, to see just how violent and volatile the anti-abortion movement had become of late," he writes. "Now, when someone influenced by Griffin assassinates another doctor or attacks another clinic, it is as if it is an expected outcome. It is as though doctors, nurses, clinic owners and patients must alter their expectations of civility and liberty, and simply get used to living in terror under fear of their lives and the lives of their families."