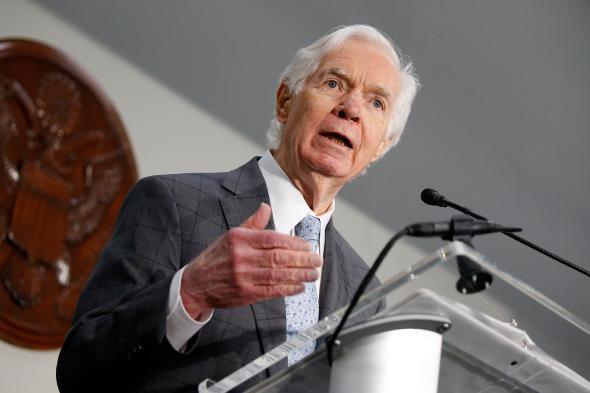 Politico tagged along with longtime Mississippi Sen. Thad Cochran on Wednesday and ended up with a story headlined: "Frail and Disoriented, Cochran Says He's Not Retiring." The seven-term Republican senator has been in office for 44 years, but at the age of 79, the report more clearly articulated some of the health problems that appear to be facing the chairman of the Appropriations Committee. Cochran has been absent from the Senate since last month and was late in arriving in Washington this week after recovering from what his office described as urological issues.
Politico caught up with Cochran in the halls of Congress on Wednesday and painted a worrisome picture of his well-being.
The 79-year-old Cochran appeared frail and at times disoriented during a brief hallway interview on Wednesday. He was unable to answer whether he would remain chairman of the Appropriations Committee, and at one point, needed a staffer to remind him where the Senate chamber is located… Cochran had to be guided by staffers around a security checkpoint inside the Capitol. He started to walk into a first-floor room—though the Senate chamber is on the second floor. He was then ushered by an aide up to the Senate… When another reporter asked whether leadership had pressured Cochran to return for a vote on the budget resolution—a key moment in the tax reform debate—Cochran smiled and responded, "It's a beautiful day outside."
Cochran sat quietly in his seat during Wednesday's lengthy vote session. He smiled and responded when a fellow senator stopped by to offer greetings, but generally did not speak to anyone else. On one amendment, Cochran voted "yes" despite being told by an aide to vote "no." The staffer tried to get the senator to switch his vote, but Cochran kept flashing the "thumbs up" sign, even walking over to the clerk tallying the vote and doing so. GOP floor staffers repeatedly told him the leadership wanted a "no" vote. Several more moments passed before Cochran realized he was voting the wrong way and then changed his vote.
Cochran's health has for years been a largely unspoken concern; his recent absence has created political headaches for Senate Republicans as they try to pass tax cuts and jump-start a number of other stalled GOP priorities.
---