The headline news of the morning seemed to be that special counsel Robert Mueller has indicted Trump campaign chairman Paul Manafort for a number of crimes related to his pre-campaign work for a Russia-aligned political party in Ukraine. But it's starting to look like a guilty plea that the Department of Justice announced with little fanfare on its website may be even more consequential going forward. Specifically, the DOJ posted some very intriguing information related to Trump campaign foreign policy adviser George Papadopoulos, who pleaded guilty to making a number of false statements to the FBI about his 2016 contact with individuals purporting to represent the government of Russia.
Here's the official summary Papadopoulos' plea, which took place on Oct. 5 and was kept under seal until Monday:
Another court document lays out who these "foreign nationals" were. One was an unnamed professor who "claimed to have substantial connections to Russian government officials" and who Papadopoulos met coincidentally (or "coincidentally"?) while traveling in Europe in March 2016 after he'd agreed to advise the Trump campaign. Another was a "female Russian national," purportedly related to Vladimir Putin, who the professor introduced him to. A third was a Moscow-based individual who purported to have connections within Russia's Ministry of Foreign Affairs. The DOJ says Papadopoulos corresponded with these individuals for several months about the possibility of setting up a meeting between Trump campaign staffers—or Trump himself—and Russian officials.
Meanwhile, Papadopoulos also repeatedly told "high-ranking" Trump campaign officials about his Russia contacts in an effort to make the meeting happen:

The formal Trump campaign–Russia meeting that Papadopoulos was attempting to broker never took place. Based on earlier Washington Post reporting, though, we know that one of the "high-level officials" Papadopoulos was in touch with was Paul Manafort. And the DOJ also says that Papadopoulus was told in person by one of his contacts in April 2016 that Russia possessed "thousands of emails" involving "dirt" on Hillary Clinton.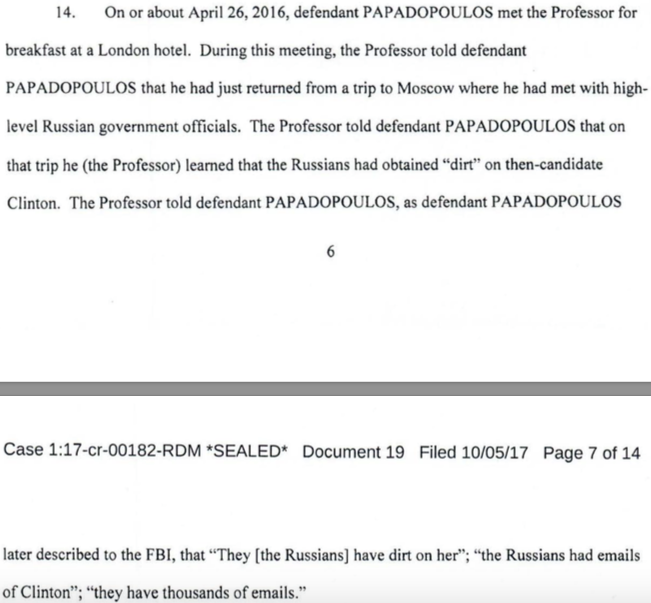 Signs of Russia-directed incursion into the Democratic National Committee's email system were detected as early as September 2015, and Clinton campaign chairman John Podesta was hacked in March 2016.* But the first DNC emails weren't released publicly by WikiLeaks until July.
Crucially, the DOJ document does not say whether Papadopoulos told Manafort or any other Trump campaign officials about this "dirt." But it does say he lied to the FBI and deleted his Facebook account in an attempt to cover up the extent of his communications—and that after being arrested and, presumably, informed that he was in way over his head unless he struck a cooperation plea deal, he met with investigators on "numerous occasions" to "provide information."

So, what we have here is evidence that a Trump campaign adviser was told by Russian contacts that the Russian government possessed incriminating emails related to Hillary Clinton. We also know that Papadopoulos made top Trump campaign officials, including Paul Manafort, repeatedly aware that he was in touch with these purported representatives of the Russian government. And we know that Papadopoulos was cooperating with investigators for months—cooperation that was kept secret until the same day that Manafort was taken into custody.
Stay tuned!
*Correction, Nov. 2: This post originally misstated the month in which Russian incursion into the DNC's email system was detected.