A Canadian man who was held by the Taliban-linked Haqqani network in Afghanistan for five years along with his American wife and their children said their captors raped his wife and killed their infant daughter. Joshua Boyle made the revelations when talking to reporters shortly after the family arrived in Canada after they were rescued Wednesday when their captors took them across the border from Afghanistan to Pakistan.
"The stupidity and evil of the Haqqani network's kidnapping of a pilgrim and his heavily pregnant wife engaged in helping ordinary villagers in Taliban-controlled regions of Afghanistan was eclipsed only by the stupidity and evil of authorizing the murder of my infant daughter," Boyle said after landing in Toronto. "And the stupidity and evil of the subsequent rape of my wife, not as a lone action, but by one guard, but assisted by the captain of the guard and supervised by the commandant."
Caitlan Coleman, who is from Stewartstown, Pennsylvania, was pregnant when the couple was captured by the militants while the pair were backpacking as part of a trip that eventually led them to go hiking in Wardak province, Afghanistan. She had four children while in captivity. Boyle said the pair were in Afghanistan to help villagers living under Taliban rule.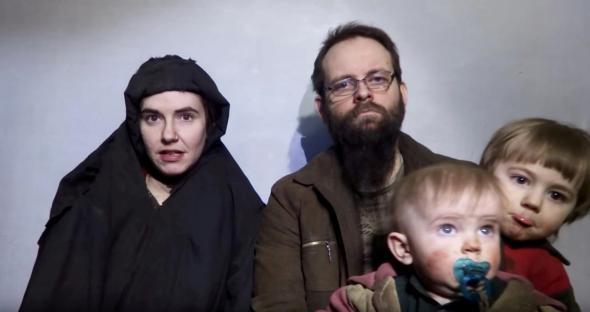 Analysts say the Haqqani network is known for cruelty toward hostages. "Generally, they don't treat prisoners humanely," Hamed Daqeeq, a former Afghan government official who is now a political analyst, told the Washington Post. But two senior members of the Haqqani network denied the allegations to NBC News. "Since they are no more our prisoners therefore they can make any statement to get sympathies of the world," one of the members of the terrorist network said. "Would you believe someone among us or even fighters would touch a female and particularly if she is prisoner or foreigner?"
Coleman's family celebrated the release but emphasized they had no idea it was going to happen. "We were as shocked as anyone," Jim Coleman's father said. "It's an answer to our prayers." But he also emphasized that the family is still angry that their son in law took their pregnant daughter to Afghanistan. "What I can say is taking your pregnant wife to a very dangerous place is to me and the kind of person I am, is unconscionable," he said. "I can't imagine doing that myself. But, I think that's all I want to say about that."
The couple arrived in Canada with their three children after the husband reportedly refused to get on a plane to the United States, leading to speculation that the couple wanted to avoid questioning from intelligence officials. That is just one of the many questions surrounding the couple's apparently harrowing ordeal at the hands of the terrorist network. The Post's Greg Jaffe explains:
The couple's decision to visit Wardak and Boyle's unusual personal history set off widespread speculation inside the U.S. intelligence community about his motives. Before he wed Coleman, Boyle had married and divorced the oldest sister of Omar Khadr, a Canadian who was arrested by U.S. forces in Afghanistan in 2002 and was alleged to have ties to al-Qaeda.
The patriarch of the Khadr family was killed in 2003, along with al-Qaeda and Taliban members, in a shootout with Pakistani security forces near the Afghanistan border. Boyle's associations with the family led some U.S. intelligence officials to speculate that the visit to Afghanistan may have been part of a larger effort to link up with Taliban-affiliated militants.
"I can't say that [he was ever al-Qaeda]," said one former U.S. intelligence official, who spoke on the condition of anonymity to discuss sensitive information. "He was never a fighter on the battlefield. But my belief is that he clearly was interested in getting into it."
Pakistan's government, meanwhile, said the raid that resulted in the family's rescue was carried out thanks to a tip from U.S. intelligence, touting it as an example of how the two countries can work together against a common enemy. President Donald Trump took to Twitter on Friday to celebrate the "much better relationship with Pakistan and its leaders" and he proceeded to publicly thank the country's leaders for their "cooperation on many fronts."