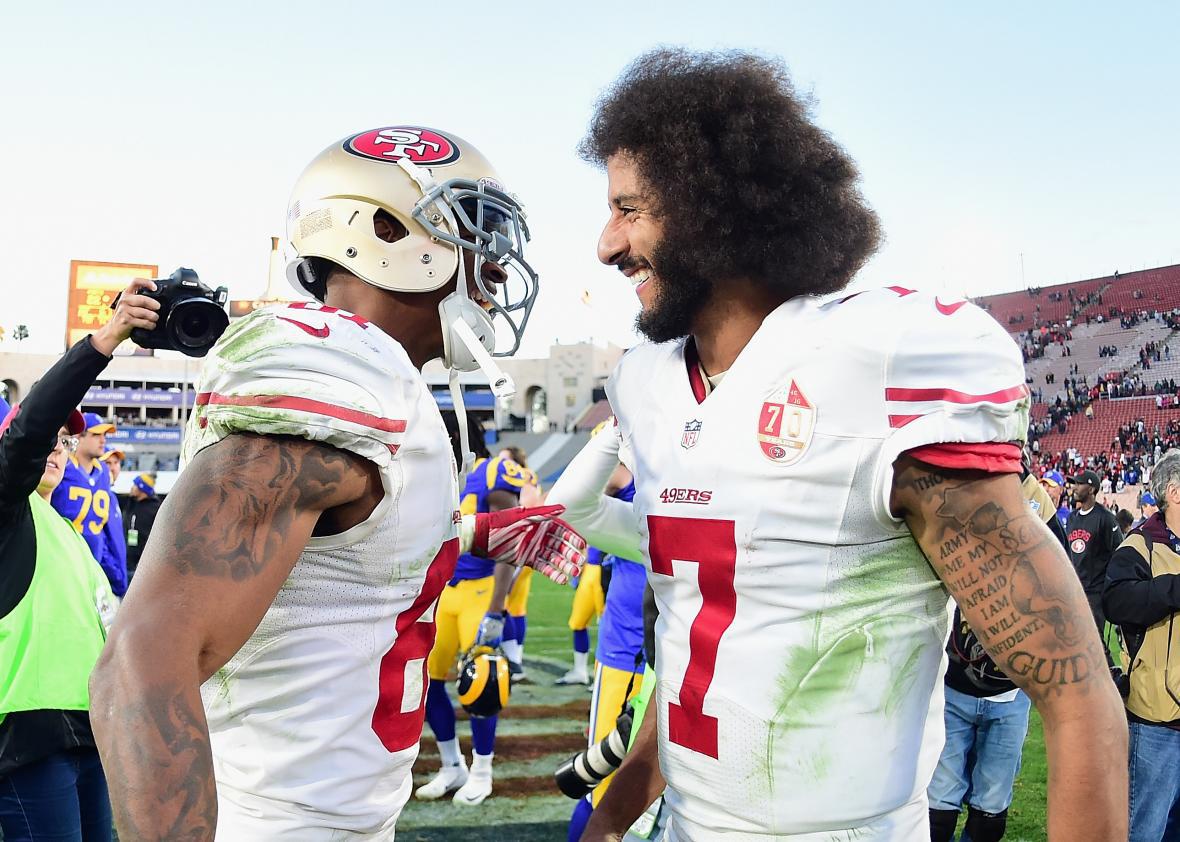 Contrary to suggestions from the NFL and Malcolm Jenkins' NFL Players Coalition, Colin Kaepernick has not been included in conversations about past and future meetings between players and owners. This is according to Kaepernick's attorney as well as emails obtained by Slate.
"We specifically reached out to the [NFL Players Association] and to the Players Coalition [the group led by Jenkins] and we were verbatim told that Colin had no role," Kaepernick's attorney Mark Geragos told Slate when asked about reports that Kaepernick had been invited to attend a player/owner summit that's scheduled for this week.
On Saturday, ESPN reported that "a coalition of NFL players has extended an invitation to [Houston Texans owner Bob McNair], commissioner Roger Goodell and unsigned quarterback Colin Kaepernick to a Monday meeting in Philadelphia at which they hope to address players' 'immediate concerns before additional progress can be made.' " Kaepernick's legal team did not know about the proposed meeting prior to the public release of a letter with the proposed meeting details.
Jenkins, the Philadelphia Eagles safety who is one of the founders of the group calling for the Monday meeting, previously said Kaepernick had been invited to an Oct. 17 meeting between players and owners. It was after that meeting that Texans owner Bob McNair reportedly said, in reference to NFL players, "We can't have the inmates running the prison."* (McNair claims the inmates/prison statement was about the relationship between owners and the league itself.) After that meeting, Jenkins told reporters that he didn't know why Kaepernick hadn't been in attendance, saying, "I can't answer that question." NFL spokesman Joe Lockhart also said earlier this week that he expected Kaepernick to be invited to the next player/owner meeting, adding, "We look forward to him joining the conversation."
These claims are contradicted by emails between Kaepernick's legal team and officials at the NFL Players Association. (The NFLPA and Jenkins' NFL Players Coalition—a group that consists of 11 players, among them Jenkins and retired wide receiver Anquan Boldin—are separate entities.)
The email below, sent to NFLPA representatives by one of Kaepernick's lawyers, notes that, as of Wednesday Oct. 25, Kaepernick had not been invited to any upcoming meetings.
The second email, a reply to Kaepernick's attorney from NFLPA general counsel Tom DePaso, acknowledges that the players association has not been involved in scheduling these player/owner meetings and suggests Kaepernick's legal team reach out to Jenkins' NFL Players Coalition.
The final email is from Kaepernick's legal team to Jenkins. In it, attorney Ben Meiselas requests that Jenkins put out a statement indicating Kaepernick was never invited to the first meeting. He also requests information about the upcoming meeting—the one Kaepernick has supposedly been invited to.
Earlier this month, Kaepernick filed a grievance alleging that owners and possibly the league itself had colluded to keep him out of the NFL due to his role in instigating a league-wide protest movement. The confusion over the out-of-work quarterback's involvement in meetings between owners and the players who have taken up the mantle of protesting racial injustice demonstrates that all parties appear reluctant to include Kaepernick in the ongoing discussion about these issues.
The email above from NFLPA general counsel Tom DePaso indicates that Jenkins and NFL executive vice president of football operations Troy Vincent had been the key go-betweens coordinating communication between players and the league. On Friday, ESPN reported that Vincent had called San Francisco 49ers general manager John Lynch before the Oct. 17 player/owner meeting to try to deter 49ers safety Eric Reid from protesting during the national anthem. Reid protested anyway, and did attend the Oct. 17 meeting.
On Saturday, Reid told the New York Times that he, like Kaepernick, was not made aware of this week's proposed meeting prior to plans for the meeting being revealed in public reports. "I'm not sure why a press release was sent out saying there's a meeting when there's no confirmation the NFL would attend the meeting," Reid said. "There needs to be better communication."
On Oct. 18, Seattle Seahawks defensive end Michael Bennett said there could be no rapprochement with the league until the issue of Kaepernick's apparent blackballing had been addressed. "I think the first step to even being able to have a conversation is making sure that Colin Kaepernick gets an opportunity to play in the NFL,'' Bennett said at the time.
A spokesperson for the NFL Players Association did not have comment on its role in setting up the player/owner meetings. The NFL and a representative for Malcolm Jenkins did not reply to requests for comment prior to publication.
Update, Oct. 29, 2017, at 2:44 p.m.: ESPN's Jim Trotter reported on Sunday that there would be no Monday meeting.
Correction, Oct. 30, 2017, at 2:09 a.m.: Due to an editing error, this post originally misstated that McNair made his "prisoners" comments at a meeting with players. It was reportedly at a follow-up meeting with owners and league officials that same day.