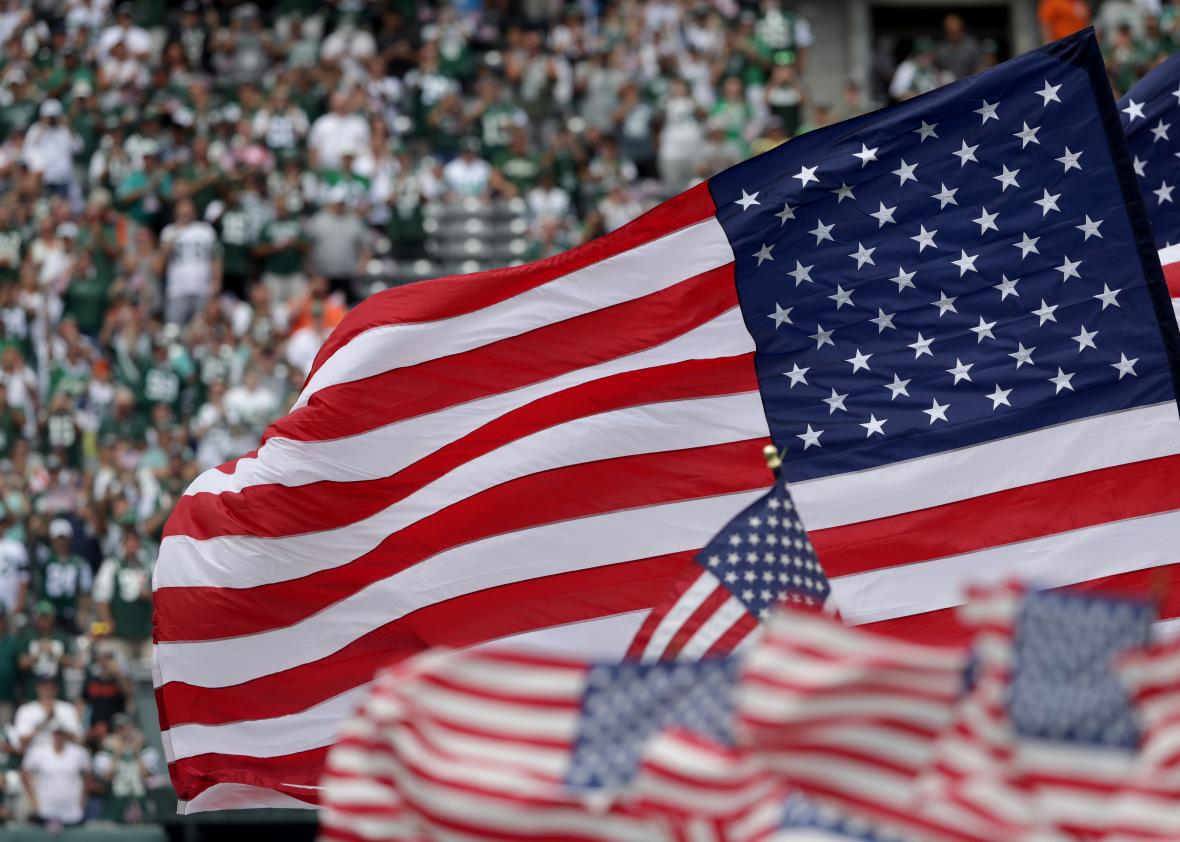 A Division III football player has been kicked off his team for kneeling during the national anthem.
Gyree Durante, a backup quarterback for the private liberal arts school Albright College in Reading, Pennsylvania, took a knee during the anthem before a game Saturday. On Wednesday, it was reported that he had been dismissed from his team.
The school told reporters that his punishment resulted from breaking with a team decision, arrived at by a vote of the team's 24-person "leadership council," to kneel during the coin toss but stand during the national anthem.
"This action, which was supported by the coaching staff, was created as an expression of team unity and out of the mutual respect team members have for one another and the value they place on their differences," a spokeswoman for the college said of the team's original plan. "It was established as a way to find common ground in a world with many differing views."
Durante, a freshman from Norristown, Pennsylvania, according to NBC10 in Philadelphia, was the sole player to kneel during the national anthem. The school said players were warned there could be consequences if they didn't support and follow the team's decision, according to the Associated Press.
Durante said he was protesting social injustice and racism, according to NBC10. "At some point in life, there's going to be a time when you've got to take a stand," he said. "I believe heavily in this. So I decided to fight for it."
At the professional level, no players have been booted from their teams for protest—although some accuse the NFL of punishing former 49ers quarterback Colin Kaepernick, who was recently personally criticized by Trump in an angry tweetstorm, by blackballing him. Kaepernick has yet to sign with a team this season.
Other NFL players have continued to protest during the anthem, and the movement grew after Trump condemned the NFL for tolerating players who knelt during the national anthem and called on the team owners to fire players who protested. "Wouldn't you love to see one of these NFL owners, when somebody disrespects our flag, to say, 'Get that son of a bitch off the field right now, out, he's fired,' " Trump said at a rally for then–Senate candidate Luther Strange.
It was reported Tuesday that the NFL is considering a change to the rulebook that would mandate players stand for the national anthem.
---