In the hours after Jeff Sessions announced Trump's decision to terminate Deferred Action for Childhood Arrivals on Tuesday, hundreds of immigration rights protesters marched from the White House to the Trump International Hotel, the Department of Justice, and the Immigration and Customs Enforcement headquarters.
Coordinated by advocacy organizations such as United We Dream and Make the Road New York, the protests consisted of several groups that split up to parade loudly to each location. Demonstrators hoisted cartoonish marionettes of Trump and Sessions, along with neon-colored posters emblazoned with slogans like "Fuck weed, legalize my mom," "I pay my taxes, does Trump," and "Si Se Puede" (roughly "Yes we can"). Planned Parenthood was there too, with its activists holding posters reading "Together we fight for all," in the organization's signature pink. Demonstrators chanted, "We are the dreamers, the mighty mighty dreamers" to the tune made famous by Tony the Tiger in the Frosted Flakes commercials.
Claudia Quinonez, an organizer for United We Dream, estimated that there were about 700 protesters. "DACA was not something that was given to us. … It wasn't because President Obama woke up one day thinking, 'Oh I feel bad for those Dreamers,'" she said. "It was something that we fought for and won; we're going to do the same with Congress." The group plans to hold demonstrations in D.C. throughout the week, though multiple representatives said they are not releasing the specific details until the protests have started.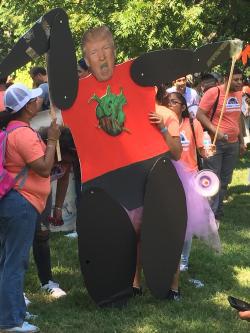 When a group of about 100 people reached the Trump International Hotel, they gathered on the sidewalk to yell "Shame" at the building's facade and then marched in a circle in the street, which had been cordoned off by nearly a dozen blinking police vehicles. Representatives from the National Korean American Service and Education Consortium placed a small wooden coffin before the front steps with "RIP Our Future" written across the lid. A handful of hotel staffers in suits watched, leaning against the metal railings guarding the entrance.
Max Garcia, a Mexican-American protester sporting a bright orange safety vest who was helping to ensure that no one was hit by traffic, said one of his motivations for attending the protest was his desire to keep his family together. "My wife is a Dreamer. I've got two kids in this country. What we're saying to Trump is to give us a chance to stay in the country. We are not criminals. We come here to work. We come to try to be something."