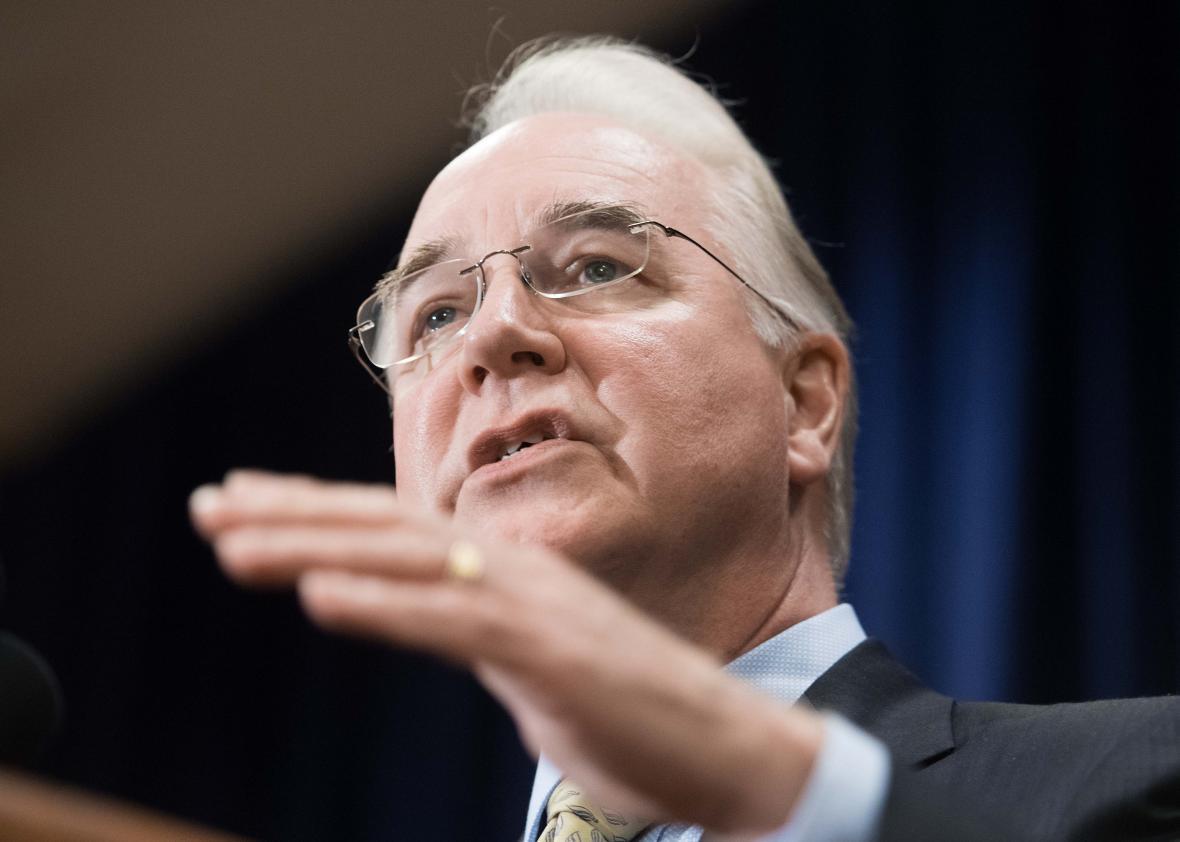 Late on Tuesday, Politico reported that Health and Human Services Secretary Tom Price flew on private jets five times last week, at an expense of "tens of thousands of dollars" more than the commercial flights that had been standard for his predecessors. From Politico:
The secretary's five flights, which were scheduled between Sept. 13 and Sept. 15, took him to a resort in Maine where he participated in a Q&A discussion with a health care industry CEO, and to community health centers in New Hampshire and Pennsylvania, according to internal HHS documents.
HHS spokespeople declined to confirm details of the flights, or respond to questions about who paid for them, with a spokesperson only saying that Price sometimes charters planes when commercial flights aren't feasible. All three organizations that hosted Price last week — the Massachusetts-based health IT firm athenahealth, Goodwin Community Health Center in New Hampshire and the Mirmont Treatment Center in Pennsylvania — told POLITICO they did not pay for his flights or other travel costs.
According to Politico, staffers say Price has been using private jets for months. Charter operators told Politico's Dan Diamond and Rachana Pradhan that Price's private flights last week would have cost at least $60,000. For at least one leg of travel, a short jaunt from Washington to Philadelphia and back on Friday, Diamond and Pradhan write that there were ample commercial alternatives. A round-trip United flight would have cost between $447 and $725 per person. A cheap ticket on an Amtrak train would have cost $72. A road trip would have cost around $46 in gas and tolls per SUV. Price's round trip to Philly—just over an hour of flight time—cost $25,000.*
*Correction, Sept. 20, 2017, at 11:34 a.m.: The last sentence of the post originally conflated Tom Price with Steven Mnuchin.
---