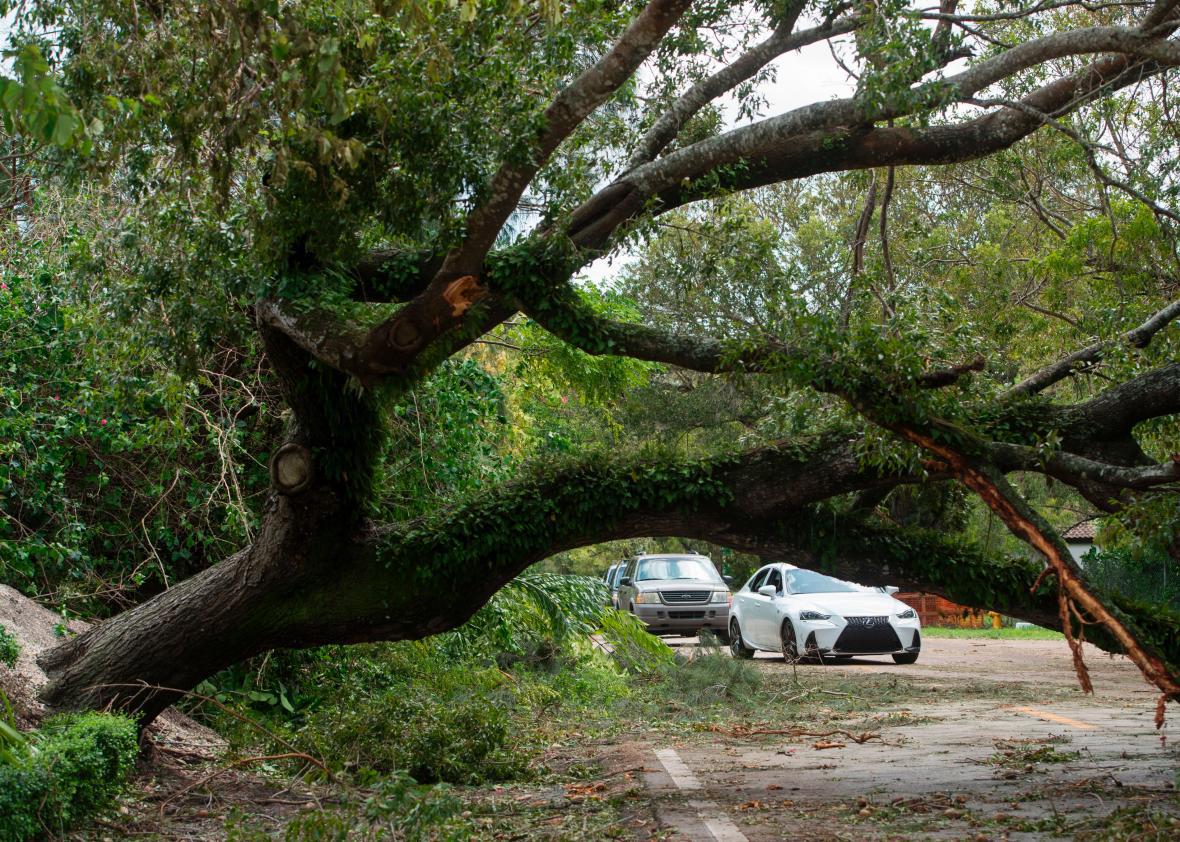 Hurricane Irma caused less flooding than expected when it passed through Florida this weekend, but its threat to the people in the state has not passed. Eight people have died at a nursing home in Hollywood, Florida, that went without power for days and was evacuated Wednesday morning.
Three patients were found dead at the home, and five others died after arriving at the hospital, according to officials there. About 100 patients were evacuated from the home. Broward County Mayor Barbara Sharief attributed the deaths to heat-related causes, stemming from a lack of air conditioning in the home.
The nursing home released a statement later Wednesday morning: "The Rehabilitation Center at Hollywood Hills has evacuated this morning due to a prolonged power failure to the transformer which powered the facility's air conditioning system as a result of the hurricane. Unfortunately, early this morning several patients experienced distress."* Stat is reporting that the nursing home has a history of safety issues, and specifically with problems with its generator.*
Although exact numbers of Irma-related deaths are not yet available, the Associated Press has reported that, apart from the nursing home deaths, 13 people in Florida have died "in Irma-related circumstances." The AP also reports that four people in South Carolina and two in Georgia have died.
As David Halstead, the former director of Florida's Division of Emergency Management, wrote in an editorial on CNN's website before Irma hit, powerful storms leave danger in their wake. In an analysis of more than 100 deaths in the state from four 2004 storms, he said, he found that less than a quarter of the deaths resulted directly from the storm:
We have heard the stories of survivors who drove through roads in flooded conditions and their vehicles left the roadway with the occupants of the car drowning in deep ditches. Too many people still think their vehicle is capable of traveling across flooded roads.
Then there are those who die from carbon monoxide poisoning because they run generators in enclosed garages or inside their homes. People can die from clearing debris—especially from their roofs—or from electrocution from downed power lines. They can also die from stress.
But the retirement-focused Florida also has its own particular risk factors as, by some metrics, the oldest state, with almost a fifth of its population 65 or older. Not only are these retirees more physically vulnerable and in need of greater care, but they also, as the New York Times notes, lack family resources that can be so helpful in times of emergency.
After Hurricane Andrew in 1992, agencies had to deal with thousands of older people suddenly found without homes. Before Irma, some senior homes talked about their attempts to prepare. But as thousands of people remain in shelters and millions more are without power, the danger of Hurricane Irma, is not over.
Update, Sept. 13, 2017, 12:10 p.m.: This post has been updated to include a statement from the nursing home. It was also updated after the announcement of a sixth death.
Update, Sept. 13, 2017, 1:38 p.m.: This post has been updated to include information about the cause of the deaths and reporting from Stat.

Update, Sept. 13, 2017, 5:12 p.m.: This post has been updated to note the announcement of eight total deaths.