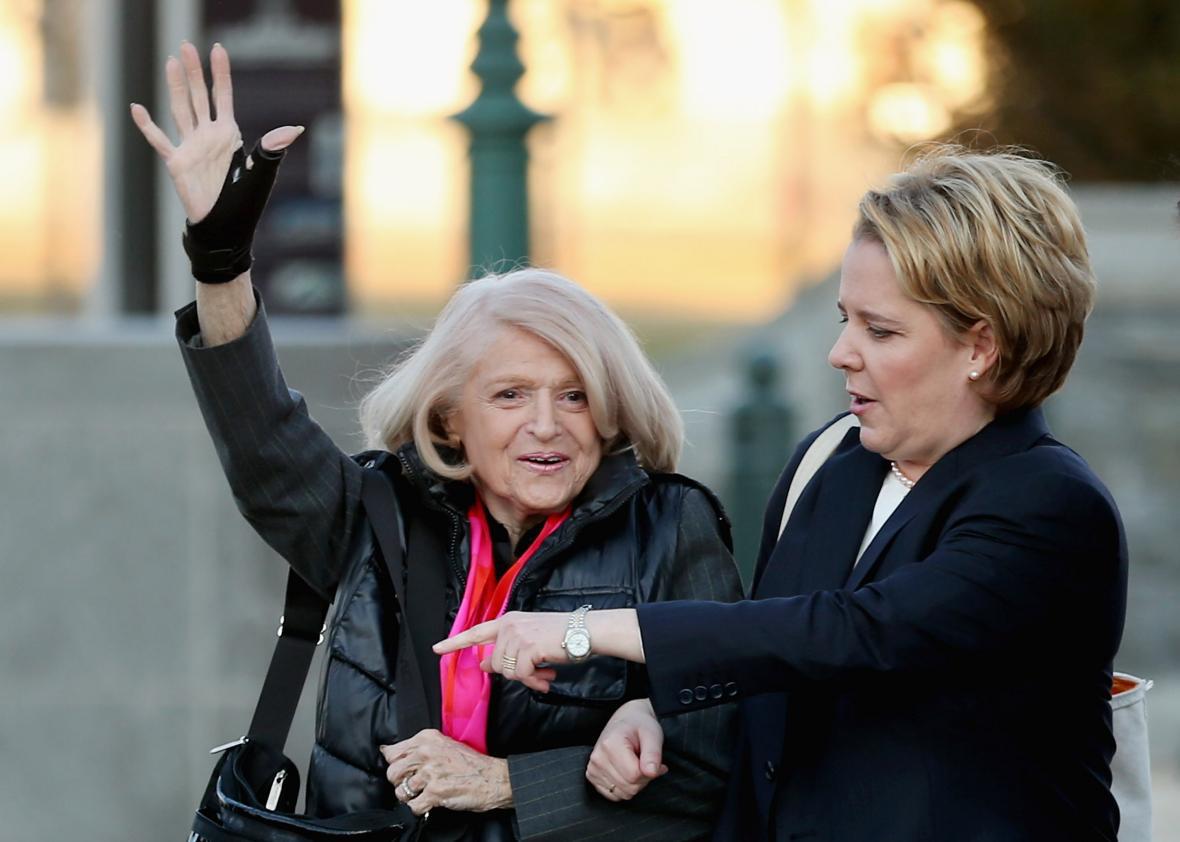 Edie Windsor, whose name became synonymous with marriage equality after her landmark legal challenge of the Defense of Marriage Act, died Tuesday in Manhattan at the age of 88. Windsor's 2013 victory at the Supreme Court eventually opened the door to marriage equality nationwide, by serving as a judicial stepping stone to the national constitutional right to marriage equality, which would come two years later.
When Windsor's partner of more than 40 years, Thea Spyer, died in 2009, Windsor was her only heir (the two had been married in Canada).
The 1996 federal law known as DOMA made Windsor ineligible for the estate tax exemption a spouse would have received. She was thus required to pay $363,053 in taxes to the federal government and $275,528 to New York State on her inheritance. As Windsor would later say, she wouldn't have owed the government those estate taxes "if I had been married to a man named Theo" rather than a woman named Thea. She decided to file a suit.
Windsor, born to an immigrant Jewish family from Philadelphia in 1929, was an unlikely civil rights icon; glamorous, wealthy and successful. That was part of her allure, both to young people who stopped her on the streets for a hug, and to a Supreme Court that doubtless saw—in Edie Windsor—that love truly means love.
Windsor and her partner, Spyer, kept their relationship secret for years, as Windsor worked as a computer programmer for IBM, and Spyer worked as a psychologist. They were engaged in 1967—pledging with a brooch, as opposed to a ring, and lived as partners until 2007, when Spyer's illness made a quick marriage in Canada, where it had already been legalized, necessary. Spyer died two years later.
While Windsor's case struck down the heart of the Defense of Marriage Act, it only protected marriage equality in those states that already allowed it. The 5-4 decision left in place laws in the 37 states that still banned gay marriage and it wasn't until 2015 that the high court held definitively that same-sex couples in every state had a constitutional right to marry the partner of their choosing. By then Edie Windsor had become a household name, appearing at rallies, marches, and speeches nationwide. When the Court allowed marriage equality in 2015, Windsor was finally able to exhale, knowing that what she had begun in a New York legal street fight was now protected in Mississippi and Alabama. Windsor remarried in 2016. On Tuesday afternoon, Windsor's wife Judith Kasen-Windsor released the following statement:
I lost my beloved spouse Edie, and the world lost a tiny, but tough as nails fighter for freedom, justice and equality. Edie was the light of my life. She will always be the light for the LGBTQ community who she loved so much and who loved her right back.
Windsor's lawyer in the Defense of Marriage Act case was Roberta Kaplan, and the two remained close friends and allies in the years since. Kaplan responded to Windsor's death with the following statement:
Representing Edie Windsor was and will always be the greatest honor of my life. She will go down in the history books as a true American hero. With Edie's passing, I lost not only a treasured client, but a member of my family. I know that Edie's memory will always be a blessing to Rachel, myself, and Jacob. I also know that her memory will be a blessing not only to every LGBT person on this planet, but to all who believe in the concept of b'tzelem elohim, or equal dignity for all."
---