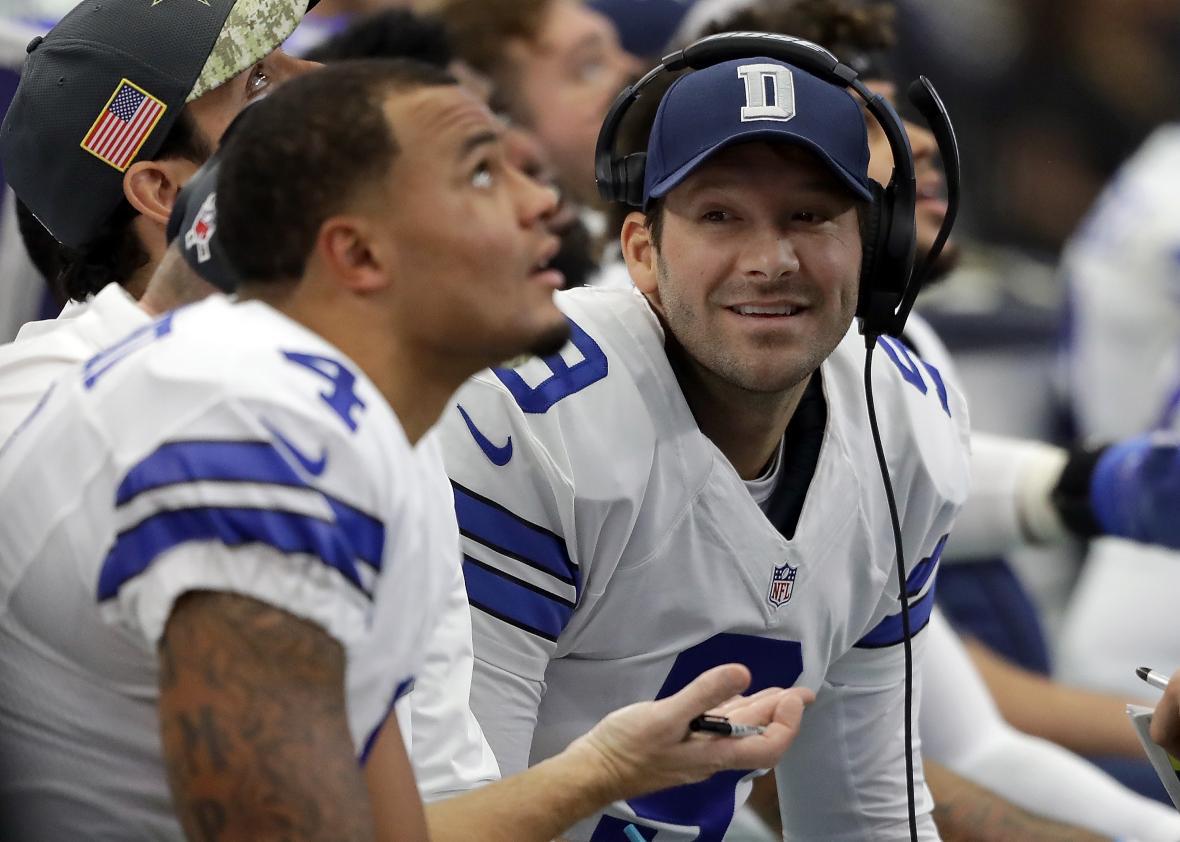 Being an NFL color analyst is like practicing wildlife dentistry, in that it's nearly impossible to win over your audience. That's what makes Tony Romo so impressive. The retired Dallas Cowboys quarterback may have been a divisive character during his playing days, but he is earning nearly universal praise for his broadcasting work.
Much of this praise can be attributed to the fact that Romo is not Phil Simms, the man he replaced in the CBS booth. Providing NFL color commentary is a weird and difficult job, but after nearly two decades honing his craft, Simms had made it weirder and more difficult than it needed to be. He seems like a lovely man, but the Phil Simms experience began to feel like watching football in a hotel bar full of undecided voters.
It's hard to overstate how sharply Romo's first two games have contrasted with Simms' later body of work. Whereas Simms' trademark move was to totally misread cut-and-dry incidents after multiple slow-motion replays, Romo routinely and accurately calls plays before they happen.
This kind of parlor trick has been getting Romo plenty of attention, but acts of clairvoyance aren't what make the former Cowboys quarterback a great analyst. Football is insanely complicated. When electromagnetic waves carrying football broadcasts finally reach intelligent life outside our solar system, the aliens will task their greatest minds with decoding the bizarre circus before them, and they will likely fail. Romo, meanwhile, is pretty darn good at explaining this needlessly obtuse game, and you get the sense that he's spent much of his adult life talking about football to folks who weren't terribly well-versed in the minutiae of his day job.
He describes simple things, like the importance of Tom Brady's flat-footed stance in the pocket, with the same patient eloquence he uses to detail more complicated aspects of the game. During the New England Patriots' rout of the New Orleans Saints on Sunday, he explained that Patriots coach Bill Belichick uses fullbacks far more than the rest of the league. Rather than leaving it at that, Romo continued to explain the benefits of this practice in connection to the play that had just transpired. (The fullback lined up against a cornerback, which signaled to Brady that the Saints were using a zone defense.)
But as with anything good in this world, don't be surprised if the rumblings of an online Romo backlash develop into something more. After all, Simms was once a young, retired quarterback who aw-shucks-ed his way into the seat Romo fills today. But at this early date, Romo certainly checks all the boxes you'd want from a color guy. The most important, of course, being that you're able to listen to him for three hours without hating his guts.
NFL color analysts generally take on one of three affects:
Folksy hayseed who just can't get enough of this gridiron goodness (see: Collinsworth, Cris).
Sentient training sled who demands you PLAY TO THE WHISTLE (see: Gruden, Jon).
Troy Aikman (see: Aikman, Troy).
Romo doesn't fall into any of these categories. He's pleasantly jocular, and he seems genuinely happy to be calling games. That bit is important, because the NFL has been a remarkably joyless enterprise over the past few years. In the Patriots-Saints game, Romo gleefully yelped when Brady threw a touchdown pass from a tough position.
He sounds like a guy who just wants to play again, but we should all hope that doesn't happen. Romo is far more valuable in the booth than he would be on the field, and while the league certainly isn't spoiled for competent quarterbacks this season, its roster of commentators isn't deep enough to lose its latest pickup.