PHOENIX—For about 10 minutes it seemed that President Trump might give a normal political speech at the Phoenix Convention Center on Tuesday night. After all, Trump had given a classic example of a normal political speech the previous night—an announcement that he would send additional troops to an endless theater of combat—and it was met with strong "reviews," as military escalation always is, regardless of the president.
All day we had been getting signals that Trump was pleased with his reviews and might opt for a personal-record two consecutive days of restraint. Earlier in the afternoon, a White House spokesperson told reporters aboard Air Force One that Trump would not use the rally to pardon controversial former Maricopa County Sheriff Joe Arpaio, as had been rumored. Trump also had not brought up his hatred of Arizona Republican Sen. Jeff Flake since a tweet last week, and he did not invite former state Sen. Kelli Ward—the far-right challenger to Flake that Trump had mentioned positively last week—into his entourage for the trip. Perhaps Trump would back off trying to unseat a reliable Senate Republican vote who has criticized him (in a book, no less!). And maybe, just maybe, he would finally put to rest his hedging over whether "some very fine people" had chanted Nazi slogans at the Charlottesville, Virginia, torch-wielding white supremacist rally.
This is how I thought the event might go through the first 10 minutes of Trump's rally speech, when he was reading off of the teleprompter. But then the next hour happened.
A normal political speech was not what Trump wanted to deliver. Nor was it what the thousands in the crowd waited in line for hours in 108-degree heat to hear. Nor was it what the dozen or so protest groups marched in that same heat to protest. A normal political environment is not something that this drowning country's political culture can sustain for two consecutive nights. And so, after 10 minutes, Trump initiated the chaos that we can't kick, a guttural laundry list of grievances all received with the ferocious cheers that normalcy can't buy.
* * *
By noon Tuesday, the line for the 7 p.m. rally was a block long; by 4 p.m., it was closer to half a mile. The desert breeze, blowing hot dry air into one's eyeballs, is not comfortable, but Trump supporters wanted to see their president. Businesses and public offices downtown were shutting down early to beat the closing off of the 10-square-block perimeter and its accompanying traffic—including even the courthouse, which a hotel employee told me was "in the middle of a big trial, too!" Some businesses never opened. "Due to safety concerns about today's events, B&T will be closed today," read a note taped to the window of the Bitter & Twisted Cocktail Parlour, four blocks from the convention center. "Sorry for any inconvenience."
This was the first Trump rally I had been to since his (first) presidential campaign ended. As at those campaign rallies, the Phoenix Convention Center was pleasant before the main event, as people talked among themselves while campaign soundtrack standbys from Elton John and the Rolling Stones played over the loudspeakers.
Rep. Trent Franks, who had greeted Trump on the tarmac when he reached Arizona, was talking to attendees in the hallway. He had been the loudest in calling on Trump to pardon Arpaio. I asked him if he was disappointed that it wouldn't happen at the rally. Franks, after spending the day with Trump, seemed to know something. "No, I think there's still every possibility that the pardon will occur," he told me. "He wants to make sure the message he came here to give is received and not overshadowed by any other issue." He predicted that we would hear a speech "somewhat like the one last night," the scripted one, about national security, perhaps with a push for tax reform thrown in. A normal political speech.
Kelli Ward, who had not been invited to join Trump backstage, was speaking and taking photos with attendees, many of whom were wearing her campaign stickers. We greeted each other and I asked her how she had been since the previous time we talked in her failed primary bid against Sen. John McCain last year. She was pleasant, but then seemed to remember that now, in her second race, she is supposed to pass off reporters to press handlers who then lead the reporters away from the candidate, and so she did. The inevitable professionalization of political campaigns, as candidates grow in stature and the stakes get higher, takes some spontaneity out of the process. But it's also comforting when politicians feel the need to watch themselves as the spotlight on them grows. They don't want to say anything too reckless. The caution is normal.
* * *
Then Trump spoke. The hour-plus monologue that the president delivered was less a fight between him and the media, or other enemies, than it was a fight between him and the advisers trying to right the ship. The advisers won those first 10 minutes, as Trump delivered the teleprompter lines that he would never come within a mile of thinking of on his own.
"Respect for America demands respect for all of its people," he said. "Loyalty to our nation requires loyalty to each other. We all share the same hopes, the same dreams, and the same hopes for a better future. A wound inflicted on one member of our community is a wound inflicted upon us all." It was stuff that could have been said by any of his predecessors.
"What happened in Charlottesville strikes at the core of America," he continued, still reading from the screens, "and tonight this entire arena stands united in forceful condemnation of the thugs who perpetrate hatred and violence."
Then with the next line, the advisers packed up and called it a day.
"But the very dishonest media—those people right up there, folks," he said. It would be a full minute before he could get in another word over the loud chorus of boos directed at the media section, a caged prop he enjoys placing at the center of his events.
He launched into a 30-minute tirade against the media, replete with his own conveniently incomplete account of recent history. He read aloud his prepared remarks from the day of the Charlottesville march (printed out and in his hand) but omitted his controversial ad lib about how "many sides" were to blame. He reminded the crowd of how he more specifically condemned the bigots on the Monday and Tuesday thereafter—"I hit 'em with neo-Nazi, I hit 'em with white supremacists"—but that the "disgusting" media wouldn't cut him any slack. He forgot to mention, too, his mouthing off at that Tuesday press conference about the "very fine people" who were at the white supremacist torch march. He devoted most of his ire, as usual, to CNN (the audience commenced a "CNN sucks" chant) but also hit the Washington Post, in his mind a lobbying front for Amazon, and ABC's "little George Stephanopoulos," among others.
"Fuck you, media!" one man in a ponytail shouted at the media section.
Trump referred to the media as "truly dishonest," "bad," and "sick" people, "the source of division" in the country. "I really think they don't like our country," he said. The media, too, were to blame for trying "to take away our history and our heritage," and were the source of all division in the country. Stuck in traffic? Burn your tongue eating soup? Trump would probably tell you those are the media's fault, too.
From then on out, it was nearly all red meat peppered by the occasional, salvaged line from the prepared text. From the moment I saw press secretary Sarah Sanders' earlier statement that "there will be no discussion of" a potential Arpaio pardon "today at any point," I knew that Trump was absolutely going to discuss it during his speech.
"I'll make a prediction," Trump said. "I think he's gonna be just fine OK?" In other words, he announced that he intended to pardon Arpaio. Though, he said, in the first of several passive-aggressive shots to those advisers urging him not to, that "I won't do it tonight because I don't want to cause any controversy."
He would pull the same trick soon thereafter when trashing Sens. McCain and Flake. "One vote away" on health care, he lamented. "I will not mention any names—very presidential." The crowd laughed along. "And nobody wants me to mention your other senator, who's weak on border, weak on crime." Nobody wants him to say this thing that he just said.
"See, I haven't mentioned any names, so now everybody's happy."
* * *
Around the same time Trump was unleashing himself from the teleprompter to relieve himself of everything he wanted to get off his chest, the protesters that Trump said would never arrive arrived. As we were all trying to leave the rally, I overheard some attendees saying they'd just gotten text messages about large demonstrations and tear gas outside. As we exited the building, the Trump attendees, largely older, were directed south and west to get away from the scene while some protesters, mostly younger, were moving east and north to get around the barriers and toward the standoff with police.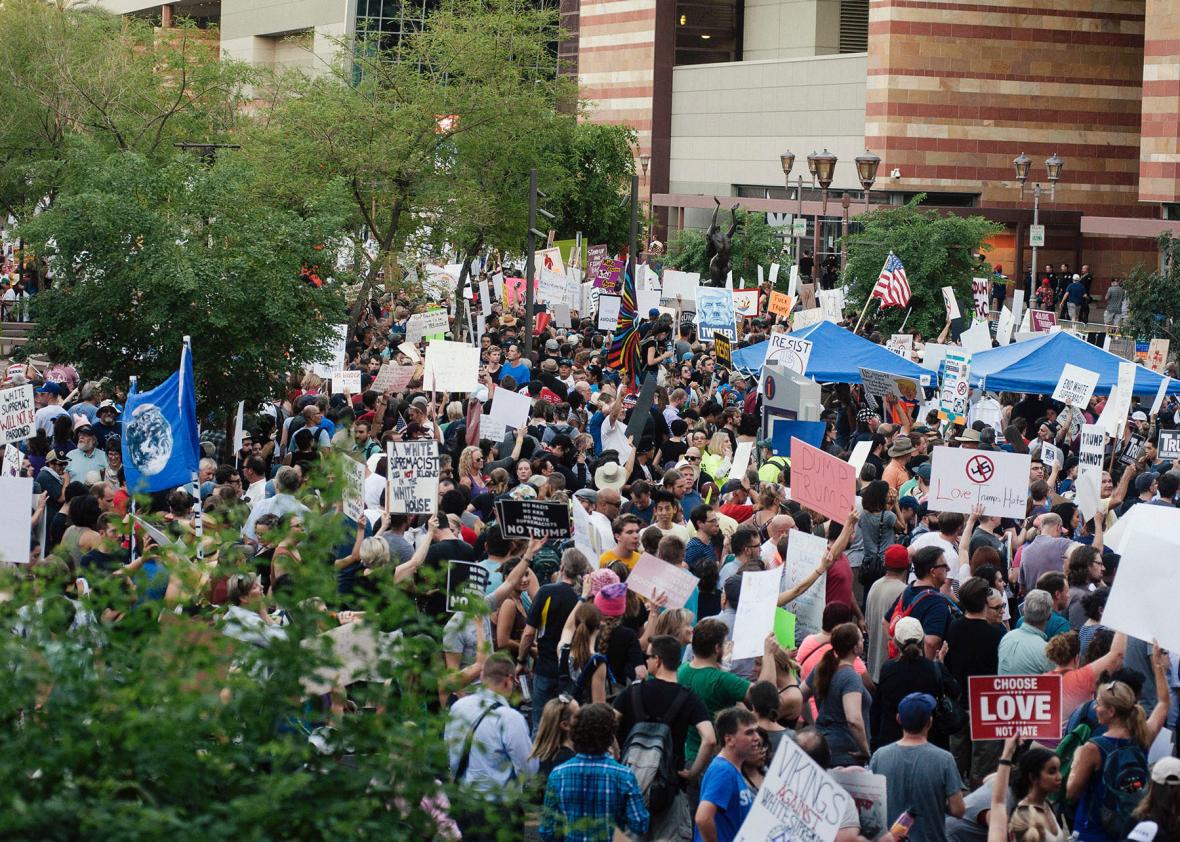 When I turned onto Monroe Street from First Street, a group of protesters, many wearing bandanas over their mouths, ran toward me and then stopped. "False alarm," one of them said, and they walked back to their positions in front of the cops.
There weren't too many demonstrators left, but the ones that were there faced a barricade of cops in riot gear. One protester I spoke with told me that a couple hours earlier the block had been packed "like a club" in peaceful protest, and only the remaining stragglers were left. A helicopter circled overhead blasting the message that remaining protesters were subject to arrest, and to go home.
A police statement would later claim that protesters had been throwing "rocks and bottles," which led to the crackdown. I did not personally see any instigating events before hearing the bangs and seeing (and tasting) the cloud of dispersed gas as the line of cops advanced. Once the police began moving forward, I saw some protesters hurl plastic bottles at the officers while in retreat. Some protesters tried to start a "don't throw shit!" chant, but the confrontation was over in about a minute. A fresh city block of protesters had been cleared, and everyone in the area, including yours truly, was coughing and struggling to open their eyes.
By our redefinition of terms in 2017, it was a normal night of politics.