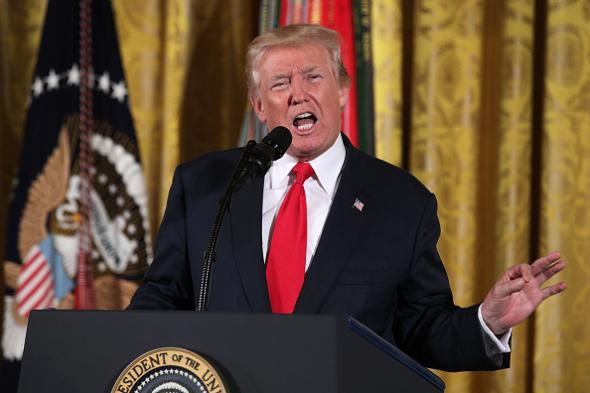 In the tradition of the Clintonometer and the Trump Apocalypse Watch, the Impeach-O-Meter is a wildly subjective and speculative daily estimate of the likelihood that Donald Trump leaves office before his term ends, whether by being impeached (and convicted) or by resigning under threat of same.
Politico has obtained and published the transcript of an embarrasingly friendly Trump interview conducted by Wall Street Journal editor-in-chief Gerard Baker. POTUS' performance in the interview is, uh, well:
There's also a section in which Trump answers a serious question about Brexit with a rambling series of observations about the British Open golf tournament. And there's this:
You know, a lot of people say – they say, well, but the United States is large. And then you call places like Malaysia, Indonesia, and you say, you know, "how many people do you have?" And it's pretty amazing how many people they have.
Asking foreign leaders for basic facts about their countries seems like it might not have been something that, say, Barack Obama and George H.W. Bush needed to do during diplomatic phone calls.
Anyway, the reality that the president in this interview hasn't already been impeached should probably make us pessimistic about the possibility that he will ever be impeached. Lowering the meter.