In the months since President Donald Trump took office he's said some pretty horrific things. But the commander in chief's statement on Saturday about the violence that a group of white supremacists unleashed on Charlottesville over the weekend was still jaw-dropping as he appeared unwilling to even lightly criticize a group of people who chanted Nazi slogans, suggesting that "many sides" were responsible and refused to condemn any person or group by name.
"We condemn in the strongest possible terms this egregious display of hatred, bigotry and violence on many sides, on many sides," Trump said at a press conference that had been scheduled as a signing ceremony for Veterans Affairs legislation. "It's been going on for a long time in our country, not Donald Trump, not Barack Obama, it's been going on for a long, long time."
The White House later appeared to confirm that Trump's use of "many sides" was not coincidental or a mistake, with a spokesperson noting that "there was violence between protesters and counter protesters today."
The violence seen in Charlottesville "has no place in America," Trump said shortly after the Charlottesville mayor confirmed that at least one person had been killed by a car that plowed into a group of counter-protesters. "What is vital now is a swift restoration of law and order and the protection of innocent lives," Trump said.
Even though a group of white supremacists had descended into Charlottesville chanting Nazi-era slogans, the president apparently didn't feel the need to condemn anyone, saying that we all need to just get along. People must "come together as Americans with love for our nation and true affection, and really I say this so strongly, true affection for each other."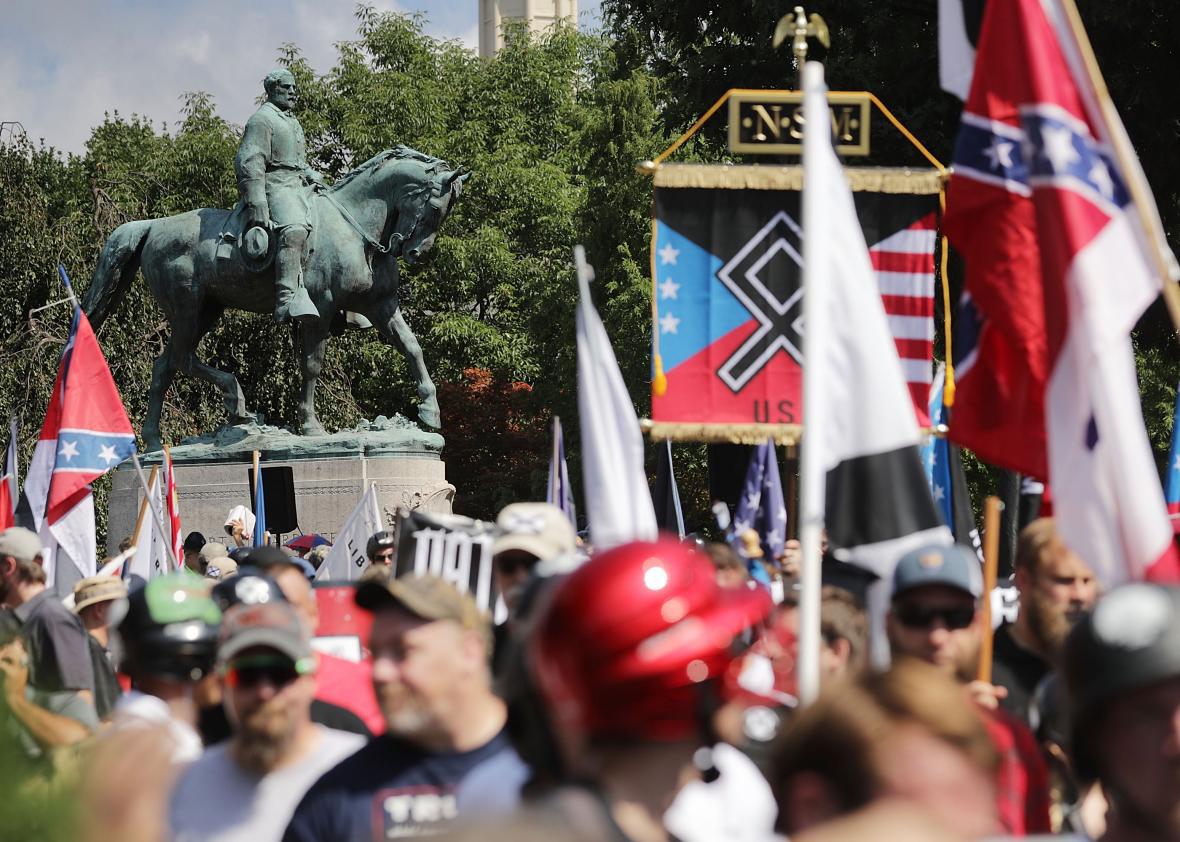 At that point Trump for some reason thought that he would tout his economic record, citing it as an example of how "there are so many great things happening in our country." Specifically, he touted "record employment …. unemployment the lowest it's been in almost 17 years" and all the "companies pouring into our country."
Some even suggested that Trump may have been sending a veiled message of support for the white nationalists that had gathered in Virginia: "We must love each other, respect each other and cherish our history." He then went on to "salute the work" of law enforcement. Trump later ignored a reporter who shouted a question at him whether he wanted the support of white nationalist groups.
Earlier, Trump had condemned the violence on Twitter but also failed to mention white supremacists or the alt-right movement that had sparked the protests in the first place. "We ALL must be united & condemn all that hate stands for," he wrote on Twitter. "There is no place for this kind of violence in America. Lets come together as one!"