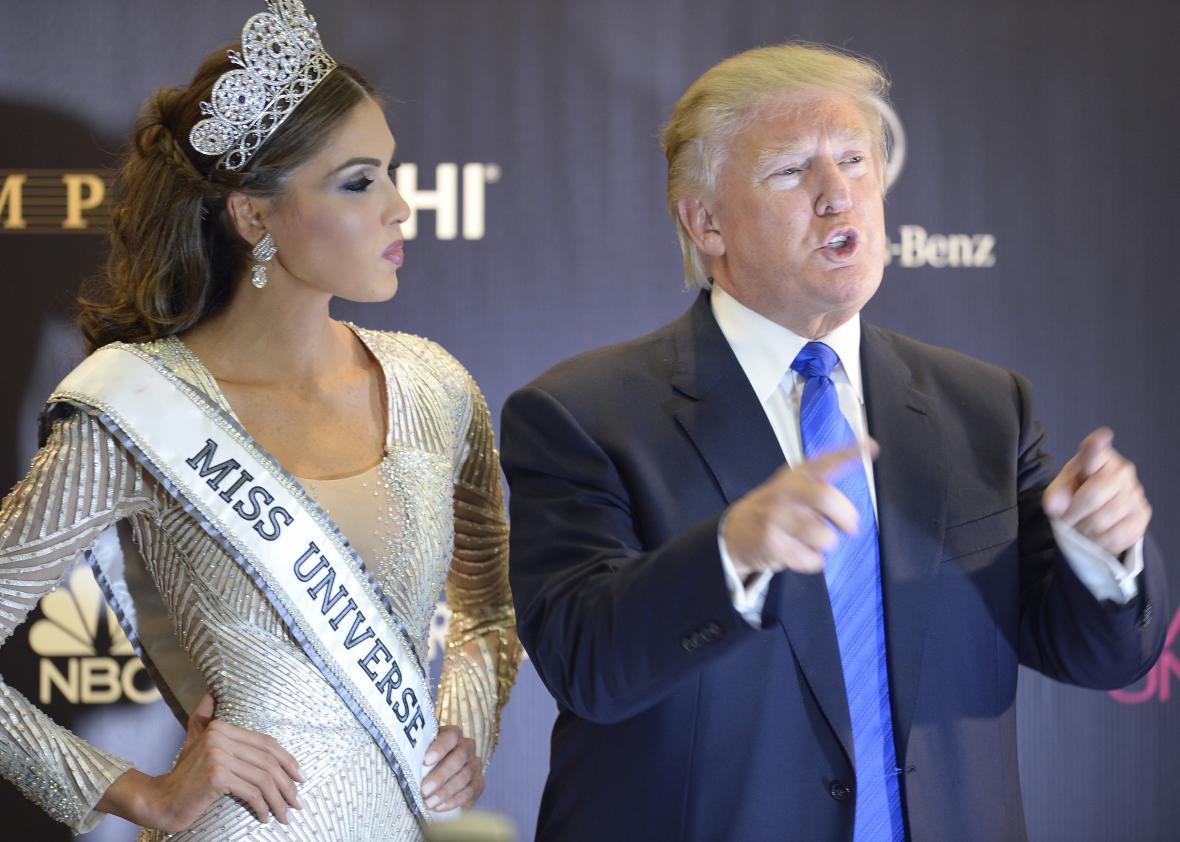 The steady drip of information from the investigations into the Trump campaign's ties to Russia—which has only appeared to pause because of recent outrages and scandals—continues.
Monday's revelation is that a Russian-born, criminal business associate of the president once boasted of being able to secure Russian President Vladimir Putin's support for a real estate deal that he believed would help Trump win the presidency.
In emails to Trump's lawyer Michael Cohen, published by the New York Times on Monday, developer Felix Sater—who partnered with the president on several real estate projects beginning in 2002, most notably the controversial Russian-financed Trump SoHo—bragged in 2015 about his sway with Putin and suggested he could get the Russian leader's buy-in on a new Trump tower in Moscow.
"Our boy can become president of the USA and we can engineer it," he wrote. "I will get all of Putins team to buy in on this, I will manage this process." He later wrote,  "I will get Putin on this program and we will get Donald elected."
As evidence of this pull, Sater mentioned that on a 2006 trip by the president's daughter, he "arranged for Ivanka to sit in Putins private chair at his desk and office in the Kremlin." Ivanka Trump denied to the Times involvement in the deal or ever meeting Putin, though the article dryly notes, "She did not say whether she sat in his chair." (Update, Aug. 28, 2017, at 4:27 p.m.: An updated version of the Times story reports that Trump "said it is possible she sat in Mr. Putin's chair during that tour but she did not recall it.")
There's no reference in the emails to the sort of direct Russian interference in the election that is the main subject of the ongoing investigation. Rather, Sater seems to be making the (dubious) argument that a high-profile, Putin-endorsed deal in Russia would boost Trump's bona fides as an international negotiator.
Sater, who has been convicted of conspiring with the mafia to commit stock fraud (as well as stabbing a man with a margarita glass), is one of the sleazier figures in Trump's orbit, which is saying something. (Trump claims to have no ongoing relationship with Sater and that he "really wouldn't know what he looked like," though they have been photographed together.) Sater clearly envisioned himself at one point acting as a key go-between for Trump and Putin. In early February, Sater and Cohen presented a plan for lifting U.S. sanctions on Moscow to then–National Security Adviser Michael Flynn.
The Trump administration doesn't appear to have acted on that plan, and it's not clear that anyone acted on Sater's plan in 2015 to get Putin involved in the Moscow Trump Tower, either. Sater is, as a recent New York magazine profile put it, "a canny operator and a colorful bullshitter." He once reportedly pitched to the CIA a plan to buy missiles from Osama Bin Laden, and he claims in the New York story to be working on "a cure for cancer using stable isotopes."
Trump had been making overtures about building a Trump Tower in Moscow as far back as 1987, including the 2006 trip by Ivanka and Donald Jr. organized by Sater. A Washington Post story published over the weekend, which includes secondhand descriptions of the emails now published by the Times, details how these efforts continued even as Trump was running for president.
There's no smoking gun here, but a couple of things stand out. One, it's striking that even after a year during which Russia began a bombing campaign on behalf of the Syrian government and one of Russia's most prominent opposition leaders was brazenly murdered, some members of Trump's circle believed that Putin saying nice things about Trump in public would help elect him president of the United States.
Two, the Times notes that it obtained emails that the Trump Organization had turned over to the House Intelligence Committee. Someone is leaking.