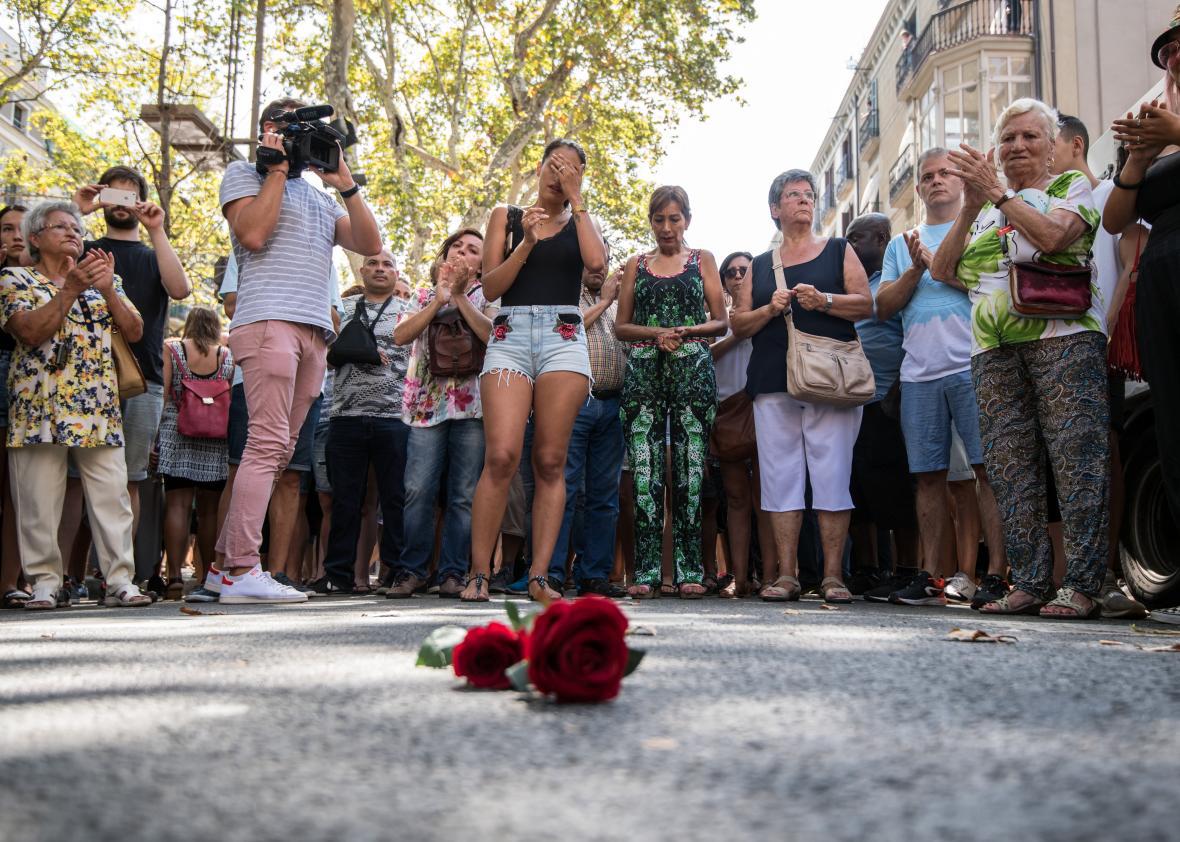 A manhunt is underway for the remaining perpetrators of two vehicle attacks that killed at least 14 people in the Catalonia region of Spain over the past 24 hours. The attacks, which appear to be linked to ISIS, are Spain's worst terrorist violence in more than a decade.
Thirteen people were killed in the first attack Thursday afternoon, when a van plowed into pedestrians on the popular Las Ramblas street in central Barcelona. More than 100 were injured, some critically. The driver of the van fled on foot and remains at large. A getaway vehicle was later found about 50 miles outside the city. ISIS claimed responsibility for the attack via its Amaq news agency.
Then around 1 a.m. on Friday morning, attackers drove an Audi into pedestrians in the popular seaside town of Cambrils, killing one person and injuring five others. Five suspects were shot and killed by police at the scene.
Police say citizens of at least 34 countries were killed or injured in the two attacks on popular tourist areas. A 7-year-old Australian boy, whose mother is in serious condition in a Barcelona hospital, is currently missing.
Police are currently searching for 18-year-old Moussa Oukabir, who is believed to have rented the van used in the Barcelona attack using his brother's documents, though authorities haven't definitively stated if they believe he was the driver. The brother, Driss, a Moroccan-born Spanish resident, was arrested after turning himself in but says his documents were stolen. Three other men have been arrested in connection with the attacks: a Moroccan, a man from the Spanish North African enclave of Melilla, and a fourth about whom no details have been released. 
One current theory is that the attacks were the work of a cell that had been planning them over a long period in a private house in the town of Alcanar, south of Barcelona. That house blew up Wednesday night, killing one person, apparently as a result of exploding gas canisters. It seems likely that the terrorists were planning to use the canisters in the attacks, then switched to more rudimentary methods after the explosion. The suspects killed in Cambrils were wearing what turned out to be fake explosive belts.
A vigil was held in Barcelona on Friday morning, at which Spanish Prime Minister Mariano Rajoy and King Felipe VI joined residents chanting, "I am not afraid." Rajoy has declared three days of national mourning.
World leaders were quick to express support and sympathy, but there are already indications that the incident will deepen the controversy over migrants and refugees arriving in Europe from the Middle East and Africa. Poland's interior minister, a member of the right-wing Law and Justice Party, said on Friday that the attack proves Europe is dealing with a "clash of civilizations" and that his country was safe because "we do not have Muslim communities which are enclaves, which are a natural support base for Islamic terrorists." U.S. President Donald Trump responded on Twitter by saying, "Our borders are far tougher than ever before!" and citing a discredited urban legend to suggest the use of war crimes against Islamist militants.
With other routes into Europe becoming closed off or too dangerous, Spain has seen a recent upsurge in refugees and migrants reaching the country by sea from Morocco or at its two North African enclaves Ceuta and Melilla, the EU's only land borders with Africa. The city of Barcelona has been uniquely welcoming to refugees, with tens of thousands marching in the streets to demand the Spanish government accept more at a rally earlier this year.
---