During the Republican National Convention in Cleveland last July, the city's central plaza became an ideological Star Wars canteen. Burly Christian fundamentalists hoisted signs denouncing Islam a few feet from a publicity-seeking Muslim with an AR-15 slung across his back. Clusters of communists chanted "America was never great!" while Bikers for Trump paraded around in MAGA hats. Off to one side, Daryle Lamont Jenkins, a longtime activist in the militant left-wing anti-fascist movement, sat on a bench beside me surveying the rabble, pointing out various white supremacists who'd come to town to celebrate Donald Trump's ascension.
He'd already seen the Traditionalist Worker Party's Matt Heimbach, who a few months earlier had assaulted a black female protester at a Trump rally in Kentucky. He'd spotted Richard Spencer and Nathan Damigo, who, a year later, would make news for their high-profile roles in the Unite the Right rally  in Charlottesville, Virginia. Looking into the crowd, Jenkins drew my attention to a stocky shaven-headed man in a St. Vincent T-shirt—Matt Forney, an internet personality whose work blends racism with men's rights activism. (His oeuvre includes "How to Beat Your Girlfriend or Wife and Get Away With It.") A handful of young men hovered around him. "They're organizing, they're recruiting, they're going around talking to people, and they're trying to basically beef up their numbers," Jenkins said. He was there to watch them. "I've been taking video of every Nazi I've seen," he told me.
Jenkins, 49, is a black man who has devoted his life to fighting white supremacists, sometimes literally. He is the founder of the One People's Project, easily the most mainstream and well-known anti-fascist, or antifa, organization. (Its motto is "Hate Has Consequences.") Unlike other left-wing groups that track the far right, One People's Project—which Jenkins runs with the help of a network of about 15 volunteers—confronts its enemies, whether that means getting in their faces at protests, doxing them, or contacting their employers. A volunteer named Laura, a granddaughter of Holocaust survivors, described her work with OPP as "antifa CIA."
After the riot in Charlottesville—where Jenkins was pepper-sprayed—antifa is suddenly making headlines. The term antifa refers to a loose network of militant left-wing activists who physically square off against the far right, and often try to prevent those they deem fascists from speaking publicly. Antifa is sometimes used as a synonym for black bloc anarchists—the scruffy kids in black bandanas or balaclavas known for smashing Starbucks windows—but while the movements overlap, they're not identical. Jenkins doesn't wear a mask, and Laura is an upper-middle-class suburban woman with grown children. The movement appears to be growing rapidly under Trump, though it's impossible to put hard numbers to it; there are no membership rolls.
As antifa becomes more prominent, Jenkins has been called on to explain its strain of left-wing militancy to a fascinated but deeply wary wider world. The last time I saw him, on Thursday, he had just finished an interview on Sirius XM and said he would soon be appearing on 20/20. He'd been frustrated with mainstream coverage of antifa, which tends to paint it as mindlessly reckless, though he also said the movement bears some blame for failing to speak to media on its own behalf. "If you want to know what antifa is about, talk to antifa—if you can find people in antifa that will talk," he said. He'll talk, and has become the public face for a diffuse, nonhierarchical movement. "Daryle's important because he's an elder in our community," said James Anderson, part of the editorial collective that produces the anarchist website It's Going Down. He added: "Daryle's very brave."
Many on the right have tried to paint antifa as the moral equivalent of violent white supremacists. "Antifa: The Other Evil Political Force," says a headline on an essay in the American Conservative that ran last week. Trump, at his notorious Aug. 15 press conference, seemed to refer to antifa when he placed part of the blame for Charlottesville on the "alt-left" which he called "very, very violent." Liberals, in general, don't like antifa much more. They see their tactics as counterproductive at best, and worry that they're ceding the moral high ground to the right. In "The Rise of the Violent Left," a recent Atlantic piece, Peter Beinart wrote about how antifa threatened to disrupt an annual parade in Portland, Oregon, if it included a contingent of Trump supporters; the parade ended up being canceled. "The people preventing Republicans from safely assembling on the streets of Portland may consider themselves fierce opponents of the authoritarianism growing on the American right," wrote Beinart. "In truth, however, they are its unlikeliest allies."
It's certainly true that antifa refuses to eschew violence. According to CNN's Jake Tapper, left-wing counterprotesters assaulted at least two journalists in Charlottesville. "The riot is our version of the strike," said Anderson, even as he acknowledges a disconnect between some of antifa's tactics and its goals. "Step one, broken window. Step two, we don't know. Step three, classless and stateless society," he said wryly. "I don't think it works like that."
But at a moment when Trump's "violence on many sides" rhetoric has installed a one-dimensional image of antifa in the wider imagination, Jenkins insists that large-scale standoffs are only part of what the movement does—and not the most important part. Antifa also aims to shame white supremacists, heightening the social cost of involvement with racist organizations. "You've got to be proactive against them when they're not rolling 500 deep," he said. That's where doxing comes in. In the wake of Charlottesville, he points out, Unite the Right rallygoers are being identified online, with lasting consequences. One has left college, another has been fired from his job at a Berkeley, California, hot dog stand. "These are kids who thought it was funny hassling people online and think they can get away with it in real life," said Jenkins. "And then they learn the hard way: Real life is different than online."
Daryle Jenkins' roots lay in the punk scene, which was the crucible of antifa organizing in America. In 1983, a multiracial skinhead crew called the Baldies formed in Minneapolis to oppose racist skinhead gangs. Five years later, members of the Baldies joined with other groups nationwide to form Anti-Racist Action, an anarchist network that set out to "expose, oppose, and confront" white supremacists. Central to ARA's mission was no-platforming—a concept borrowed from Europe's Anti-Fascist Action—which meant denying racists the opportunity to speak publicly. "The whole thing about defending the Nazis' freedom of speech before even recognizing that they're trying to take ours away has always been a problem for me," Jenkins said.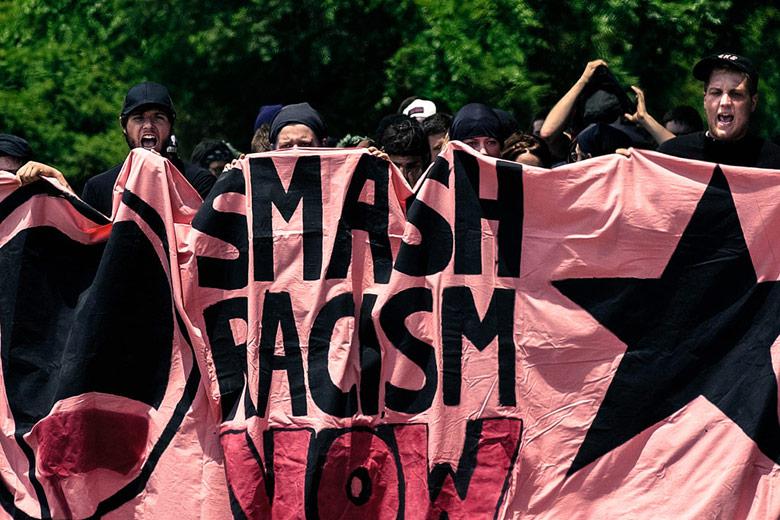 After spending the late 1980s serving in the Air Force, Jenkins hooked up with antifa in the 1990s. "Our mission in life was to chase every neo-Nazi out of whatever music scene we were in," he said. "We used to fight all the time." In 1995, while living in Cleveland, he started a chapter of ARA. Five years later, he'd returned to New Jersey, where he worked with several progressives groups to coordinate a response to a July Fourth rally organized by the white supremacist Richard Barrett. Jenkins and his allies called their effort the One People's Coalition. Back then the internet was still fairly new, and Jenkins set up the group's GeoCities website to publicize demonstrations against Barrett's group. After the rally he kept the site going, eventually renaming it the One People's Project.
One People's Project is run on a shoestring. Though Jenkins has a few donors, he supports himself by working as a truck driver. He and his volunteers attend as many right-wing events as possible, from the Conservative Political Action Conference to hardcore Nazi gatherings. When white supremacists are arrested, Jenkins tries to sit in on their trials. "You actually have to go out there and do the legwork," he said. One of his prouder moments was exposing an act of racist violence by the anti-immigrant activist Marcus Epstein. One day in 2009, Jenkins was bored and on a whim ran Epstein's name through a criminal database. He found out that Epstein had been arrested two years earlier, though no information about the arrest was available online. So Jenkins went to D.C. Superior Court and pulled his records. It turned out that in 2007, a drunk Epstein had called a passing black woman a "nigger," then tried to hit her with a karate chop to the head. A Secret Service officer who witnessed the attack took Epstein into custody, and Epstein eventually entered an Alford plea to the charge of misdemeanor assault. (An Alford plea is when a defendant maintains innocence but admits that the state has sufficient evidence to convict him and agrees to be treated as guilty.) Epstein satisfied the conditions of his Alford plea, withdrew the plea, and the charges against him were dismissed.*
When Jenkins discovered Epstein's arrest, it was in the middle of the contentious confirmation hearings for Supreme Court Justice Sonia Sotomayor. Epstein was working as executive director of a political action committee co-founded by former Rep. Tom Tancredo, who called Sotomayor a racist and compared her to members of the KKK. The revelation of Epstein's racist assault made national news, helping to undermine the opposition to Sotomayor.
Much of what OPP does is this sort of individual exposure, a precursor to the crowdsourced doxing campaigns currently being run against white supremacists who were photographed in Charlottesville. Both Jenkins and Laura maintain white nationalist sock-puppet accounts on social media, which they use to communicate with the members of the movement online, and they monitor far-right message boards. Laura described how she got a Virginia white supremacist named Wendy fired. Laura said that Wendy, a psychiatric nurse, posted on the far-right racist site Stormfront "about how when she gives out medication to people who are Jewish or black, that she wishes she could give them all cyanide." Though Wendy had been posting under an online pseudonym, Laura told me she figured out her real name and contacted her employer.
But Jenkins and his crew aren't simply out to ruin the lives of their opponents; he's also helped shepherd people out of racist movements.
Though he'll fight white supremacists, he'll also talk to them whenever he sees an opening. He can cut an intimidating figure—he's a tall, broad mountain of a man—but he's also warm and, given his life's work, surprisingly nonjudgmental. Jenkins' father was a drug treatment counselor, and his mother is a Pentecostal missionary. He credits his parents for instilling in him an impulse to reach out to people. "I'm my father's son, I'm my mother's son," Jenkins said. "I'll talk." Sometimes, when white supremacists start nurturing doubts, he said, "I'm the only person that will talk to them, really talk to them like they're a human being."
When Bryon Widner, who was once an ultraviolent Nazi skinhead, and his wife, Julie, wanted to leave the movement, Julie turned to Jenkins for help. "They knew me because of how everybody used to complain about the work I do among their circle," Jenkins said. He would spend hours on the phone with Bryon, bonding with him over their shared love of punk rock. After the couple made a decisive break from their racist past, the Southern Poverty Law Center paid for Bryon to undergo a series of 25 excruciating laser surgeries to remove his Nazi facial tattoos, procedures that were chronicled in the 2011 documentary Erasing Hate.
In the film, Julie tells Jenkins what he's meant to them: "Just being able to talk to you about what we went through, and getting out, and all the death threats, and giving us the hope that we're doing the right thing," she says. Jenkins responds, "I appreciate that, but listen. It's not me. It's you."
None of this, of course, is what most people think of when they think of antifa. The popular image of antifa is of black-masked anarchists spoiling for a fight, and it's an image rooted in reality. Jenkins makes no apologies for antifa's aggressive stance, which he describes in conservative-sounding terms of community self-reliance. "It is apparent that Donald Trump is not going to do anything to keep these groups from flourishing, so we have to. It is our job as citizens of this country," he said. "If we care about it, we're the ones who need to go out there and do what needs to be done." He carries a gun, though he's never had to use it. "More and more to the hard left, you start seeing people willing to bear arms," said Jenkins. "I don't run with people who don't care for guns all that much."
For many liberals—a category in which I include myself—antifa's willingness to use violence and eagerness to shut down right-wing speech seem both morally wrong and strategically obtuse. Shortly before he was fired, Steve Bannon said that racial unrest is good for the administration: "If the left is focused on race and identity, and we go with economic nationalism, we can crush the Democrats." Trump appears to be making the same calculation, sowing discord to shore up his base.
Some progressive groups that work to stem the growth of the far right worry that antifa plays into their enemies' hands. Earlier this year, the Southern Poverty Law Center released a guide for college students about how to deal with alt-right figures on campus. It urges students to avoid confrontation with visiting right-wing speakers, and to instead hold separate, alternative events. "When an alt-right personality is scheduled to speak on campus, the most effective course of action is to deprive the speaker of the thing he or she wants most—a spectacle," says the guide. "Alt-right personalities know their cause is helped by news footage of large jeering crowds, heated confrontations and outright violence at their events."
But from the perspective of people inside antifa, Charlottesville proves that confrontational tactics are necessary. The weekend of the rally, the swaggering white nationalist Christopher Cantwell was showing off his weapons to a Vice reporter. A few days later, he posted a video of himself choking back tears after hearing that there was a warrant out for his arrest. "I don't know what to do," he said, adding, "We have used every peaceful and lawful means by which to redress our grievances, and our enemies just will not stop!" That's the sort of thing Jenkins loves to hear. "When you get Christopher Cantwell crying, you know that they did not want this," he said.
Anderson, the anarchist website editor, is audibly exasperated when I ask him to respond to those who say that facing off against white supremacists only gives them the publicity they crave. "Those people got their wish on Friday night," he said, pointing out that, in the absence of antifa, torch-wielding marchers on the University of Virginia campus attacked a group of students and other activists holding a small, quiet counterdemonstration. (According to the Chronicle of Higher Education, a UVA employee who was injured while trying to protect students had a stroke shortly after the clash  and ended up in the ICU.) "They beat the shit out of them," Anderson said. "They called them 'niggers' and hit them with torches. Nobody came to their defense. There was actually a church full of people singing songs with Cornel West not that far away. That's what happens when you ignore them."
On Saturday in Charlottesville, when antifa did turn out, many of the peaceful progressive protesters credit it with defending them. West, who was demonstrating with a group of clergy, told Democracy Now!'s Amy Goodman, "[W]e would have been crushed like cockroaches if it were not for the anarchists and the anti-fascists." Charlottesville pastor Seth Wispelwey, who was standing next to West at Saturday's demonstration, told me that at one point the clergy were charged by a "battalion" of armed white supremacists, with the police nowhere to be seen. The clergy regrouped, linking arms and preparing to risk being assaulted, but more than 200 antifa activists massed between them and 100 or so Nazis. Without antifa, said Wispelwey, "We would have just been trampled and beaten."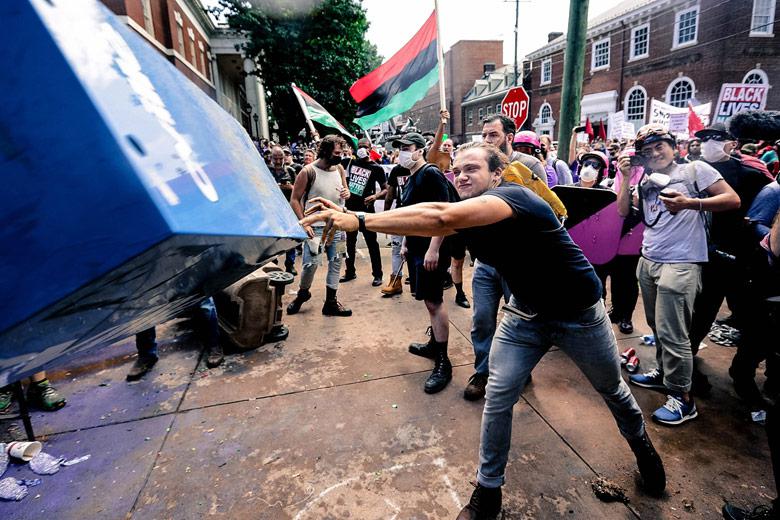 Wispelwey, who is committed to nonviolent civil disobedience, has philosophical and strategic differences with antifa, but he doesn't condemn it. "I have different tactics, but overall I say, as a clergy person, it's dangerous to wait for the perfect at the expense of the good when actual bodily safety is on the line," he said.
In Charlottesville, the police stood down in part because of the presence of armed right-wing militias. "Their presence as a private security force for an increasingly public coalition of white nationalist factions—Ku Klux Klan followers, neo-Nazis, and alt-right supporters—has transformed a movement that has already demonstrated a willingness to threaten violence," reported Politico. Trump has made it clear he has little interest in defending those who would stand up to violent racists. So no matter how much hectoring there is from the right for progressives to denounce the "alt-left," there's no reason to believe that antifa will stop gaining ground anytime soon. If people believe that their government hates them and established institutions are incapable of staving off fascism, they will inevitably take matters into their own hands, whether that means exposing people online or fighting with them offline.
For Jenkins, the lesson of Charlottesville is clear: Antifa needs to redouble its efforts. "We've got to be a little bit more forceful," he said. "And that doesn't mean we go out there and get even more physically aggressive with these guys. It means that we really try to put the pressure on so that they are marginalized, as they were a couple of years ago. Because what's going on right now, they don't feel marginalized. They feel like nothing's going to get in their way." He's going to get in their way.
*Correction, Sept. 11, 2017: This piece originally misstated that Marcus Epstein pleaded guilty to simple assault. He entered an Alford plea to the charge of misdemeanor assault; the charge was later dismissed.
Top image: Daryle Lamont Jenkins, center, argues with supporters of President Trump as Rutgers University students and supporters gather to express their discontent with Trump's executive order halting some immigrants from entering the U.S., on Jan. 31 in New Brunswick, New Jersey. Photo by Mel Evans/AP.