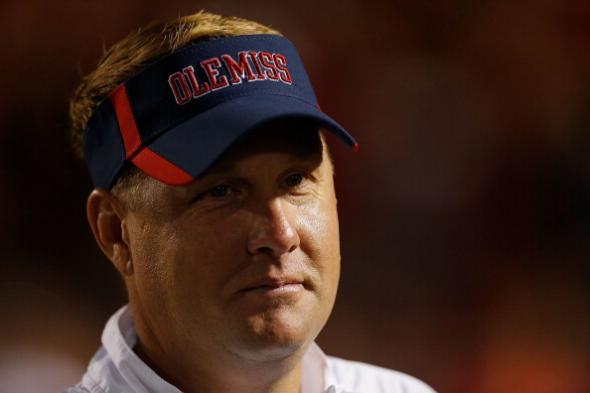 Hugh Freeze was the high school coach featured in Michael Lewis' book The Blind Side, the remarkable story of a Memphis football prospect named Michael Oher. In the Sandra Bullock movie version of The Blind Side, the character inspired by Freeze was played by actor Ray McKinnon, while Freeze himself appeared in a brief cameo. In real life, Freeze moved onward and upward to become the high-powered head coach at the University of Mississippi—but, on Thursday, he was forced to resign amid an escort-service scandal that involves 1) a bong photo posted on a hacked Twitter account and 2) a lawsuit filed by a man who appeared in the same Blind Side scene as Freeze. That man's name: Houston Nutt.
Let's start from the beginning.
Freeze coached Oher—who ended up playing in the NFL; he's currently a free agent—at Briarcrest Christian School, a high school in Memphis. From there, he became an assistant coach at the University of Mississippi (aka Ole Miss), a head coach at Arkansas State, and ultimately the head coach at Ole Miss.
Ole Miss's typically mediocre football team became a national contender under Freeze's leadership, recruiting top players from across the country in such a way that it was extremely obvious to anyone with a brain that someone/everyone at Ole Miss was paying under the table for top talent. (To be clear, I am not suggesting that college football players don't deserve payment above and beyond their scholarships. But it's sleazy and counterproductive to the cause of fair compensation for coaches like Freeze to give out cash via unenforceable under-the-table agreements while sanctimoniously denying that they've done so. Freeze reportedly once compared the suggestion that he paid players to the crucifixion of Jesus.)
An investigation into rule-breaking by college football's governing body, the NCAA, was completed in early 2016. The NCAA alleged that university employees and/or affiliated "boosters" had arranged sweetheart car loans for players, distributed cash and other "impermissible benefits" of value, and in one case helped recruits cheat on their ACTs. Ole Miss responded—both formally and via anonymous leaks—that most of the misbehavior that had taken place could be blamed not on the Freeze regime but on previous Ole Miss coach Houston Nutt (the one who also appeared in The Blind Side before getting fired and replaced by Freeze).
Minutes before the NFL Draft began in April 2016, the Twitter and Instagram accounts of Ole Miss star and NFL prospect Laremy Tunsil—who played under Freeze—were hacked. The hacker (who has never been publicly identified, although a disgruntled "former financial adviser" of Tunsil's is suspected) posted a video on Twitter of Tunsil smoking marijuana out of a gas-mask bong, then posted screenshots on Instagram of text exchanges in which Ole Miss employees arranged payments to Tunsil. The investigation into Ole Miss's conduct was reopened, and more alleged violations were uncovered. Among them: That a store owned by a booster had given recruits $2,800 in free merchandise and that boosters had given one recruit more than $10,000 in cash.
Just weeks ago, Nutt sued Ole Miss for what he says was its dishonest effort to scapegoat him for the football program's breaking-the-rules-all-the-time problem. And here is where things get insanely good.
Nutt's attorneys reviewed Freeze's cell records (which are available for public review through freedom-of-information laws because Ole Miss, a public institution, paid for his phone) and found he had placed a call to a number used by an escort service. Somehow, this discovery made its way into the press. Freeze, who is known for tweeting Bible passages, said he must have dialed it by mistake. Except that …
… Ole Miss conducted its own review of Freeze's phone records and found a "pattern of conduct" which was apparently so pattern-y and conduct-tastic that Freeze resigned when he was confronted with it.
And so that's why the ostentatiously Christian coach from The Blind Side is now unemployed: Because he placed at least one call to an escort service on his state-provided work phone, and a man named Houston Nutt found out. How about that?