The Department of Justice announced Wednesday the arts and craft chain store Hobby Lobby has agreed to pay a $3 million fine and return thousands of ancient Mesopotamian artifacts that were smuggled out of Iraq, sold by a dealer in the United Arab Emirates, and shipped to its Oklahoma City offices using fabricated shipping labels. The Oklahoma City-headquartered company orchestrated a dodgy deal for thousands tablets and bricks written in cuneiform, one of the earliest known systems of writing, along with clay bullae and cylinder seals, paying $1.6 in December 2010. The more than 5,500 artifacts were valued at nearly $12 million.
Federal prosecutors said the deal was "fraught with red flags," but Hobby Lobby President Steve Green, who traveled to the Emirates in 2010 to inspect the artifacts, continued to pursue the objects to add the Green family's collection of historical Biblical pieces. The Hobby Lobby retail chain was started and continues to be owned by the family of company founder David Green. The Green family are outspoken Christians and in June 2014 successfully challenged the Affordable Care Act's requirement that health insurance providers provide women access to contraception claiming it violated their religious beliefs. The Green family is also bankrolling a new $500 million Museum of the Bible in Washington, D.C.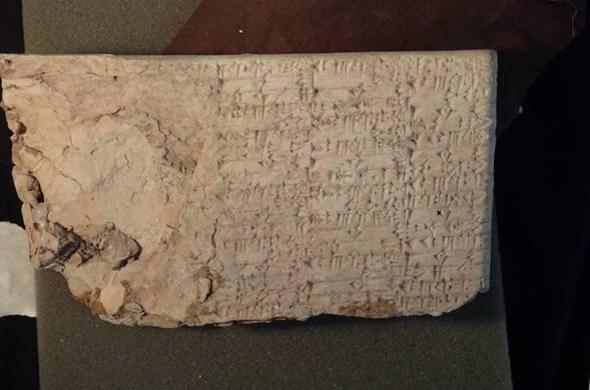 Hobby Lobby appeared to do very little due diligence on the ancient pieces and, according to prosecutors, the Green family received conflicting information about where the artifacts were stored before arriving in the Emirates, they never communicated with the dealer before viewing the pieces informally, and once agreeing on a price, did not pay the dealer directly, instead wiring more than a million dollars to seven private bank accounts of other individuals. The shipping of the pieces to the company's headquarters was similarly fishy, according to the DOJ complaint.
With Hobby Lobby's consent, a UAE-based dealer shipped packages containing the Artifacts to three different corporate addresses in Oklahoma City, Oklahoma. Between one and three shipments arrived at a time, without the required customs entry documentation being filed with CBP, and bore shipping labels that falsely and misleadingly described their contents as "ceramic tiles" or "clay tiles (sample)." . After approximately 10 packages shipped in this manner were received by Hobby Lobby and its affiliates, CBP intercepted five shipments. All of the intercepted packages bore shipping labels that falsely declared that the Artifacts' country of origin was Turkey. No further shipments were received until September 2011, when a package containing approximately 1,000 clay bullae from the same purchase was received by Hobby Lobby. It was shipped by an Israeli dealer and accompanied by a false declaration stating that the bullae's country of origin was Israel.
"In a statement, Hobby Lobby President Steve Green says the company cooperated with the government and 'should have exercised more oversight and carefully questioned how the acquisitions were handled,'" according to the Associated Press. "Prosecutors say Hobby Lobby has agreed to adopt internal policies for importing cultural property and training its personnel."