The intentionally brain-dead TV action satire Decker returned to Adult Swim this week for its sixth season. I edit the show, which boasts brazenly shoddy production values and stars Tim Heidecker as Special CIA Agent Jack Decker, a cartoonish patriot in the mold of Jack Bauer with a head injury. More accurately, it stars "Tim Heidecker," the megalomaniacal, incompetent, platitudinous right-wing gasbag played by the eponymous actor, who hosts the movie-review webseries On Cinema at the Cinema. To combat a perceived dearth of patriotic films and TV shows, the film critic "Tim" created Decker as a star vehicle for himself.
In 2015, Trump launched his own remarkably similar show and toured it around the country, where it got picked up for four seasons in the White House. Since then, Trump's media team has unwittingly begun channeling our show's studied idiocy in its videos.
The Trump camp's latest batshit video, a phantasmagoria of photo ops run through the Ken Burns Tries Cocaine For the First Time PowerPoint preset, is one in a long line of unhinged, low-rent media offerings from this administration. Having reviewed many of these videos, here is my effort to deconstruct the logic of a presidential aesthetic that manages to closely mirror our alt-comedy stoner-channel spy show. Here are the comedic techniques used unintentionally but masterfully in some of Trump's videos, starting with one of his earlier works, "Welcome Home Aya!"
1. Truncated audio
Prematurely clipping or misplacing audio is a comedic editing staple used to accentuate the shabbiness of the work. In the first frame of "Welcome Home, Aya!" we get a variation on this, with a song starting mid-sentence. Trump's video begins partway through Lee Greenwood's "God Bless the U.S.A." with the line "flag still stands for freedom" and the "the" cut off. We rarely start a song this way in Decker—it's usually too on-the-nose—but we do truncate the ends of audio clips. The overall effect is similar, but cutting the tail implies clumsiness or ineptitude, while cutting the head requires near-nihilistic indifference.
Here are a couple examples of truncated audio in Decker:
2. Flag cramming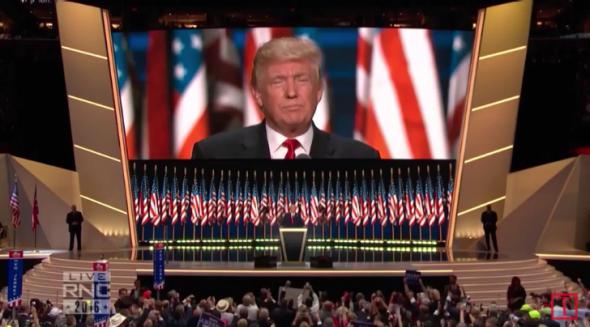 This one might be obvious, but the Trump team relies on it so heavily that it bears mentioning. Flags are convenient shorthand when you need to signal your righteousness but don't have the patience or facts to flesh out an argument. A forest of flags does a lot of heavy lifting, while the absence of flags is an easy target for sanctimonious point-scoring. (Democratic politicians are also susceptible to flag cramming.)
Here are some of the more notable examples in Decker: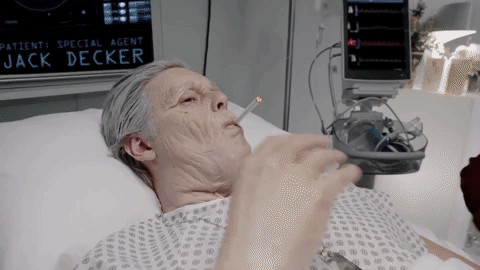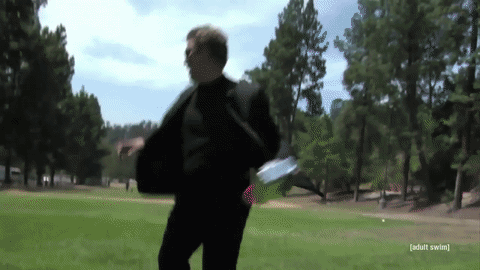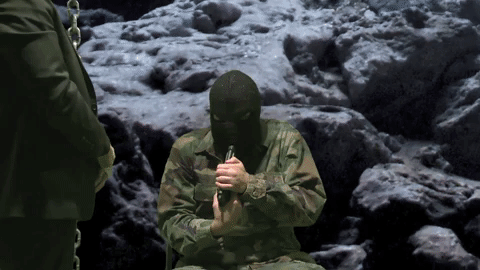 In one episode of Decker, Decker and his sidekick Kington visit Pearl Harbor for the equivalent of a protracted flag shot—a desultory, four-minute montage of the memorial. The site's trappings, and even the words "Pearl Harbor" in themselves, are expected to conjure an air of patriotism, regardless of context. It's too easy to imagine Trump releasing a video like this.
3. Artless exposition
Decker condescends to its viewers despite being leagues dumber than they are. When information needs context, it's usually delivered through a characteristically slipshod flashback to dialogue from 90 seconds earlier:
This Washington Post article included in "Aya" is a masterstroke of clunky exposition. It's hard to imagine an editing choice lazier than scrolling through a screenshot of an article for a full 20 seconds, then arbitrarily fading out when you feel like it's probably been up long enough.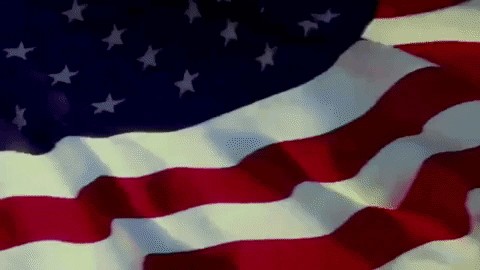 4. More = More
Watching the "Welcome Home Aya!" video, with its nearly 90-second uninterrupted photo montage, you might think someone imported the unculled photos from Aya Hijazi's Oval Office visit into a slideshow and accidentally uploaded it to Twitter. But the production has an unmistakably Trump-inflected logic. There are a lot of weird choices within the miasma of virtually indistinguishable shots of Trump looking president-ish in his suit and chair and office. Notice how the George Washington portrait plays a prominent role in the various pans. This whole thing is a great example of the "more = more" strategy. Decker deploys the same tactic in this motorcycle sequence, desperately bidding for drama by piling shaky clip upon nearly identical shaky clip:
5. Sloppily minimizing other characters
Of course, Trump is the focus of almost every shot in the slideshow—a joke in itself, given that the video is ostensibly about Aya Hijazi and her safe return from an Egyptian jail. What matters above all is that Trump and his family are presented as heroic benefactors.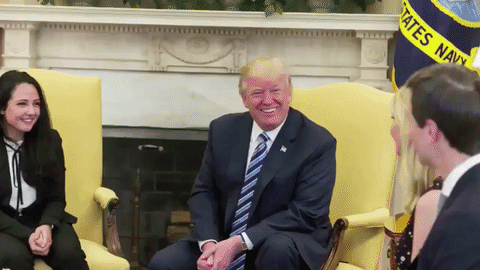 Here's an example of how we diminish secondary characters. Notice how On Cinema resident expert and Tim Heidecker foil Gregg Turkington is less important than this graphic of Trump's face in Heidecker's Trump endorsement video:
6. Jarring shifts in tempo meant to inject energy or variety
When saddled with the dull, undifferentiated raw material of Decker or Donald Trump Gives a Thumbs Up in the White House, one strategy for injecting excitement is to force in quick cuts, digital zooms, and pans. Unfortunately for the Trump team (and fortunately for the Decker team), this only serves to disorient the viewer and highlight the images' inherent inertia.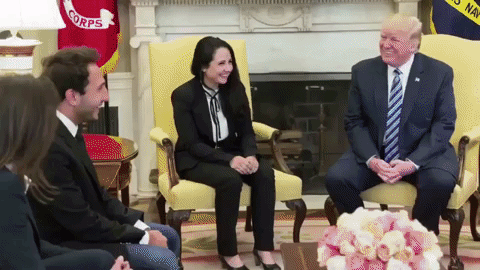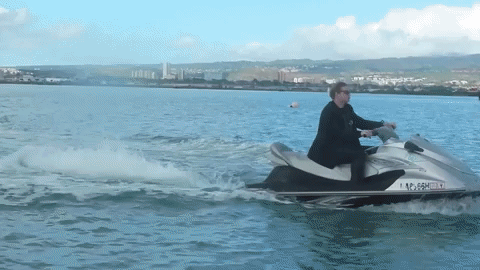 (This driving scene, the above motorcycle clip, and the Pearl Harbor montage are also variations on the old "stuff going on for too long" joke, and Trump's videos are inadvertent models of the same blind immoderation.)
7. Camera moves to nothing in particular
Awkward, unmotivated framings and camera moves always connote some deeper systemic rot in the creative chain of command.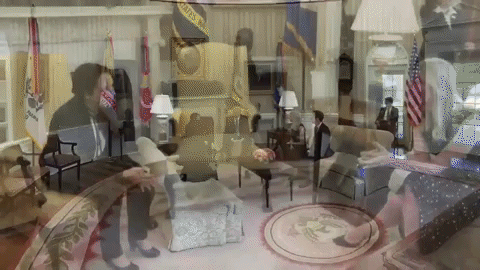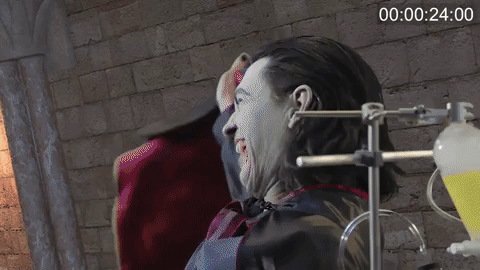 8. Transitions between nearly identical images
Like the camera moves above, transitioning between too similar images feels both drab and unsettling. Trump's video celebrating his trip to the G-20 summit does this masterfully.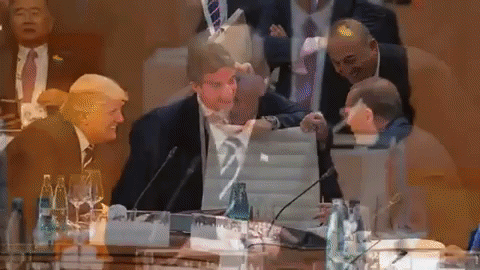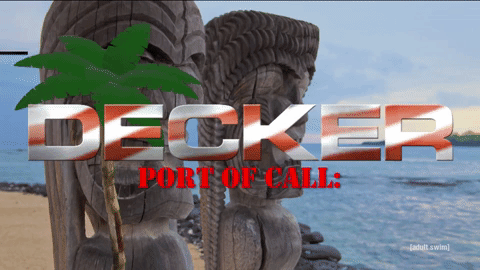 9. POTUS-adjacency
Trump and Decker both flank themselves with images of previous presidents to convey dignity-by-association.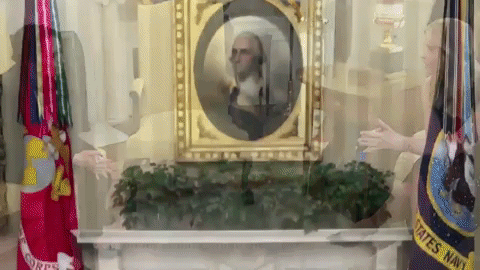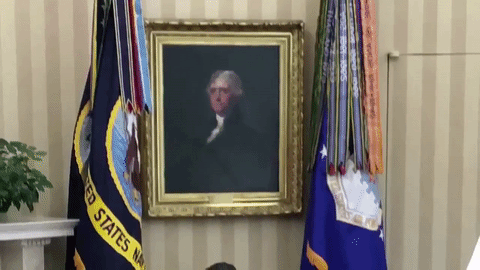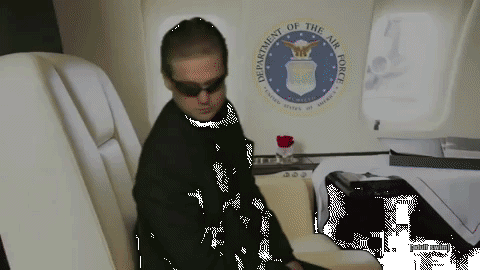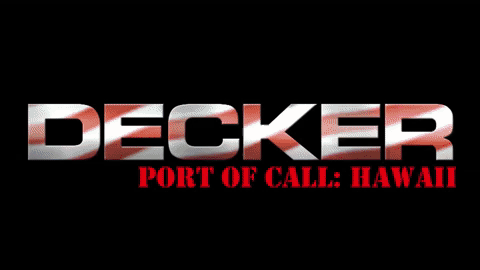 10. Glaring, impossibly stupid oversights
This one is sort of a catch-all for whenever you can see exactly what the editor was trying to do and where they messed up. Let's start with a mistake from a Trump Golf video and a virtually identical joke from Decker: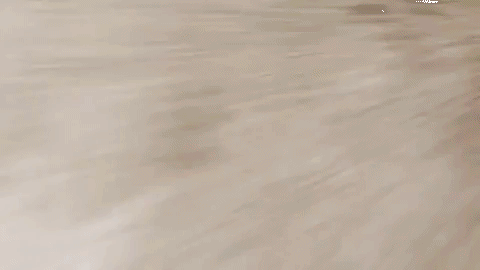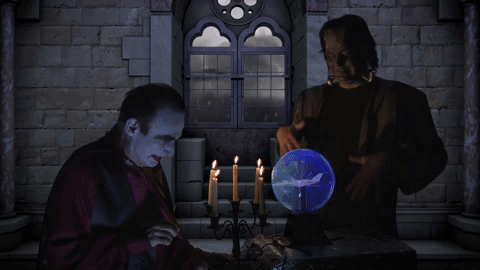 11. Poor-quality images that just clearly should not be used
Sometimes media is plopped in that is of such obviously dumpster-grade quality that it makes you question your understanding of reality.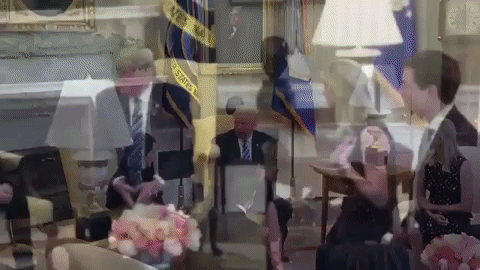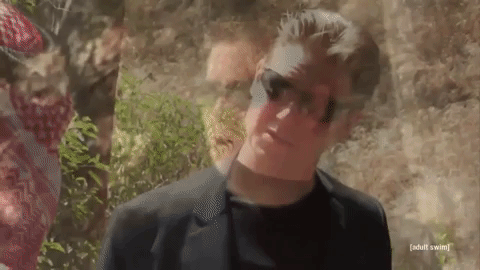 Pulling it all together
To me, some of the most pleasurable bad edits are the ones where you can discern the producer's mangled intent. And so, even in this era of intense partisanship and despair, I would like to thank whoever put "Welcome Home Aya!" together for delivering one of the best bad edits I've ever seen.
The kicker comes when the end card appears, and we discover the explanation for "God Bless the U.S.A." having seemingly random start and endpoints: The track was dropped in so the big chorus would hit when the final flag appears, and then extended forward to where the graphic reaches full, dumb pullout, and backward to the start of the video, cutting off arbitrarily at wherever those points happened to be.
And hoooo boy, that end card is a breathtaking example of so many of the techniques mentioned above: There is an endless pullout from an enormous flag, which is at the bottom of the card, revealing the accompanying text in the wrong order and resulting in a truly mind-bending slow-burn. The editor is stubbornly forcing the flag icon center stage regardless of how it warps our understanding of the card as a whole.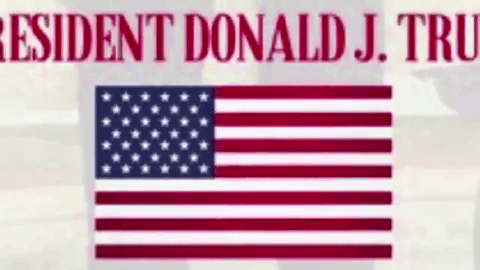 A good Decker analog is this scene, where the editor also tries to force an image that the shot can't naturally accommodate:
One more note about that final shot: There are only 39 stars on that flag! Trump has been using this flag in his Twitter graphics since before he was president and for some reason nobody caught it. (Also, there were never only 39 states in the union—the Dakotas were admitted simultaneously as the 39th and 40th states—which makes this flag that much more demented.) The closest Decker equivalent would be this shot of London appearing behind the Australian flag set to the French national anthem:
The funnest and funniest thing about Decker is the chasm separating its obvious ambitions from their execution. As the A.V. Club so aptly put it, "what makes these kinds of outsider vanity projects so interesting [is] the transparency of the intentions." This same dynamic explains the strange appeal of Trump's videos. Every botched move is framed by our understanding of the flailing megalomaniacal buffoons at the wheel, and there is a distinct pleasure in that double awareness.
As many comics have learned, it's nearly impossible to lampoon Trump effectively. What additional humor can be wrung from the bald absurdity of a president who demands to be served twice as much ice cream as anyone else at the table? Trump and the Extended Trump Universe is a more fully fleshed-out satire of itself than anything anyone can draw. The 2016 election came halfway through our shoot of Decker's fifth and sixth seasons, forcing us to fine-tune the Trumpian echoes in the show while maintaining enough distance to avoid too conspicuously parodying the unparodyable.
Rather than directly targeting Trump's cartoonish persona, Decker has become a romp through the smorgasbord of psychological and sociocultural perversities that inform the MAGA worldview. Five years ago, Tim Heidecker established a character very different from Trump but with a similar cocktail of pathologies. Now, simply by virtue of their shared psychological starting point, Decker and the U.S. presidency have independently developed into parallel autocratic vanity projects with the same ramshackle aesthetic. Here's hoping only one of us gets canceled.
Decker: Mindwipe (Season 6) premiered on Adult Swim last Sunday and continues for the next five Sundays at 11:59 p.m. EDT.