Our political institutions were shaped from their inception by the fear that self-government could degenerate into the tyranny of the majority—or allow a leader to gain absolute power. As a result, we now have considerable political resources to oppose Donald Trump: The system of checks and balances, outlined in high-school social studies classes in a tone of vacuous admiration, was put in place for this very moment.
But the Founding Fathers recognized that a carefully drafted Constitution could never defend itself; at best, it could empower its defenders. In any moment of peril, the survival of the republic would be up to the American people. Are we meeting this test?
There are some bad signs. Although unpopular, Donald Trump retains the backing of a vast swath of the population. We are as far from a national consensus about the danger he represents as we were a few months ago.
But there are also some good signs. For one, Americans of all walks of life, both inside and outside the government, have been doing precisely what the Founding Fathers would have hoped for: protesting the would-be authoritarian in the White House and guarding the independence of their institutions.
For another, there are plenty of powerful actors stymieing Trump's agenda for reasons of their own. The president's effort to bring back coal is getting an unenthusiastic welcome from utilities, which can make more money with cleaner energy sources. And his health care reform proposal died at the hands of the House Freedom Caucus members who found it insufficiently radical.
To mark the 100th day of Trump's presidency, we've assembled in mostly alphabetical order some of the people and institutions—progressive and conservative, American and foreign, principled and self-interested—who are teaching Donald Trump that the president of the United States doesn't always get his way.
—Yascha Mounk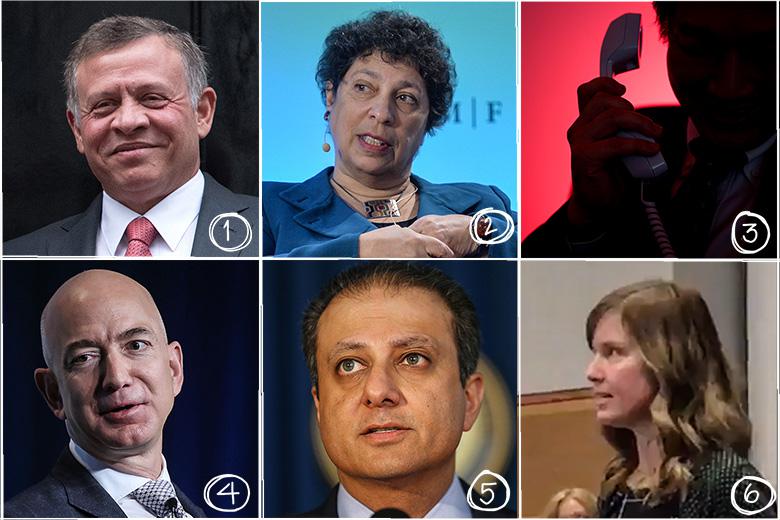 Abdullah II of Jordan
,
king of Jordan
Is Abdullah II the Trump whisperer? In January, the king visited Washington where, according to BuzzFeed News, he told lawmakers on Capitol Hill that Israeli intelligence officials were worried about the destabilizing impact of Trump following through on his campaign promise to move the U.S. embassy in Israel from Tel Aviv to Jerusalem. He reportedly told the president the same thing at a meeting on the sidelines of the National Prayer Breakfast.
This may not be the sole reason why the embassy was not moved, but it's also worth noting that it was just after a meeting at the White House with Abdullah—who had been the first Arab leader to call on Bashar al-Assad to step down—that Trump abruptly changed his tune on the Syrian leader, condemning his "heinous actions." The king—whose regime is becoming increasingly autocratic—appears to have some influence with Trump. Let's hope he uses it for good. (1)
The American Civil Liberties Union
,
nonprofit organization
The ACLU has always done everything at once, but the Trump administration has forced the organization into overdrive. At this moment ACLU attorneys are, among other things, attacking Trump's travel ban, defending LGBTQ rights, safeguarding abortion access, protecting the franchise, combating the death penalty, and promoting free expression.
Its attorneys are fanned out in courts across the country arguing passionately for individual liberties and equality. They do so out of principle, not partisanship: The group recently came out in favor of Trump's right to criticize protesters at his own rallies. Very few people will ever agree with every position the ACLU takes. But all of us can admire its ceaseless work on behalf of America's highest ideals. Pictured: ACLU President Susan N. Herman. (2)
Anonymous leakers
This list has a number of journalists on it whose reporting on Trump has shaped his presidency. But much of their reporting could never have happened without the anonymous leakers inside the country's national security apparatus, the agencies that keep it running, and the White House itself. The leaks have given us unforgettable images, like Trump watching TV alone in his bathrobe, and forced the resignation of Russia-friendly national security adviser Michael Flynn. They've also driven Trump nuts and tied up his inner circle with vindictive infighting. (3)
Jeff Bezos
,
president and CEO of
Amazon.com;
Washington Post owner
An early sign of Trump's authoritarianism came on Dec. 7, 2015, when he sent an unusual pair of tweets.
The argument Trump was making was that Bezos had bought the Washington Post (from Slate corporate parent Graham Holdings Company, then known as The Washington Post Company) as a business maneuver to give favorable coverage to politicians who protected Amazon's interests, and vice versa. Implicit in the tweets was a kind of threat: Nice low tax rates you've got there; it'd be a shame if anything happened to them. He made the threat more explicit in February: "If I become president, oh do they have problems."
The Post continued its aggressive coverage of Trump throughout the campaign—and Trump responded by barring the paper from covering his rallies. Bezos understood. Trump was "not just going after the media, but threatening retribution to people who scrutinize him," he said in October. The CEO seemed fairly sanguine about the danger to his business, probably because no one was expecting Trump to win.
Then he did. Shares in Amazon dropped significantly in the days after Trump's election, more than those of other technology companies. The market, it seems, believed Trump might follow through on his threats to punish Amazon. Bezos tweeted his congratulations to Trump, and observers wondered if he and his paper were about to go soft. In fact, the Post showed no signs of flagging, immediately covering the Russia scandal, the chaotic transition, Sean Spicer's alternative facts, and more unflattering stories.
On Jan. 30, Bezos pledged to fight Trump's first travel ban with both lawyers and lobbyists. A few weeks later, the paper introduced a new slogan—one that explicitly makes reference to the threat of authoritarianism. In meeting Trump's bullying with defiance, Bezos set a high-profile example for his fellow captains of industry. (4)
Preet Bharara
,
former U.S. attorney, Southern District of New York
He was supposed to be the one Obama-era U.S. attorney that Donald Trump kept. Instead, Preet Bharara was asked to resign on March 10 along with 45 other U.S. attorneys—a request he turned down, forcing Trump to relieve him of his duties and provoking reports that Bharara had been investigating Health and Human Services Secretary Tom Price.
Bharara still lost his job, but he did it with his characteristic style by implicitly accusing Trump of corruption in a cryptic tweet and later giving a bemused interview to the New York Times in which he mocked the Trump administration's "uncertain helter-skelter incompetence." It drew new attention to the Price scandal and to the administration's extraordinary level of corruption. (5)
Jessi Bohon
,
protester
The town hall protesters of early 2017 pulled no punches. As Trump and congressional Republicans geared up to unravel Obama's legacy, starting with the Affordable Care Act, hundreds of constituents let their representatives know there would be consequences.
At an "Ask Your Reps" event in Tennessee, high school teacher Bohon epitomized the wave of protests with her blend of kindness and steel. "As a Christian, my whole philosophy in life is pull up the unfortunate," Bohon told her congresswoman, Rep. Diane Black. "The individual mandate: That's what it does. The healthy people pull up the sick." Why was it OK to punish the sickest Americans? Black didn't have a good answer, and other Republicans in Congress became a little more afraid of their constituents. (6)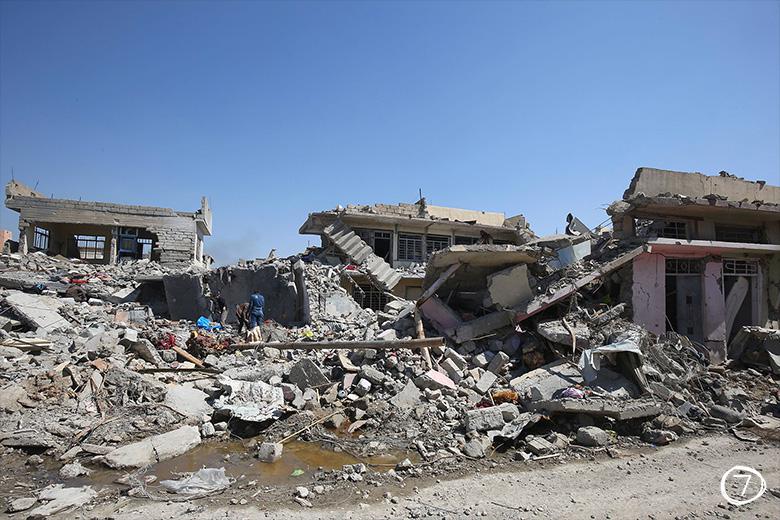 Airwars
,
nonprofit transparency project
On March 16, a U.S. airstrike hit a mosque complex in al-Jinah, Syria, killing at least 38 people.
On March 22, another strike hit a school near Raqqa, which was serving as a shelter for displaced people, reportedly killing over 30. That same week, around 200 people were killed in a series of U.S. strikes on residential areas of Mosul, Iraq.
Incidents like these were hardly unheard of under the two previous presidents who have waged America's long war on terrorism, but they're now happening with alarming frequency, and it appears very likely that new White House policies have something to do with it.
The fact that there's a public debate at all about these events, all of which are now under official investigation by the U.S., is thanks in part to Airwars, an independent U.K.-based website run by a group of journalists dedicated to tracking and verifying claims of civilian casualties from international airstrikes in the campaign against ISIS. The project was set up as a result of the often incomplete and inaccurate data on civilian casualties provided in previous air campaigns.
For instance, NATO initially claimed there had been no civilians killed during the 2011 air campaign there—before later reporting revealed there had been dozens. The Obama administration's estimates of casualties from drone strikes were also far lower than those provided by outside monitoring groups.
Airwars tracks claims in real time: Syrian and Iraqi researchers flag potential casualty events from local and social media reports, and Airwars staff works to verify reports from open-source data with deaths classified as "confirmed," "fair," "weak," or "contested."
Lately, it's been busy, with allegations against the U.S.-led coalition up 400 percent in the last six months. "We used to track 30 or 40 cases a month. Now it's 120 to 160 a month," says Chris Woods, a former BBC journalist and director of the project.
The trend began before Trump and is due, in part, to the fact that the battle against ISIS is entering a brutal end phase, particularly in Mosul, site of the deadliest urban battle since World War II, where fighting has gone on longer than the Battle of Stalingrad.
But it's harder to justify what's happening in Syria, where civilian casualties caused by the coalition have outnumbered those of Russia for the past three months. The Trump administration instructed the military to loosen the rules of engagement, meant to protect civilians to the minimum required by international law, and has also eliminated the White House oversight of major strikes that was customary under the Obama administration.
"Something has changed here that is putting civilians at risk as the result of U.S. policies," says Woods. "In March, we saw a slight fall in the number of airstrikes and the number of targets hit by the coalition. But the number of civilian casualties rose sixfold. That is a huge and unprecedented shift."
Woods is quick to emphasize that he understands the realities of war. "This is not just about being nicer on the battlefield. Battlefields are not nice places. It's about strategy. Winning the war against ISIL at the least cost to civilians will help [the coalition] secure a long-term victory," he says.
What he wants to see is less of a new strategy than a return to American military traditions: "The U.S. military, for decades now, has built in civilian protection into its warfighting. We now have a president who wants to strip away, in his own words, many of those protections. We think that is entirely counterproductive and goes against long-held U.S. military ethos."
Given the military's reluctance to discuss these policies, if such a change were to take place, we'd likely only see it in the numbers. (7)
—Joshua Keating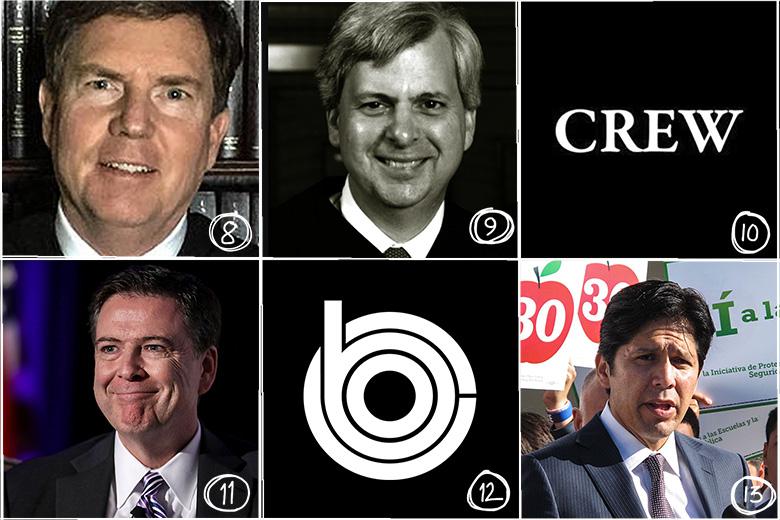 James Bredar, judge, U.S. District Court for the District of Maryland
Attorney General Jeff Sessions has indicated that he's opposed to all attempts to reform dysfunctional police departments, preferring to blame individual officers when cases of misconduct, racism, or improper use of force come to light. That attitude was on full display in April when the Sessions Justice Department tried to weasel out of the consent decree agreement that the Obama Justice Department had struck with the city of Baltimore. The agreement had not yet been formally approved—which, Sessions apparently hoped, would give the Trump administration an opportunity to intervene on the reform process.
James Bredar, the federal judge overseeing the Baltimore consent decree, wasn't having it. On April 7, Bredar shot down the government's request for extra time to "review" the agreement, stating that "the case is no longer in a phase where any party is unilaterally entitled to reconsider the terms of the settlement." As Sessions tries to undermine police reform efforts around the country, stopping him will require other federal judges to follow Bredar's lead. (8)
William Canby, Richard Clifton, and Michelle T. Friedland, judges, U.S. Court of Appeals for the 9th Circuit
Canby, Clifton, and Friedland faced a daunting task in February: Write a coherent opinion either upholding or reversing the restraining order slapped on Donald Trump's hugely controversial first travel ban—in a matter of days. They handled the job with aplomb. Under intense pressure, the three judges set aside partisan inclinations and wrote a strong opinion that spelled out the due process violations inherent in the executive order. Critically, they also asserted that courts can and should look beyond the plain text of an order to determine its intent. That finding paved the way for other courts to declare that both the first and second bans were spurred by unconstitutional anti-Muslim animus. Pictured: Circuit Judge Richard Clifton. (9)
Citizens for Responsibility and Ethics in Washington, nonprofit organization
CREW welcomed Trump to the White House on Inauguration Day by lodging a formal complaint with the federal government concerning the lease for his D.C. hotel. Three days later, the left-leaning government watchdog filed a federal lawsuit alleging that the new president began violating the U.S. Constitution's Emoluments Clause as soon as he was sworn in.
It's because of CREW—along with its two most high-profile board members, Richard Painter and Norm Eisen, both former White House ethics czars—that most us even know the word emoluments at all. And if the group gets its way in court, we might find out what Trump's hiding in his tax returns. (10)
James Comey
,
director, Federal Bureau of Investigation
James Comey's inclusion on the list might seem strange given that the director of the FBI is quite possibly responsible for Trump's election victory. But in the months since, Comey has signaled a firm unwillingness to drop or downplay the FBI's investigation into the Trump campaign's Russia ties. Despite Trump's repeated insistence that the "Russia story" is nothing but "fake news," Comey appeared before the House Intelligence Committee on March 20 and stated, unambiguously, that the FBI was in fact looking into "whether there was any coordination between the campaign and Russia's efforts."
With that, Comey established that digging into Trump's Russia connections is more than just conspiracy-mongering and reminded the president that his authority over the executive branch only extends so far. (11)
Congressional Budget Office
,
federal agency
Thank god for the CBO, which showed us all that math isn't quite dead yet. By the time Donald Trump was sworn into office this year, the idea that expert policy analysis could sway public opinion had begun to feel quaint. But then Capitol Hill's official fiscal forecasters estimated that the House Republican plan to repeal and replace Obamacare would leave an additional 24 million Americans uninsured.
The stat blanketed cable news and Facebook—and voters actually seemed to absorb it. A full 61 percent of Americans correctly told a Quinnipiac poll, for instance, that Trumpcare would leave fewer Americans with health coverage. Only 17 percent, meanwhile, approved of the bill, which soon died ignominiously. Call it revenge of the econ nerds. (12)
Kevin de Léon
,
president pro tempore, California state Senate
In 2014, as the first Latino elected to be state Senate majority leader in California, De León was already a symbol of the state's position in the progressive vanguard. But since the election, he has eclipsed other high-profile Democrats—in a state with plenty of them—in his commitment to opposing Trump's agenda.
It was De León who authored the 2013 Trust Act, which prevents local police in California from turning over undocumented immigrants to the feds except in the case of violent offenses, and which constitutes the bedrock of California's status as a sanctuary state. He's working on a follow-up, SB 54, which would further block state cooperation with Immigration and Customs Enforcement, and has organized events to help undocumented Californians navigate the Trump era. He's also passed important legislation on clean energy and economic justice.
Immigration is a personal issue for De León. "I can tell you, half of my family would be eligible for deportation under the executive order, because they got a false Social Security card, they got a false identification, they got a false driver's license prior to us passing AB 60, they got a false green card," he told a state Senate panel in February. (13)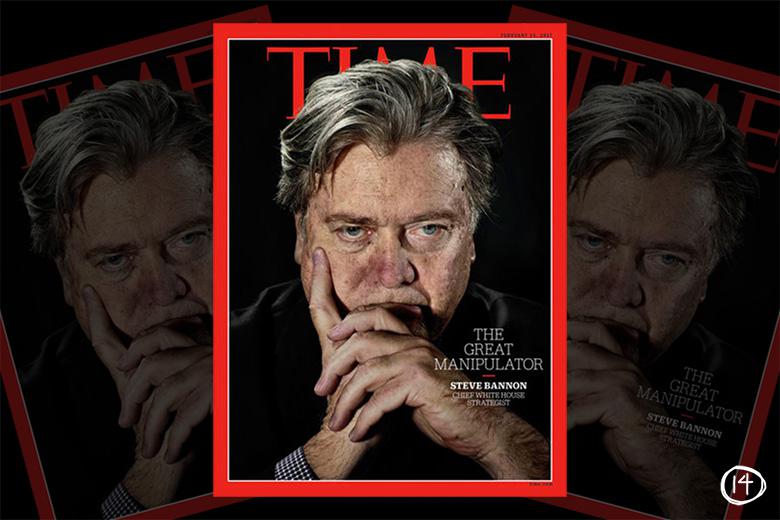 Everyone who popularized the idea of "President Bannon"
Among the many strange and dark forces that animate Donald Trump, the urgings of far-right white-power zealot Steve Bannon might be the most hideous. Beyond just generally disgracing the country with his mere presence in the White House, Bannon is behind the administration's empowerment of U.S. border agents' and immigration officers' most authoritarian tendencies, an unleashing of thuggish tribalism that might be the administration's only tangible policy "accomplishment" thus far. Fortunately for America, Bannon is also on the outs with Trump right now—not because the president has developed a conscience, but because people started joking that Bannon was Trump's boss.
The meme was encapsulated by the phrase "President Bannon," as in #StopPresidentBannon, which began trending on Twitter the day after the administration issued its first travel ban. This cartoon by Canadian artist Pia Guerra made the rounds. A few days later, the New York Times used the phrase in the headline of an editorial. Time put Bannon on its cover the following week with the evocative phrase "The Great Manipulator."
Trump's sensitivity to such jibes was reportedly one reason Bannon was taken off the National Security Council in early April, an early sign that Trump's son-in-law Jared Kushner has surpassed the former Breitbart publisher as the adviser with the president's ear. Kushner was an undistinguished high school student who got into Harvard because his dad is rich; he has no political or policy experience; he is in far, far over his head and should under no circumstances be the top adviser to the president of the United States. But he's also not a demented lunatic racist like Steve Bannon, and that's progress. (14)
—Ben Mathis-Lilley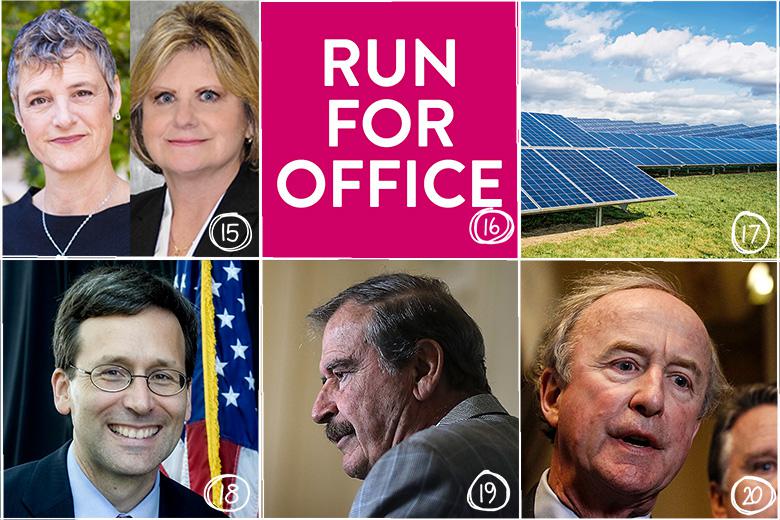 Sarah Eckhardt and Sally Hernandez
,
county judge and sheriff of Travis County, Texas
In January, Sally Hernandez, the newly elected sheriff of Travis County, directed local jails to stop detaining inmates at the behest of federal immigration police. (She made exceptions for cases in which immigration agents have warrants, or in which immigrants are charged with especially serious crimes.) Hernandez is one of many law enforcement officials who believe enforcing immigration law hampers local police work. Austin became one of the "sanctuary cities" that the new president had vowed to bring to heel.
Texas Gov. Greg Abbott threatened to take away grant funding from Travis County, population 1.1 million. But Sarah Eckhardt, the elected head of the county government, was unmoved. "I am confident Sheriff Hernandez's policy is well within the current law," she wrote to Abbott. "I am certain you have come to the same conclusion; else you would not be seeking to change the current state law to put all Texas sheriffs in the service of the United States Department of Homeland Security."
There was money on the line: Eckhardt and Hernandez's refusal to comply with ICE blew a $1.5 million hole in criminal justice programs that had nothing to do with immigration policing. And the Texas State Legislature may set statewide standards for immigration policing soon. For now, the county has found a way to rearrange its budget and keep immigration enforcement out of local police work. (15)
EMILY's List
,
political action committee*
Groups that work to elect women to political office had hoped that a Hillary Clinton presidency would inspire a new generation of female candidates. Instead, they got a sexual predator in the White House—and a wave of female interest in running for office stronger than they'd dared hope for. EMILY's List channeled that enthusiasm into political training for hundreds of women in D.C. the day after the Women's March. Last year, the organization spoke with 900 women interested in a run for office. So far this year, they've heard from more than 11,000. If 2018 turns out to be the second Year of the Woman, we'll have Donald Trump to thank. (16)
Energy utilities
President Trump has promised to hasten climate catastrophe by reviving the U.S. coal industry. Thankfully, power companies aren't cooperating—instead, utilities are forging ahead with their plans to replace carbon-belching coal plants with natural gas and renewables. Why? Pure finances. Hydraulic fracking has made gas cheap while technical advances have helped made wind and solar more viable.
And though Trump may try to reverse the Obama administration's Clean Power Plan, the people who run utilities assume that future presidents will still try to combat greenhouse gas emissions, making coal an uneconomical choice. As one exec recently told the New York Times: "Whatever happens in the near term in the current administration doesn't affect our long-term planning for future generation." (17)
Bob Ferguson, state attorney general, Washington
Ferguson may have singlehandedly restored liberals' faith in states' rights. Shortly after Trump's first travel ban took effect, Ferguson filed suit, successfully arguing that the executive order violated the rights of Washington residents whom the state had a duty to defend.
In doing so, he took a page out of the conservative playbook: Throughout the Obama years, red-state attorneys general routinely filed lawsuits against executive actions and federal laws, often to great success. Ferguson gave the right a taste of its own medicine, proving that blue states have a role to play in the fight against Trump's autocratic impulses. Other attorneys general have since joined the clash, but Ferguson was first on the battlefield. (18)
Vicente Fox
,
former president of Mexico
Mexico's dismally unpopular current president, Enrique Peña Nieto, has not handled the Donald Trump phenomenon particularly effectively, trying in vain to make the president see reason on deportations and his signature border wall. Judging from polls, the Mexican public would like to see a more forthright response—and they've gotten one from former president Fox, who has emerged as one of the world's most effective trolls with his repeated assurances, in interviews and on social media, that Mexico will not build Trump's "#fuckingwall".
The question of how to push back against the Trump agenda is likely to dominate next year's presidential election, and Fox has laid down a strong marker. (19)
Rodney Frelinghuysen, U.S. representative, New Jersey
Frelinghuysen is the sixth member of his family to serve in Congress since 1793. The family has been Republican since the GOP's founding. As chairman of the House Appropriations Committee, he was expected to support the Republican bill to repeal and replace Obamacare. Instead, on the day it was scheduled for a final vote, he pronounced it "unacceptable," saying it would cut Medicaid coverage in his state and remove essential health benefits from insurance policies. Congress-watchers called his announcement a death blow to Trumpcare. Two hours later, Trump and House Speaker Paul Ryan pulled the bill. (20)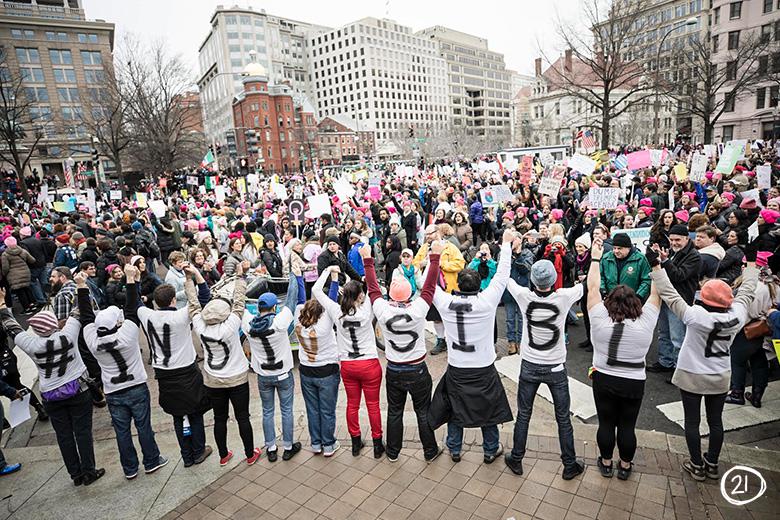 Ezra Levin and Leah Greenberg
,
authors, "Indivisible: A Practical Guide for Resisting the Trump Agenda"
In late November, a group of young progressives began collaborating on a guide for Democrats hoping to push members of Congress to hold firm against Trump's agenda. Upon its release in December, the Indivisible guide—based on the strategies used by the Tea Party movement at the start of the Obama era—circulated widely on social media. The town hall showdowns and phone campaigns it has fueled have jarred Republican members of Congress and shaken up the Democratic Party.
There are now, staggeringly, nearly 6,000 Indivisible groups putting the guide's recommendations into action nationwide—at least two in every congressional district in the country, according to the organizers. That's more grass-roots energy than Democrats have seen outside of campaign season for some time. Over email, I asked Indivisible Board President Ezra Levin and Vice President Leah Greenberg for their thoughts on the successes of their strategies and the state of the resistance.
—Osita Nwanevu
Osita Nwanevu: The Tea Party was obviously a huge influence on the development of the guide. You write that they adopted an almost purely reactive strategy to counter the Obama agenda—they spent more time playing defense and learning how to say no than they did pushing Congress to adopt alternatives. Why do you think that approach works?
Indivisible: Constituents pressuring their members of Congress have the most leverage when they are focused on an issue that's immediately relevant and that their representative has to take a verifiable position on (usually through a vote). Since progressives aren't setting the agenda, we don't currently have the ability to put the things that we care about up for votes. That means that for now, our power is the power to respond.
But the real power of Indivisible (and we would argue the Tea Party, too) is not individual power. The unit of activism for Indivisible is the local group rather than the individual member. The same was true of the Tea Party. Groups build community and can persist in ways that individual action cannot. Groups can also assert their power more forcefully—it's easy for a member of Congress to ignore one person, but it's hard for them to ignore dozens or hundreds of Indivisible group members who show up at a town hall.
How would you rate the Democratic Party's efforts to resist Trump? How solid or steady would congressional Democrats be in resisting the Trump agenda without the grass-roots organizing we've seen in the past few months?
Democrats have gotten the message over the last few months, largely because of the extraordinary wave of grass-roots advocacy. Early on in this administration, 15 Democrats voted to confirm as CIA Director Mike Pompeo, a man who slanders Muslim Americans and is open to torture.
Right after the vote, we saw Indivisible groups outside of Schumer's office in New York, Feinstein's office in the Bay Area, Klobuchar's office in Minneapolis (and other offices) demanding to know why these supposed progressives were voting for this extreme nominee. Two weeks later, zero Democrats voted to confirm [Betsy] DeVos for education secretary—they got the message.
But this isn't a switch that just gets flipped. Early in the Supreme Court nomination discussion, there was talk of the Democrats cutting a deal and not putting up a fight. But Indivisible groups (along with NARAL and other groups) pressured their senators to demand a filibuster. And it worked.
The story of Democrats in the first 100 days of the Trump administration is that they will indeed stand up for progressive values as long as their constituents demand that they do.
One of the things that's refreshing about Indivisible is that it acknowledges the Democratic Party's tendency toward conciliation. Where do you think that congenital willingness to compromise, even in the face of a GOP that has become more and more threatening and unmoored from reality, comes from?
There's a powerful desire in Washington to pretend that things are normal, and it's the job of the grass-roots to remind Democrats that this is not business as usual and that they need to resist. The bottom line is this administration is so far outside the bounds of what is normal that we see not just Democrats organizing under the Indivisible banner, but independents and Republicans too.
What has been the most significant day of the resistance thus far in your view? The AHCA's failure? The Democratic filibuster of Gorsuch?
I'd point to three in chronological order.
First was literally the first day of this Congress, when Republicans attempted to gut the Congressional Ethics Office. We had a New York Times op-ed that day arguing for the Indivisible strategy, but it remained to be seen whether people would really show up. They did—and it worked! People were furious about a relatively obscure (but important) office that was under threat. They made this clear to their members of Congress, and the Republicans backed down. This is when D.C. first took note of the resistance.
Second was the immediate aftermath of the vote for Mike Pompeo for CIA director. Democrats were still talking about how they had to cut deals where they could get them, and so 15 voted for Trump's extreme nominee. The backlash was swift and strong. It made clear this resistance wasn't just about weakening Republican resolve: It was also about making sure Democrats have spines.
Third was definitely the defeat of Trumpcare. What a phenomenal victory. The No. 1 legislative priority of a unified conservative federal government (which hasn't existed in over a decade)—and it couldn't even get a vote! And you can draw a direct line between the quasi-moderate Republicans who ultimately disavowed the bill and the months of constituent pressure—Love Indivisible in [Barbara] Comstock's district, NJ11 for Change in Frelinghuysen's district, Indivisible Lambertville/New Hope in [Leonard] Lance's district. Taking down the top legislative priority made clear the extent of constituent power.
Is there anything new you've learned about the process of influencing representatives since the guide was published?
We've learned that many members of Congress will do everything they can to avoid looking weak in front of their constituents. There was a Vice News article a while back that found Republican members were holding many fewer town halls this year. But in response, we put out a "Missing Members Action Plan" guide, and many Indivisible groups started putting together constituent-led town halls, calling out their members of Congress for being nonresponsive. Some of those members are the same ones that ended up rejecting Trumpcare—so they got the message even if they refused to actually meet with their constituents. (21)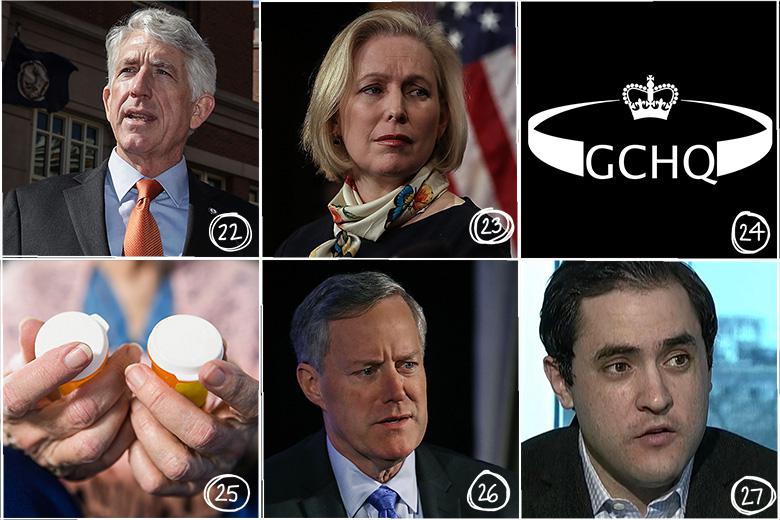 Brian Frosh and Mark Herring
,
state attorneys general, Maryland and Virginia
While Washington state Attorney General Bob Ferguson spearheaded the fight against Trump's first travel ban, more than a dozen other attorneys general quickly joined his efforts. Two in particular stand out.
In Maryland, Attorney General Brian Frosh was required by law to receive permission from Larry Hogan, the state's Republican governor, before filing suit. Hogan withheld his permission—so Frosh informed the legislature, which promptly changed the law, empowering Frosh to sue Trump.
And in Virginia, Attorney General Mark Herring filed the most compelling lawsuit against the travel ban, comparing it to racial segregation. "I felt we should stand on the right side of the law and the right side of history," Herring said at the time. "I don't want to have those injustices repeated." Pictured: Virginia Attorney General Mark Herring. (22)
Kirsten Gillibrand
,
U.S. senator, New York
Whether it's because they're the party of government or because they don't have a spine, Senate Democrats didn't respond to the election with a Mitch McConnell–style vow of total opposition. Almost all of them voted to approve many of Trump's Cabinet nominees, potentially setting the stage for more compliance down the road.
But it's telling that the senator who was most stalwart in opposition to those nominees—voting aye on just two—is an ambitious moderate widely believed to have her eye on the party's presidential nomination in 2020. Kirsten Gillibrand, who began her career in the House's Blue Dog Coalition, is hardly an obvious standard-bearer for #TheResistance. If she's determined that the path to the White House begins with firm opposition to Trump's administration, that should stiffen her colleagues' resolve and push her rivals (Cory Booker, we're looking at you) to take equally strong stands. (23)
Government Communications Headquarters (GHCQ), British intelligence agency
Something GCHQ reportedly did do: Inform its U.S. counterparts of contacts between members of Trump's campaign team and Russian operatives in late 2015, leading to the still-ongoing U.S. investigation.
Something it did not do: Help Barack Obama tap Trump's phones. When White House Press Secretary Sean Spicer repeated Fox News commentator Andrew Napolitano's unfounded allegation to that effect in March, the agency cattily dismissed the claims, saying, "They are utterly ridiculous and should be ignored." The phrasing guaranteed the comment more attention than a flat bureaucratic denial, messing up the administration's latest disinformation campaign. (24)
The health care industry
Say what you will about the overall influence of Washington lobbyists: This year, they've been useful allies in the fight against Trumpcare. Some health industry groups, like the powerful American Medical Association, opposed the bill outright, while others, like the hospital and insurance lobbies, voiced more muted criticisms. But none fully blessed the half-baked plan, which denied the Republicans anyone to point to (outside Congress or the White House) who thought their legislation was a good idea. We'll see if K Street keeps coming through when Republicans offer up their next attempt at health reform; for now, they're on the side of the angels. (25)
The House Freedom Caucus
,
congressional caucus
This group of 30-plus hardline conservative Republican representatives has infuriated Trump, and unintentionally advanced Democratic goals, by adopting the unusual strategy of actually following through on the uncompromising promises that they made to voters. For the free-market purists of the Freedom Caucus, led by North Carolina's Rep. Mark Meadows, that means rejecting any health care bill that doesn't completely eradicate the Affordable Care Act—even the parts that most Americans want to keep.
Caucus members' principled commitment to this goal, backstopped in many cases by the security of having just won easy races in very red districts, has torpedoed the White House and Paul Ryan's lurching attempts to pass something—anything!—that can be called "Obamacare repeal."
These defeats needled Trump to the point that he promised to "fight" caucus members in 2018, which is a promise you rarely see presidents making toward popular legislators in their own parties shortly after taking office. They also ensured that the coverage the Affordable Care Act extended to millions of sick and low-income Americans remains in place—for now. Pictured: House Freedom Caucus Chairman Mark Meadows. (26)
Intelligence and national security reporters
The Russia scandal hasn't gotten Trump impeached (although it could!). But it has brought down his first national security adviser, cast a pall of suspicion over his initial Bannonite foreign-policy agenda, and drawn attention away from anything the president might prefer to talk about.
For much of what we know about the Trump circle's connections to Russia, we can thank reporters from news outlets including the Washington Post (which has the best sources among the intelligence agencies), the New York Times (which is making up for whiffing on this story before the election), the Associated Press (which broke big stories on the Paul Manafort connection), and CNN. The Trump administration may be waging war on the press, but the press isn't going down without a fight. Pictured: New York Times reporter Michael S. Schmidt. (27)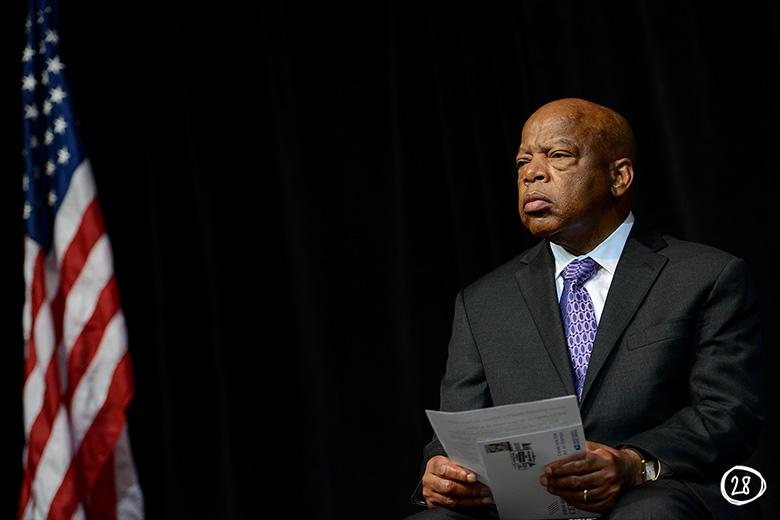 John Lewis
,
U.S. representative and civil rights activist, Georgia
A common complaint among progressives is that congressional Democrats, for lack of a less gendered way to put it, have no balls. They compromise too easily; they're rhetorically tepid and ideologically overcautious. This perception has begun to change under Trump as unapologetic left-wingers like Elizabeth Warren, Tom Perez, and Keith Ellison have become prominent voices and previously moderate figures have evolved into high-profile advocates of "resistance."
The change has been driven by grass-roots Dems, who've overwhelmed legislators' offices with phone calls and shown up at town halls, but also by public figures like Lewis, the civil rights hero who began protesting the Trump administration before it even existed, when he announced he'd be boycotting the new president's inauguration. Nearly 70 other representatives followed Lewis' lead, which Trump didn't like—but which those representatives' constituents very much did.
With few formal powers available to them, Democrats seem to have realized that this kind of resistance—which was prefigured by a technically futile but politically successful sit-in over gun control in June 2016 in which Lewis was also a prominent participant—is not just "the right thing to do" but good movement-building strategy. In the short term, high-profile opposition often provokes the president into personal vendettas, wasting his time and depleting his political capital.
In the long term, headline-seizing gestures like the inaugural boycott have proven to play well with loyal Democratic voters—the people whose efforts can make a real difference now in swing districts, and whose enthusiasm will be critical if Dems want to retake Congress in 2018. More than five decades after Selma, John Lewis is still proving that symbolic resistance gets results. (28)
—Ben Mathis-Lilley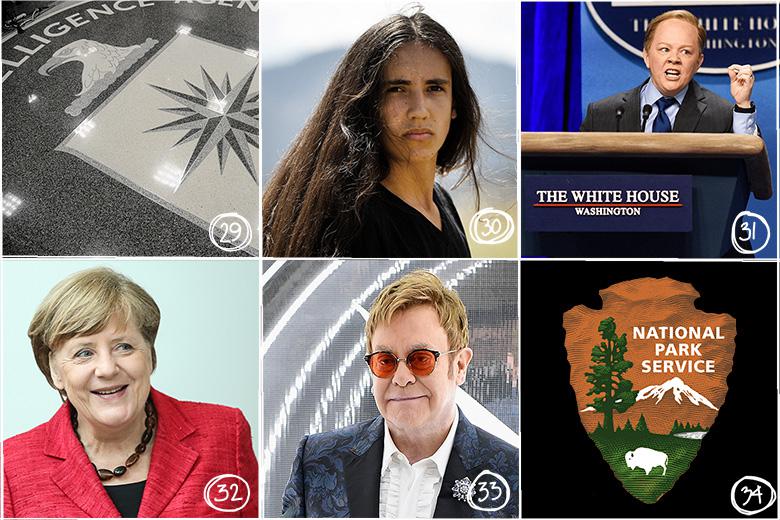 The intelligence community
On Inauguration Day, there was no love lost between the new president and the nation's intelligence agencies. Weeks earlier, the CIA, FBI, and NSA had issued an unprecedented joint assessment stating that the Russian government had hacked the election to put Trump in office. Trump's attempt to mend fences with a speech at CIA headquarters the day after his inauguration backfired thanks to the president's remarkable lack of charm.
The distrust between Trump and the agencies that supposedly report to him is so great that intelligence officials have withheld sensitive information and leaked damning facts about his campaign. Trump has threatened the spies with revenge. But they're still around—and still leaking. (29)
Juliana et al
,
plaintiffs
The 21 children suing the federal government for endangering their futures by failing to address climate change had a case before Donald Trump was elected president. Over his 100 days in office, Trump has only bolstered their argument: His policies and his deputies all seem intent on making climate change worse rather than better.
The kids and Our Children's Trust, the nonprofit working with them on the suit, have already filed paperwork with the Department of Justice insisting that the federal government stop destroying its documentation on climate change, and have named Trump as the main plaintiff. The outcome is uncertain at best—and the case will take years to work its way through the courts—but win or lose, the young plaintiffs have opened a new front in the fight against climate denialism. Pictured: Plaintiff Xiuhtezcatl Martinez. (30)
Melissa McCarthy as Sean Spicer
,
cast member, Saturday Night Live
Belligerent, humorless, ridiculous: Trump's press secretary is easy to mock. But McCarthy's spot-on bluster—and her gender—got under Trump's skin. "Trump doesn't like his people to look weak," an anonymous insider pointed out. Yeah? Well, complaining about an impression on Saturday Night Live makes you look really tough, Mr. President. (31)
Angela Merkel
,
chancellor of Germany
Merkel—the most powerful world leader left who advocates accepting refugees, a strong Europe, and a united response to Russian expansionism—has long been a popular target for Trump, who accuses her of "ruining" Germany by welcoming too many "illegals" and free-riding on U.S. security guarantees. So it wasn't a surprise when she frostily greeted his election victory with a message saying that U.S.–German cooperation could only work on a basis of "values of democracy, freedom, and respect for the law and the dignity of man, independent of origin, skin color, religion, gender, sexual orientation, or political views."
After Trump passed his travel ban, Merkel reportedly called to explain the Geneva convention on refugees to him over the phone. The two had an awkward meeting in March at which Trump appeared to refuse to shake Merkel's hand. Since then, according to reports, she has reportedly blocked his attempts to splinter the European Union by negotiating separate trade deals with member states. (32)
The music industry
The dawn of the Trump presidency posed a challenge for popular entertainers. It's hard to choose sides when your job is to keep your appeal as broad as possible. Big-time musicians faced a particular test: Would they perform at the inauguration and, in exchange for an audience and a paycheck, help give Trump the imprimatur of mass-culture approval?
The answer, in every case, was no. Artists reported to have been approached by the inaugural committee include Elton John, Garth Brooks, Celine Dion, and Kanye West, all of whom declined. A few accepted with playful poison pills attached: Moby agreed to do it in exchange for Trump's tax returns; the British singer Rebecca Ferguson said she'd do it if she could sing "Strange Fruit."
But literally any musician more famous than 3 Doors Down could have gotten the gig; none wanted it. It was a useful repudiation of a potential moment of unity narrative, and it made Trump, who understands and cares about show business much more than he does policy, "very unhappy." (33)
National Park Service
,
federal agency
Trump's first presidential meltdown took place on his first full day in office, when he chewed out acting Acting National Park Service Director Michael T. Reynolds over his agency's retweet of a journalist's side-by-side comparison of the National Mall crowds at Obama's record-breaking 2009 inauguration and Trump's comparatively sparse one.
Unable to tolerate the slight to his ego, Trump ordered Reynolds to produce more flattering crowd photos. That same day, he dispatched Sean Spicer to the briefing room, where Spicer gave a remarkable performance. Kellyanne Conway later described Spicer's offerings as "alternative facts," giving the administration its unofficial slogan. The New York Times—in a news story, not an opinion column—wrote that "Mr. Spicer scolded reporters and made a series of false statements." The fact that the new president and his spokespeople would baldly lie about verifiable (and trivial) facts had been established on day one. Not bad for a retweet. (34)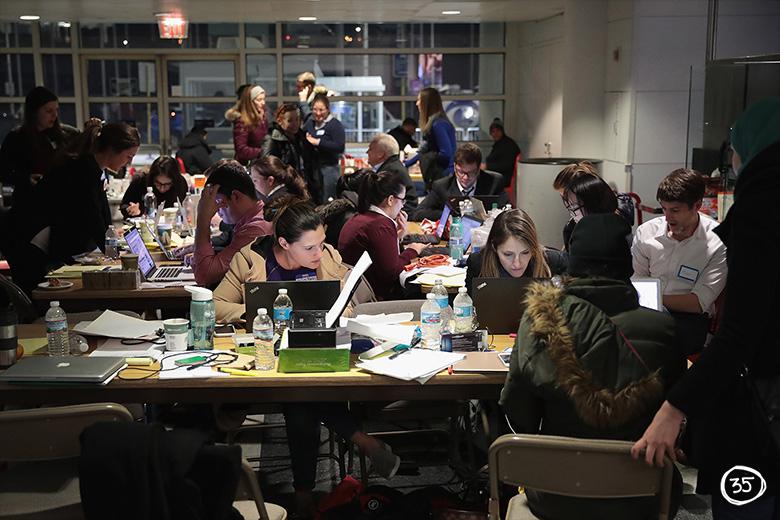 Volunteer lawyers
Shortly after Donald Trump issued his first travel ban, I went to Washington Dulles International Airport in Virginia expecting to find chaos and mayhem. What I witnessed instead was a scene that should make any member of the legal profession proud: Dozens of lawyers walking around with signs, laptops, and cellphones tirelessly endeavoring to help the men and women trapped in legal limbo by the ban. All of them did it for free; none of them minded. Most considered it an honor to be working on behalf of these immigrants.
And they won! Huddled on a dirty floor, connected to spotty airport Wi-Fi, these lawyers crafted a winning argument against the travel ban. They filed petitions requesting the restoration of due process, refusing to accept the government's insistence that noncitizens detained in U.S. airports have no rights. They demanded access to their clients, sought court orders delaying deportations, and caught Customs and Border Patrol officers in multiple lies. Many were fresh out of law school with little experience: They learned on the job. And their vast body of lawsuits helped persuade the courts to halt the ban.
Trump's first weeks in office were mostly an overwhelming whirlwind of despair. His first travel ban might have been the tipping point—the moment the resistance was simply overwhelmed and confronted with an insurmountable obstacle. But lawyers like an obstacle: It gives them someone to sue. Lawyers also like winning, and their victory in this early skirmish emboldened them to continue contesting the administration's lawlessness.
These days, the battle over the travel ban is being fought in well-lit courtrooms by seasoned professionals. But if opponents of the ban prevail, they will owe a great deal of their success to the hundreds of lawyers who gathered in dingy airports to defend the rule of law. (35)
—Mark Joseph Stern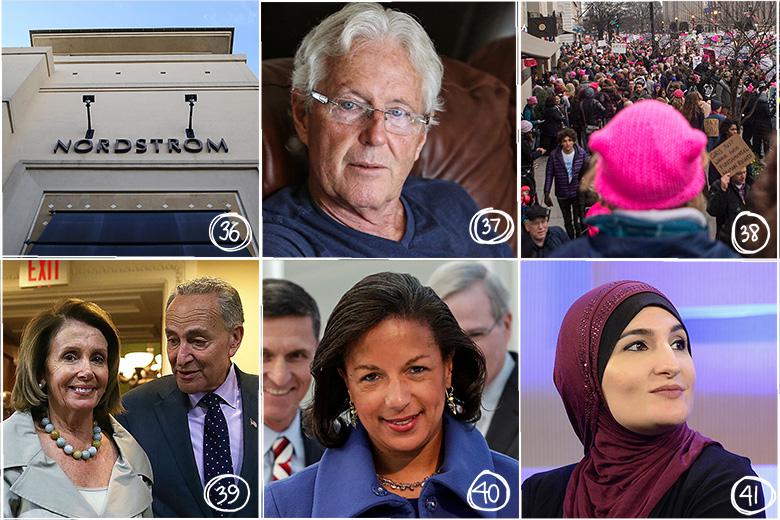 Nordstrom
,
retail chain
In the early days of the Trump presidency, tweets from the president could send companies' stock prices spiraling downward. So when Nordstrom announced in early February that it planned to drop Ivanka Trump's apparel line, citing poor sales, company executives must have begun keeping an anxious eye on the @RealDonaldTrump feed. On Feb. 8, the worst happened:
And Nordstrom shares … dipped briefly and then bounced right back. Trump adviser Kellyanne Conway subsequently violated federal law on live TV by urging Americans to buy Ivanka's goods, earning her a slap on the wrist from the Office of Government Ethics and boosting Ivanka's sales. But the Nordstrom affair demonstrated that a company could cross Trump without worrying that he'd decimate its share price with a few ungrammatical sentences typed on his phone. (36)
Bill Owens
,
father of Navy SEAL Ryan Owens
On Jan. 26, Trump authorized a counterterrorism raid in Yemen. It resulted in the deaths of more than a dozen civilians and one Navy SEAL, Chief Petty Officer Ryan Owens. When Owens' body was flown home his father, Bill Owens, refused to meet with Trump. Bill Owens, who had served four years in the Navy, told the Miami Herald that the raid was ill-conceived, that he didn't like the way Trump had treated a Muslim Gold Star family during the election, and that Trump's ban on travel from Yemen and other Muslim countries, signed just before the raid, might have compromised the operation.
Trump made Ryan Owens' death, and his widow's grief, an applause line in his first joint address to Congress, earning plaudits from TV pundits. Bill Owens let the world know the story was more complicated. (37)
Participants in the Women's March
,
activists
Between the shock of the election and the horror of the inauguration, it was an open question what kind of resistance demoralized liberals would muster. At first, the Women's March didn't inspire confidence: The initial spark came from a Facebook invitation posted by a grandmother in Hawaii to her friends, and the event went viral before anyone had secured the appropriate permits. Some (male) commentators suggested that the event should have been framed more inclusively. It seemed possible it would fizzle out and leave everyone demoralized.
Instead, it was the biggest global protest in history. For shaken liberals everywhere, it established very clearly just how many people were as upset and as committed as they were. The huge crowds, coming on the heels of the low-energy inauguration, got under Trump's skin, prompting his absurd effort—on the first day of his presidency!—to deny what everyone could see with their own eyes, abruptly ending any honeymoon period the media might have been inclined to grant him. The momentum from the march carried over to the phone-call campaigns and town hall meetings, also dominated by women, that have terrified Trump's congressional allies and blocked Trump's legislative agenda. (38)
Nancy Pelosi and Chuck Schumer
,
congressional minority leaders
You can never count on Democrats in opposition. The party of government is conciliatory by nature, even when faced with an unprecedented threat to the Constitution. After the election, Trump apparently believed he could unleash his legendary deal-making powers to win them over, beginning the soft-soap process with a friendly Nov. 20 tweet about Sen. Chuck Schumer.
In fact, after a little pressure from his constituents, Schumer has held together Democratic opposition in the Senate—most prominently on filibustering Supreme Court nominee Neil Gorsuch. From the House, Pelosi has spearheaded the opposition to Republican legislation—although that has often meant sitting tight and following the Napoleonic maxim, "Never interrupt your enemy when he is making a mistake." She seems to relish baiting the president, whom we all know loves to be criticized by women. Their minority status limits the Democrats' power, but a unified opposition can still block bills in the Senate and make Speaker Paul Ryan's life harder in the House. (39)
Susan Rice
,
former U.S. national security adviser
Trump and his surrogates have accused Rice, President Obama's national security adviser, of "unmasking" the names of Trump associates in intelligence reports. The reports involved conversations, monitored through normal surveillance of foreigners, that included or referred to these associates.
In an April 4 interview on MSNBC, Rice explained that unmasking is confidential (usually, the identity of the monitored person is disclosed only to the requester) and said she never leaked anyone's name. But she confirmed that after the discovery of Russia's election interference, the U.S. intelligence community, in which she played a central role, scoured its collected surveillance for evidence. It may turn out that while Trump was protecting Vladimir Putin, Rice was protecting the United States. (40)
Linda Sarsour
,
activist
The daughter of Palestinian immigrants, Brooklyn-born activist Linda Sarsour has been a confounding personality for Trump and his supporters. Trump has repeatedly attempted to pit feminists against Muslims, suggesting that Ghazala Khan "wasn't allowed" to speak at the Democratic National Convention and announcing plans to track "honor killings" committed by immigrants and refugees. Sarsour, one of the four leaders of January's gargantuan Women's March, upends that narrative as a hijab-wearing Muslim feminist.
When Trump banned travelers from seven Muslim-majority nations from entering the U.S., Sarsour was the lead plaintiff in a major lawsuit filed against it. She also helped raise more than $160,000 to repair a vandalized Jewish cemetery, furthering the nascent alliance between Muslims and Jews who've noticed that the Trump administration isn't particularly fond of either group. (41)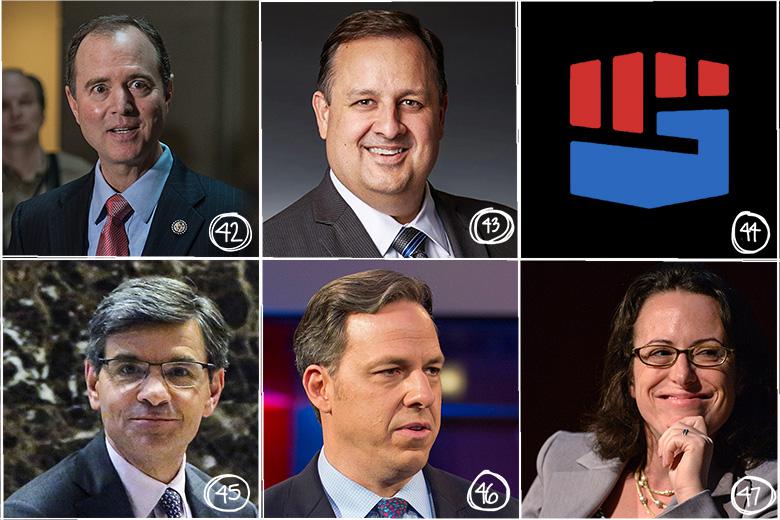 Adam Schiff
,
U.S. representative, California
Schiff, the ranking Democrat on the House Intelligence Committee's Russia investigation, has a tough job. Trapped on a committee stacked with Republicans, he has prodded and coaxed his fellow members into holding hearings and calling witnesses that could bring down their president. Schiff deftly managed last month's interrogation of FBI Director James Comey, marshaling evidence against Trump's circle. He worked closely with the committee's Republican chairman, Rep. Devin Nunes, then used that credibility to cut Nunes loose after Nunes claimed to have secret evidence of a conspiracy against Trump. Nunes ended up recusing himself from the probe. Schiff is still at it. (42)
Walter Shaub
,
director, U.S. Office of Government Ethics
It started with a tweet. In late November, after Trump made another of his just-trust-me promises to fully separate himself from his business, Shaub used his agency's official Twitter account to underscore the emptiness of that pledge. "Only way to resolve these conflicts of interest is to divest. Good call!" Shaub wrote in faux-congratulations, knowing full well that Trump had no such plans. When Trump finally unveiled the lackluster details in January, Shaub traded sarcasm for sincerity and declared the plan "meaningless." OGE is an advisory agency with little enforcement power, but while Shaub can't stop Trump from breaking every ethics rule on the books, he remains in the perfect governmental position to sound the alarm. (43)
Sleeping Giants
,
activist campaign
In November, a Twitter account called Sleeping Giants began a simple campaign against Breitbart, the alt-right website formerly run by Trump adviser Steve Bannon. For months, the account and its followers have tweeted at companies whose ads run on the site—often through agreements with third-party ad networks—alerting them to Breitbart's often bigoted content. Around 1,500 firms have since pulled their ads, dealing a presumably significant financial blow to the site, although Breitbart hasn't been forthcoming about what the campaign has cost it.
Targeting media entities via their advertisers is an old strategy once deployed to great effect by social conservatives. It was a similar campaign by the civil rights group Color of Change that felled Fox News host Bill O'Reilly last week after the New York Times reported on the scope of the sexual harassment claims that have amassed against him. Breitbart, of course, is still standing. (44)
George Stephanopoulos, chief political correspondent, ABC News
Stephanopoulos, an erstwhile Democratic operative from a more graceful age, at first seemed nonplussed by Trump. But viewers of Good Morning America have seen the host's perplexity turn to exasperation. "I've got to stop you," he exploded when a West Wing spokeswoman defended Trump's accusations of wiretapping against President Obama. "That is simply not true."
He challenged White House senior policy adviser Stephen Miller's claims about voter fraud and pressed Kellyanne Conway about the travel ban and Michael Flynn's resignation. Stephanopoulos' steadiness and gravity lend force to his insistence on not giving the administration's bullshit artists a pass. He gives a sense that there are still adults in the room. (45)
Jake Tapper
,
chief Washington correspondent, CNN
In another era, Tapper, who hosts The Lead and State of the Union, might have seemed like an empty suit. Since Trump took office, though, he's been steadily toughening up CNN's political coverage. During the campaign, he pressed candidate Trump on issues he seemed to want to evade—at one point asking the nominee 23 follow-up questions—and he didn't let up once the candidate became president.
After an early press conference in which Trump repeated falsehoods about inauguration crowds and the Russia probe, Tapper spoke bluntly: "The person is not dealing with the world in which we live. He said things that weren't true." And when Trump adviser Steve Bannon called the media "the opposition party" and said it should "keep its mouth shut," Tapper issued a high-profile, appropriately dismissive response that set the tone for a network that hasn't been cowed by a hostile administration. (46)
Glenn Thrush and Maggie Haberman
,
political correspondents, New York Times
With their sharp reporting on the West Wing and their revealing sit-downs with the president, Thrush and Haberman are creating a syllabus for understanding our new political reality. The character that emerges from their interviews with named and unnamed sources—a lonely, petulant, would-be despot starved for approval—is becoming the common understanding of the 45th president. They've deftly leveraged his narcissistic neediness to gain access, which is one way to turn lemons into lemonade. And their articles clearly tick Trump off. (47)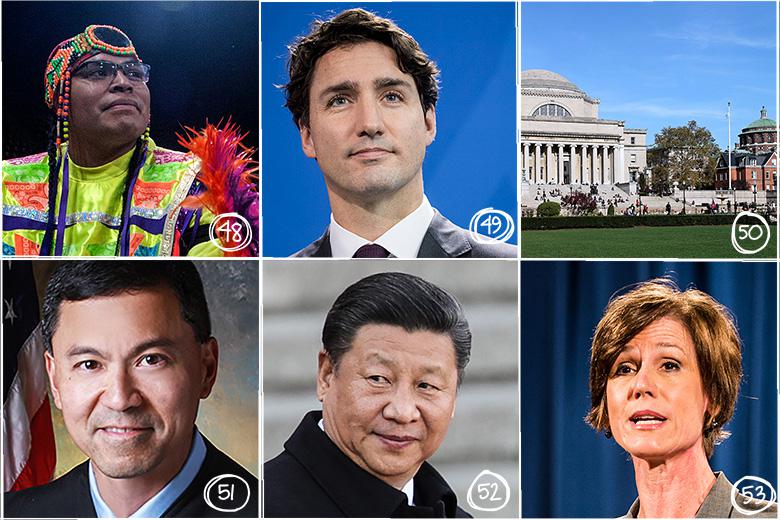 The Tohono O'odham Nation
,
Native American tribe
One small problem with Trump's signature plan to build a wall along the U.S.–Mexico border: There's a third nation involved. For 75 miles, the wall would cut through the Tohono O'odham Nation, a Native American nation whose members live on both sides of the border. The Tohono O'odham are strongly opposed to the wall. "Over my dead body," Vice Chairman Verlon Jose told reporters.
That means that Trump would probably need an act of Congress condemning the land and removing it from the tribe in order to get the wall built through the territory. With tribal sovereignty issues gaining more national prominence, if the administration tries to force the wall through, this stretch of the Sonoran Desert could very well be the next Standing Rock. Pictured: Spencer Antone of the Tohono O'odham Nation. (48)
Justin Trudeau, prime minister of Canada
Yes, some of Trudeau's reputation as the anti-Trump is more symbolism than substance—and on some issues they're in alarming agreement. But symbolism matters. Trudeau's message to refugees immediately after Trump unveiled his travel ban—"To those fleeing persecution, terror & war, Canadians will welcome you, regardless of your faith"—is more than symbolic to the asylum-seekers from around the world now fleeing the U.S. to the north. And his decision to appoint Chrystia Freeland, a Washington-savvy expert on global plutocrats and fierce critic of Russia, as his foreign minister was a direct rebuke of Trumpism. Trump appears to have noticed. (49)
University officials protecting undocumented students
Since the election, at least 28 colleges across the country—including Columbia, the University of Pennsylvania, and Wesleyan—have moved to declare themselves "sanctuary campuses," promising not to voluntarily comply with efforts to deport students. The number could swell thanks to ongoing protests at dozens more universities, particularly if the administration moves to aggressively crack down on Dreamers.
Declaring sanctuary status is risky, since Trump and congressional Republicans could easily move to strip federal funding from schools that frustrate immigration enforcement efforts. For now, officials like University of California President Janet Napolitano, remain committed to protecting immigrant students. "We want to do everything we can so students are safe on our campuses," she told the New York Times in January, "so they can focus on what they are there to do, which is to study." (50)
Derrick Watson
,
judge, U.S. District Court for the District of Hawaii
Watson—or as the attorney general called him, "a judge sitting on an island in the Pacific"—blocked Donald Trump's second travel ban just hours before it was set to take effect. What took him so long? Perhaps Watson wanted to use every last minute to draft the landmark opinion that accompanied his restraining order, which lays out the most coherent case yet for why Trump's ban violates the Constitution. Watson's ruling allowed opponents of the ban to gather forcefully behind one uniting claim: that the travel ban reflects an official government policy of disfavoring Islam. Watson's decision is still subject to appeal, but it's hard to imagine a stronger injunction against Trump's controversial order. (51)
Xi Jinping, president of the People's Republic of China
China spent years resisting U.S. pressure to sign on to international climate change agreements, arguing that wealthy Western countries that had gotten rich by polluting for centuries were placing an unfair burden on developing industrial powers. So when a U.S. president came into power disputing the very existence of climate change—describing it as a Chinese hoax—you might have expected China to bail on its end of the global bargain. (52)
Sally Yates
,
former acting attorney general
The courtroom battle over Trump's first immigration ban forced career attorneys in the Justice Department to grapple with a tough professional dilemma: What do you do, as a lawyer, when your job is to defend an administration whose actions you find morally repugnant and legally questionable? Sally Yates, a holdover from the Obama era who became acting head of the DOJ under Trump, answered this question with clarity, issuing a statement on Jan. 30 that said DOJ lawyers would not be defending the immigration ban until Yates was convinced it was legal.
Yates surely knew she was forcing Trump to fire her, which he did hours later. And while there are interesting questions to be asked about the propriety of Yates's move—it's arguable she should have just resigned—it sent an unmistakable and valuable message: When faced with a wannabe autocrat, it is still possible, and necessary, for people who know better to say no. (53)
Correction, April 28, 2017: This post originally misidentified EMILY's List as a nonprofit. It is a political action committee.
Contributors: Christina Cauterucci, Henry Grabar, Joshua Keating, Ben Mathis-Lilley, Susan Matthews, Leon Neyfakh, Osita Nwanevu, Gabriel Roth, Will Saletan, Mark Joseph Stern, Josh Voorhees, Katy Waldman, and Jordan Weissmann.
Illustration by Natalie Matthews-Ramo. Photo illustrations by Holly Allen. Photos and images by Mark Wilson/Getty Images, Nicholas Kamm/AFP/Getty Images, Alex Wong/Getty Images, Gary Cameron/Reuters, Justin Sullivan/Getty Images, Riccardo S. Savi/Getty Images for the U.S. Postal Service, Win McNamee/Getty Images, United States District Court, Pete Marovich/Getty Images, screen grab/Warner Bros., Chip Somodevilla/Getty Images, Washington state Office of the Attorney General, Yuri Gripas/Reuters, U.S. Office of Government Ethics, Spencer Platt/Getty Images, Olivier Doulier - Pool/Getty Images, Travis County in Texas, Neon Tommy/Wikipedia, Sean Gallup/Getty Images, Kay Nietfeld/AFP/Getty Images, U.S. Court of Appeals for the 9th Circuit, Lintao Zhang/Getty Images, Carl Court/Getty Images, Jason Connolly/AFP/Getty Images, courtesy of the Indivisible Guide, Andrew Toth/Getty Images for Vanity Fair, Jonathan Leibson/Getty Images for Vanity Fair, Jessica Kourkounis/Getty Images, Emily Michot/Miami Herald/TNS via Getty Images, iStock, Joe Raedle/Getty Images, screen grab/Saturday Night Live, Dimitrios Kambouris/Getty Images for Ejaf Ahmad al-Rubaye/AFP/Getty Images, screen grab/CSPAN, Scott Eisen/Getty Images, Bryan Bedder/Getty Images for New York, Lucas Jackson/Reuters.