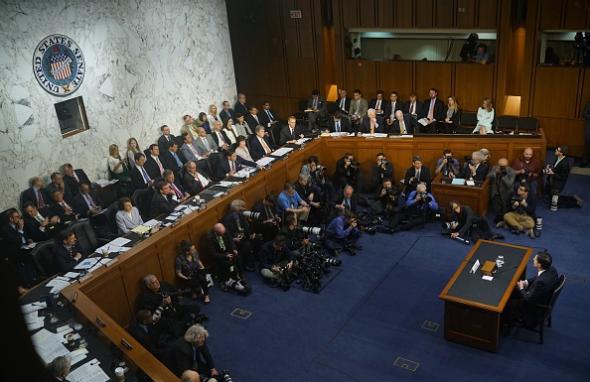 Thursday in Washington, James Comey testified, Donald Trump's attorney reacted to Comey's testimony, and a lot of people said things about both events. Let's review:
Comey told the Senate Intelligence Committee that the reason he documented his conversations with Donald Trump in such detail was because he suspected Trump would misrepresent them at some later point. Said Comey: "I was honestly concerned he might lie."
Comey believes that Trump was directing him to drop the FBI investigation into former National Security Adviser Michael Flynn when he told Comey that he "hoped" he would do so. (There are, as you might imagine, varying opinions as to whether this constitutes obstruction of justice.)
Comey said he believes that he "was fired in some way to change … the way the Russia investigation was being conducted" but expects that special counsel Robert Mueller will carry out the rest of the inquiry "independently, confidently, and honestly."
After he was fired, Comey gave his notes about the meeting during which the Flynn conversation occurred to a friend who passed them to the New York Times. Comey specifically did this, he said, to increase pressure on the Justice Department to name a special counsel to take over the Russia investigation. (It worked.)
Donald Trump's personal attorney, Marc Kasowitz, described Comey's conveyance of his notes to the Times as an "illegal leak" and "unauthorized disclosure" of "privileged communications with the President." The initial response from legal experts indicates that Kasowitz's use of the concept of "privilege" is misleading and that Comey did not do anything illegal in this circumstance.
Kasowitz also asserted flatly that Trump never told Comey he hoped the FBI would drop its investigation of Flynn or that he expected "loyalty" from Comey. Both claims contradict Comey's sworn testimony. The White House has still not commented further on Trump's tweeted suggestion that he may have taped his conversations with the ex-FBI director.
Comey alluded intriguingly to "facts that I can't discuss in an open setting" that led Comey to believe that Attorney General Jeff Sessions could not be an impartial supervisor of the Russia investigation.
Comey said former Attorney General Loretta Lynch asked him to refer to the Hillary Clinton email server case as a benign-sounding "matter" rather than an in "investigation." This request, and Lynch's infamous tarmac meeting with Bill Clinton, were among the reasons that Comey broke precedent and spoke publicly about the email case despite coming to the conclusion that Clinton should not be prosecuted. (His reasoning was that speaking about the case himself demonstrated that the FBI had made its decision independent of Lynch's influence.)
Comey nonetheless reiterated that there was "no case" to be made that Clinton should be prosecuted for a crime related to her private email server. "We investigated it very, very thoroughly. I know this is a subject of passionate disagreement, but I knew there was no case there," said Comey.
Republicans are claiming that, even if Trump's interactions with Comey were inappropriate, it was merely because he was innocently unaware of the FBI's tradition of independence. The GOP is also arguing that Comey's reiteration of his statement that Trump himself was not the subject of a counterintelligence investigation while Comey was FBI director constitutes "vindication" for Trump. (This is somewhat of a stretch given that Comey has not denied reports that several top Trump advisers, including current White House senior adviser Jared Kushner, are being scrutinized.)
So that's what happened. (What a boring day!) And now we wait for Robert Mueller to, eventually, have his own turn in the spotlight.