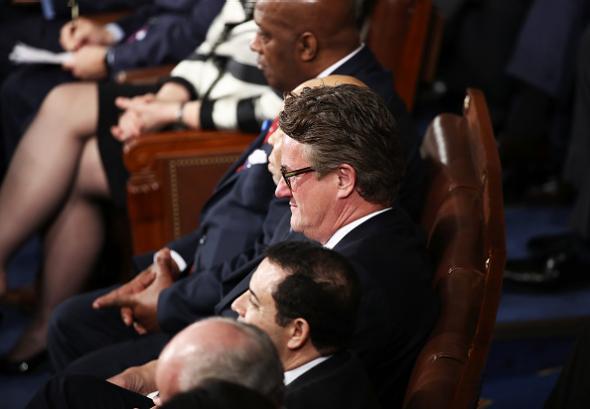 On Friday, Morning Joe co-hosts Joe Scarborough and Mika Brzezinski wrote in the Washington Post that, earlier this year, "top White House staff members warned that the National Enquirer was planning to publish a negative article about us unless we begged the president to have the story spiked." They say they did not end up speaking to Trump about the piece; for his part, though, Trump tweeted this morning that Scarborough asked him to "stop" the piece but that he refused. (A short article about Scarborough and Brzezinski, who are engaged but used to be married to other people, did in fact run in the tabloid in early June. Meanwhile, the fact that the president can control the National Enquirer's editorial agenda—Trump is known to be friendly with David Pecker, who runs the company that owns the tabloid—is, weirdly, a part of this story that everyone agrees on.)
New York reporter Gabe Sherman has now written an account of the situation based on "three sources familiar with the private conversations." The key lines in Sherman's piece:
In mid-April, Scarborough texted with Trump son-in-law Jared Kushner about the pending Enquirer story. Kushner told Scarborough that he would need to personally apologize to Trump in exchange for getting Enquirer owner David Pecker to stop the story. (A spokesperson for Kushner declined to comment).
So, that's pretty bad, if true: A top White House aide and member of Trump's family using a sleazy tabloid story as leverage in order to solicit a personal apology to the president from a critical pundit. However, it's not clear from Sherman's story whether it was Kushner or Scarborough who initiated the text exchange; if it was Scarborough, it would seem like he could have been inviting the very kind of offer he's now decrying.
That said, we meanwhile don't know yet who was responsible for initiating the Enquirer hit piece in the first place, and perhaps Scarborough had merely texted Kushner—who has apparently worked as a peacemaker between Morning Joe and Trump in the past—to find out whether the White House had anything to do with it. (Update, 2:50 p.m.: MSNBC says it is not, for some reason, planning to clear any of this up by releasing transcripts of exchanges between Scarborough and White House officials.)
In any case, the president should probably not be engaging on any level in National Enquirer-related favor trading with members of the press who cover his administation.