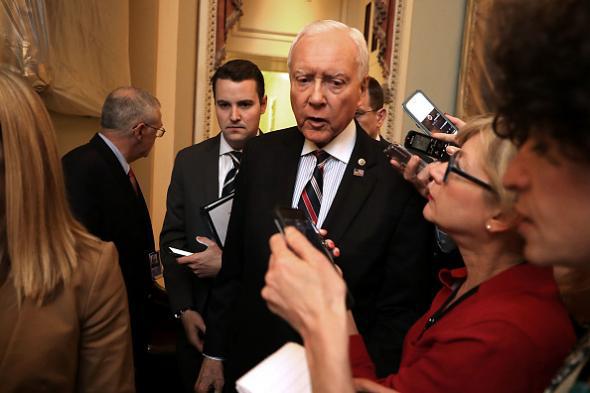 Thursday morning the president responded to being criticized by MSNBC Morning Joe co-anchor Mika Brzezinski by tweeting (inaccurately!) that he had turned her away from his Florida home in December because she was "bleeding badly from a face-lift." Now, Republicans have an established process for dealing with situations in which Trump says things that even the most craven hack could not defend ("grab them by the pussy," "check out sex tape," "If you don't stop investigating my weird national security director who took money from Russia I'll fire you from your job as the director of the FBI," etc.). The first step in that process is to acknowledge that the comments were inappropriate while downplaying them as aberrant, goofy lil' slip-ups that have no relation to Trump's fundamental character or our wider, ongoing political disaster. Utah Sen. Orrin Hatch did so Thursday in especially colorful fashion:
("The Dipsy Doodle" was a popular dance song when Orrin Hatch was a kid.)
The second step of the process is to continue giving Trump full, subservient support in every possible meaningful way, and Hatch will no doubt be a rootin' and a tootin' to do so as soon as the health care bill comes up for a vote.