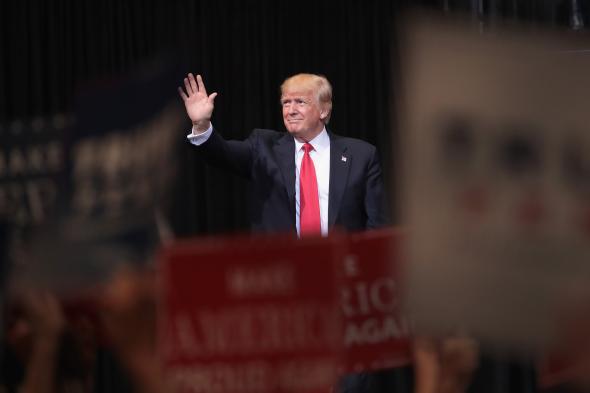 CEDAR RAPIDS, Iowa—Donald Trump stood on stage Wednesday night at a rally organized by his campaign staff that he claimed was not a campaign rally. The president called for congressional bipartisanship and then blasted the Democrats needed to make that happen. Later, he praised himself for not naming his predecessor by name, while naming his predecessor by name. "See how nice I am?" he said while trashing President Obama's approach to Cuba. "I say the previous administration, as opposed to the Obama administration." The crowd went wild.
The president's approval rating is underwater. He is under-siege and his campaign is under FBI investigation back in Washington. But none of that seemed to matter to Trump or his supporters at the U.S. Cellular Center on Wednesday. The president appeared energized by a crowd that spent much of the night on its feet. Team Trump suggested before the speech that it would last only about 30 minutes; in the end the president was on stage for roughly 75. "You don't want me to leave," Trump told the crowd near the end, one of the truer statements he made all night. "I don't want to leave either."
Fittingly for a night full of so many contradictions, Trump's rambling speech was both freewheeling and somehow (relatively!) focused. He ignored his teleprompter for long stretches, and yet remained on message, at least by his standards—the message being that everything is going absolutely according to his plan. He offered up his usual blend of misinformation, tangents, and braggadocio, but avoided the type of sound bite that can hijack a news cycle. At one point, he even showed some uncharacteristic restraint by shrugging off a chant of "Lock her up" that erupted from the crowd. If his supporters noticed the awkwardness of him ignoring such a request in an arena plastered with signs declaring "PROMISES MADE, PROMISES KEPT," they didn't show it.
Trump played the greatest hits from his campaign (bashing Obama, Hillary Clinton, the media), relived his surprise electoral win yet again, and touted Republicans victories in Georgia and South Carolina special elections. "These people are being driven crazy," Trump said in reference to his critics. "Crazy. I mean, they have phony witch hunts going against me. They have everything going. All we do is win, win, win."
In one of the more nonsensical moments of the night, Trump, who spent much of the campaign attacking Clinton for being too cozy with Goldman Sachs, sang the praises of Gary Cohn, the former Goldman exec who now works in his administration. "I love all people: rich or poor," Trump said. "But in those particular positions, I just don't want a poor person, does that make sense?" Somehow, for this crowd, it apparently did.
---