If you talk to people who worked in the Justice Department's civil rights division during the George W. Bush administration about their old jobs, you might hear one of two stories. Each can be viewed as a possible prelude to what the DOJ's "crown jewel" division is poised to go through now that Donald Trump is president and Jeff Sessions is attorney general.
The first story takes place in Ohio during the lead-up to the 2004 election, when local officials were sued over a Republican plan to send thousands of "voter challengers" to polling places in predominantly black districts. The practice, putatively aimed at identifying ineligible voters, stemmed from a controversial Ohio law that civil rights advocates considered a vestige of Jim Crow.
One person who didn't see it that way was Alex Acosta, the head of the civil rights division at the time and now Trump's nominee for secretary of labor. Less than a week before Election Day, Acosta wrote a letter to the judge overseeing the Ohio case to express his support for the "challenger" law and to argue that its purpose was to create a "balance between ballot access and ballot integrity"—not to intimidate voters.
The surprising thing about Acosta's letter was that no one had asked for the DOJ's opinion. The federal government was not party to the Ohio case, and Acosta was under no obligation to comment on it; in fact, he was defying a long-standing civil rights division norm by taking action on a voting issue so close to an upcoming election. The "challengers" were ultimately allowed to go to the polls. Among liberals, the episode went down as a defining example of how zealous and brazen Bush-era political appointees could be in pursuing a partisan agenda.
The second story you might hear from alumni of Bush's civil rights division concerns a litigator named David Becker, who had been working in the voting section since the tail end of the Clinton administration. In 2005, Becker decided to quit—but not before getting involved in a DOJ lawsuit that accused the city of Boston of "improperly influencing, coercing, or ignoring the ballot choices of limited-English-proficient Hispanic or Asian-American voters."
Becker, who had years of experience helping jurisdictions make their elections accessible to minority language–speakers, believed that Republicans in the Justice Department were pursuing the lawsuit for political reasons. In a series of letters to Boston officials, Becker asserted that the case was "largely without legal merit" and was being brought, in part, because Boston had voted Democratic in the 2004 election. Though he was still working for DOJ when he first reached out to city officials, Becker offered to help them fight against the government when he left.
The Becker story is not particularly well-known. But for some conservatives, it remains a galling example of the kind of treachery that Bush's team encountered from career civil rights staff when Republicans took over the division in 2001. Bradley Schlozman, who worked in the "front office" of Civil Rights from 2003 until 2006 and was despised by many of the former career lawyers I spoke with, recently brought it up to illustrate what he called the "extraordinary unprofessionalism" he encountered in the division as a Bush appointee. "In my opinion, these were extremely partisan attorneys who had difficulty separating their political views from their obligations to their client: the United States," Schlozman told me.
These two stories—both of them, as it happens, about letters that probably shouldn't have been sent—serve as a reminder of the destructive, politically polarized rancor that plagued the Bush-era civil rights division. Remembered by many DOJ alums as a traumatic and humiliating low point in the division's history, the period was marked by an unprecedented level of hostility and mutual distrust between career attorneys and the "politicals" who supervised them.
"As time went on, it became more and more abrasive and overbearing," said Albert Moskowitz, who oversaw the criminal section of the civil rights division between 1999 and 2005. Particularly during Bush's second term, he said, "People were abused and treated terribly, and there was just no one to tell and no place to go."
At the heart of the rift was a fundamental misalignment of goals. As one lawyer hired into the civil rights division under Bush, J. Christian Adams, described it in his 2011 polemic on the Obama-era DOJ, the conflict was part of "a larger war between two camps": "militant leftists" who believed "civil rights laws do not protect everyone equally, but only certain 'oppressed' minorities," and conservatives "who support a race-blind future."
To frame it in a slightly less bellicose way, most attorneys who joined the civil rights division before the Bush administration did so because they wanted to help the federal government challenge policies that discriminated against historically marginalized groups. The conservatives in charge under Bush, by contrast, were generally skeptical of federal intervention and believed in devoting more of the division's resources to investigating things like voter fraud and human trafficking. In applying what they called a "race-neutral" approach to enforcement, they also made a point of bringing civil rights cases on behalf of white victims.
"Even attorneys who had served the division through the Reagan years and the [George H.W.] Bush years found it unbearable," said Kristen Clarke, who started in the division a few months before Bush took office and now leads the Lawyers' Committee for Civil Rights Under Law.
Nearly a decade since Bush left office, Trump and Sessions have started making their own moves to transform the DOJ and reorient the civil rights division in particular to fit with their agenda. As we look for clues about how far they'll go, the turbulent 2000s are a reminder of just how bad it can get, and how a new political team might go about pushing the division's long-serving career attorneys out of the way.
So far, those attorneys haven't even been told who their new boss will be, as Trump has not yet nominated anyone to the post. In the meantime, looking back on the Bush years is a way of putting down markers—an exercise in bracing oneself and establishing a worst-case precedent against which to measure the next four years.
Joseph Rich came to the civil rights division in 1968, a little more than a decade after its founding. Rich, who eventually spent six years as chief of the voting section before retiring in 2005, still remembers his first glimpse of what life would be like under Bush. It happened early, in March 2001, with the unveiling of a major new "voting rights initiative" that then–Attorney General John Ashcroft announced at a press conference a few hours after Rich was first told about it. The initiative, according to Rich, would turn out to be geared almost entirely toward prosecuting voter fraud. But even the manner in which it was rolled out—with no input from the head of the voting section or any members of his staff—seemed to portend trouble. "It was a very unusual first step to completely bypass the career people," Rich told me.
It would turn out to be just the first instance of a pattern in which the division's career attorneys were routinely ignored, kept out of meetings, and summarily overruled on important decisions. "We were treated like dirt," Rich said. "They wouldn't talk to us. It was just poisonous."
By marginalizing career attorneys, political appointees across the civil rights division made it easier to bend the agency's enforcement agenda toward conservative principles. The employment litigation section, for instance, was directed to focus on individual cases instead of pursuing lawsuits that challenged discriminatory practices against minorities and women—a shift that was facilitated by the 2002 transfer of three high-ranking career attorneys into less-influential jobs outside of the division. Later, during Bush's second term, the criminal section had its resources shifted toward the prosecution of human trafficking instead of police misconduct and hate crimes; in 2005, section chief Albert Moskowitz, who had been reluctant to steer his team away from what he saw as their core mission, was removed from his post and told that the section would be going in a "new direction." He ended up leaving DOJ a few months later.
Nowhere was the change in enforcement priorities more evident than in the voting section. In 2003, a conservative lawyer named Hans von Spakovsky—who had been given a supervisory role atop the voting section as part of the Ashcroft initiative—overruled career lawyers who had concluded that a proposed Texas redistricting plan discriminated against black and Hispanic voters. Two years later, he pushed for the state of Georgia to be granted pre-clearance for a new voter ID law despite fierce objections from career staff who believed it would disenfranchise minority voters.
In a separate case, von Spakovsky and other conservatives in the division enthusiastically supported the decision to charge a black, Democratic power broker in Noxubee County, Mississippi, with "relentless voting-related racial discrimination." According to the New York Times, it was the first time the Voting Rights Act had been used to charge a black defendant "with suppressing the rights of whites." (In 2007, a federal judge ruled in favor of the DOJ, finding that Brown, together with the Noxubee County Democratic Executive Committee, "manipulated the political process in ways specifically intended and designed to impair and impede participation of white voters.")
All the changes added up. Before long, morale among career staff began to plummet, and lawyers started leaving their jobs in droves. According to a 2007 article by Rich, 21 of the 32 attorneys who worked in the employment section in 2002 had either left the civil rights division or transferred to other sections by 2007. In the voting and appellate sections, meanwhile, more than half of the roughly 50 attorneys who were there in 2005 were gone two years later. As Rich wrote, "There has always been normal turnover in career staff in the civil rights division, but it has never reached such extreme levels and never has it been so closely related to the manner in which political appointees have administered the Division."
DOJ leadership did not squander the opportunity presented by the turnover. As J. Christian Adams described it in his book, the "skullduggery" of "left-wing radicals" in the department "was counter-balanced by the professionalism of newly hired, non-ideological attorneys and by the political leadership." One way that the front office achieved this counterbalancing was by having political staff cull job applications before presenting them to career people for consideration, and in some cases imposing new hires on them unilaterally. By reversing the long-standing protocol of having section chiefs make their own hires with little interference from above, the politicals created a process that rewarded candidates whose main qualification seemed to be their adherence to conservative ideology.
"It was an obvious attempt to impose a new hiring requirement, which was that you could not come with what they viewed as a liberal ideology," said Bill Yeomans, a veteran of the civil rights division who retired in 2005 after 26 years.
As the divide between career attorneys and political appointees grew, it manifested itself most glaringly in a reluctance on the part of the political appointees to even debate career attorneys on the issues. Whereas in past Republican administrations, most notably Ronald Reagan's, there was at least some good-faith exchanging of ideas and arguments, the Bush-era politicals exhibited a preference for making decisions by fiat.
"If there's a disagreement based on ideological grounds, all the career lawyers want is an opportunity to hash it out," said David Becker, the lawyer who offered to defend Boston city officials against the DOJ once he no longer worked there. "When there seems to be a fear of rigorous debate, it makes it seem like they know they can't win an argument on its merits."
Of all the Republicans who played a role in transforming the civil rights division under Bush, there is possibly no better avatar for its fallout than Brad Schlozman, who joined the division in 2003 and briefly served as its acting head in 2005. Though it's been more than 10 years since Schlozman last walked the halls of the Justice Department, it's no exaggeration to say his memory continues to haunt the place.
This is in part because his misbehavior was so well-documented: According to a scathing 2008 report by the DOJ inspector general and the Office of Professional Responsibility, Schlozman engaged in cartoonishly partisan behavior as a supervisor in the civil rights division, making hiring decisions based on ideology and doing everything he could to pack the career ranks with obedient conservatives.
According to the report, Schlozman once emailed a colleague to say he'd confirmed the "political leanings" of a prospective hire and decided he was a "member of the team." In another email, Schlozman begged off a lunch invitation by saying he had to do a job interview with "some lefty who we'll never hire but I'm extending a courtesy interview as a favor." In June 2006, after he was moved out of the DOJ's main office, Schlozman told a friend he was enjoying his new job as a U.S. attorney in Missouri but that "bitchslapping a bunch of [division] attorneys really did get the blood pumping and was even enjoyable once in a while."
When I spoke to him earlier this month, Schlozman—now a lawyer in Kansas—insisted he had done "no hiring on the basis of political affiliation," only "political views," but copped to making the occasional "sarcastic" remark as an overly brash thirtysomething. "I was a kid in a lot of ways," he explained, adding that he can't understand why people in the civil rights community still talk about him. "The attacks are 14 years old at this point," he said. "My God, get over it."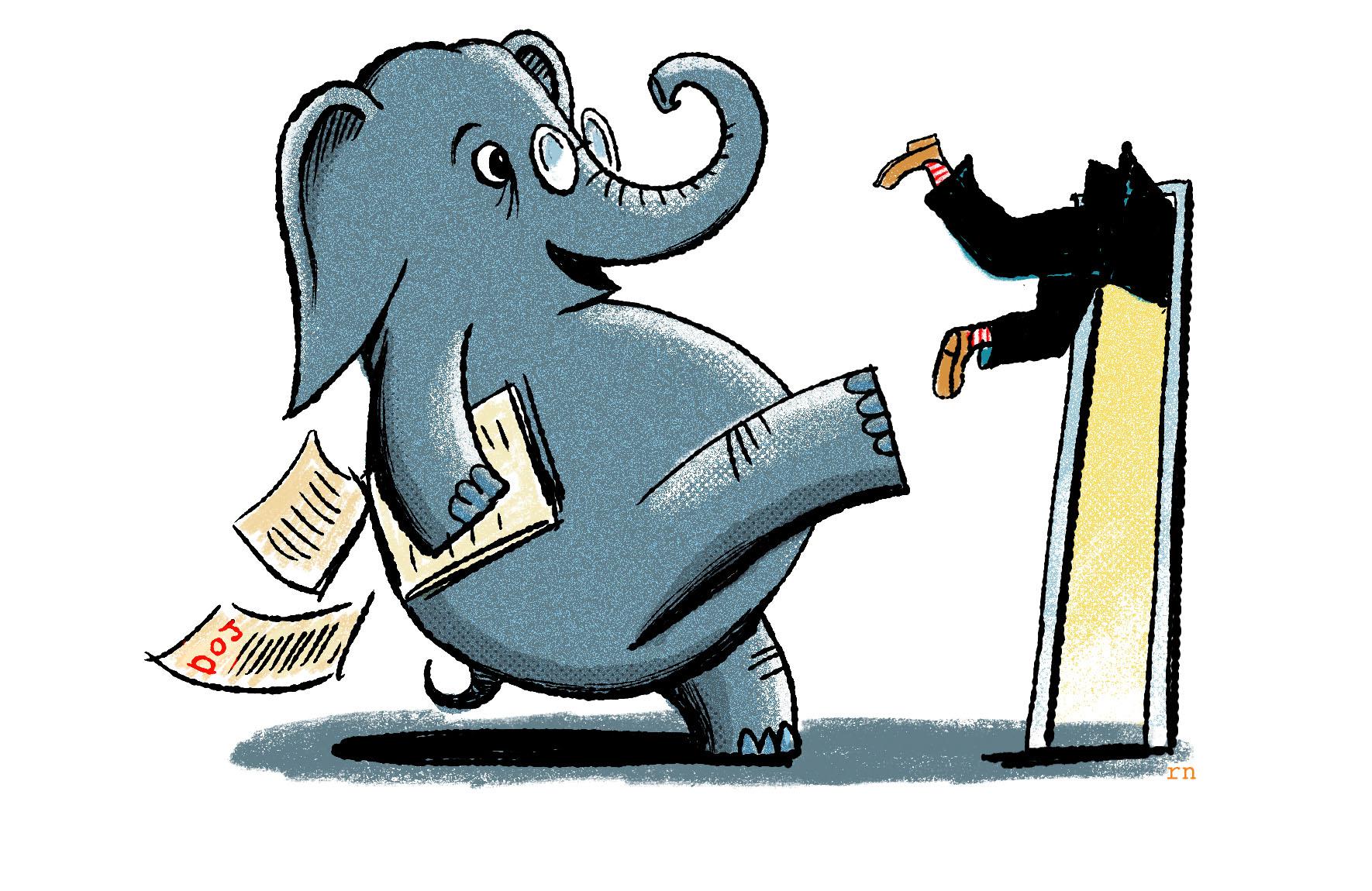 Schlozman doesn't think he did anything wrong. As he remembers it, the career attorneys the Bush DOJ inherited from the Clinton era actively tried to undermine the administration because they didn't subscribe to its policies. In Schlozman's mind, that is the true meaning of partisanship: When civil servants who are supposed to be politically neutral refuse to work on behalf of the elected president and his attorney general because they don't agree with them.
"Look, when you are a career civil servant, your job is to carry out enforcement initiatives that are set by the political leadership," he said. "You may not like them but administrations come and go, and you're supposed to be professional. So, if we say 'you're going to bring this case,' then by God, you do it."
It would have been both naïve and wrong to expect Bush's DOJ—or Trump's, for that matter—to take positions its leaders didn't agree with. Whichever party wins the presidency gets to decide what civil rights cases it believes are most important to prioritize, and which ones aren't worth the trouble; as the saying goes, elections have consequences. But there is a difference, DOJ alums say, between "politicizing" the civil rights division by changing its institutional posture on questions of law and "politicizing" it by marginalizing and even abusing its career staff because their personal ideology doesn't seem to align with the administration's.
"Views on civil rights have become one of the defining elements of our two parties," said Bill Yeomans, who served as Sen. Ted Kennedy's chief counsel on the Senate Judiciary Committee after retiring from the DOJ. "The problem for Republicans is that Congress passed a whole series of civil rights laws that are inconsistent with the Republican agenda, so if you're going to be serious about enforcing the law, you're going to be doing things that Republicans don't like."
That basic tension was always present under conservative administrations, Yeomans said, but the Bush people dealt with it in a way none of their predecessors had. "What was so extraordinary about the Bush administration was the assault on the personnel," he said. "It was unprecedented to go after career people the way they did."
For Schlozman, that's just how it goes: "Personnel is policy," he said. Just like Barack Obama and Eric Holder staffed their DOJ with lawyers who wanted to use the civil rights division to force reform onto police departments and block voter ID laws, so can Trump and Sessions staff theirs with lawyers who want to reverse those positions. It's impossible, Schlozman argued, to separate who you hire and who you empower from the goals you're trying to achieve. And if we all agree that an administration has the right to try to achieve its goals, how can we hold it against them for bringing in people who want to help do that—while sidelining those who don't?
During his confirmation hearing in 2009, Eric Holder vowed before the Senate Judiciary Committee to "restore the credibility of a department badly shaken by allegations of improper political interference." By all accounts, Holder and his team of political appointees—which included current Democratic National Committee chair Tom Perez—largely succeeded in that goal, giving hiring power back to career section chiefs, bringing on dozens of new lawyers, and re-introducing the idea that a background in civil rights work—something Republicans considered a litmus test for liberal ideology—was a legitimate qualification for getting a job in the division.
By that point, of course, many of the career people who had served the civil rights division during the Clinton years had left the department in despair. And while all of them had their own reasons for seeking greener pastures, an overarching factor may have been what one former Civil Rights official I spoke to called "a loss of dignity" and a sudden inability to "vigorously enforce civil rights" simply "because of an election."
Some did stay on, however, figuring that even under dire circumstances some good could still be done. Among them was Kay Baldwin, the former chief of the employment litigation section. "I think the attitude was, 'The career people are here to stay and the politicals are here for a short term and we just have to stick with it and eventually we'll prevail,' " Baldwin told me. "Some career people, like me, felt like someone had to be there holding their fingers in the dike, and that there was meaningful work to be done even though it was a pretty painful situation."
Many career attorneys serving under Jeff Sessions and Donald Trump are facing the same choice now, evaluating their options, and trying to decide if there's a place for them in an administration that has already demonstrated its reluctance to defend the voting rights of minorities, its lack of interest in fighting transgender discrimination, and its distaste for ameliorating unconstitutional policing. No doubt some will be unable to stomach the notion of working for such an administration, and for many of them, a post-DOJ life might well mean joining the nonprofit world, where coalitions of liberal civil rights division alums are already building the infrastructure to resist Trump from the outside.
Regardless of how those efforts go, there is perhaps some reassurance to be drawn from the sheer amount of work that Obama's civil rights division got done in the wake of the Bush years. As Schlozman told me, "The past is prologue": At some point the Democrats will once again take over the Justice Department, and when they do it'll be their turn to face accusations of politicizing the institution. In the meantime, it's worth remembering that the Bush era did eventually end. This one will too, even if a great deal of damage can be done in the meantime.