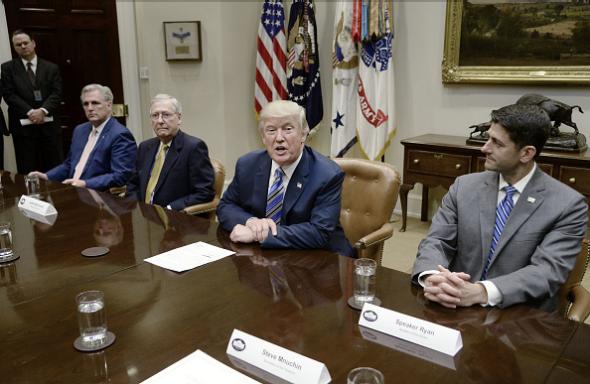 As the Washington Post documents, the Republican Party's emerging talking point in re: Donald Trump's treatment of James Comey is that Trump is but a humble businessman, inexperienced in politics, who doesn't understand arcane and convoluted nuances of Washington D.C. etiquette such as "you can't fire the FBI director because he refused to stop investigating your crooked presidential administration."* Said Paul Ryan, the Speaker of the House: "The president is new at this. He's learning as he goes."
The argument that a 70-year-old man with an Ivy League degree who has moved in the top circles of American power for the last four-odd decades shouldn't be expected to understand the United States' political system is an interesting one. (Note: I saw something akin to the preceding observation made in a Twitter post Thursday but now can't remember who wrote it. Please contact me @benmathislilley if you know so I can give proper credit!) It's also an argument that was undermined about 900 times a day during the 2016 presidential campaign, during which Trump made the repeated case that he should be elected because, after a lifetime of study, he understands the United States political system better than anyone else on Earth.
To wit:
"I've been dealing with politicians all my life. All my life. And I've always gotten them to do what I need them to do." — November 2015
"I've been in politics all my life." — January 2016
"Nobody knows politicians better than Donald Trump." — February 2016
"Nobody knows the system better than I do." — April 2016
"I understand the system better than anybody else." — July 2016
"Nobody knows the system better than I do." — Again in August 2016 (last four via Washington Post)
In fact, when Trump famously said "I alone can fix it" at the Republican National Convention, the context was as follows:
Nobody knows the system better than me, which is why I alone can fix it. I have seen firsthand how the system is rigged against our citizens.
A year ago, Trump's unparalleled "firsthand" understanding of the way power can be abused in the U.S. "system" was cited at perhaps the culminating moment of the Republican effort to make him president. Now, 140-plus days into his presidential term, the party is arguing that he knows so little that he can't be expected not to stumble ass-backward into the exact same pattern of behavior that created the most well-known abuse-of-power scandal in American history. Make up your mind, guys!
*Correction, June 12, 2017: This post originally referred in error to James Comey as an FBI agent. The FBI director does not have to be a bureau agent; Comey worked as a prosecutor and lawyer in private practice before taking the job.