Each week, Roads & Kingdoms and Slate publish a new dispatch from around the globe. For more foreign correspondence mixed with food, war, travel, and photography, visit its online magazine or follow @roadskingdoms on Twitter.
"It's not a sexual preference, it's a sexual orientation. Let's touch the rainbow."
These lyrics—part of a song titled "Rainbow Anthem"—were being belted out by a group of around 15 young queer people in a cramped room in the small coastal city of Mersin, Turkey. It is one of the last places you would expect to find Turkey's first and only LGBTQ choir, but that choir is on the front lines of the fight for LGBTQ and other minority rights in the country of 80 million.
The choir members were smiling and casual. At the front of the group, three members hammered out beats on traditional Turkish drums. Occasionally, one of them would break out into spontaneous dance, moving to the front of the room while the other members clapped.
The songs sounded traditional for the most part: They were accompanied by guitars and drums, nothing electronic. Most of them were upbeat, with the choir members singing in quick rhythmic bursts.
Next to the door outside of the small apartment that doubles as the choir's office and rehearsal studio was a small rainbow flag. It was one of the first things they put up when they moved, explained Gizem Derin, a trans man and one of the founders of the choir.
Derin is the beating heart of the LGBTQ community in Mersin and the driving force behind the choir. If you ask choir members how they found the group, almost every single one will say it was through Derin.
It's easy to see why. Derin is magnetic, speaking with the fiery air of a revolutionary. When he describes the choir he doesn't just describe a place where the LGBTQ people of Mersin can come to sing and have a good time; he is describing a movement.
"Our music is to fight for our rights. Since the state of emergency was declared we couldn't find any other place. This helps us organize and be visible," Derin said.
That state of emergency was declared last June after an attempted coup against the government of Turkish President Tayyip Erdogan. In the coup's aftermath, Erdogan began a massive purge of alleged supporters of Fethullah Gülen, a U.S.-based cleric whom Erdogan accused of being behind the coup. The purges resulted in around 47,000 arrests in the past year and have drawn concerns from many observers that Erdogan is using the coup as an excuse to dispose of political opponents and to crack down on minorities.
Turkey was never a bastion for LGBTQ rights, but until recently it seemed like things were improving. Since 2003, the LGBTQ community had held a Pride parade every year in Istanbul. Openly queer politicians ran for office in 2014 and, even more surprisingly, won.
But in 2016, the tide began to turn. That year, Pride fell during the same month as Ramadan, and Turkish authorities banned it, citing threats from far-right groups. Erdogan helms the conservative Justice and Development Party, or AKP, and activists stated that party officials were looking for an excuse to cancel Pride. When around 300 protesters assembled in defiance of the ban, police fired rubber bullets and tear gas at them.
While all of this was happening in Istanbul, activists in Mersin were quietly holding their own Pride, making the small city one of the only two in Turkey to have such an event in 2016.
Mersin is not a place you would expect to find a thriving LGBTQ community, let alone Turkey's only queer choir. Buildings are mostly made up of cheap concrete blocks. The city center is a brand-new mall. Tourists don't come to Mersin; the city looks half-built, and everywhere you go, there are signs of construction.
But Derin is organizing Mersin's third Pride this year, and he is not alone.
Tugce Ozdemir, a 28-year-old activist and choir member who helped organize the 2016 Pride, described 300 people marching down the street playing drums and singing as people cheered from balconies.
"Standing against an authoritarian government was important for many people," Ozdemir said.
The choir is becoming more known by the day, receiving press coverage and invitations to perform in cities all over Turkey. When the members perform at concerts, they carry their music sheets in rainbow folders and wear black shirts with sparkly purple collars. For some concerts, they perform in front of a giant rainbow flag. Subtlety is not their thing.
Being so public can be dangerous in Turkey, especially outside of the relatively liberal hub of Istanbul. According to a 2013 Pew Research Center poll, 78 percent of Turkish people do not think that "homosexuality should be accepted by society." Activists allege that hate crimes are common against LGBTQ individuals and that the police are slow to respond. Between 2010 and 2014, there were at least 41 reported "hate murders" of LGBTQ people in the country, according to a report submitted to the United Nations.
"We always discuss results and possible attacks," said Derin. "But when you measure the risk versus the visibility, visibility wins. Visibility makes resistance stronger."
Derin says standing up for all of Turkey's persecuted minorities is especially important in the aftermath of the country's recent constitutional referendum, which gave Erdogan sweeping executive powers and paved the way for him stay in office for years to come.
The choir makes a point to sing songs in over 10 languages and highlight the languages of other minority groups in Turkey, including Kurdish people, one of the groups most targeted by the Turkish government.
"We stand against any type of discrimination. This is why we sing songs in Kurdish, Serbian, Georgian, Arabic, and Farsi. We want to emphasize variety, not singularity," said Derin.
The choir is also the only group to sing and compose songs in Lubunta, a secret slang invented by Turkish trans sex workers in the 1950s and 60s who were being prosecuted heavily by the police. They created Lubunta so they could communicate with each other in front of authorities without being discovered.
Bringing attention to minority groups through their own language and history is at the heart of the choir.
"Music is our mutual tool," Derin said. "It creates a natural environment for people from different political and ethnic backgrounds."
For some of the members, the choir has already fundamentally changed their lives.
"I used to be a homophobe. Now I would describe myself as queer," said Yeliz Güzel, a founding member of the choir. Güzel is the musical force behind the choir; a music teacher, she schools choir members on how to play instruments and makes sure they sing in harmony. Güzel said that before she met Derin, she did not know any LGBTQ people, but she distrusted them.
"Generally people in Turkey think that trans people are brutal. There is media footage of them attacking people," Güzel explained.
Getting to known Derin changed her perspective. She met him through a mutual friend, and Derin asked her for help in teaching some people how to play drums for Pride.
"I started to see their fragile side and how they are hurting," she said of her evolving relationship with the LGBTQ community.
"The choir wasn't just a place to come together for singing. It started to be a place where people would heal each other's hearts. Each rehearsal session before practice people would discuss their problems," she said. Through conversations with the choir members she started to question her own attitudes towards her sexuality, ultimately realizing that she was not just attracted to men.
Many choir members say that the choir is more than just a place to sing. It is the center of their community in Mersin and can be a refuge from the isolation that can come if the communities where they were raised turn away from them.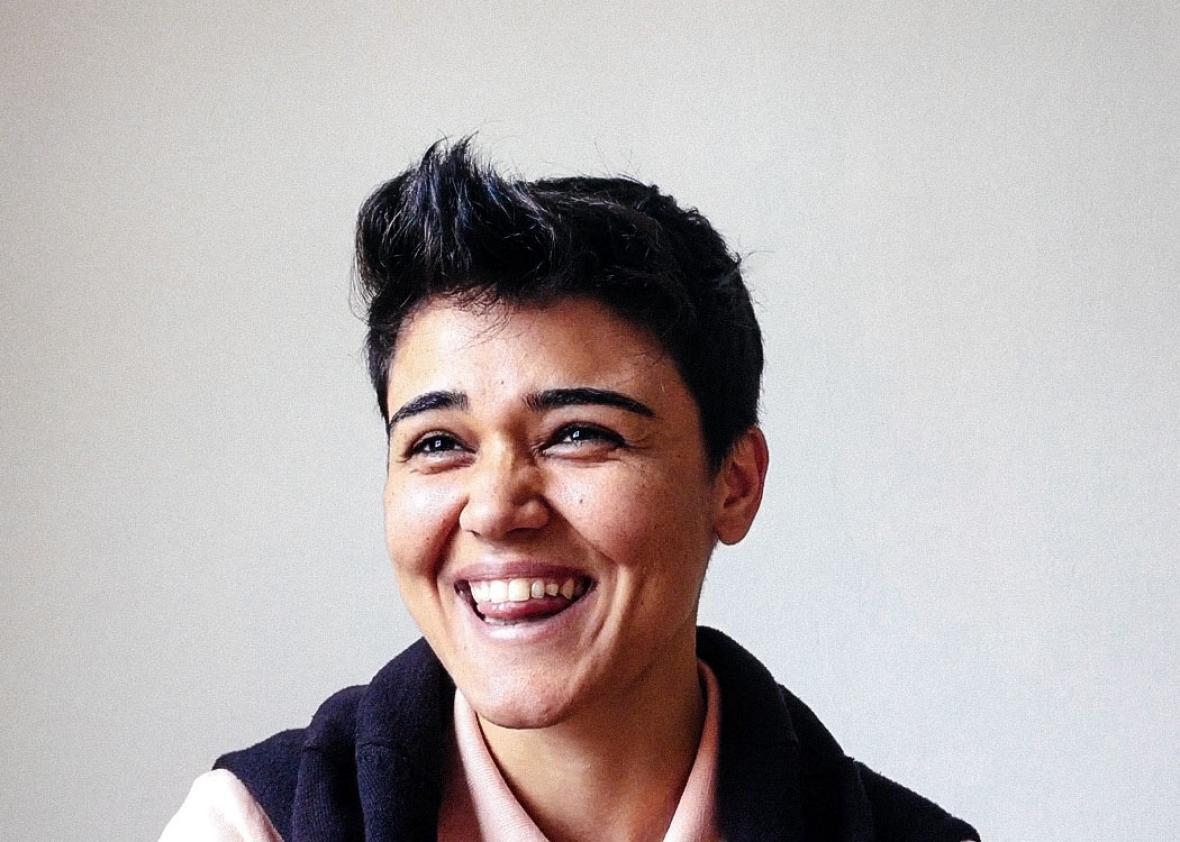 Özen Sarıoglan, a 25-year-old trans man, said he knew he was trans from the age of 5. He was raised by a traditional family who pushed him to wear pink dresses, keep his hair long, and eventually get married and have children. Sarıoglan came out when he was 20 and he says the past five years have been a process of removing barriers from his life. "At first it was really difficult and bad," he said. "My mom always expected that I would get married and have children."
Without acceptance at home, Sarıoglan has leaned on the choir. "[It] has become like a second family and home," he said.
Sarıoglan joined because he knew that LGBTQ young people were killing themselves, and he wanted to give them hope.
Ozdemir acknowledged that taking part in the choir carries with it inherent risks. "When you are visible you are open to attacks," she explained.
But Gizem believes that in some ways the risk fuels them. "When you look at the history of [LGBTQ] people in Turkey, when there is more pressure on them they become more responsive. The [LGBTQ] community is really creative," he said.
Gizem wants to use that creativity to keep expanding the choir and reaching larger and larger platforms until all of Turkey has heard of them.
"We don't have to the space to lay down. We have to keep resisting and raising the volume of our music," Derin said.