This is the first part of the Big Shortcut, an eight-part series exploring the exponential rise in online learning for high school students who have failed traditional classes.
Florida's superintendents had a graduation problem.
Nearly a decade ago, state officials decreed that starting in 2009 graduation data would factor into the letter grades assigned to individual schools.  The stakes were high: Consecutive failing marks meant that the state could mandate major changes, like replacing the school's principal; significant improvement, or an A grade, translated into extra cash for perks like teacher bonuses and athletic equipment.
The policy change worried Reginald James, then the superintendent of the Gadsden County School District on the Florida Panhandle. By 2010, Gadsden's graduation rate had fallen to a bleak 43 percent, the second worst performance of any district in the state.
So at the start of the 2010–11 school year, James initiated a host of new efforts: lecturing parents about the importance of keeping their teenagers on track, meeting with guidance counselors to review student performance, and pouring money into an after-school ACT tutoring program (at the time, kids had to pass the ACT, the SAT, or a state standardized test in order to graduate). For his efforts he saw a 12-point boost in the graduation rate—pretty good, but not nearly high enough.
The summer after that exhausting school year drew to a close, James heard about a different way to raise Gadsden's graduation rates: online credit recovery.
Despite its anodyne name, online credit recovery promised a radical turnaround in student performance. It was cheaper than any other option; it was easier; and, James says, "It was getting results" in other districts around the state. He bought in, licensing a virtual program called EdOptions for students in his district who had failed in-person classes and needed another way to graduate on time. "I was driven by what we needed to do," James says.
Before long, district officials started seeing results, and by 2016 Gadsden's graduation rate had swelled to 68.4 percent. And as that metric improved, local reliance on online credit recovery grew: A whopping estimated 90 percent of the district's high school students were enrolled in at least one online credit recovery course as of last November, according to Gadsden's virtual school administrator, Carolyn Francis, who oversees online learning in the district. (District officials later told the Teacher Project that the number was inaccurate but declined to provide an updated figure.) The average pupil in Gadsden will take two or three of the virtual classes before graduation, most in core subjects like math and English, Francis said.
What has happened in Gadsden shows how the push to rank schools based on measures like graduation rates—codified by the No Child Left Behind Act and still very much a fact of life in American public education—has transformed the country's approach to secondary education, as scores of districts have outsourced core instruction to computers and downgraded the role of the traditional teacher. It also offers a glimpse into what that shift means for the students who are increasingly dependent on online courses to help prepare them for college and the workforce. Spoiler: The view from the ground suggests that many online credit recovery courses are subpar substitutes for traditional classroom instruction.
When James and superintendents across the nation embraced online credit recovery, they were responding, justifiably, to a daunting demand to boost graduation rates—one that their chosen solution has since helped meet.
But in doing so, they've created a new need: ensuring that diplomas earned partially in virtual classrooms aren't also virtually meaningless.
* * *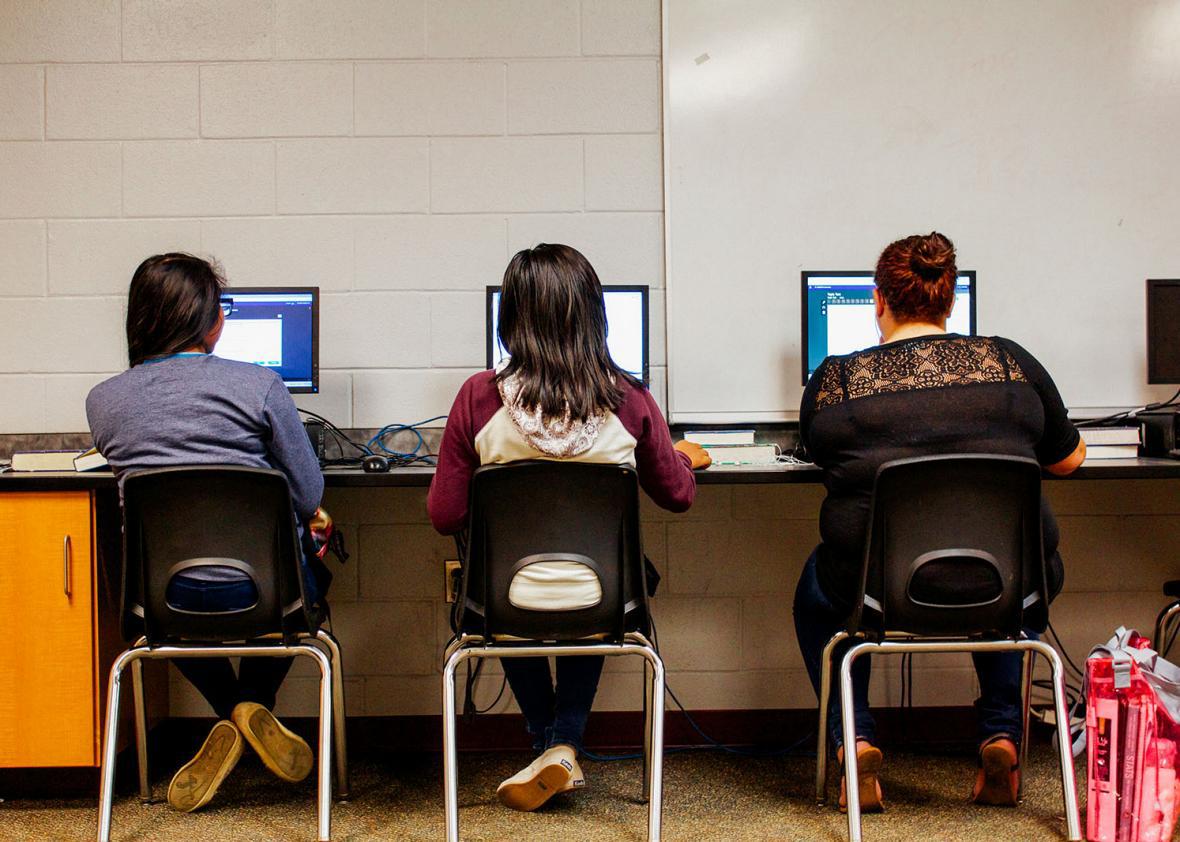 When online education emerged about two decades ago, many experts and onlookers believed it would be used at the K-12 level primarily to fill gaps in curricula, allowing students in rural schools to take classes that might not otherwise be available, like Mandarin and Advanced Placement physics. But many schools have instead relied on virtual learning as a crutch to lets kids retake—and sometimes retake and retake—core subjects that they failed the first time around.
Online credit recovery, which started proliferating in earnest nearly a decade ago, has morphed into a booming, baffling business in which dozens of companies of varying quality compete to sell school districts the latest virtual versions of courses like English II and geometry. Though the phenomenon is transforming American high school education, particularly in struggling communities like Gadsden, there are no comprehensive national statistics addressing how many districts are using it. Any existing data is limited or incomplete. "The bottom line is there really aren't good numbers," said John Watson, founder of the Evergreen Education Group, a consulting company dedicated to online learning. But "one of the things we have come to believe is that credit recovery makes up a very significant part of online courses."
Almost 90 percent of school districts use some form of credit recovery, according to a 2011 report from the National Center for Education Statistics (the center doesn't distinguish between online and other forms). And data cited by the International Association for K-12 Online Learning, a trade group, shows that at least 75 percent of districts use some form of online learning. So we can say this about online credit recovery: It's pretty big.
A set of misaligned incentives has helped fuel the industry's rise. Following nearly two decades of sweeping change in federal and state policy, states put increased emphasis on data-based outcomes, including graduation rates, when evaluating schools. Desperate for ways to help their students and boost their numbers, under-resourced districts have turned to the affordability and ease of online education. Because at-risk students often find it easier to earn diplomas online, they too have embraced the change.
Across the country, many school districts, including several of the nation's largest, have seen graduation rates soar after introducing online credit recovery.
In Nashville, that metric increased from 70 percent in 2007 to 81.6 percent in 2015 following the introduction of online credit recovery. But teachers told the Nashville Scene that the classes were a poor substitute for face-to-face learning. "We've made it easier to graduate, but students aren't getting more prepared for college when the graduation rates go up," one high school teacher said in an interview with the Teacher Project last fall. (The instructor requested anonymity to avoid jeopardizing his job.) "I see kids graduating who I know cannot demonstrate competency in reading or math," he said.
In Los Angeles, officials introduced online credit recovery during the 2015–16 school year, around the time that the school board put in place strict new graduation guidelines. Their efforts were promptly rewarded when the city's projected graduation rate grew from 54 percent to 75 percent in a single year, according to the Los Angeles Times.
In Georgia, where half a million high schoolers enrolled in more than 20,700 online credit recovery classes in 2015, officials admitted that the courses had helped the state improve its graduation rate. But a review by the Atlanta Journal-Constitution found that just 10 percent of students who passed online credit recovery classes in subjects included on the state's standardized test that year were actually proficient in the relevant areas. "They've created a second-class credit," said Jeremy Noonan, a former teacher in Georgia's Douglas County.
State investigations—or investigations of any kind—into the prevalence and quality of online credit recovery remain rare.
While many state education departments have started to review online education providers, few bar districts from using companies that don't meet their standards. Most fail to track the number of students enrolled in online credit recovery courses statewide, and almost none caps the number of virtual classes a student can take in order to qualify for a diploma.
The qualitative research that does exist suggests a huge range among online credit recovery courses and a disturbing lack of quality control. The students most in need of inspiring teachers are all too often placed in front of computer screens and told to learn material independently, without adequate support. "Kids who need the most engagement in learning are in a weird virtual reality that confirms learning is something to hate," said Sabrina Anfossi Kareem, a high school teacher who has helped support students taking online courses at Chicago's Instituto Health Sciences Career Academy.

When, nine years ago, officials at the National Collegiate Athletic Association noticed a spike in the number of online credit recovery courses appearing on high school transcripts, it ended up undertaking its own review. Under a set of requirements adopted by its member schools, the NCAA now contacts school districts to gauge how much time online courses take to complete and how much interaction students have with instructors.
The vast majority fails to pass muster, according to Nick Sproull, whose high school review department oversees inspection efforts for the NCAA. That means many students who rely heavily on online credit recovery have to find another way to complete the required coursework—or be rendered ineligible to compete in college-level sports. The NCAA receives about 100,000 applications every year from students seeking eligibility to play.
One study from the American Institutes for Research showed that Chicago students recovering Algebra 1 credit in an online class weren't as successful as peers who received face-to-face instruction. The online students also reported liking math less than their peers and feeling less confident in their skills. "For some of the most highly at-risk and generally low-achieving students, the study provides some important cautions about online credit recovery," said Jessica Heppen, the study's lead author. "The evidence for different types of [online credit recovery] models, particularly those in wide use, is lacking."
* * *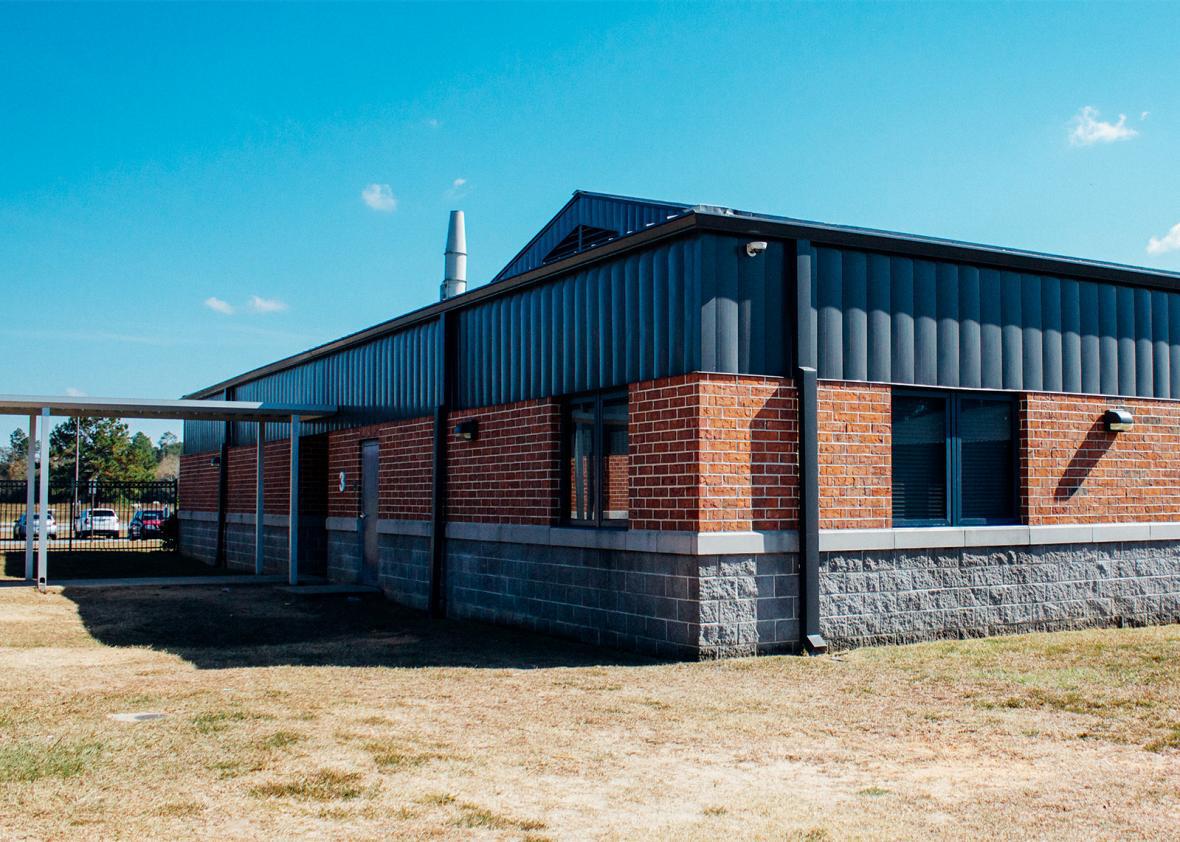 West Gadsden High School is a 30-mile drive northwest of Tallahassee, past dollar stores and low-slung houses, Baptist churches and a correctional facility surrounded by barbed wire. A cluster of brick buildings beneath corrugated roofs, the school sits in a landscape studded with hay bales, near a tomato packing plant, the bare bones of an old farmhouse, and a tired-looking flea market called Ron's Recycled Stuff. West Gadsden and its counterpart on the east side of town recently received marks of  D and F, respectively, from the Florida Department of Education based primarily on test scores. In early April, the local school board voted to consolidate the two high schools following years of struggling performance.
The county surrounding the schools is a proud one with a rich history. The birthplace of rhythm and blues legend Nat Adderley Jr., drag pioneer Brenda Dale Knox, and Super Bowl MVP Dexter Jackson, it's the kind of community where you can't go anywhere without bumping into someone you know, and everyone knows everyone else's business.
The income divide in Gadsden is stark: Though it's still home to a handful of Coca Cola stock-owning millionaires, the median household income is $36,000, about a quarter less than the statewide average. Once the setting of a lucrative shade tobacco industry, the county offers limited job opportunities to today's locals. Among their options: mushroom-picking, working in fast food, staffing a nearby hospital, and guarding inmates at the local prison.
"Around here, there's just not a lot," said Frances Brown, who until recently oversaw the virtual learning program at West Gadsden High for an annual income of $16,000. The lack of job opportunities makes it hard to convince students that school matters, Brown said. "How many [students] are gonna use chemistry in life? How many are gonna use geometry?"
Gadsden has the largest percentage of black students of any traditional school district in Florida. Nearly three-quarters of its students are black, just under 20 percent are Latino, and fewer than 4 percent are white. Three-quarters are considered economically disadvantaged by the state. For most, higher education isn't in the picture: Only about 20 percent of West Gadsden's graduates go to college.
During the 2015–16 school year, the school lost 12 of its 33 teachers; unusually high teacher turnover contributes, at least in part, to poor student performance in core academic classes. The virtual learning lab is not immune. Late in October, Brown quit her job as supervisor, fed up with what she saw as a lack of administrative support. Brown was temporarily replaced by a 19-year-old recent graduate of West Gadsden, Emmanuel Najera.
Najera was busy with his own community college coursework, so for five weeks, the lab's 30 or so students worked their way through classes—or didn't work their way through them, as the case may have been—largely on their own.
* * *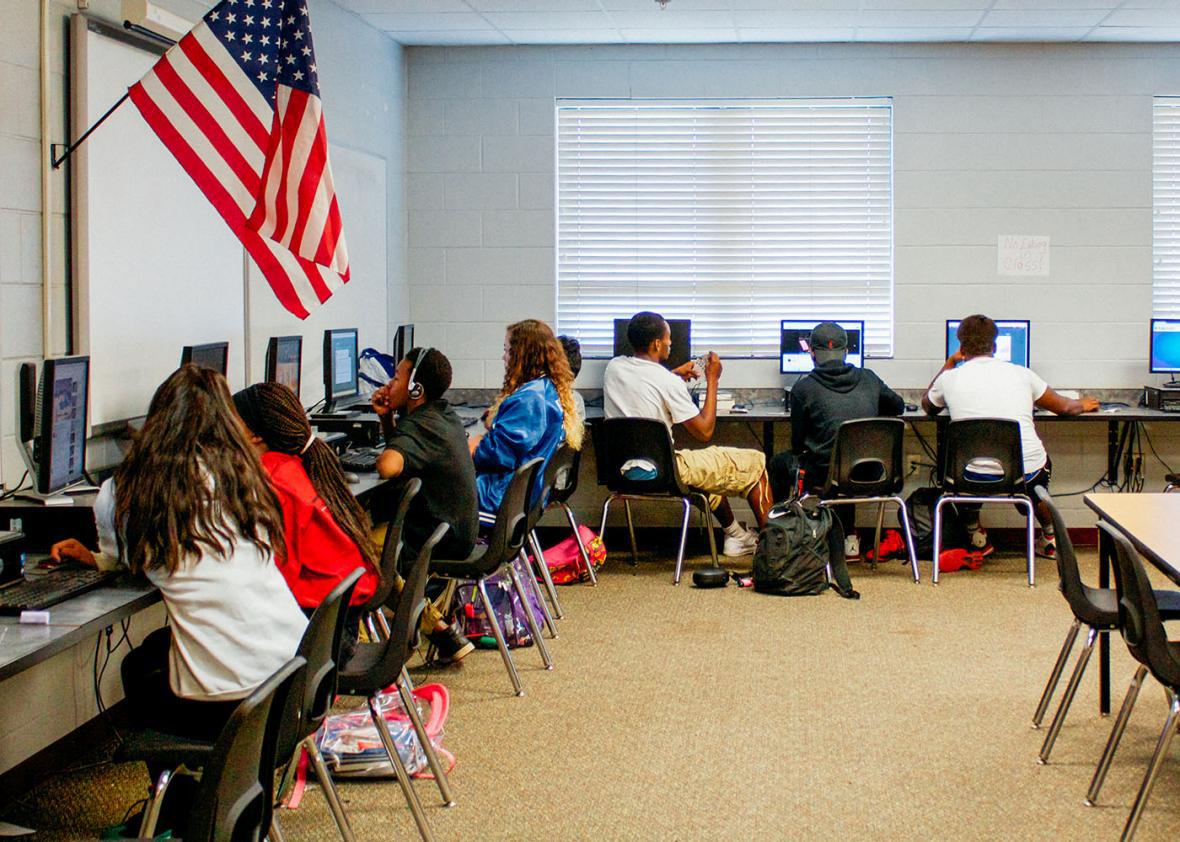 When online credit recovery began yielding results in Gadsden, the district scaled back some of the graduation improvement efforts that James had introduced in 2010, like the after-school ACT tutoring, the former superintendent says. The district continues to maintain other initiatives, like employing a social worker to monitor school attendance.
Still, online credit recovery remains the main option available to students who have fallen behind and want to graduate on time. Today, Gadsden contracts with three vendors at the high school level: Edgenuity, Florida Virtual School, and Fuel Education. (District officials declined to share the cost of the contracts.)
"To be frank, when EdOptions and Edgenuity started being used, I think that pushed back the other [non-online learning] options," said James. "This seemed like an option kids could master easier. … It was less expensive to just go ahead and use these online programs, rather than having to pay the person to come tutor them."
A visit to West Gadsden's virtual learning lab last fall revealed that rigor varied considerably, depending upon how much students applied themselves and how often they asked for help.
One November morning, a senior named Justin who needed an Algebra I credit to graduate leaned into the glow of his computer monitor, trying to grasp systems of linear inequalities. To his left, classmates streamed a Knicks game on YouTube while swapping pieces of candy. That's definitely against the rules, but nobody reprimanded them.
Justin, whose last name is being withheld to protect his privacy, failed algebra his freshman year. He was retaking the class in the fall of his senior year to squeeze in the credit before graduation in the spring. The school's guidance counselor, Elizabeth Sewell, said students who failed classes as freshmen and sophomores often wait until their senior years to retake them, when they realize that graduation is looming.
An on-screen prompt asked Justin to determine the relationship between a point and two inequalities. He stared at it for half of a minute before dragging his cursor over the prompt and dropping it into Google. Within seconds, he found the solution there. Another swift cut and paste, and Justin answered the question correctly.
"I want to go ahead and get done with this," he said, as the students next to him watched a power forward sink a swisher, and one of them shuffled a deck of playing cards. "If I have to cheat, I will."
According to James, the classes haven't raised eyebrows among administrators, who view them as a helpful tool for struggling students. Quality wasn't—and still isn't—a concern. "That hasn't been something that any of our coordinators or directors have brought to my attention," he said.
* * *
In many cases, online credit recovery gives students like Justin flexibility in two primary ways. Pacing is personalized, so advanced students can move as fast as they like, testing out of units that they've already mastered. Meanwhile, slower learners can take almost all of the time that they need to absorb tricky concepts, and those who are really struggling can retake tests until they pass.
Students can access the courses from anywhere, at any time. Provided they have an internet connection, they can finish assignments from smartphones, laptops, or desktop computers, either at school or from home. They can work on assignments, quizzes, and tests late into the night, on the weekends, and over summer break.
For some, learning in a virtual silo is a relief. Sixteen-year-old West Gadsden student Luis Avalos says that he likes working online because he doesn't get teased for asking questions or giving wrong answers. Another student, 19-year-old Keishon Derrick Brown, also likes learning independently—so much so that he does most of his work from home. "I like to talk a lot, so when I'm in school, I be talking," he says. "But when I'm at home and don't have anybody to talk to, I get my work done."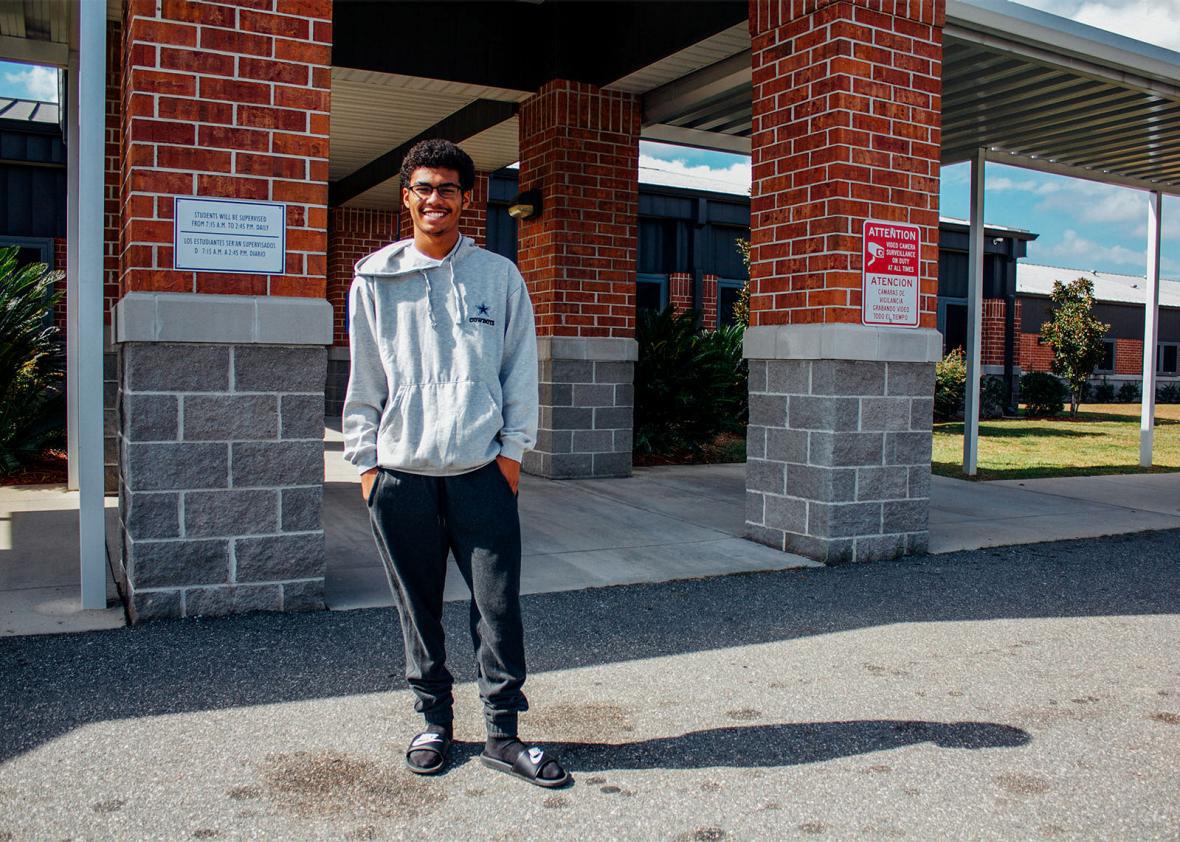 Keishon is taking two Edgenuity English classes for online credit recovery. One, which is fiction-based, focuses on conflict and resolution, incorporating texts like The Strange Case of Dr. Jekyll and Mr. Hyde. The other features works of nonfiction. Sometimes reading chapters off of the computer hurts Keishon's eyes and makes his head ache. But overall, he prefers this kind of English class to the traditional alternative. For one thing, it's a relief that he doesn't have to write much. "I'm not the type that can write," he shrugs. "And it's helping me get that credit."
Other West Gadsden students get fed up with online credit recovery classes because they find Edgenuity lectures dull. "Kids get tired of hearing them," said Frances Brown, the former virtual learning coordinator. During Brown's time at West Gadsden, lectures typically lasted for 15 to 20 minutes and presented limited opportunity for teacher-student interaction. "[The lectures] go on and on and on … and they get bored! They get really bored," she said. (Edgenuity executive Deborah Rayow said the company has made recent efforts to shorten and revamp its lectures to better engage students.)
Brown found the lectures so tedious that she rewarded students who were performing moderately well—earning above a 75 percent after completing at least 30 percent of a course—by formatting the software so that they could skip them. "I've seen students complete [the courses] in just a couple weeks because they want to get it out of the way," says Sewell, the guidance counselor. "They go home, and they work on it, and then they're finished."
Brown is a paraprofessional without a college degree, not a certified teacher, so her role in the classroom was limited. When students had academic questions, which was infrequent—just two or three times a month, she told me—she directed them to textbooks and Google. Mostly, she helped the kids with technical questions and glitches during school and after hours, keeping a watchful eye on her Nook Tablet late into the night and throughout weekends in case students encountered difficulties.
Brown also kept an eye out for cheating, something that happens frequently in online classes across the district—a fact acknowledged by students and faculty alike. Justin is far from the only Gadsden teen lifting answers from Google.
Last summer, an East Gadsden High student told Brown that kids there were paying one another to do online coursework. When she reported it to the district, Brown said that an administrator there told her to "leave it alone." "There's some things you can't fix," she said she was told.  That incident—and general student misbehavior that she says went unchecked by school management—was enough to discourage her. She stopped reporting issues to the district. Four months later, she left West Gadsden.
* * *
West Gadsden Principal James Mills is an affable but overwhelmed man who patrols the school's hallways with a constantly buzzing pager fixed to his hip. He says that he has been aggressive in addressing cheating, which he refers to as "improprieties." While some cheating is inevitable, he told me the school has taken steps to mitigate it: reorganizing computer labs so that screens face supervisors and lecturing students about the ills of cheating.
Mills has access to student data collected by Edgenuity, which lets him see how long kids idle in courses and how long they take to complete them; he said he checks it daily. He also has technology that shows him all of the school's computer screens, side by side and in miniature, on his own office computer. (He doesn't use that, though—"doesn't have the time.")
The principal said he was surprised by Brown's concerns about a lack of administrative follow-through. "If she referred students to the office for discipline, we dealt with it," he said.
During a phone interview in late December, Mills added that the school had recently taken steps to improve support and monitoring in the virtual learning lab: beefing up supervision for teenagers taking the online tests and modifying Edgenuity's settings so that students can no longer jump between the software and other websites. He also said that the virtual learning coordinator role had been expanded to include student counseling and that students taking online courses can more easily access subject-area teachers for tutoring.
The dozens of students and teachers interviewed by the Teacher Project reported rampant student cheating on online credit recovery. Despite the available precautions—including website blocking, IP address tracking, and holding students' cellphones—curbing the practice altogether is a formidable task, they said. But online education company executives maintain that a limited number of students cheat.
Mills said that the recent changes are par for the course as he and other staff continue to refine the school's use of technology. "You have to learn the ins and outs, and that's what we're continuing to do," he explained. But "ultimately, we do want our students to graduate."
* * *
It's unsurprising that Gadsden's administrators have for the most part dismissed broad concerns about the quality of online credit recovery: In the messy world of public education, it's considered something of a magic bullet. It makes life easier for administrators by saving districts money and boosting their graduation rates; it eases pressure on teachers by relieving concerns about reaching students who have failed their classes; and it simplifies the lives of struggling kids by making it easier to pass, sometimes with minimal learning involved. Above all, it helps those underserved students earn their diplomas.
Within this system, incentives are skewed: It isn't really in anyone's best interest to question online credit recovery. In Gadsden, and several other districts around the country, most people have chosen to stay silent. It's simpler to turn a blind eye.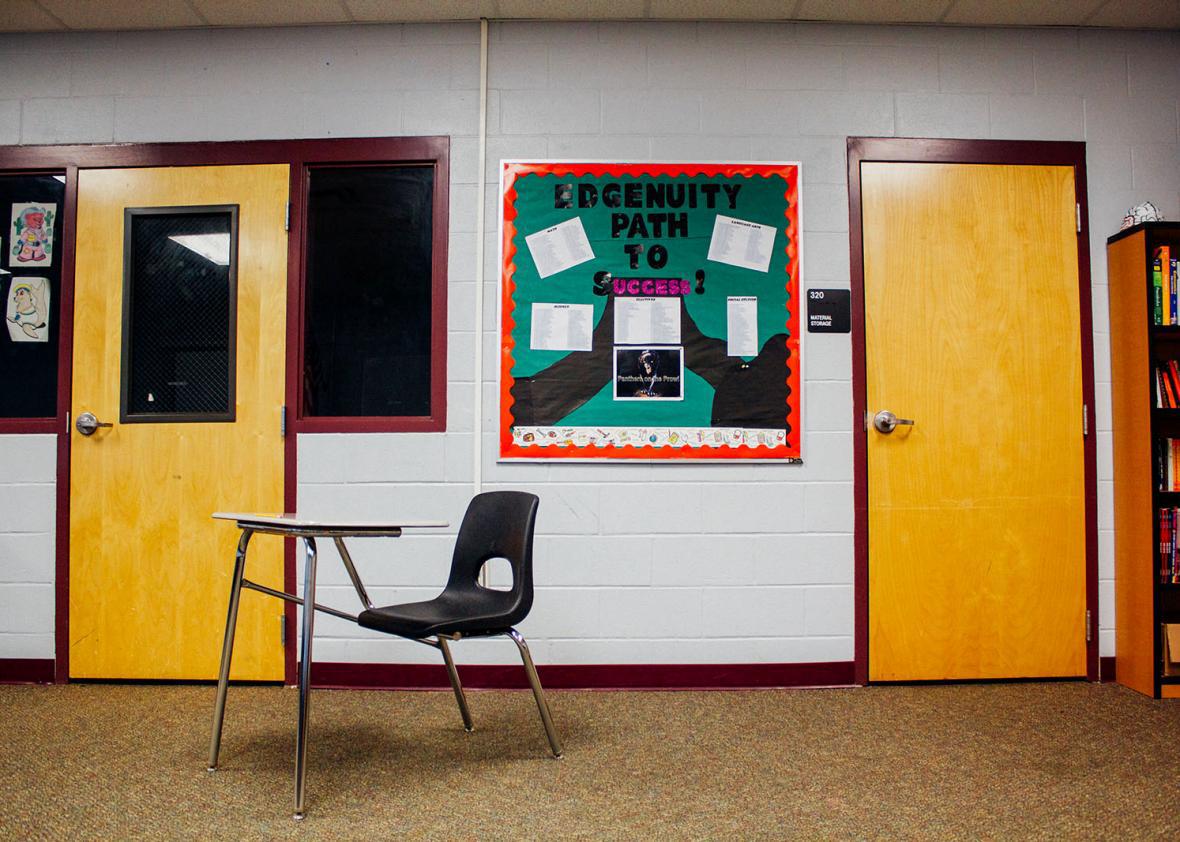 Yet Gadsden's experience also shows that there are ways to implement online credit recovery without it becoming a sham. Administrators can trade information about providers to become savvier consumers of the myriad products available to them. Teachers can work closely with students taking online courses in an effort to keep the teenagers from becoming disengaged—or cheating. In most cases, online learning should be treated like a teaching tool, not something that can supplant what only a good teacher can provide. Otherwise, students like Justin will graduate, but without the knowledge that should accompany a diploma.
The November morning that I visited West Gadsden, a red barometer at the top of Justin's screen told him that he was 61 percent done with his online algebra class and that he had fallen behind: He only had 30 more days left to finish it.
Although Justin struggles with memorization and dislikes tests, he's fond of Edgenuity. "It's excellent," he said. "You can move quicker than in class." He paused. "All the units I did were pretty easy." Later, Justin struggled to summon an example of something he'd learned recently. "It's mostly just to graduate," he said.
The bell rang, and Najera, the substitute lab monitor, rose to stretch, watching a new crop of teenagers fill the lab. Six months earlier, he had been one of their peers.
One student, a bilingual teenager, had just finished her online class ahead of schedule. Bored, she sidled up to a friend and watched him chip away at a Spanish Edgenuity lesson. As he plugged comparative statements into Google Translate, she leaned over his shoulder to watch. "He is lazier than they are" became "Es más perezoso de lo que son"—an awkward, literal translation that a Spanish speaker would never use. She smiled at the attempt and reached around him to correct it.
When Najera approached, the kids switched to YouTube. When he asked what they were doing, they broke into laughter. Najera stared at them for a moment, his hands twisted at his sides. As he retreated, they returned to their online class, where the software was rewarding a correct answer with a shower of shimmering, simulated dollar signs.
Sarah Carr, Francesca Berardi, and Stephen Smiley contributed to this report.