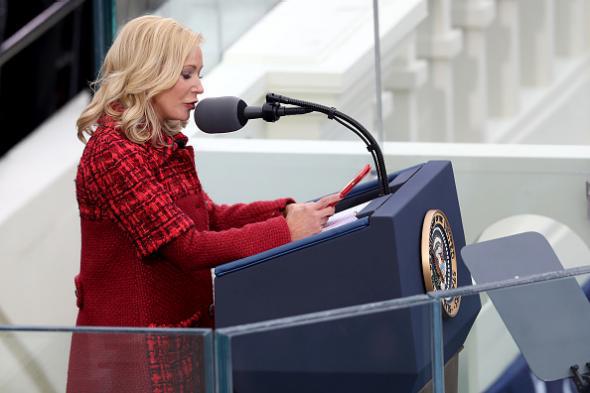 Paula White is a Florida pastor who led a prayer at Donald Trump's inauguration, chairs his Evangelical Advisory Council, and appeared with him at the White House last week as he introduced an executive order regarding "religious liberty." Befitting her association with an administration occupied by a deadbeat who has spent his life affiliating with various fraud enthusiasts, she is often introduced as "Dr. Paula" despite never having graduated from college and lives a comically luxurious lifestyle despite having driven her previous church into bankruptcy.
Such details can be found in a long new story on White posted by Heat Street, and while Heat Street is a tabloid-y outlet founded by the unreliable Louise Mensch, the story itself is by a widely published conservative investigative journalist and many of its details are backed up by other reporting elsewhere, including this piece in Orlando Weekly.
The highlights of White's CV:
She's frequently introduced and identified as "Dr. Paula White" despite not having a college or seminary degree of any kind.
Her parishioners are usually described as low-to-middle income; she solicits donations from them relentlessly. Heat Street's reporter attests to seeing a guest preacher at White's current church telling a man to make a $5,000 "seed" donation to the church—"seed" because it would allegedly be paid back to him with interest by God—while an Orlando Sentinel reporter saw White ask congregants to donate as much as a month's salary to her. "Every time we give, something supernatural happens," a third reporter saw White tell worshippers who she had asked to donate as much as "a tenth of your gross income." She once apparently wrote in a fundraising email that donating to her church "will get God's attention."
She reportedly owns "several Mercedes"; a Bentley was once photographed in her garage; she and her husband once owned a private jet; she lived in a $2.2 million Tampa mansion. And yet her first church—Without Walls—went bankrupt in 2014 after defaulting on a reported $29 million in loans.
The spiritual future of our nation is in Paula White's hands, which I assume have been ornately bejewelled by way of $1,000 checks written by various fixed-income retirees in rural central Florida.