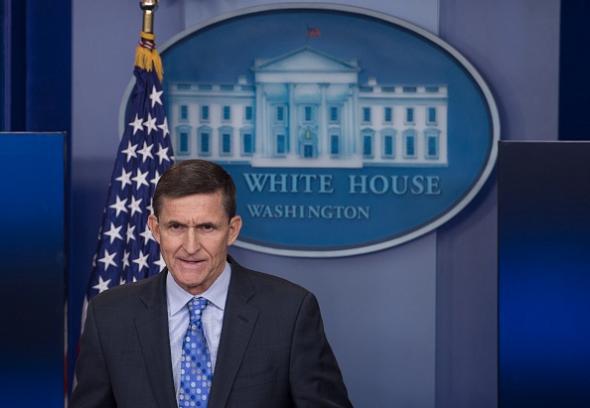 In late March, former national security adviser Michael Flynn's lawyer said Flynn would agree to testify before Congress about his controversial connections to Russia only if he were promised immunity from prosecution. Weeks later, veteran investigative journalist Michael Isikoff is now reporting at Yahoo News, Flynn told associates that he had recently received a message from the president to "stay strong."
The conversation apparently took place at a dinner in northern Virginia:
… One overriding question among those present were his views on the president who had fired him as national security advisor.
Flynn left little doubt about the answer.  Not only did he remain loyal to President Trump, he indicated he and the president were still in communication. "I just got a message from the president to stay strong," Flynn said after the meal was over, according to two sources who are close to Flynn and are familiar with the conversation, which took place on April 25.
The article makes clear that Flynn believes the investigations into his ties to Russia and Turkey are unfair and that he does not plan to testify to any inappropriate behavior by the president. Nonetheless, contacting someone who could even conceivably provide legal evidence against you gets into the realm of witness tampering, which is likely why White House lawyers have reportedly warned Trump repeatedly not to contact Flynn. And the apparent failure of those warnings to sink in is perhaps also why the New York Times is reporting Thursday that "several White House advisers and personal associates of President Trump have urged him to hire an experienced outside lawyer" to supplement his current in-house legal staff.