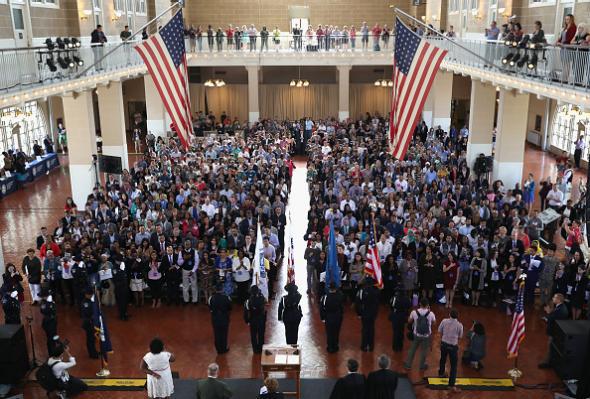 Per a report by ProPublica, former Federation for American Immigration Reform (FAIR) executive director Julie Kirchner will be named the United States' Citizenship and Immigration Services ombudswoman.
This is nuts. First, here's what the USCIS ombudswoman is in charge of:
The Office of the Citizenship and Immigration Services Ombudsman (Ombudsman) is dedicated to improving the quality of citizenship and immigration services delivered to the public by providing individual case assistance, as well as making recommendations to improve the administration of immigration benefits by U.S. Citizenship and Immigration Services (USCIS).
Kirchner, in other words, would be the person who individuals in the federal immigration system appeal to for assistance if they need help navigating its bureaucracy or feel that they have been treated unfairly. But her background and FAIR's history, meanwhile, are characterized by hostility toward immigrants—especially nonwhite, non-Christian ones.
FAIR was founded in 1979 by a man named John Tanton and received significant financial backing for many years from an organization called the Pioneer Fund. The Pioneer Fund, which is still around, finances "research" into white genetic superiority; Tanton is a crank Michigan doctor who is infamous for having written in 1986 that "whites" should not go "quietly into the night" as their control over society declines. Tanton remains on FAIR's board of advisers, while its current president is a man named Dan Stein who has complained that the U.S.'s immigration policy is a plot to undermine "Anglo-Saxon dominance" and who once defended the practices of infanticide, forced abortion, and government-imposed selective breeding in a Wall Street Journal interview with Tucker Carlson. In 2004, Stein represented FAIR at the American Renaissance conference—a biannual gathering of white-power KKK types at which fellow speakers discussed themes such as "white revolt," "unqualified blacks in positions of authority," "homosexual and Jewish activism," and the possibility that "Oriental immigrants are forming a fifth column in Canada."
Kirchner would be hired to work at FAIR a year later, and Stein named her its executive director in 2007. During her tenure in that role, the group helped create Arizona's SB170 immigration bill. Much of that law was struck down by the Supreme Court for violating the federal government's right to regulate immigration, and while SCOTUS didn't rule on the bill's controversial provision requiring law enforcement officers to check the documents of anyone suspected of being in the U.S. illegally, that component was largely invalidated by a later legal settlement. FAIR has also campaigned recently to intepret the 14th Amendment in such a way that that individuals born on U.S. soil are not automatically given birthright citizenship. And during the 2016 campaign, Kirchner—then working as a Trump adviser—asserted in a hyperbolic statement provided to Breitbart that Hillary Clinton intended to "provid[e] free health care to millions of refugees," many of whom could be ISIS terrorists, if elected.
In summary, it's not going to be a good time to be someone with a case before the United States' Citizenship and Immigration Services office.