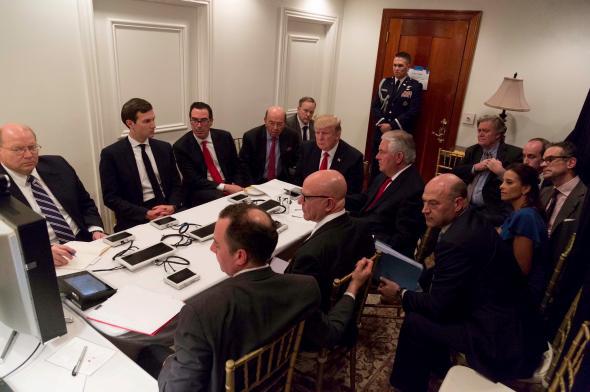 Recent events have shaken loose a deluge of anonymous quotes in which Donald Trump is viciously roasted by his own top aides.
From the New York Times' coverage of Trump's spontaneous decision to tell Russia's foreign minister and ambassador about top-secret Israeli intelligence:
In private, three administration officials conceded that they could not publicly articulate their most compelling — and honest — defense of the president: that Mr. Trump, a hasty and indifferent reader of printed briefing materials, simply did not possess the interest or knowledge of the granular details of intelligence gathering to leak specific sources and methods of intelligence gathering that would do harm to United States allies.
On the same subject, a Reuters report Wednesday morning quotes a source who's heard from White House officials that Trump will only read preparatory material if his name is in it:
National Security Council officials have strategically included Trump's name in "as many paragraphs as we can because he keeps reading if he's mentioned," according to one source, who relayed conversations he had with NSC officials.
The Daily Beast, meanwhile, had the following aide reaction to the Russia-Israel story:
"With news like this I'm beginning to wonder why Trump ran in the first place and if he really cares about the country," said a senior Trump appointee involved in counter-ISIS policymaking. "I miss candidate Trump. Now he's just a pathetic mess."
The Beast also got this in response to Tuesday's report that Trump suggested to former FBI Director James Comey that Comey drop an investigation into disgraced former National Security Adviser Michael Flynn:
A senior official in the Trump administration, who previously worked on the president's campaign, offered a candid and brief assessment of the fallout from that string of bad press: "I don't see how Trump isn't completely fucked."
Politico had the following about the Israel mess:
But several advisers and others close to Trump said they wouldn't be surprised if Trump gave information he shouldn't have.
One adviser who often speaks to the president said the conversation was likely freewheeling in the Oval Office, and he probably wanted to impress the officials.
"He doesn't really know any boundaries. He doesn't think in those terms," this adviser said. "He doesn't sometimes realize the implications of what he's saying. I don't think it was his intention in any way to share any classified information. He wouldn't want to do that."
And that's supposed to be a defense of the president!
Conservative New York Times columnist Ross Douthat sums up the situation aptly:
Read the things that these people, members of his inner circle, his personally selected appointees, say daily through anonymous quotations to the press. (And I assure you they say worse off the record.) They have no respect for him, indeed they seem to palpate with contempt for him, and to regard their mission as equivalent to being stewards for a syphilitic emperor.
Syphilitic Emperor/Pence 2020!