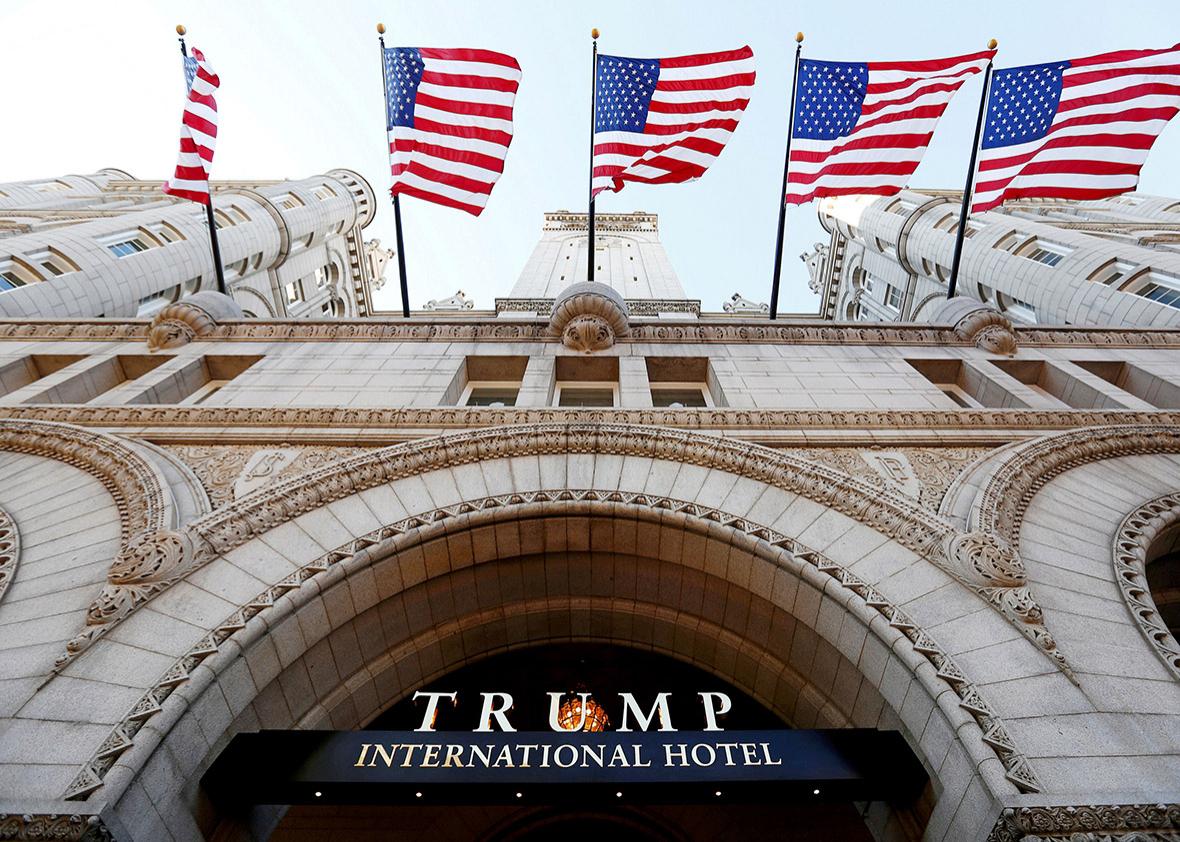 Of the many conflicts of interest created by President Trump's family business, none is more glaring than his continued ownership of the Trump International Hotel in Washington. The heavily panned faux-luxe establishment is the physical manifestation of Trump's fledgling kleptocracy, a 263-room symbol of one man's desire to squeeze every possible penny out of his presidency. Even if you ignore the myriad ways foreign governments are using the hotel to win favor with the president—and the constitutional questions that come with that—there remains a more straightforward problem: Trump's dual roles as president and businessman mean he is now both landlord and tenant at a government-owned building only blocks from the White House.
Unlike most of Trump's other apparent conflicts of interest, it appeared for a time like the issues with the D.C. hotel need not necessarily go to court or the Republican-controlled Congress to be settled. Instead, it seemed as though it could be decided relatively swiftly by the General Services Administration, the little-known federal agency that oversees the Old Post Office Pavilion that is the site of the hotel. Trump's critics believed the decision should have been an easy one: The GSA lease Trump signed appears to bar any elected government official from being party to it, which would mean Trump violated it as soon as he took the oath of office. In March, however, the GSA came to the opposite conclusion—that the president was in compliance thanks to a convoluted restructuring of his business that means he ostensibly won't receive any of the hotel profits until after he leaves office.
Who, then, is to blame for Trump's ongoing and blatant exploitation of his public office in this case? The reasonable answer would be either the man doing the exploiting, Donald J. Trump; the man letting the exploiting happen, Timothy Horne, who took over as acting administrator at GSA at Trump's direction shortly after the new president was sworn in; or some combination of the two. But the New York Times editorial board recently identified a different culprit: Denise Turner Roth, who led GSA during Trump's presidential transition and who did not void his hotel lease before leaving that job upon Trump's inauguration.
"Ms. Roth's compliance was mystifying," the Times editorial board wrote earlier this month. "She was an outgoing Obama appointee. What did she have to lose by calling to task the Trump administration?" The Times then answered its own question: "A few weeks after leaving the agency, Ms. Roth was named a senior adviser at WSP/USA, a global engineering and construction management firm whose projects include—surprise—government buildings." The revolving-door accusation was clear: Roth gave the president a free pass in order to preserve her relationship with his administration.
There's little evidence, however, to support that specific conclusion. It's difficult to see Roth as the villain the Times has made her out to be.
The Times attacked Roth for failing to act against Trump, but her position—one also stated publicly by her agency at the time of the transition—is that she needed more information before she could say definitively whether Trump would be in violation of the lease once he was sworn in. By the time Trump finally shared that information about how his D.C hotel would be run during his presidency, Roth was already out of office and her successor—chosen by Trump—was in. (WSP/USA declined to make Roth available to the Times editorial board for comment before it published its piece, but she explained her stance to me and in an interview with the Washington Post after the editorial was published.)
"We had to be confident in how we were treating this in the hyperpolitical environment we were in," she told me. "I thought that it was important that we had an opportunity to have the conversation with the Trump Organization about what his role would be [in the hotel] once he became president. There were a lot of elements at play, and it was important for the agency to do its due diligence."
That might sound like a cop-out, but a closer look at the much-cited clause in the lease illustrates the difficult position Roth found herself in. Here it is in full:
No member or delegate to Congress, or elected official of the Government of the United States or the Government of the District of Columbia, shall be admitted to any share or part of this Lease, or to any benefit that may arise therefrom; provided, however, that this provision shall not be construed as extending to any Person who may be a shareholder or other beneficial owner of any publicly held corporation or other entity, if this Lease is for the general benefit of such corporation or other entity.
Most of the debate over that provision ends at the word therefrom; the Times editorial board, and the paper's reporting staff—as well as Slate—tend to cut the sentence off after it. That snip would seem to make things straightforward: As soon as Trump was declared the winner of the election, it was obvious that he would become an "elected official of the Government of the United States" on Jan. 20 and thus seem to be in violation of the lease. When read in its entirety, though, the second half of the provision raises the possibility that Trump could have chosen to restructure his company in such a way whereby he would have remained in compliance with the lease. It was that possibility that Roth said she felt compelled to entertain.
"I think it's important to understand that this was a legal contract and any action that we took, especially premature action, would have legal implications for the agency," Roth said. "There was some question as to how the second part of that clause applied to the first: What was the structure of the organization and how would it change—and then how would this clause apply once it did?" Roth was long gone by the time the GSA got the answers to those questions. According to the agency, Trump didn't formally notify the government that he had restructured the ownership of his hotel until Jan. 23 and didn't finish providing the new organizational details until March 20—two full months after Roth had packed up her office.
Roth declined to tell me whether she agreed with the GSA ruling that came down after she left office, saying she didn't feel comfortable answering without knowing the particulars of the discussion between agency staff and the Trump Organization. But Roth did make it clear that she continues to be bothered by the fact Trump did not divest in his hotel—a public position that cuts against the idea that she is eager to stay in the president's good graces in order to protect her professional fortunes. "As a private citizen, it's still difficult for me to believe you can have a clean separation if Trump is both owner and leasee," she said. She also said she'd have preferred to have been the one to settle the lease question once and for all. "I was seriously frustrated," she said. "The last thing I wanted to do was to leave loose ends for this organization. I was disappointed that we weren't able to settle this."
It's unclear what Roth could have accomplished by weighing in prematurely. Unlike Acting Attorney General Sally Yates—who was fired after refusing to use her department to fight for the president's travel ban—Roth wasn't being asked to defend an executive order she believed to be unlawful. Unlike Office of Government Ethics chief Walter Shaub—who has used his perch to subtly scold the president's flaunting of ethics norms—the agency Roth ran actually has enforcement power, which means that if she would have scolded Trump publicly, it may have created a legal headache for her agency later while also giving the president the chance to claim any final decision was politically motivated. Taking a moral stand like either of those two government employees did would have been cathartic for those many Americans fed up with Trump's profiteering, but it would have been done on the basis of legally and factually incomplete information that could have jeopardized the ruling and muddied the waters of public opinion. If you're looking to assign blame beyond Trump himself or the current GSA officials who are allowing him to keep his lease, there's a far more obvious answer: Republicans in Congress who continue to look the other way.
---