President Donald Trump is going back home. After nine days abroad in the Middle East and Europe, the commander in chief left Italy on Saturday afternoon to fly back to a White House that is steeped in scandal and turmoil. Trump celebrated the trip as a "home run."
But before we get back to Washington, let's look at some of the most memorable and embarrassing moments from the trip, in chronological order.
Dancing in Saudi Arabia
The trip seems to have had two distinct phases with Trump seen as pretty successful in the first leg of the journey that included Israel and Saudi Arabia. Things got awkward right from the start though when Trump received a reception fit for a king in Saudi Arabia that included some stilted dancing with swords in tow.
The curtsy seen around the world
Trump had repeatedly criticized his predecessor for bowing to foreign leaders. Yet when he was presented with a gold medal by the Saudi king, Trump also appeared to bow. What's more, his awkward body movement was so strange that when he came back up many thought they saw the president doing a curtsy.
Ice cold hand-slap
When Trump landed in Israel, footage of his arrival in Tel Aviv on Monday appeared to show First Lady Melania Trump slapping her husband's hand away.
Later, when the pair arrived in Rome, there also seemed to be a purposeful hand-holding dodge but it was less clear so it didn't get the same amount of attention.  
Geography fail
Trump met with a group of Israeli leaders and informed them that he "just got back from the Middle East."
Facing off with Macron  
When Trump sat down with new French leader Emmanuel Macron the two shared a handshake that seemed to last a little too long. It appears Macron was prepared for Trump's weird handshake where he tries to show power by jerking the person he is greeting back and forth. So Macron held on and the two shook hands "with considerable intensity, their knuckles turning white and their jaws clenching and faces tightening," according to a pool report. Trump grimaced, Macron seemed proud of himself.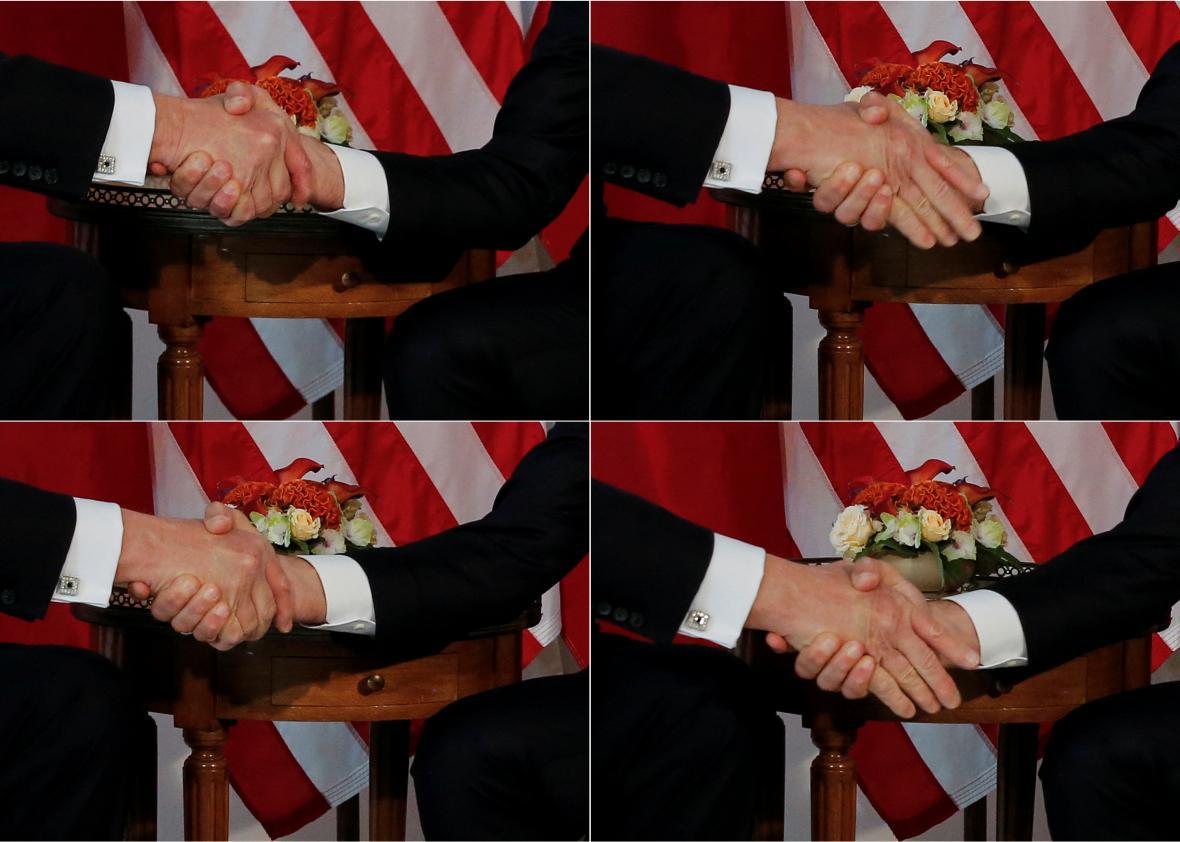 Macron greets leader of free world first
Later, Macron posted a video on Twitter that showed him walking up to a group of NATO leaders and he seemed to be headed straight for Trump. But at the last minute, Macron swerved to warmly greet German Chancellor Angela Merkel. Macron then greets other leaders before shaking Trump's hand. And this time, Trump was the one who was ready and began moving his and Macron's hands violently back and forth and up and down. Macron's victory in the handshake battles didn't last long.
The Montenegro shove
As NATO leaders walked to take a group photo in Brussels, Trump seems to have suddenly realized he was not at the front of the line. So he shoved Montenegro Prime Minister Dusko Markovic out of the way, presumably to make sure he was front and center of the photo-op. The video quickly became a global viral sensation. Markovic was eager to not make a big deal about it though. "This was an inoffensive situation," Markovic told reporters. "I do not see it in any other way."