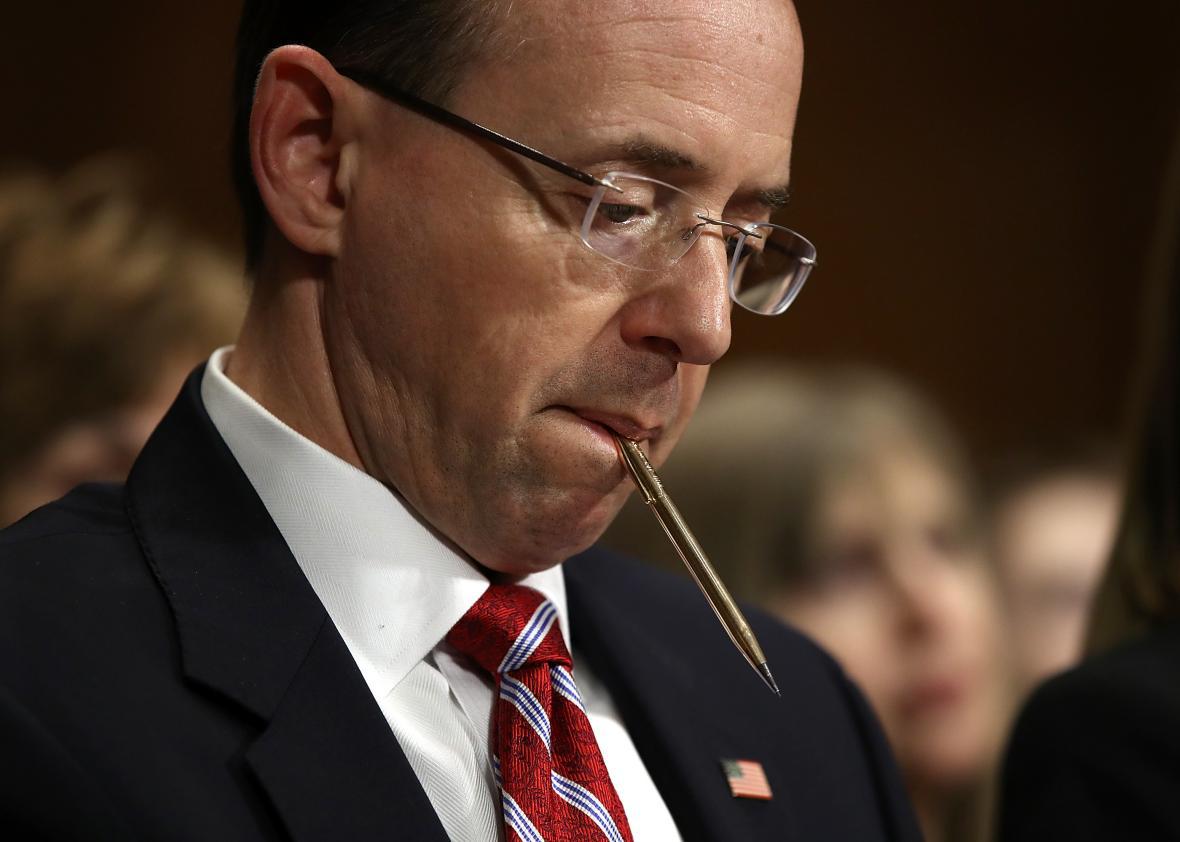 Less than two weeks after being sworn in as the Justice Department's second-in-command, Rod Rosenstein has found himself in the unseemly position of laundering the Trump administration's suspicious dismissal of FBI Director James Comey.
It was Rosenstein—not Donald Trump, not Jeff Sessions, not anyone else in the president's Cabinet—who explained in a public memorandum why Comey should be relieved of his duties. It was Rosenstein who had to say the decision was all about Comey's mishandling of the Hillary Clinton email investigation and didn't have anything to do with the FBI's investigation into the Trump campaign's ties with Russia. And it will be Rosenstein—a man who has always prided himself on doing his job in a manner untainted by politics—whose reputation will be on the line as reporters dig into the machinations behind Comey's ouster.
A mild-mannered and reputedly conscientious Justice Department lifer, Rosenstein is said to revere the DOJ as an institution. The former U.S. attorney for the district of Maryland is regarded by those who've worked with him closely in his 27 years with the agency as a straight shooter with a strong sense of right and wrong. The phrase "consummate professional" gets used a lot in describing Rosentein. When he was put in charge of overseeing the FBI's Russia investigation—Sessions recused himself under pressure on March 2—Rosenstein's admirers urged people to have faith in him, saying he was uniquely qualified to navigate such a thorny situation.
In the aftermath of the Bush-era scandal in which seven U.S. attorneys were fired for political reasons, Rosenstein talked about the importance of not leaving any doubts in the minds of the American people as to the credibility of the Justice Department. Earning that credibility, and "promoting public confidence in law enforcement," he said in 2007, was something "employees of the Justice Department should be thinking about in everything that we do." He continued in that vein:
The American public is not able to judge our motives. They don't know what we're thinking. They can only observe what we say and do and draw inferences from that. So when information comes to light that gives people reason to be suspicious about the motives of the Justice Department … it casts a shadow on all of our work. That is damaging.
That was 10 years ago. Today, Rosenstein finds himself serving as the mouthpiece for the Trump administration at a time when everything the president says about his motives and goals is subject to intense distrust. According to officials cited by the Washington Post, Rosenstein started scrutinizing Comey's conduct not long after he was sworn in on April 26. On Tuesday, the White House stated that Trump's decision to fire Comey was preceded by a written recommendation Rosenstein passed along to Attorney General Jeff Sessions. In that recommendation—which was released publicly as soon as news of Comey's firing broke on Tuesday afternoon—Rosenstein argued that "the FBI's reputation and credibility" had "suffered substantial damage" over the previous year under Comey's leadership.
"I cannot defend the Director's handling of the conclusion of the investigation of Secretary Clinton's emails, and I do not understand his refusal to accept the nearly universal judgment that he was mistaken," Rosenstein wrote.
Trump and his associates, some of whom were being investigated by Comey as part of his probe into Russian meddling in the 2016 election, must feel very fortunate to have a man of Rosenstein's character and reputation making their argument for them.
The somewhat sad thing is that Rosenstein probably believes everything he wrote in his memo to Sessions. It's possible that he has spent the past year looking disapprovingly at Comey from his office in Maryland. It's likely, in fact, that Rosenstein is being sincere when he says he thinks Comey's bad choices tainted the Justice Department—the FBI is a component of DOJ—and must be marched out of the building so order can be restored.
But what Rosenstein believes doesn't really matter. Given that Trump recently praised Comey for his handling of the Clinton email situation, it defies belief that that was why Trump and Sessions wanted the FBI director—a man who happened to be in charge of an investigation into the campaign's ties to Russia—out of the administration's hair. It's also hard to ignore the timing: With Sally Yates' testimony raising urgent new questions about why the White House didn't move sooner to eject retired Lt. Gen. Michael Flynn from the National Security Council, perhaps the Trump administration thought it was time to change the channel. According to accounts in the Wall Street Journal and Politico, Trump and his allies were also frustrated that Comey hadn't done more to deny the existence of any ties between Trump and Russia. As recently as Monday, Trump himself had tweeted, "The Russia-Trump collusion story is a total hoax, when will this taxpayer funded charade end?"
Rosenstein was exactly the mouthpiece Trump needed to make it end. Trustworthy, not known for being loyal to Team Trump, and utterly convinced that Comey actually did deserve to get fired.
Michael Vatis, who served in the office of the deputy attorney general from 1994 to 1998 and is now a partner at Steptoe & Johnson, pointed out on Tuesday night that there was a "very weird but very strong parallel" between Rosenstein and the man he just urged the attorney general and the president to terminate. Just as Comey faced nothing but bad options during the election in his quest to prevent the FBI from becoming involved in politics, Rosenstein now appears to be stuck between his convictions and the reality of how this all looks. "Both did what they think was the right thing, so convinced of their righteousness that they failed to see that they were being used for purely political ends," Vatis told me in an email. "Or they saw it but decided they didn't care, since their own motives were pure and the only thing that mattered was the principle they thought they were defending."
In a piece last week, I asked whether the sober-minded Rosenstein could be a check on the politicization of the DOJ under Sessions, or whether his judiciousness would be squelched. The role the deputy attorney general played in Comey's firing suggests a third way: Trump and Sessions will let the DOJ's No. 2 man think he's acting on his principles but deploy him in such a way that those principles help them accomplish what they want to accomplish.
In his confirmation hearing, Rosenstein said, "I believe it's critical for the American people to have confidence in the integrity of our investigations." The deputy attorney general should be smart enough to recognize that it's now his own integrity that's in danger.