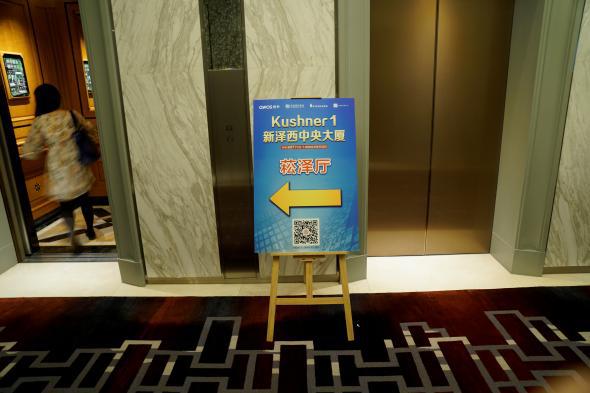 The Washington Post and New York Times reported over the weekend that the Kushner Companies organization—of which top Trump adviser Jared Kushner was until recently the CEO—is soliciting investments in China via a presentation given by his sister that highlights Kushner's prominence in the White House.* Kushner has divested himself of his direct stake in some Kushner Cos. projects, including one known to be related to the project being sold in Beijing, but retains a major financial interest in "dozens" of the organization's other holdings. The administration of which he's a part, meanwhile, has made news recently for its China-friendly moves on such issues as the South China Sea and currency manipulation.
It's not clear whether or not Jared Kushner's connection to his sister Nicole Meyer's China presentation is illegal—and with Trump apologists running the Justice Department and Congress, not clear who would investigate it anyway if it were—but it's definitely sleazy in the layperson's sense and made even more so by a Washington Post reporter's statement that goons working for the Kushners' Chinese partners physically manhandled her and forced her to delete material from her phone at an event in Beijing:
Kushner Cos. is now claiming in a statement that it never meant to imply that its connection to Trump should be considered a selling point:
In the course of discussing this project and the firm's history with potential investors, Ms. Meyer wanted to make clear that her brother had stepped away from the company in January and has nothing to do with this project. Kushner Companies apologizes if that mention of her brother was in any way interpreted as an attempt to lure investors. That was not Ms. Meyer's intention.
Take that for what you will, but consider that one of the slides that the Times photographed at the event displayed a picture of Trump and identified him as a "key decision maker" regarding the investment-related U.S. visa program (which is controversial in its own right) through which Kushner Cos. is soliciting funds. Also consider that the Washington Post asked one of the Chinese individuals at the Beijing event whether he considered the project being pitched to be affiliated with the Trump administration. Said the potential investor: "Of course."
*Correction, May 9: This post initially misidentified Nicole Meyer as Jared Kushner's sister-in-law. She is his sister.