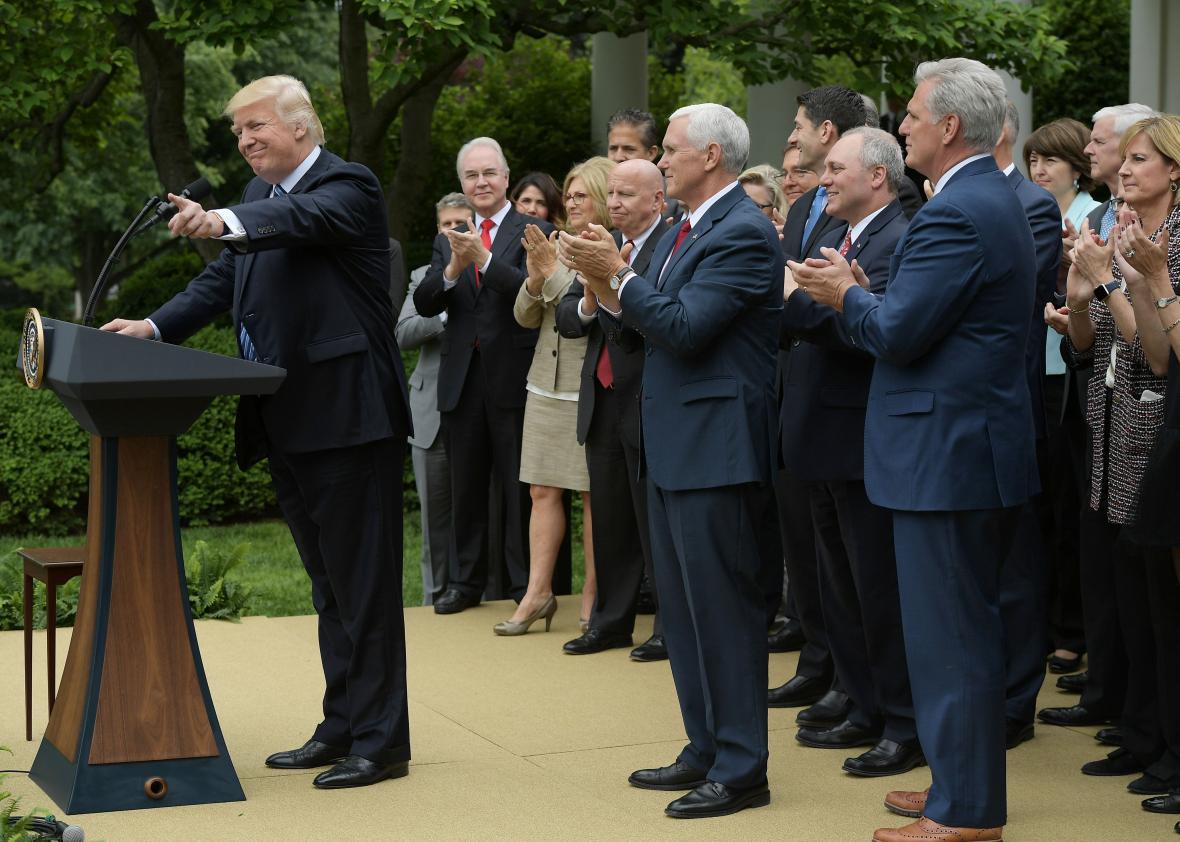 On Jan. 30, the Democratic Congressional Campaign Committee released its "first round" of 2018 midterm election targets. It listed 59 Republican-held districts, of which 23 voted for Hillary Clinton and 10 went for Donald Trump by four points or less. One of them, Georgia's 6th, is already in a rather hotly contested special election; two others, Kansas' 2nd and Florida's 27th, will be vacant, as their representatives are retiring. That leaves 56 districts on the list whose members, for now, intend to run for re-election.
And on Thursday, 45 of them voted for a dramatic piece of upward wealth redistribution called the American Health Care Act.
As House Minority Leader Nancy Pelosi said both before and after the vote, Republicans would "glow in the dark" if they voted for the AHCA. Their opponents will not know where to begin with the material just supplied to them. For the rest of their political careers—many of which will now be considerably condensed—they will have to explain why they voted for a bill that cut Medicaid by 25 percent to finance tax cuts for the wealthy. They will have to explain why they voted to defund Planned Parenthood, though they're pretty used to that by now. They will have to explain why they voted to allow insurers to charge more for those with pre-existing conditions, a direct violation of a House Republican campaign promise. They will have to explain why they voted for a bill that the Congressional Budget Office projected would leave 24 million fewer people with insurance.
Republicans haven't lost the House yet, and their districts are drawn to insulate the GOP majority through 2020. But their chances of holding the House got much, much worse Thursday! To wit: The Cook Political Report shifted its forecasts in 20 districts away from Republicans after the vote.
Cook downgraded re-election chances for four California Republicans who voted for the bill: Reps. Steve Knight, Ed Royce, Mimi Walters, and Dana Rohrabacher. (Cook already had California Rep. Darrell Issa as a toss-up.) Looking at the wreckage, you'd have to think that California's Republican delegation—all members of which voted for the AHCA—is in serious trouble of imploding. That includes the aforementioned names, but also Reps. David Valadao, Jeff Denham, and Devin Nunes (who has his own, unrelated problems). California is the anchor of Democratic resistance to Trump, has successfully implemented the Affordable Care Act, and might not even be eligible to use the AHCA's tax credits if it were to become law.
The South Florida members who voted for it, including heavily whipped Reps. Carlos Curbelo, Mario Diaz-Balart, and Brian Mast, will also have a lot of explaining to do. As will Illinois Reps. Randy Hultgren, Peter Roskam, and Adam Kinzinger. At least the upstate New York members, who are definitely not in a good political situation, were shrewd enough to earn a favorable carve-out for their votes. But for many of them, their shrewdness did not extend to voting against a politically poisonous bill.
The AHCA vote even endangers the vulnerable members who didn't vote for it. If there is a Democratic wave, the likes of Colorado Rep. Mike Coffman, Virginia Rep. Barbara Comstock, and New Jersey Rep. Leonard Lance—who voted against the bill, but for moving it to a vote on final passage—will not be spared.
As Cook writes, the "major caveat is that 18 months is an eternity in politics." But a vote like this "is consistent with past scenarios that have generated a midterm wave."
Enjoy next week's recess, folks.
---