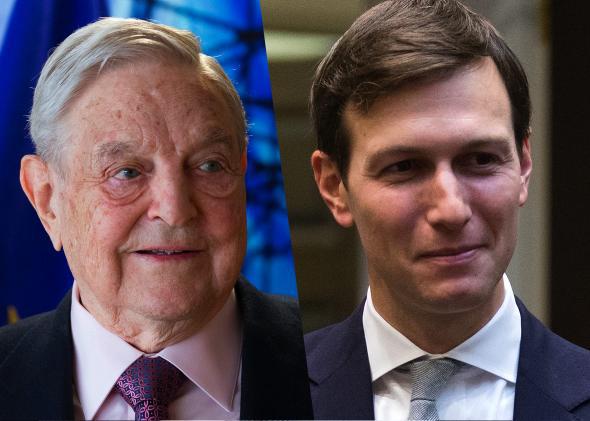 Billionaire investor and liberal donor George Soros is the subject of many discredited right-wing conspiracy theories—so many that debunking site Snopes.com has an entire wing of Soros articles. He was pictured prominently alongside two other Jewish finance figures (Janet Yellen and Lloyd Blankfein) in a eyebrow-raising Trump campaign ad about the "global special interests" who have "robbed our working class" and "stripped our country of its wealth." He's been the subject of numerous conspiratorial tweets by Trump associates, ranging from White House social media director Dan Scavino to onetime 2016 campaign operative Roger Stone to Nazi-affiliated national security goon Sebastian Gorka to chief of staff Reince Priebus to Trump scion Donald Trump Jr.
(See here for more information about that wildly misleading claim.)
Soros is, in particular, widely blamed on the right for having allegedly paid anti-Trump protesters to fill marches and town halls since inauguration—a theory the president himself has tweeted about, though he didn't use Soros' name. And while there is, to put it midlly, not a significant amount of evidence that anti-Trump protesters are paid for their time by "globalist" bankers, it does turn out that one thing that George Soros has definitely bankrolled is a company founded by Trump's son-in-law and top adviser Jared Kushner. From the Wall Street Journal:
Mr. Kushner co-founded Cadre in 2014 with his brother Joshua and Ryan Williams, a 29-year-old friend and former employee of Kushner Cos., the family-controlled business that Mr. Kushner ran until recently. Cadre markets properties to prospective investors, who can put their money into specific buildings or into an investment fund run by Cadre, which collects fees on each deal.
To get off the ground, Cadre turned to a Goldman Sachs fund and a number of high-profile investors … Cadre also secured a $250 million line of credit from the family office of George Soros, a top Democratic donor whom Mr. Trump criticized during his presidential campaign, the people close to the company said. Mr. Soros's family office is also an investor in Cadre.
So, from Soros' perspective, America will either be made great again by his business partners in the Trump administration, enriching him in the process, or it will be destroyed in a gratifying orgy of violence initiated by his paid street thugs. It's a win-win situation!