May 9, 2017, was a momentous day in American politics—unless you were watching Fox News.
Late that afternoon, President Trump stunned Washington by firing James Comey less than a week after the FBI director had testified to Congress about, among other things, the bureau's investigation into the Trump campaign's possible connections to Russia. On the heels of that news came a rapid-fire series of revelations that cast the dismissal in lights ranging from sinister to farcical.
Trump claimed in his letter axing Comey that the latter had informed him "on three separate occasions" that Trump was not under investigation, which if true would have violated FBI protocol. Trump's White House sought to justify the firing, implausibly, as a response to Comey's handling of the Hillary Clinton email investigation—for which Trump had previously praised him. Comey learned of his dismissal when he saw it on TV, and he thought at first it was a prank. White House Press Secretary Sean Spicer hid in the bushes—no, among bushes—to dodge questions from reporters. The night unfolded as if scripted by a screenwriter with a gift for dark humor.
And indeed, to anyone watching the news on CNN or MSNBC, here was a real-life, high-stakes drama wrapped in layers of deception and absurdity, unfolding minute by minute, one jaw-dropping development after the next.
On Fox News, however, it was an altogether different story. Viewers of the nation's most-watched cable network were told first that Comey had "resigned," then that he had been fired and that the move was controversial. But on show after show, from late afternoon into the night, the reasons for Comey's dismissal and the nature of the controversy were glossed over, and the juicy details that followed went unmentioned. The network's hosts almost unanimously treated Comey's firing as a fully justified and unsurprising development and accepted wholesale the White House's official explanation that Comey had been fired for cause. (Trump and his administration later changed their story multiple times.)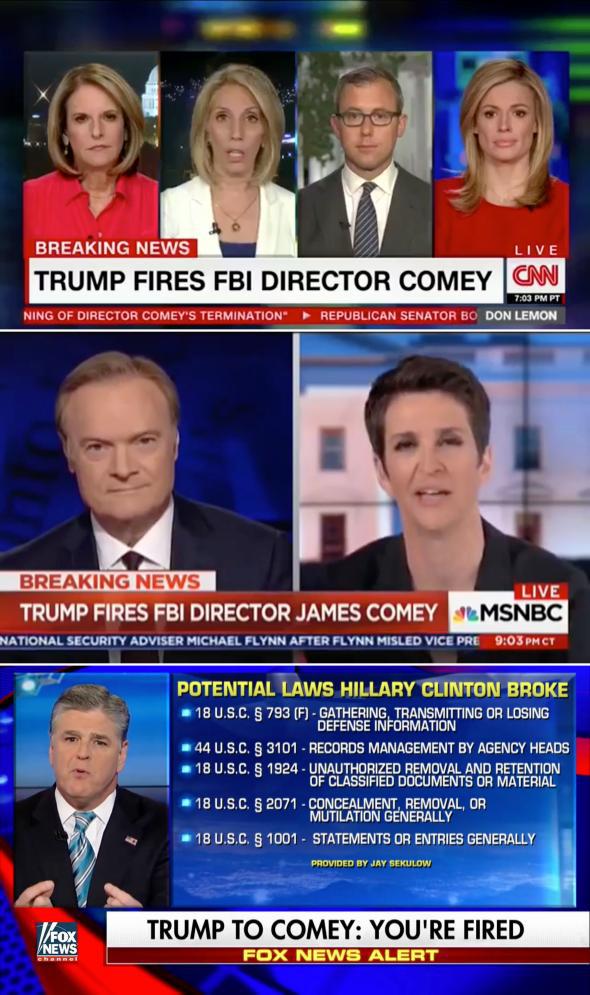 The widespread shock and criticism of the move from Democrats, pundits, and even some Republicans was explained away as a symptom of the Washington establishment's deep-seated enmity toward Trump even as the basis for it was never fully elucidated. The word "Russia" was studiously avoided. On his 10 p.m. Eastern show, star opinion host Sean Hannity framed Comey's firing not in terms of its implications for Trump's White House but as an opportunity to reopen the investigation of Hillary Clinton's emails and put her behind bars at last.
For more than a decade, Fox News has dominated the cable news ratings with a potent mix of center-right daytime news shows and hard-right prime-time opinion shows—a menu devoured by the largely older, red-state Americans who make up the network's loyal audience. The network finished 2016 as the most-watched channel in all of basic cable, and in the first months of 2017 it shattered its own ratings records, posting the most-watched quarter in cable TV history. Its remarkable run continued through the first week of this May when it bested center-left CNN and left-leaning MSNBC in key metrics every night.
But Comey's firing marked a turning point. The previous night, MSNBC had posted a rare win over Fox News in prime-time ratings among viewers age 25–54, the key demographic for advertisers. The night he was sacked, Fox News plummeted to third in that metric, behind both MSNBC and CNN. Its fortunes have continued to flag since then. Last week, for the first time since Bill Clinton was president, Fox News came in last of the big three cable news networks in weekly prime-time ratings for the 25–54 demographic. MSNBC beat it in total prime-time viewership, too.
What's behind the sudden shift? An obvious culprit might seem to be the turmoil within Fox News, which has ousted both its chairman and its biggest star in the past year amid sexual harassment scandals that also chased off several other prominent personalities. No doubt that has played a part. Yet the network appeared to be weathering the storm until quite recently, with Tucker Carlson stepping into the slot long occupied by deposed ratings champion Bill O'Reilly and retaining his enormous viewership.
No, there's a more straightforward explanation for Fox's free fall that has been apparent to habitual channel surfers in recent weeks: that at a time when U.S. political news has never been more interesting, Fox News is becoming boring.
As critical coverage of Trump among the mainstream media and political insiders has reached a crescendo, CNN and especially MSNBC have become appointment viewing for the politically engaged. Each day now seems to bring new plot twists that rival those of any scripted TV drama. Leakers said Trump shared information he shouldn't have with Russians. A memo surfaced suggesting that he fired Comey because of his frustration with the FBI's Russia investigation. He reportedly pushed top intelligence officials to refute charges of Russian collusion. And it has made for nothing if not great TV.
Yet Fox News' prime-time hosts—led by its most prominent remaining personalities, Carlson and Hannity—have presented viewers with an alternate reality in which stories embarrassing to the administration can be waved away as either a figment of the "fake news media" or the product of machinations by leakers and liars embedded in the shadowy anti-Trump "deep state." By steadfastly pooh-poohing the lies, scandals, outrage, and intrigue that have dominated the first months of Donald Trump's remarkable presidency, the network is all but sitting out the most fascinating domestic political saga of our time. And increasingly, viewers are changing the channel.
Fox News' coverage on the night of Comey's firing is simply one illustrative example of a trend that has persisted since Trump's election across much of Fox News' prime-time lineup. The discrepancy between its approach and that of its rivals was equally conspicuous on May 15, the night the Washington Post reported that Trump had inappropriately disclosed classified intelligence in a closed meeting with Russian diplomats. While the story drove nearly nonstop analysis on CNN and MSNBC, it registered far lower on Fox News' prime-time agenda, where it was presented as another example of how criminal leakers were conspiring with Trump's critics to concoct baseless attacks against him. Carlson and Hannity scarcely mentioned the substance of the Post's report, leaving viewers to glean bits and pieces of it through their rants about how it exemplified the perfidiousness of the deep state and mainstream media. And the Fox News website earned late-night punchline status by splashing Clinton's activism efforts across its front page while burying the Trump news under the headline, " 'It Didn't Happen.' "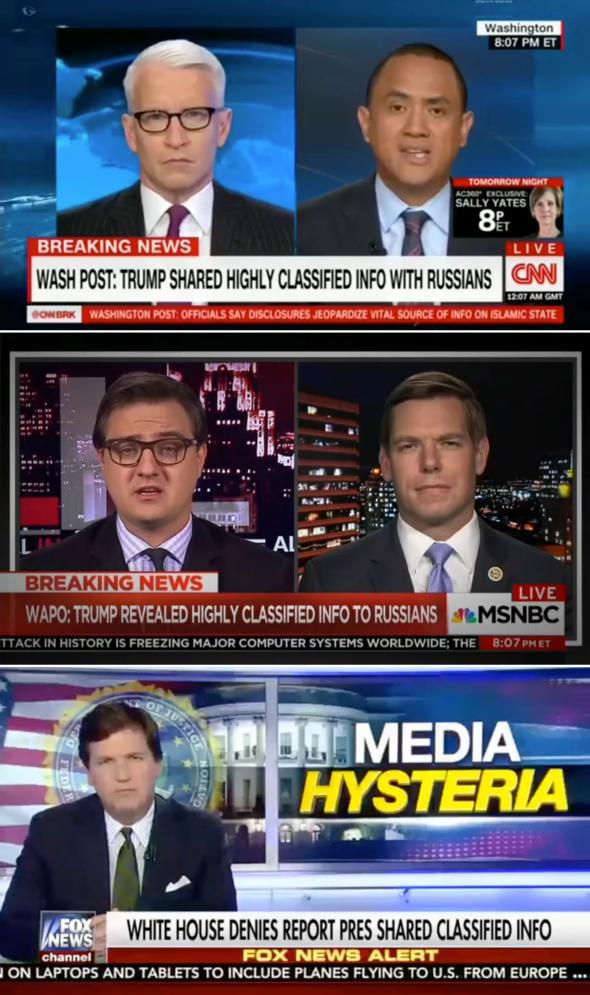 Over the years, we've come to expect Fox News' top opinion hosts to aggressively attack liberals and loyally defend the political right. They've built such a loyal audience that MSNBC has cribbed from their formula to present a similarly partisan slate of left-leaning prime-time personalities, with mixed results. (Part of the secret to Fox News' success is that it has succeeded in portraying CNN as hopelessly liberal, too, allowing it to claim the exclusive loyalty of right-leaning viewers while leaving its two rivals to divide the left.)
The playbook worked when the network was stumping for the war on terror alongside George W. Bush or styling itself as the voice of the opposition to Barack Obama. Trump's polarizing Republican primary candidacy threatened to divide the network, but an exodus of several of its more critical voices—most notably Megyn Kelly—left it more or less unified around him as the general election approached. Hannity and O'Reilly greeted his win as a triumph, and the network's ratings soared amid conservatives' initial enthusiasm. But as the policy failures have mounted, the scandals deepened, and Trump's approval plunged to historic lows, it has become not only harder to defend the president with full throat but also, presumably, less popular with viewers.
Fox News' strategy has been two-pronged: Distort and distract.
To the extent the network's prime-time personalities discuss the scandals, they tend to filter them through the prism of media criticism. Thus juicy stories about White House palace intrigue become stories about the impropriety of the anonymous leakers who provided them and the unscrupulous reporters who published them. The story about Trump giving state secrets to Russia became, on Hannity, a story about "QUESTIONS OVER ACCURACY OF WAPO TRUMP REPORT," as the chyron for his opening monologue had it. That certainly goes down easier if you're a Trump supporter. But as the day's top "breaking" story, it's hardly gripping stuff. And as consumers of the news, it puts viewers in a position analogous to Plato's cave-dwellers, glimpsing reality dimly and indirectly via the shadows dancing on the wall.
More often, Fox News has responded to stories embarrassing to Trump simply by changing the subject—a tactic that has the virtue of working just as well on its news programs as on the opinion shows. On many days when Trump outrage has dominated the mainstream news, Fox News programs have led instead with the alleged intolerance of liberal activists on college campuses. While CNN's Jake Tapper was clashing memorably with Trump and Spicer over the president's penchant for fibbing, Fox News treated audiences to endlessly repeated clips of Madonna's profanity-studded anti-Trump rant at the Women's March, which was undoubtedly colorful but not especially important compared to the other blow-ups of Trump's first weekend as president.
On Feb. 16, MSNBC's fiery liberal hosts and CNN's bickery bipartisan panels scrambled to interpret an hourlong presidential press conference in which Trump veered from announcing his labor secretary pick to defending former national security adviser Michael Flynn and repeating falsehoods about his Electoral College margin. Rather than defend the indefensible, Fox News anchors opted to downplay the press conference in favor of stories such as a dustup between the NFL and the Texas governor over the state's anti-trans "bathroom bill."
All of which seemed to be working well enough, ratings-wise, until the Comey firing. As Trump's troubles approached proportions reminiscent of Watergate, TV audiences increasingly glued their sets to MSNBC and CNN—but especially MSNBC—to follow along.
Fox News' diversion tactics may have reached their shameless apogee in the past week with Hannity's quixotic, reprehensible Seth Rich crusade. Evidently desperate for an alternate-reality drama half as compelling as Trump's real-life scandals, Hannity latched onto a debunked report from a local Fox affiliate that there was "tangible evidence" the young Democratic National Committee staffer had been in contact with WikiLeaks before he was killed last summer. In Hannity's hands, night after night, the Rich conspiracy became an ongoing "murder mystery" in which the Clinton campaign was surely somehow implicated. With some of his own Fox News colleagues reportedly "embarrassed" and "disgusted," Fox News retracting its online news story on Rich, and Rich's family pleading with the network to stop exploiting his death, Hannity finally backed down Tuesday, saying he wouldn't discuss the matter further on-air "at this time."
Yet this week brought another major news development that appeared to play to Fox News' traditional strengths, at least momentarily—and this one was tragically real. Monday's grisly terror attack on a Manchester, England, arena left 22 dead and 59 injured, a devastating toll by any standard. This time it was CNN and MSNBC whose coverage felt tentative as they juggled the painfully slow drip of news emerging from Manchester with their ongoing reporting on Trump and his trip abroad. Their coverage was complicated by a reluctance to speculate about the nature of the attack, whose motivations and perpetrators were unknown at the time. But Fox News kept its focus trained on Manchester throughout the night, notably turning over its 9 p.m. and 11 p.m. Eastern slots to news anchor Shepard Smith, one of its most credible and least partisan voices. The network was rewarded in the nightly ratings, where it regained the top spot while MSNBC plunged to last.
Fox News was in its element covering Manchester for two reasons. First, terror attacks stoke many Americans' fears of Islamic extremism, which Trump and other Republican leaders often play upon, and which Fox News stands ready to validate and reinforce. (It's part of why the network thrived in the post-9/11 years.) Second, they make people angry, and they make people want to think in terms of good and evil, which is a lens that conservatives in general and Fox News in particular tend to be more comfortable applying to global affairs.
Major terrorist attacks don't come along every day, thank goodness, and by Tuesday night, Rachel Maddow and MSNBC had already regained the top spot. Not even the late Fox News chief Roger Ailes would root for more innocents to be slaughtered just to buoy his ratings (not openly, anyway). But the network's success with that story Monday offers an insight into what it might take to revive its fortunes: a new narrative on the world stage, a story potent enough to push Trump's troubles from the top of every newscast. No doubt Trump would benefit from such a change, too.
Fox News' fortunes may mirror Trump's, but their interests aren't quite identical. Having been elected for four years, Trump might manage to muddle through his presidency simply by limiting his misdeeds to sub-impeachment levels. If that happens, there will probably be lulls during which the furor dies down, fatigue sets in, and some of the viewers who have flocked to Rachel Maddow and Lawrence O'Donnell flip back to ESPN or Netflix. In that scenario, Fox News' new place at the bottom of the cable-news heap is unlikely to be permanent, but it may find itself looking up at MSNBC more often than not.
But muddling through is unlikely to be good enough for Fox News' advertisers or the higher-ups who run its programming. The network was already at a crossroads following its sexual harassment scandal and personnel shake-up. Now that its ratings are suffering, the pressure to move in a new direction is likely to intensify. Barring earthshaking non-Trump news, a dramatic upswing in his popularity, or (perhaps least plausibly) a fundamental change in Trump's approach to governing, the network at some point will be forced to confront an option that might seem unthinkable today: turning on the president it helped to elect.