On Oct. 7, Andrew Brunson and his wife, Norine, were summoned to a local police station in Izmir, Turkey. At the time, this didn't seem like anything to be worried about. The couple, originally from North Carolina, had lived for 23 years in Turkey's third largest city, where Andrew was the pastor of the Izmir Resurrection Church, a small protestant congregation of about 25. The Brunsons had raised three children in Turkey and had applied for permanent residency. They went willingly to the police station, thinking they were finally going to get it.
Instead, Andrew and Norine were taken into custody, accused of missionary activities "against national security," and told they would be deported. Norine was released on Oct. 9 and so far has been allowed to stay in Turkey, but more than six months later, Andrew remains locked up. On Dec. 11, he was moved to a counterterrorism center and charged with "membership in an armed terrorist organization." A judge ordered that he be detained rather than deported.
"We were completely shocked," Brunson's sister, Beth Herman, told me. "He's lived there peacefully all these years and we just didn't see this coming."
Seven months later, Herman, Norine, and the rest of Andrew Brunson's friends and relatives still don't know what's going on. "His file is sealed because of Turkey's state of emergency," said CeCe Heil, a lawyer with the American Center for Law and Justice, which has been advocating on behalf of Brunson's family. "We don't have a lot of information. There's no evidence. Speculation is the best that anyone has."
Local media outlets and U.S. officials involved in the case say that Brunson stands accused of membership in what the Turkish government calls the Fethullah Gulen Terrorist Organization, or FETO. This is the name Turkey uses to refer to followers of Gulen, a cleric living in the United States whom Turkey accuses of orchestrating a failed coup against President Recep Tayyip Erdogan last July. (Gulen is the man Donald Trump's former national security adviser, Michael Flynn, reportedly wanted to remove from the U.S. illegally, presumably to help Erdogan.) There's been no publicly presented evidence of ties between Brunson and Gulen.
Norine, who did not reply to a request for an interview, has been allowed to visit her husband in prison periodically; until March they were required to speak in Turkish so their conversations could be monitored. She maintains a Facebook page, providing updates on Andrew's case and condition. On Dec. 28, for instance, she wrote that Andrew was "NOT being held with violent people in prison. He is in a room with 11 Muslims who are very devout so prayers are always going on in the small room, but these are not violent people and he is not in danger from them." On April 8, however, she wrote that Andrew's cellmates "are very focused on all the differences (culture, language, religion, etc.). He is very alone."
Norine also uses Facebook to ask supporters for prayers for Andrew's release, as well as donations to maintain their lease on the church in Izmir. In late January, she wrote, "Andrew is not sleeping well or much. He wakes up many times during the night and has one bad dream after another." On April 24, she wrote optimistically about meetings between her family members and officials in Washington, and added, "I saw Andrew today and he asks for prayer for more grace." Her most recent update, late last week, reads:
We have been asking the Lord for a May release as we have special family events coming up in early June and July. Andrew has missed Thanksgiving, Christmas, birthdays…
Enough!
President Erdogan is due to visit the U.S. next week. Please pray that the Lord would use this!
* * *
Brunson's case is unusual because he's a U.S. citizen, but the basic circumstances of his arrest and detention are all too common in Turkey today. As of last month, nearly 50,000 people had been arrested since the attempted July coup on suspicion of Gulenist ties. Many more have been detained for questioning. This had been widely seen as a crackdown on opposition to Erdogan ahead of an April 16 referendum in which Turkish voters narrowly approved constitutional amendments expanding his authority as president—but the authorities have not let up since then. Just last month, more than 1,000 were arrested in anti-Gulen raids.
Brunson and thousands of others may be sitting in Turkish prisons, but the man Erdogan really wants in jail is Gulen, a 76-year-old imam who left Turkey in 1999 and now lives in seclusion in Saylorsburg, Pennsylvania. Gulen is the spiritual leader of a global movement of devoted followers. His theology mixes Islam with Turkish nationalism and an embrace of modern science and capitalism. Gulen's movement was once allied with Erdogan's AK Party, but relations went sour about five or six year ago, and in 2015, the government designated the movement as a terrorist organization—FETO. The Gulenists deny that they are terrorists, or even an organization—just a loosely affiliated network of believers in Gulen's teachings. They also deny that theirs is a political movement at all, although undoubtedly many Gulenists are involved in politics. What they don't seem to be, however, is a parallel state that aims to take over Turkey, as Erdogan portrays them.
Though Erdogan has not gone as far as to accuse the U.S. of backing the 2016 attempted coup, some of his top officials have. The Turkish government has demanded Gulen's extradition and reportedly sent the U.S. State Department 80 boxes of evidence to support its contention that Gulen was behind the attempted coup, but the U.S. has made no moves to begin deportation proceedings yet. Even if the U.S. government were convinced, Gulen is a permanent resident here and a court would have to approve his extradition, a process that could take years.
Most foreign observers are skeptical of the Turkish government's case. A British Parliament report released in March concluded that "while there is evidence to indicate that some individual Gülenists were involved," they "are unlikely to have been the only elements involved in the coup attempt." That report also disputed that the "severity of the measures undertaken by the Turkish government after the coup attempt is justified by the scale of the threat."
The evidence against Brunson has not yet been made public, but it does seem highly dubious that an American evangelical Christian would be a member of a Muslim religious organization. The case against Brunson is reportedly based on the testimony of an undisclosed witness, though reports vary as to what exactly the witness alleges. In one version, Brunson attended a Gulenist event. In another, he spoke positively once about relations between Christians and the movement.
"There is no relationship between Brunson and the Fethullah Gulen Organization," maintains Ihsan Ozbek, the chairman of the Association of Protestant Churches in Turkey. "He's a pastor and he's been a pastor for 23 years without any problems," said American Center for Law and Justice lawyer Heil. "He does not have any ties to any armed terrorist organization. Do we know every tie of every single person who walks through his door? I'm sure not."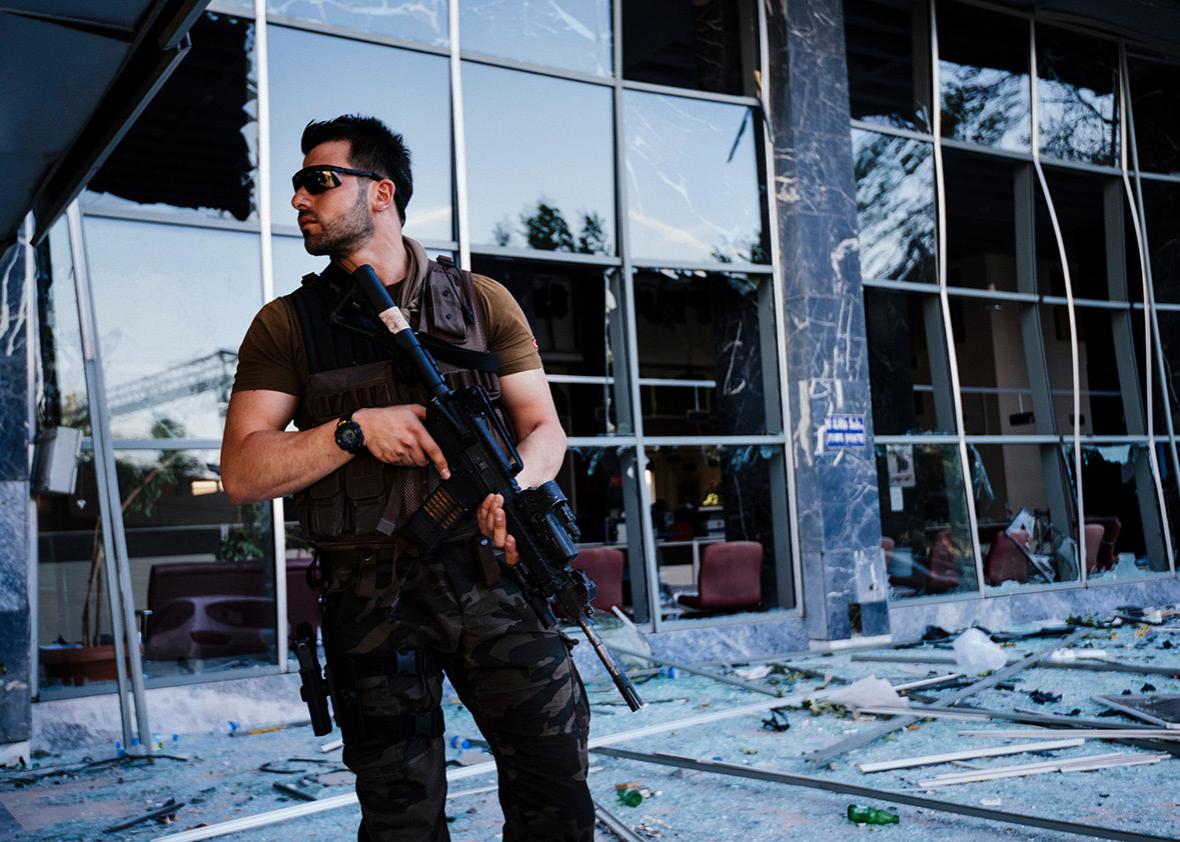 People have been charged with membership in FETO based on evidence as anecdotal as having had an account at the Gulenist-run Bank Asya, having had a subscription to the Gulenist-owned newspaper Zaman, or even having American $1 bills whose serial numbers start with "F," which the Turkish government claims were used as a kind of calling card by the movement.
Brunson is not the only American Christian who has been caught up in the post-coup crackdown. On Oct. 8, a day after Brunson's arrest, Ryan Keating (no relation to the author of this piece), a doctoral student who led a Christian congregation in Ankara, was informed while leaving for a weeklong trip to London that his residence card had been revoked for "reasons of national security." When he tried to return to Turkey a week later, he was detained overnight at Istanbul's airport and then put on a flight to London.
Speaking to me from Northern Cyprus, where he and his family have now relocated, Keating told me, "In the weeks following the coup attempt, the government sought to purge the country of any influence related to Gulen, and also took that as an opportunity to purge the country of anyone who was viewed as anti-government. In those broad sweeps, people who had nothing to do with it were caught up in it."
* * *
The first few months of Brunson's detention coincided with the transition between U.S. administrations, which may be why the case didn't get much attention initially. Since then, Vice President Mike Pence has spoken out about the case and reportedly brought it up in conversations with Turkish officials. Sen. James Lankford of Oklahoma has also taken a particular interest in Brunson since hearing about him as a member of the Intelligence Committee last October. In November, he traveled to Turkey, where he met with the country's minister of justice. "They have not given any kind of definition of what the charges are," Lankford told me, though he said that in his meetings at the ministry, he was told that eyewitness accounts suggested Brunson either had links to Gulen or had been linked to Kurdish groups through his refugee work. (This is somewhat contradictory: The Gulen movement has traditionally been fairly anti-Kurdish, not that anything else about this case makes much more sense.)
"You've got a Christian pastor that's been accused of attending a conference with a Muslim mystic. That doesn't fit the profile. I'm a little skeptical of that," Lankford told me.
In late March, Secretary of State Rex Tillerson traveled to Turkey, where he met with senior officials, including Erdogan. While there, he also met with Norine Brunson, who wrote on Facebook, "I just had a 20 min meeting with Sec of State Tillerson. I do not know what will come of it, considering the sensitive period Turkey is in, but was grateful for the opportunity."
A State Department spokesman would not confirm whether Tillerson brought up Brunson in his conversations with Turkish officials. But there was one result of Tillerson's visit: While he was there, U.S. Embassy officials were able to meet with Brunson and released a statement from him, pleading for help from President Trump:
I plead with my government—with the Trump Administration—to fight for me. I ask the State Department to impose sanctions. I appeal to President Trump: please help me. Let the Turkish government know that you will not cooperate with them in any way until they release me. Please do not leave me here in prison.
Mahir Zeynalov, an exiled Turkish journalist, formerly of the Gulen-affiliated newspaper Zaman and now living in Washington, told me he found it "very disappointing" that the United States hasn't put much pressure on the Turkish government to release Brunson. "Turkey's an ally," he continued. "It's not like Iran. We're fighting together. How can you keep an American pastor there for six months without a shred of evidence and get away with that?"
Some of Brunson's advocates in the United States have portrayed this as a cut-and-dry case of religious persecution—a Christian pastor being targeted in a mostly Muslim country. While that may be an element of the case, the reasons for his continued detention likely have more to do with the current state of U.S.-Turkey relations.
When asked by a group of American reporters in March about Brunson, Prime Minister Binali Yildirim, a close ally of Erdogan's, said that his government would do what it could to speed up the trial but that "judiciary matters are not directly controlled by us"—language strikingly similar to the stock U.S. response for why the president can't simply hand Gulen over to Turkey. Yildirim then pivoted to a discussion of Gulen's extradition and the attempted coup: "I'm not establishing a connection between the two cases, but such an incident of a large scale was not taken seriously by the Obama administration. They stalled for time, yet we had hundreds killed and thousands injured [in the coup attempt]."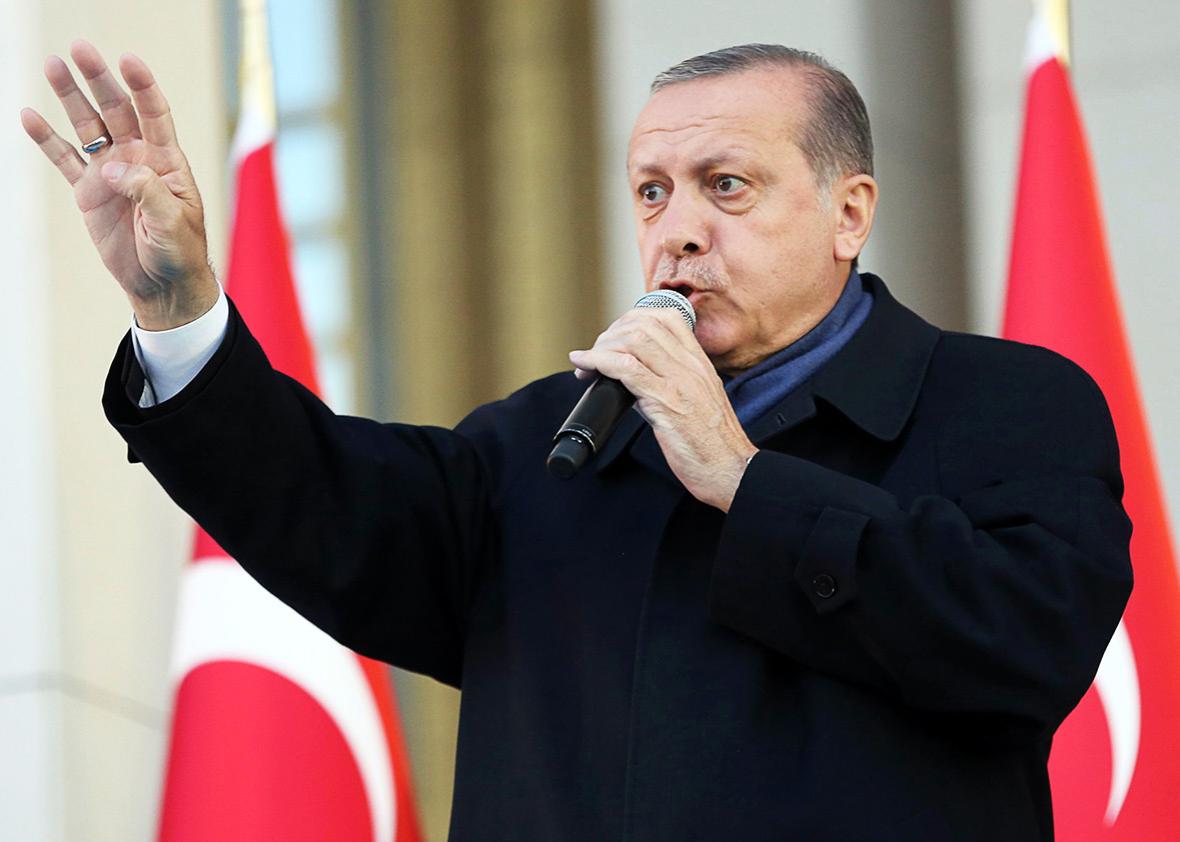 "That seems to me to say that they are linked," Todd Nettleton, of the group the Voice of the Martyrs, which advocates for imprisoned Christians, told me. "Nobody has said it publicly, but certainly with the answer the prime minister gave, it raises the question that at least in the minds of the Turkish government there are links between the two cases." Heil has also expressed worry that Brunson is being held as a kind of hostage for Gulen.
Exiled journalist Zeynalov is skeptical: "We're talking about an ordinary pastor, and a very, very, very powerful man," he said. "I understand that every citizen is equal here in the United States, but if Turkey thinks he could be a bargaining chip, that's very stupid of them."
Still, Gulen's return is a major priority for Erdogan's government. Whether or not the two cases are directly related, the lack of progress on the Gulen issue could put Turkish leaders in a less cooperative mood.
* * *
On Nov. 8, the day of Donald Trump's election, the Hill published an op-ed by Trump surrogate and soon to be National Security Adviser Michael Flynn in which he accused the media of doing a "bang-up job of reporting the Erdoğan government's crackdown on dissidents, but it's not putting it into perspective." That perspective being that Turkey was merely trying to protect itself from the machinations of a "sleeper terror network" run by a "shady Islamic mullah residing in Pennsylvania." Flynn argued that the United States should deport Gulen, saying, "If he were in reality a moderate, he would not be in exile, nor would he excite the animus of Recep Tayyip Erdoğan and his government."
Months later, it was revealed that Flynn had been paid more than $500,000 by a Turkish-American businessman to lobby U.S. interests on the Erdogan government's behalf. Former CIA Director James Woolsey even said he was present at a meeting with Flynn and a group of Turkish ministers at which they discussed a covert operation to "whisk" Gulen out of the country.
"It's obvious that the Turkish government was euphoric when Trump won and thought the Trump administration would be deferential to Turkey. But recently, I think some Turkish government officials, including the prime minister, have grown frustrated," said Zeynalov.
The U.S. is still backing the Syrian Kurds despite Turkey's urging not to, and the U.S. military has fiercely criticized recent Turkish airstrikes against Kurdish fighters. There's also been no apparent movement on the Gulen case. (Flynn resigned in February over revelations about his communications with Russia's ambassador.)
One thing that does seem to have shifted in Turkey's favor is the new president's attitude toward Erdogan's increasingly autocratic governance. Despite the mass arrests, and the fact that the recent referendum was widely seen as an authoritarian power grab, Trump controversially called Erdogan to congratulate him in April.
After that call, White House spokesman Sean Spicer was asked if Trump was aware of Brunson's case and if he had brought it up with Erdogan. Spicer replied, "I'm not going to get into the specifics of the president's conversation. We're obviously aware of that action. And we're going to continue to work through the State Department on that."
According to the White House readout of the April phone call, the two leaders discussed "the need to cooperate against all groups that use terrorism to achieve their ends." Of course, this is how the Turkish government would describe the Gulen movement—and one person who has been accused of using terrorism in Turkey is an American preacher.
* * *
On April 20, an Egyptian-American aid worker imprisoned in Egypt since 2014 was released shortly after a meeting between Trump and President Abdel Fattah el-Sisi. Asked by the AP if he had struck a deal with Sisi to get the woman, who had been jailed as part of that country's crackdown on civil society, released, Trump replied, "No. No deal. He was here. He—I said, 'I really would appreciate it if you would look into this and let her out.' "
Despite several cordial conversations with Erdogan, however, Trump does not appear to have asked the Turkish president to look into Brunson's case. On Thursday, lawyers from the ACLJ met with Trump and urged him to bring up Brunson's situation when he hosts Erdogan at the White House this week. I asked Drew Bailey, a State Department spokesman, if the U.S. stance on Turkey's extradition request for Gulen had changed. Though he responded to my other queries, this one did not get an answer.
Erdogan and Trump will have a lot to talk about in Washington this week: The most contentious issue is likely to be Syria, where the Trump administration has angered Turkey with a recent decision to arm Syrian Kurdish fighters—another group that the Turkish government considers a terrorist organization—and Erdogan is likely to also press Trump on Gulen. Brunson's supporters are clearly hoping the meeting between Erdogan and Trump will finally turn things around for their dad and father and friend. "May truth and light, righteousness and justice prevail in this case. May slander be washed away," Norine wrote recently on Facebook. "And could we all pray for a May release?"